NEW Garmin inReach Messenger & Garmin Messenger Companion Apps
Adam Scepaniak 09.29.22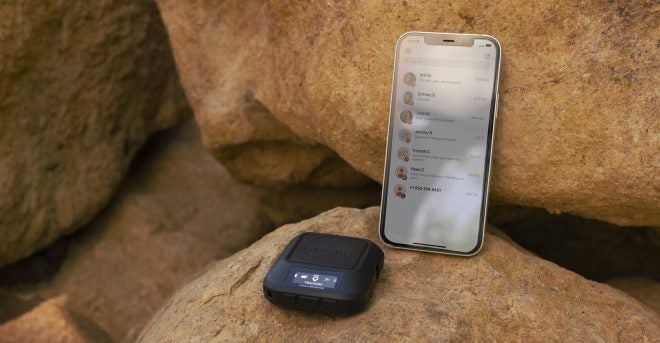 When we venture into the outdoors we are always looking to explore the unknown and find new uncharted paths. With this vigor for adventure, we might find ourselves in areas that no longer have traditional cell phone reception to contact loved ones or send out a call for help if things should go awry. That is where something like the Garmin inReach Messenger and Garmin Messenger companion apps can be invaluable.
Garmin Coverage on AllOutdoor
What the Garmin inReach Messenger and Garmin Messenger companion apps do is ensure a line of communication to friends, family, and vital life services when we are trying to escape into the outdoors. It doesn't matter if you have WiFi, a strong cellular network connection, or not. The companion app works to find the best connection possible so you always can communicate – in perilous situations or not. The specifications are outlined below:
Seamless satellite communication as a standalone device and when paired to Garmin Messenger companion app for smartphones
Companion app automatically chooses between Wi-Fi, cellular or satellite connectivity to ensure every message is sent and received
Keep your friends and family up to date on a trip thanks to group text chats – even those without inReach devices. Continue in-app conversations at home using your Wi-Fi or cellular connection without having to change device settings
If your smartphone runs out of battery, simply connect inReach Messenger to your smartphone for enough "Safety Charge" to send custom text messages from the Garmin Messenger app
In the event of an emergency, the inReach Messenger and Messenger App can send an SOS message to the 24/7 staffed Garmin International Emergency Response Coordination Center (IERCC).
The impact-resistant inReach Messenger fits in the palm of your hand, measuring just 3.1" x 2.5", weighs only 4 oz and has 28 days of battery life
Built for those who want a quick and easy way to reach friends and family when outside cellular coverage, inReach Messenger provides seamless satellite communication either as a standalone device or when paired to the new Garmin Messenger companion app.

Thanks to the communication-focused experience, ease-of-use and versatility, inReach Messenger is the perfect choice for anyone who finds themselves without cell coverage to stay connected with global two-way texting, location sharing, SOS capabilities and much more.
We're heading into a busy fall season where a lot of hunting and exploring gets done so this might be the perfect opportunity for a lot of hunters to get acquainted with this new technology. It could be as simple as telling a loved one you're going to be late for dinner because you are dragging a whitetail deer out of the woods, or even something worse like contacting EMS because you fell out of a treestand. Regardless, in good times or bad, this is the type of 21st century technology we like to see! As always, let us know all of your thoughts in the Comments below! We always appreciate your feedback.