NEW Camp Chef Woodwind Pro Pellet Grills – Dialed In Smoking!
Adam Scepaniak 09.30.22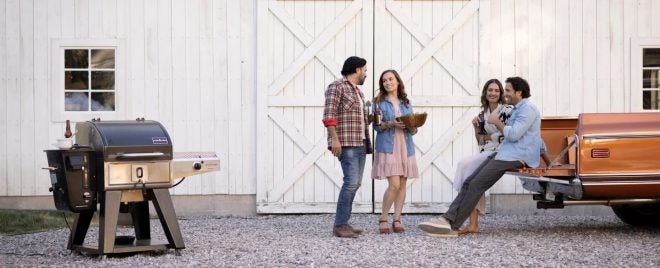 When it comes to harvesting wild game the pursuit of the hunt is half of the enjoyment of being in the outdoors while eating your harvest is the latter, and nothing cooks wild game better than a good smoker/grill combo. The trick is honing that process of smoking so all of your meats turn out just right. This can either be accomplished through years and trial-and-error (and lots of subpar meats), or you can invest in a quality smoker grill that alleviates a lot of that guesswork. Enter the Camp Chef Woodwind Pro Pellet Grill which looks to do exactly that.
Camping Coverage on AllOutdoor
What are some of the elements that people look for in a quality smoker?… Quality construction with a tight seal so you don't lose smoke: check. Adjustable or multiple smoke settings to manage the meat you are cooking: check. Bottle opener: check! (Nobody wants to get parched while grilling) Most of the things we all want, this grill has and more. The full specs can be read below as presented by Camp Chef:
Smoke Box
Advanced Even Heat design

Double-walled construction
Gasketed lid
Down and Out ventilation system

Stainless steel body and internal components
Wifi enabled PID controller with full color screen
Smart Smoke Technology with 10 smoke level settings
Camp Chef Connect App compatible
160°F up to 500°F
Ash Clean-out (patented)
Sidekick compatible
Four stainless steel meat probes
Expanded chamber height with upper and lower grill grates
Premium 22 lb pellet hopper with window and clean out/purge
Bottle opener
The new Woodwind Pro comes in both a 24" and 36" model. The 24" model will have 811 square inches of total cooking space and a 4,850 cubic inch chamber while the 36" model will have 1,236 square inches of total cooking space and a 7000 cubic inch chamber. The MSRP for both models varies from $1,199.99 – $1,499.99 depending on the configuration you get for yourself, and they both carry Camp Chef's 3-Year Warranty. The grilling season might be winding down, but fall can often be the best time of year to smoke meats because, you – the grill attendant – aren't sweatin' like heck since we finally have cooler weather. As always, let us know all of your thoughts in the Comments below! We always appreciate your feedback.