NEW Gill Fishing Rain Gear Collection – Fight Mother Nature on the Water!
Eugene L. 09.30.22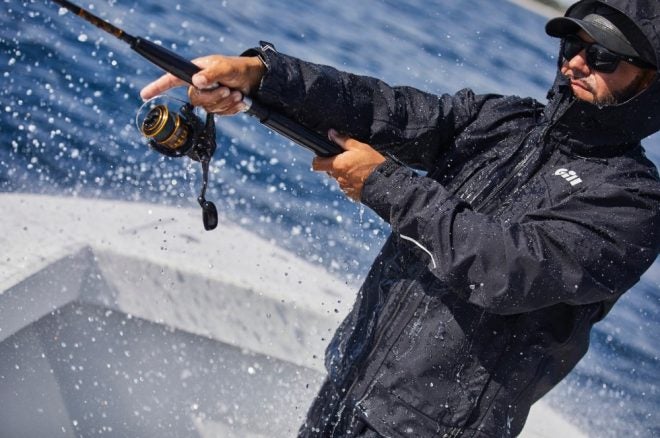 Gill Fishing, maker of premium foul weather gear and technical apparel for anglers has released an all-new foul weather gear collection. These new pieces of apparel blend Gill Fishing's most advanced breathable waterproof fabrics with their powerful XPEL technology. This makes for waterproof rain gear that is highly breathable but stain resistant to blood, slime, and other things you run into while out on the water.
When it comes to foul weather gear there has always been a dilemma for anglers. If the gear is breathable it also can have water come in, and if its super waterproof moisture can't wick away and you'll steam inside your gear. Gill Fishing's new foul weather gear solves this dilemma.
"Unfortunately, many breathable jackets that claim to be waterproof eventually let water in, while the old-school rain slicks made of impermeable materials, which effectively block water and are easy to clean, can be incredibly uncomfortable because they trap body heat and sweat," says Dominic McCarthy, commercial director for Gill North America. "We're proud to put an end to compromising. Like all Gill products, anglers can trust our new jackets and bibs to keep them dry during the nastiest weather while providing the performance benefits of modern breathable fabrics. And now, they can quickly clean them with a spray of water."
The new collection includes two sets of rain jackets and bibs, both treated with XPEL technology, the Apex Pro-X, and Meridian X. And a third suit, the Aspect, made with breathable waterproof fabric for daily rain protection.
The pinnacle of Gill Fishing's rain gear collection, the Apex Pro-X Jacket ($425) and Bib ($425) is constructed with Gill's most breathable, waterproof, and durable fabric, XPLORE+ combined with their exclusive XPEL technology. The Apex Pro-X system is highly versatile, exceling in both wet summer conditions and cold winter days when paired with adequate layers. The hood is built to stay in place when travelling at high speeds using Gill's exclusive Vortex hood technology, and an inner PU sleeve liner blocks water from entering the sleeves while releasing fish or scooping bait from the live well. Both jacket and bib are available in black.

Inspired by the unique needs of tournament anglers, the Meridian X Jacket ($350) and Bib ($299) is built with Gill's XPLORE fabric combined with their exclusive XPEL technology for the perfect combination of waterproof protection and performance-aiding breathability. Gill loaded the jacket with fishing-specific features, including Vortex Hood technology that keeps the hood in place at high speeds, a high-cut thermal face guard for superior warmth and rain protection on the move, and four front pockets for quick, organized access to crucial tackle and gear. The jacket is available in shadow, shadow camo, and twilight, while the bib is available in black and shadow camo.

The Aspect Jacket ($250) and Bib ($199) keep anglers dry and comfortable without unnecessary weight or bulk. A great everyday jacket on or off the water, the Aspect is built with Gill's XPLORE fabric and a layer of lightweight mesh that wicks moisture away from the body. The jacket includes Vortex Hood technology and multiple zippered pockets, while the bib has a convenient front relief fly and side pockets. The jacket is available in shadow, twilight, and glacier, while the bib is available in shadow.
This new foul weather gear collection shows Gill Fishing's long-term commitment to providing anglers with the best innovative foul weather gear they can.