NEW Browning All-Terrain Huntsman Chair – Stable Blind Seating
Eugene L. 10.03.22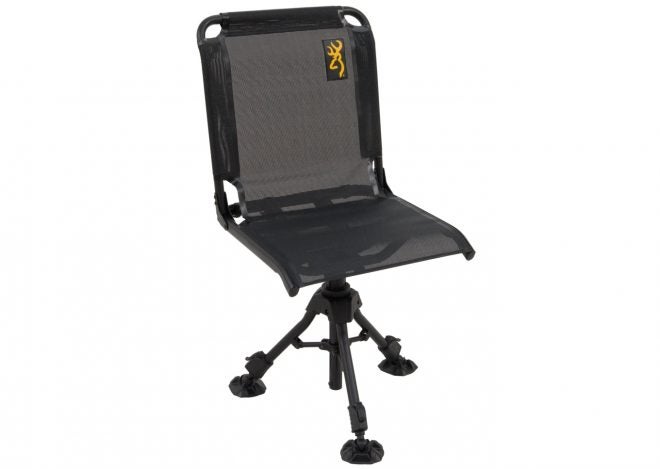 If you're hunting out of a blind this fall a good quality seat can make a world of difference, especially on a slow day. I know from personal experience a bad chair can make for a bad day especially if you go ass over end falling backwards out of it. Browning Camping & Hunting Blinds also knows that a good chair for the blind is key. A quality chair can make the difference between a successful hunt and a long uncomfortable sit in a blind. For that, they designed the new Browning all-terrain Huntsman Chair.
The new Huntsman Chair is built using a sturdy steel frame that is fully powder-coated for rust protection. Around the frame is the rugged TechMesh bottom and back panels. The 18×18-inch seat and back make for a very comfortable seat, with good ergonomic support. This will eliminate fatigue during long deerless hours in the blind. Under the seat's frame, there is an adjustable swivel base that allows for a 16 to 24-inch height range and is silent. The chair has a 360-degree rotation so you quietly and easily adjust to change your shooting angle.
One of the biggest problems hunters face with their hunting chairs is achieving a level position in the blind, be it a ground blind or raised blind. For the new Huntsman Chair, this isn't a problem, thanks to its heigh-adjustable tripod leg design. Each of the three legs can be independently adjusted with a simple camming lever. That way you can easily achieve a level seat on uneven terrain, so you don't fall backwards like I did.  Large swivel feet further stabilizes the chair and keep the legs from sinking into soft ground, again as mine did. The chair has an integrated shoulder strap plus compression straps for securing the base to the folded chair for easier transport for the hike in and out of the woods.
For more information on the Huntsman Chair or other premium Browning hunting and camping gear, visit BrowningCamping.com.