POTD: Cased First Year Production 410 – Winchester Model 20
Sam.S 10.07.22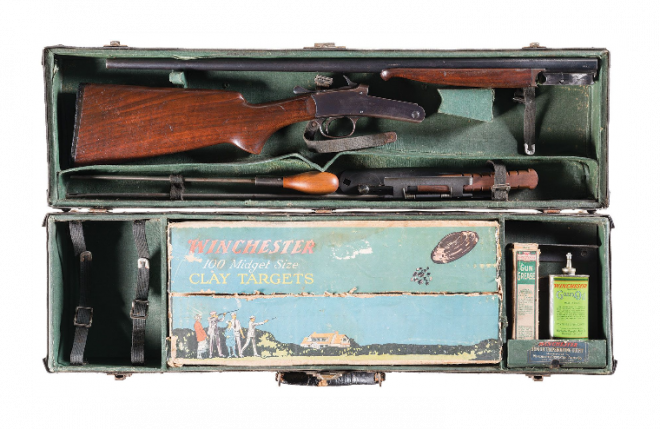 Welcome to today's Photo of the Day! Here we have what looks to be a cased generic single-shot 410 shotgun. Okay, so it is technically generic but also fascinating since it is a huge glimpse into the late 1910s. This is the Winchester Model 20 and this happens to be a first-year production example. It is still in the carrying case! that is absolutely amazing. These little guys came out as part of Winchester using its extended and newer portion of the factory post World War One. The Winchester Model 20 was marketed toward not just trap shooting but also youth trap shooters.
" Features a single bead sight, 2 1/2 inch chamber, and full choke. Mounted on a smooth Schnabel tip forearm and pistol grip stock with a checkered Winchester hard rubber buttplate. The skeet set includes a 100 count cardboard box of Winchester "Midget Size" clay targets (99 in the box), a wood handled Winchester "Midget Hand Trap", empty 3 ounce can of Winchester gun oil, tube of Winchester gun grease with box, a box of Hoppe's patches, an empty glass bottle of Winchester "Crystal Cleaner", Crystal Cleaner instructions, instruction manual, gun oil instructions and "General Instructions" in a Winchester envelope, a pad of Winchester Junior Trapshooting score sheets and a wood handled cleaning rod and bore brush. The stock measurements are: drop at comb 1 1/2 inches; drop at heel 2 1/2 inches; length of pull 13 1/2 inches. The Model 20 is uncommon with only about 24,000 manufactured. A nearly complete Youth Skeet Outfit is certainly much more scarce."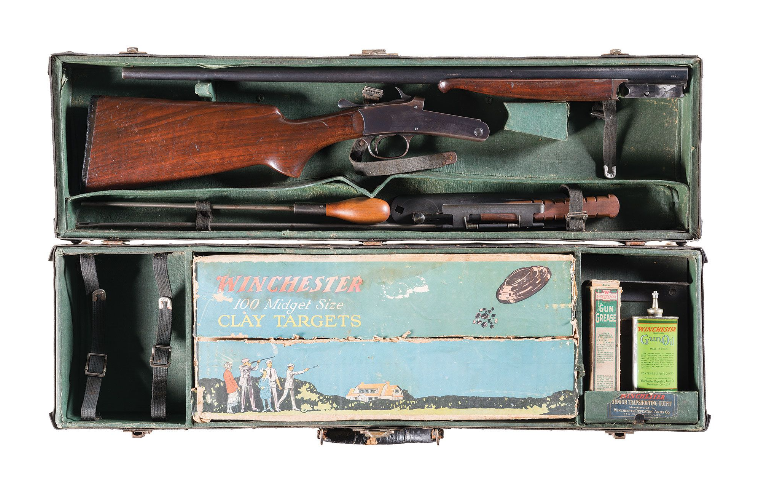 Lot 505: Scarce Cased First Year Winchester Model 20 .410 Bore Shotgun – Scarce Cased First Year Production Winchester Model 20 .410 Bore Youth Skeet Shotgun Set. (n.d.). Rock Island Auction Company. photograph. Retrieved October 6, 2022, from https://www.rockislandauction.com/detail/72/505/scarce-cased-first-year-winchester-model-20-410-bore-shotgun.