Frabill Conservation Folding Net – Easy In-Season/Off-Season Storage
Eugene L. 10.10.22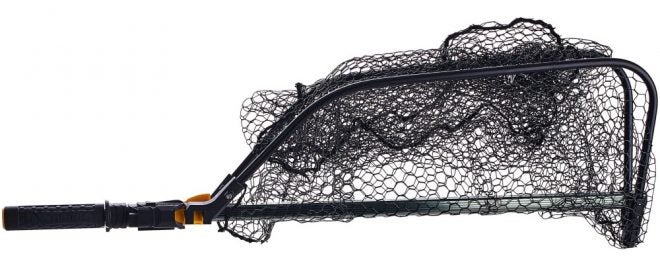 The design of landing nets can be a key portion of catch and release, if the net is built right it can keep your catch healthy to be caught another day. Frabill is back with a new addition to the Frabill Conservation Net line. Building off their original three conservation nets; Conservation Ultralight Net, Knotless Conservation Net – Telescoping, Clear Rubber Conservation Net – Collapsible, and Deep Knotless Conservation Net. The newest net is the Conservation Folding Net, making for easy in-season and off-season storage. The net features Frabill's new magnetic Pow'R Loc folding yoke.
The new Conservation folding net is constructed with key Frabill net features, equipped with the extendable aluminum handle Frabill is known for. The handle comes with a molded rubber grip for extra control even when wet or covered in fish slime. The net material itself is a flat bottom knotless dipped micro-mesh, this is to cradle the fish well and not remove the slime coat. The dipped mesh also keeps you from snagging the net as easily with your hooks and lure so less time trying to fight the net itself when trying to unhook fish. The net also comes with a mesh guard hook design for longevity and will be available in six models and sizes. Prices will range from $79.99 to $129.99. With this new addition to the Frabill Conservation Net line, there is a folding net for any fishing situation.
Frabill Conservation Folding Net- Features
Folding design for easy storage
Magnetic Pow'R Loc folding yoke
Meshguard hoop design
Knotless dipped micro-mesh netting
Flat bottom to protect fish
Aluminum handle with molded rubber grip
MSRP: $79.99 – $129.99
Available: October 2022
To learn more about the Frabill Conservation Folding Net and the other Frabill Conservation Nets from Frabill, or just any other Frabill gear please check them out here.