Rhode Island Poachers Busted: Short Tautog and Black Sea Bass
Eugene L. 10.18.22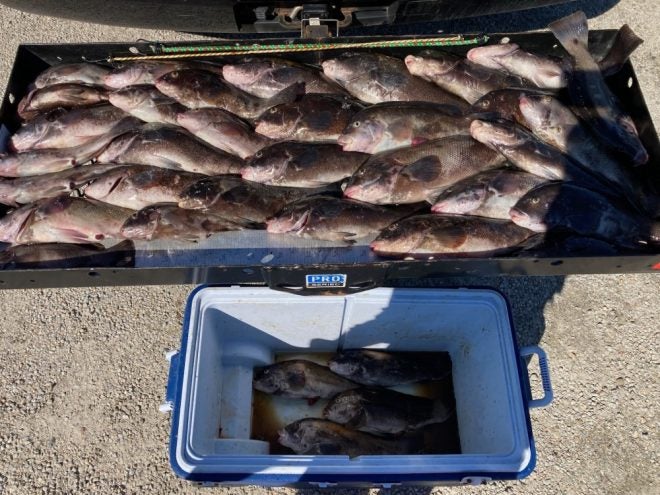 We got more poachers this time out of Rhode Island, Environmental Police Officers from DEM's Division of Law Enforcement (DLE) who were conducting vessel boardings at various boat ramps around the state of Rhode Island during the holiday weekend. During one of these vessel boardings, officers found a group of poachers in possession of 36 tautog and three black sea bass. Of the 36 tautog (also known as tog and blackfish) 33 of the togs were undersized and of the three black sea bass two of the fish were undersized. 36 tautog is also over the daily possession limit for recreational anglers. So the operator of the vessel was charged with exceeding the daily limit for togs, possession of undersized togs, and possession of undersized black sea bass. The penalties for these alleged violations haven't been determined yet but will be by the presiding judge in court at a later date. The only good thing to come from this though is that all the seized fish were donated to those in need. In this case, all the fish were sent to the Center for Southeast Asians in Providence. Rhode Island Environmental Police take poaching seriously and will continue to monitor the Ocean State's coastline and waters for compliance with fishing regulations.
Help us protect what is yours and protect Rhode Island's precious natural resources by reporting suspected poaching activity to DLE at 401-222-3070 (24/7). Calling our dispatch unit while suspected violations are occurring allows Officers the most immediate response possible to stop active poaching. Please be prepared to provide accurate location information, details of the alleged illegal activity, clothing descriptions, and vehicle/vessel descriptions.
The rules and regulations in place are not just to tell you no you can't keep that, but to make sure there is a healthy population of fish in our waters for generations to come. The rules are no suggestions, they are the law. To see possession and size limits for commercial and recreational fishing check them out here at dem.ri.gov.