RAILBLAZA announces NEW C-Tug R Kayak Cart
Eugene L. 10.21.22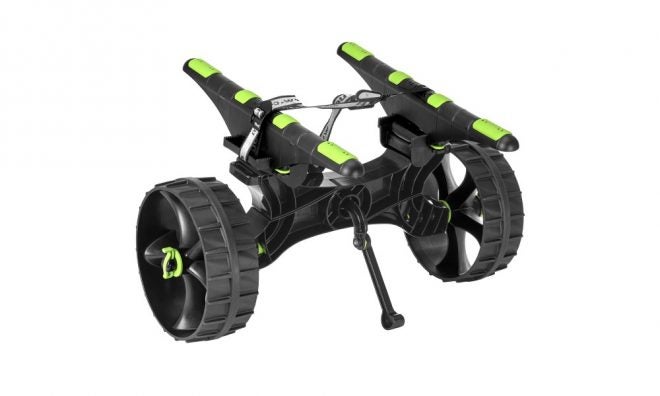 Anyone who has lugged around a fishing kayak or large tandem kayak knows how heavy and unwieldy they can be to get from your vehicle to the water. From personal experience, I know without a kayak cart or dolly it is a rough drag down to the water. RAILBLAZA, a manufacturer of premium quality and user-friendly kayak mounting systems and accessories has announced the launch of its new C-Tug R with Kiwi Wheels.
The new C-Tug R with Kiwi wheels is the next evolution of RAILBLAZA's best-selling kayak cart. The new cart is compatible with all the vessels the original cart was and now even more. The cart now fits a larger selection of hull profiles, this includes pontoon hulls like those of the Hobie Pro Angler and the Hobie Outback. Innovating past the previous C-Tug, the cart features a pair of 20-inch hull rails, allowing easy use and position of the kayak.
The C-Tug R can be assembled and unassembled in seconds.  It stows easily in a kayak or canoe hatch and lets you keep all your gear on the kayak while loading or unloading the cart. The Kiwi Wheels are puncture-free with hi-grip rubber tread and are super durable.
"As kayak hull designs grow and evolve, we have matched that evolution with a range expansion and innovation of our own," said Andrew Moczygemba, President, RAILBLAZA USA. "Our new C-Tug R with Kiwi Wheels is the perfect complement to the latest kayak models, and we're confident it will greatly enhance any kayaking adventure."
The new C-Tug R is lightweight, weighing only 8.8-pounds with a payload capacity of 220-pounds. It is constructed of reinforced composite material and stainless steel and feature reinforced axles. The C-Tug is constructed to last no matter what the users throw at it. For security for your kayaks on the move, the C-Tug includes a strap with cam-lock buckle and an adjustable kickstand. C-Tug Kiwi wheels have a diameter of 10.3-inches and a width of 3.6-inches for excellent maneuverability
Backed by an industry-leading five-year warranty, the RAILBLAZA C-Tug R with Kiwi Wheels is available through RAILBLAZA's network of dealers for MSRP $169.99 USD. For more information on RAILBLAZA, C-Tug, or their full line of mounting products, please visit www.railblazausa.com.