4 New Colors for the Daiwa Saltiga Dorado Popper
Eugene L. 10.25.22

When you've already crafted a line of big offshore poppers that kills fish and doesn't have any design angles left to tweak, the only logical thing to do is add even more color options. That is exactly what Daiwa has done by releasing four brand new color patterns for its widely popular Saltiga Dorado Popper. Well-known in the big-game offshore fishing circles for its incredible strength and ability to push, throw and displace large volumes of water. The Dorado Popper, available in both floating and sinking models, has been loved by tuna hunters and the tuna themselves.
"These lures are super tough and work so well there wasn't much reason to rework their design," says Marc Mills, senior marketing manager at Daiwa. "So, we splashed them with exciting new colors to provide some different looks for triggering reaction strikes or upping your game when playing match-the-hatch."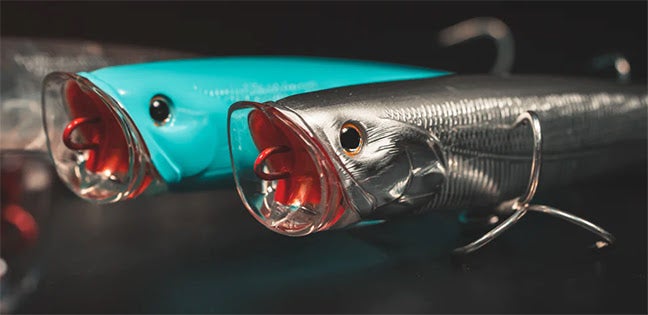 The Saltiga Dorado Popper new colors include two solid color options and two translucent color options. For fishing in relatively calm or clear waters, the new "Clear" option should quickly become a go-to choice as a subtle option that still can throw plenty of water to bring in fish. While the "Skeleton Flying Fish" pattern fits the bill for when tuna and mahi or targeting flying fish heavily.



The bright mint green, "Toothpaste" pattern should really stand out even in rough or discolored seas with its bold solid color. The "Full Metal" pattern provides high visibility and flash, while imitating a wide variety of silver-bodied baitfish species that tuna and other large pelagic predators can't pass up.
"With these new colors, the Saltiga Dorado Popper now comes in ten patterns providing big-game anglers with plenty of choices as they head offshore," notes Mills. "When combined with the current color selections that include Laser Bluepin, Laser Katakuchi, Laser Maiwashi, Splash Tobiuo, Laser Pink Purple and Maiwashi, serious offshore fans should be able to match just about any bait that swims in big-game waters while optimizing their selections for water conditions, subsurface visibility and attitude of the fish."
Each model of the Saltiga Dorado Poppers measures 5.5 inches long and features a through-wire body along with super strong, 1/0 hooks. These floating poppers come in at 1-2/5 ounces (40grams). The four new colors will be available in November 2022.
MSRP – $26.99
Features:

10 hot big-game color patterns
Through-wired for extra strength
Super-strong, 1/0 hooks
Generates big surface disturbances