AllOutdoor Review: FN 509 Midsize Tactical 9mm – Modular to the Mission
Adam Scepaniak 10.26.22

Let us paint you a picture… You are at your local gun store counter trying to decide on your next handgun. You have innumerable "asks" as to what you want this unknown, next pistol to be. It has to be accurate… allow for all the accessories… not too big… not too small… just like a hearty bowl of porridge, it's got to be just right. It sounds like you are asking for the sky and the moon, and no individual pistol could fit the bill on so many requests for features, but what you unknowingly were asking for was the FN 509 Midsize Tactical. So, today we are going to review this recently debuted model from FN to see how it performs. Let's dive in!
FN Coverage on AllOutdoor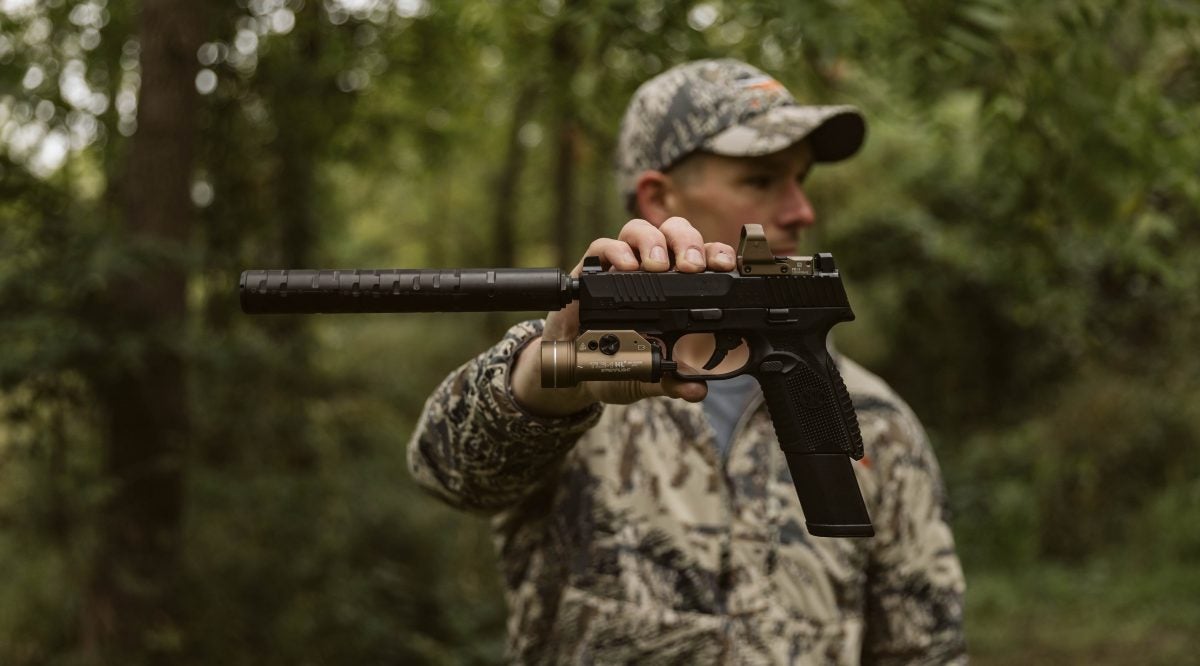 Specifications – FN 509 Midsize Tactical 9mm
If you are familiar with the FN 509 family they have a lot of options to choose from (smallest to largest): CC Edge, Compact, Midsize, 509 Standard, and the LS Edge. So, as you can see the Midsize is truly the middle size of the 509 family's offerings. This newest variant being a Tactical rendition affords the shooter with a threaded barrel, the MRD plate system for an infinite amount of optics, extended magazines, and a bevy of other features. Those other traits can be read below as presented by FN:
Cartridge: 9mm
Operation: Double-action
Magazine Capacity: 10 or 15/24 Rd.
Weight: 27.9 oz.
Barrel Length: 4.5″
Overall Length: 7.9″
Twist Rate: 1:10″ RH
Height: 5.2″
Width: 1.35″
Trigger Pull: 4.5 – 6.7 Lb
Sight Radius: 5.8″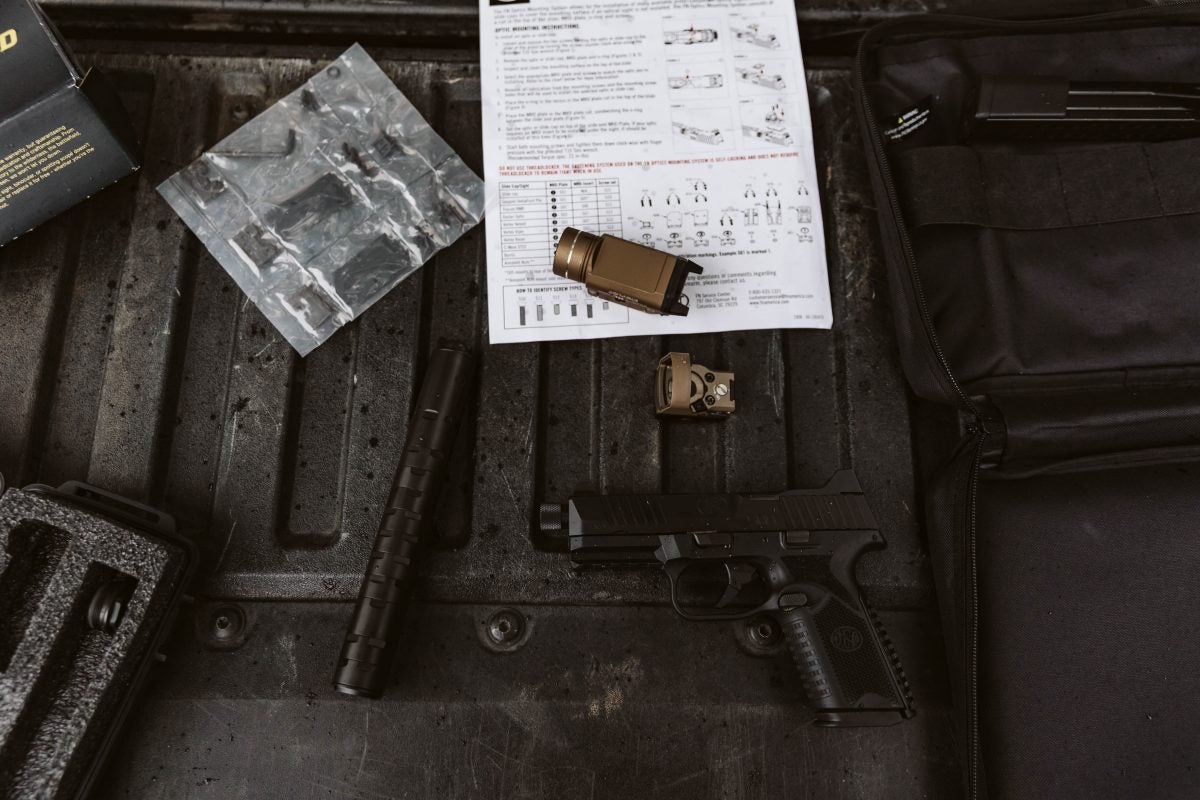 The MSRP for the FN 509 Midsize Tactical 9mm is $1,069 for their Black or FDE (Flat Dark Earth) color options in either standard magazine capacities (15/24 Round) or the magazine restrictive states option (10 Round).  In the rare event that an issue should arise with your pistol, FN always has your back. Some other highlights and features encompassing the FN 509 Midsize Tactical 9mm are listed below as presented by FN:
PRIMARY FEATURES

FN Low-Profile Optics-Mounting System™
Fully ambidextrous controls
15-round and 24-round magazines
Suppressor-height 3-dot night sights

SLIDE

Add most MRDs in minutes
Long-wearing PVD finish
External extractor; loaded chamber indicator
BARREL

Cold hammer-forged stainless steel barrel
Recessed target crown
Polished chamber and feed ramp
1/2" x 28 threaded Barrel
O-Ring retention thread cap

FRAME

High endurance striker
Duty-safe trigger with ≈ 5.6-lb. pull
Enhanced grip texture which enables faster follow-up shots
Interchangeable backstraps
MIL-STD-1913 rail

OPERATING CONTROLS

Fully ambidextrous slide stop lever and magazine release

MAGAZINE

High visibility, low-friction follower; polymer base with black finish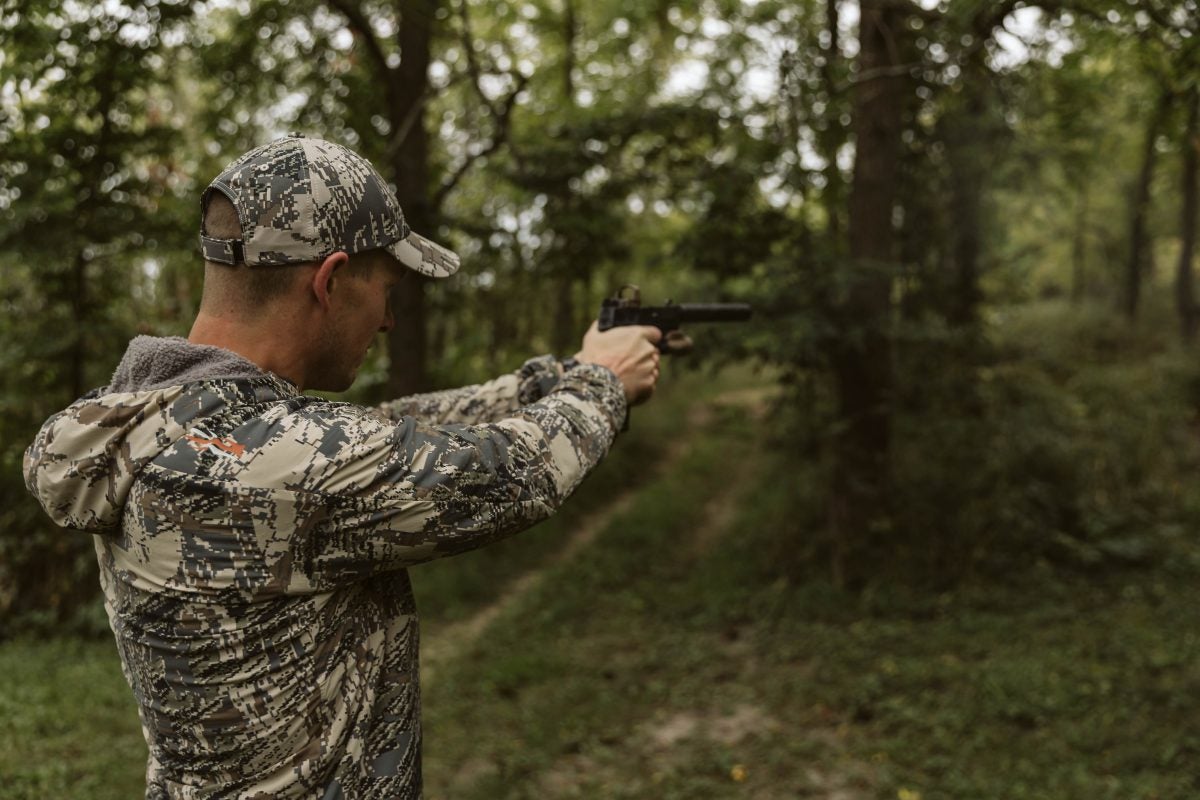 SHIPS WITH

Two interchangeable backstraps
One 15-round and 24-round magazines or Two 10-round magazines
Owner's manual
Locking device
FN logo soft pistol case
Building on the success of FN's Tactical pistol family, meet the all-new FN 509 Midsize Tactical.

Perfectly suited for concealed carry, home defense and duty use, the multi-role FN 509 Midsize Tactical is red dot and suppressor-ready and offers a full-hand 15-round grip frame with the added option of a 24-round magazine for higher round-count training sessions.

The perfectly balanced proportions are optimized for shootability and fast sight acquisition over smaller pistols, giving the user a "just-right" recoil impulse that provides superior control and accuracy at speed. The smooth trigger has a clean break at around 5lbs.

For the tactical shooter seeking the perfect balance of capacity and concealability who values quality, and versatility, look no further than the FN 509 Midsize Tactical.
Accessory Assembly – FN 509 Midsize Tactical 9mm
As outlined in our video above, adding accessories to the 509 Midsize Tactical is simply a breeze. I typically add a weapon-mounted light (WML) to all of my handguns nowadays for not only the ability to shed light on a situation, but also to give the pistol a stabilizing effect under recoil; additional weight towards the end of the barrel to keep muzzle flip down. So, I added my all-time favorite – Streamlight TLR-1 HL (High Lumen) – light to the FN 509 Midsize Tactical.
The next accessory to be added was my Leupold Delta Point Pro (DPP). It was fantastic that be able to utilize FN's Low-Profile Optics-Mounting System so you can appropriately and correctly secure any MRD (micro red dot) you might have. A peculiarity about the Leupold DPP is that it has a "rear sight, plastic wedge" that must be changed depending on the firearm it calls home. FN actually had the exact rear sight piece I needed for my Leupold DPP in their plate system of tools. Once again, no need to hunt down additional resources because FN provided everything I needed.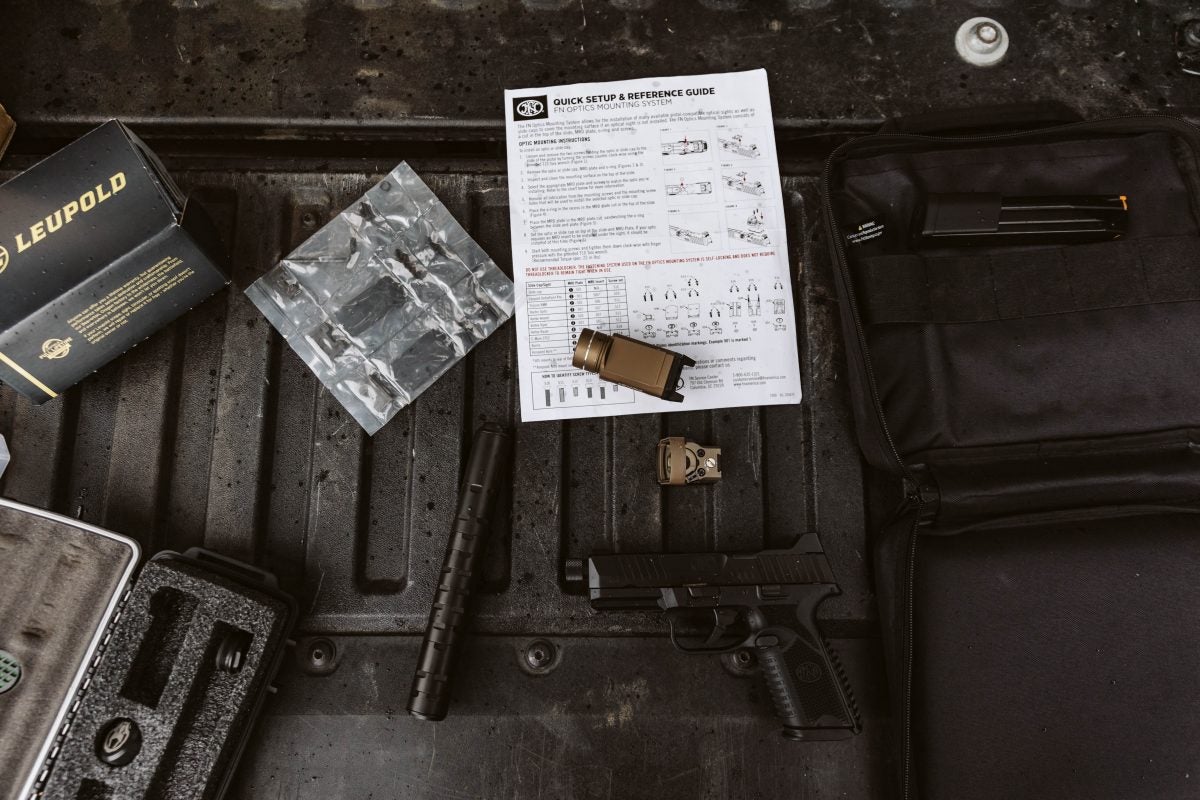 The final personal accessory I added to this FN 509 Midsize Tactical to make it customized truly for me was my Dead Air Armament Odessa-9 9mm silencer. That was simply a plug-n-play (or, you could say a screw-on and play). The one nuance I appreciated about the FN 509's threaded barrel though is the O-ring on the end to help secure a silencer in play. It is such a rudimentary and obvious element to a threaded barrel, but it is appalling how many manufacturers do not include an O-ring on their barrels.
Range Time – FN 509 Midsize Tactical 9mm
When it came to getting out on the range it was nothing short of the gun industry pun of a blast! Like we already discussed, you can add innumerable accessories to make this firearm your own. So, I had all of my faves – and aside from the gun looking sexy as all get-out – it also run like a top! I had the fortunate opportunity to go visit FN down in Georgia in March and see this pistol first-hand long before its public release. During the period of a couple days we fired close to 1,000 rounds in varying drills, shooting positions, and an absolute downpour.
Not only did the pistol hold up to that volume of round count in a condensed time frame, but all the while in inclement weather, too. It won me over for reliability because I never experienced a single Failure-to-Eject (FTE), Failure-to-Extract (FTE), and/or Failure-to-Fire (FTF) often reminiscent of a light primer strike.
The only thing I noticed during the high-round count in Georgia was a small hot spot beneath my right thumb on the palm of my hand. This could have occurred for many reasons. It was like a monsoon outside raining, additionally it was humid, I never changed the grip panel (there could have been a better suited grip panel for my hands), and my grip was fatigued near the end of the day. Out of a dozen media members this happened to a couple of us; we were the outliers. So, I would definitely suggest playing with the grips so the handgun mates your hands as best as possible.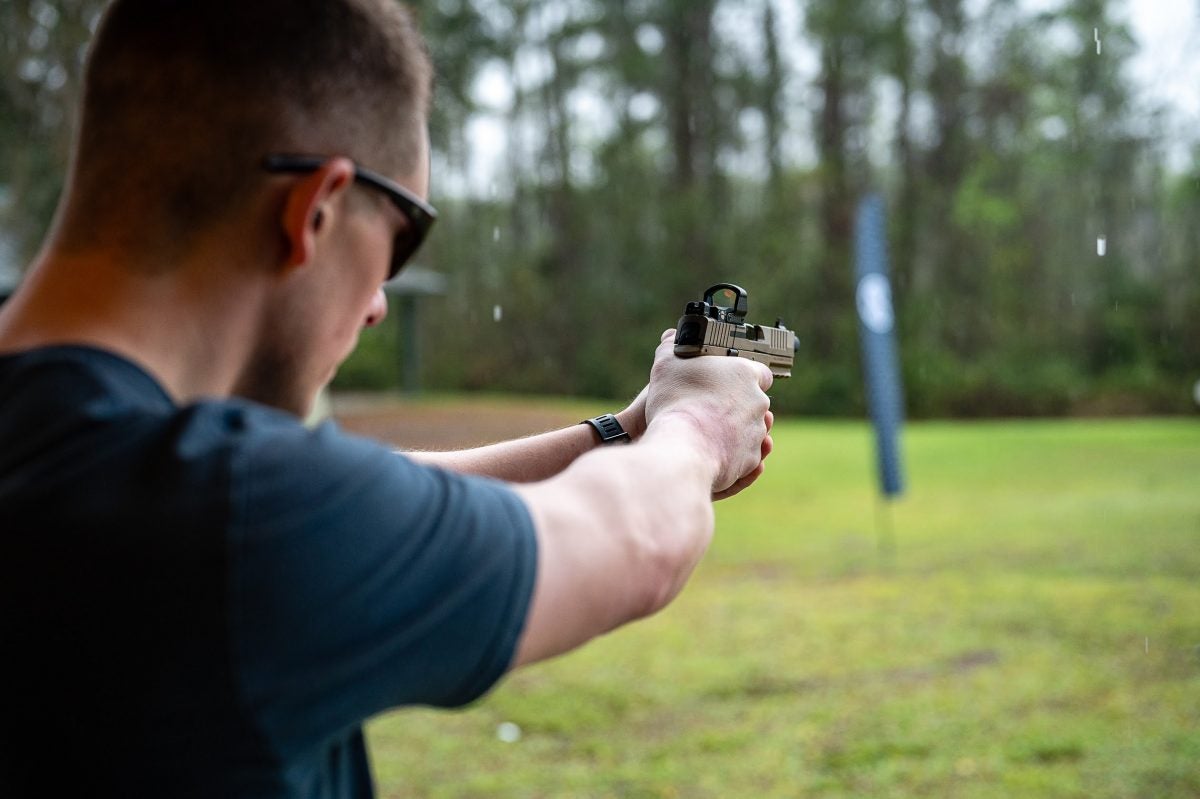 The other thoughts that came to my mind while shooting this pistol is how infinitely modular for accessories it is. The MRD plate system is one of the best factory optics ready systems I have ever utilized because it fully supports the weapon system with all of the necessary plates, screws, and small Allen wrenches you need. I didn't have to go out and buy plates, tools; nothing like that. The silencer easily mated up to the pistol and the O-ring was a small, but necessary touch. I have seen other companies not provide an O-ring and your silencer slowly walks off.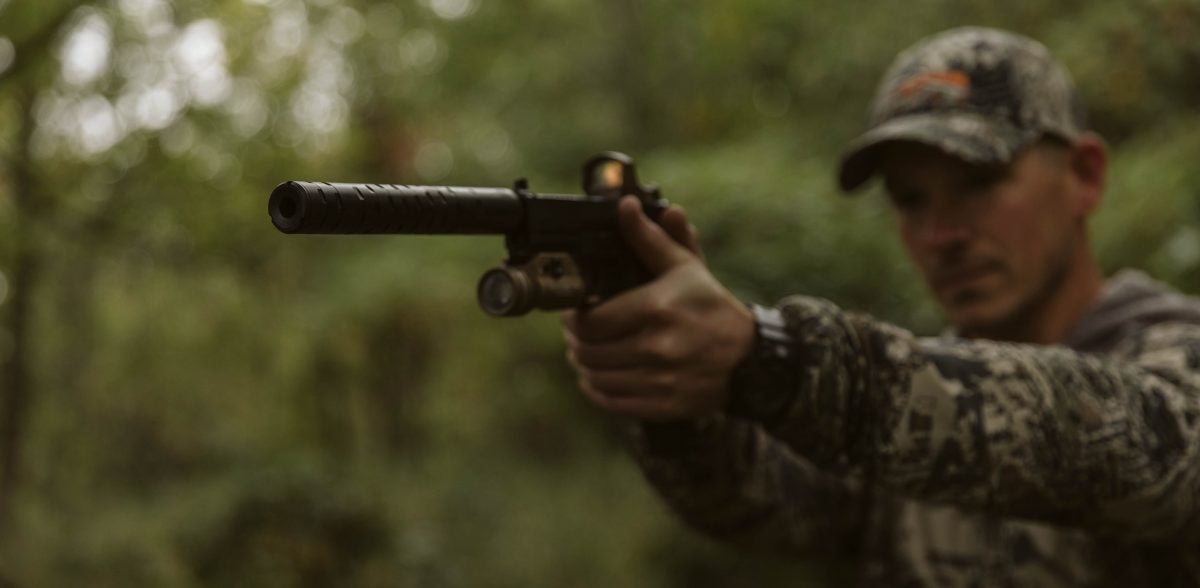 Final Thoughts – FN 509 Midsize Tactical 9mm
So, what are my final thoughts on the FN 509 Midsize Tactical 9mm after 1,000+ rounds of use and several months of experience?… Overall, if you are trying to answer that impossible question – "I want my gun to be able to do everything!" – this pistol very well could achieve that. It has superb accuracy, is light recoiling, and smooth cycling. Those are fairly low hurdles to clear, but are an absolute bare minimum for me. Where the 509 Midsize Tactical shines is the near Custom Shop quality upgrades of being phenomenally optics ready, threaded barrel, extended magazines, suppressor height night sights, ambidextrous controls, cold hammer-forged barrel, and a serviceable trigger for duty or carry. If you're on the fence about getting I'd tell you to remove your reservations and jump on board. This is authentically and genuinely a great little pistol.
In closing, I want to say thank you to FN for allowing AllOutdoor and myself the opportunity to try out their FN 509 Midsize Tactical 9mm. That is greatly appreciated. Also, we would like to know what all of you guys and gals think? Do you believe that the FN 509 Midsize Tactical 9mm is something worth spending your money on? Would you use it for work as a duty pistol, carry everyday as your normal EDC, or even dive in on it as a range pistol? As always, let us know all of your thoughts in the Comments below! We always appreciate your feedback.