POTD: A Ginormous Oops – S&W Mark I Light Rifle
Sam.S 10.26.22

Welcome to today's Photo of the Day! Here we have a monumental misunderstanding and an oops of almost epic proportions. This is the Smith and Wesson Light rifle ( specifically the Mark I variant). The light rifle was initially intended to compete in military trials for what would either replace the Thompson machine gun or become what ended up being the M1 Carbine. The initial problem was even though it was a simple open bolt rifle, it was not full auto and it was only chambered for 9mm. After the united States military showed disinterest, Smith and Wesson took their gun to market in England. England, under the shadow of a potential invasion, was happy to put down a very large sum of money to get these guns made and shipped. What they did not count on was that these light rifles were engineered to handle lighter loads of 9mm than the British were feeding them. This resulted in breakages upon breakages. The issue was eventually "resolved" by Smith and Wesson making it all right by sending over 38 S&W revolvers to pair with the UK service revolvers.
"Developed in 1939 and 1940, the Smith & Wesson Light Rifle was a contender for military contracts with both the British and the Americans and squared off against the M1 Carbine as a pistol substitute for officers and support personnel. While it had some novel features, such as the dual-purpose magazine well/ejector port, it failed at trials. Large numbers of the Light Rifle were destroyed, both during testing and afterwards, including a reported incident of the British cutting their Light Rifle samples up with a blowtorch and tossing the resulting scrap into the English Channel. An article on the weapon written by noted author Bruce Canfield in the November 2012 issue of American Rifleman features a virtually identical Light Rifle (not identified by serial number) as an exemplar of the Mark 1, though the article pulls no punches in describing the weapon, going so far as being titled "A Bad Investment" (photocopy included), and this specific Light Rifle was featured on Episode 358 of American Rifleman Television. "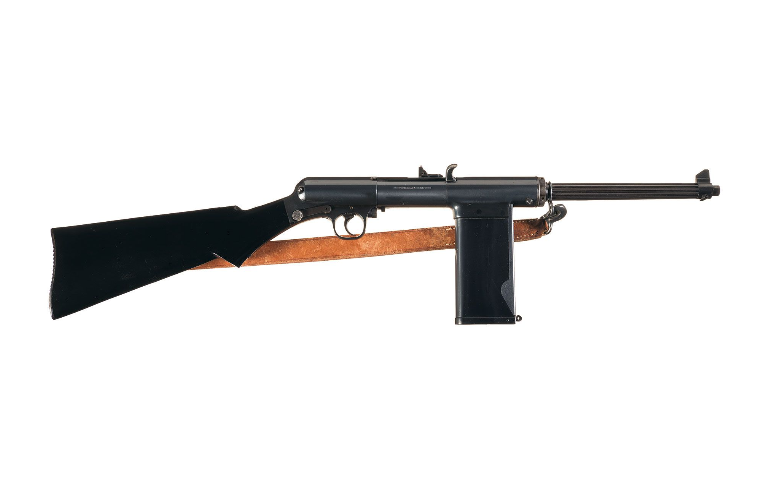 Lot 2504: S&W Mark I Light Rifle with Sling – Excellent and Scarce Smith & Wesson Mark 1 Semi-Automatic Light Rifle with Sling, as Seen on American Rifleman Television. (n.d.). Rock Island Auction Company. photograph. Retrieved October 24, 2022, from https://www.rockislandauction.com/detail/72/2504/sw-mark-i-light-rifle-with-sling.