NEW TrueTimber Soft Shell Series – Extreme Performance & Versatility
Adam Scepaniak 10.28.22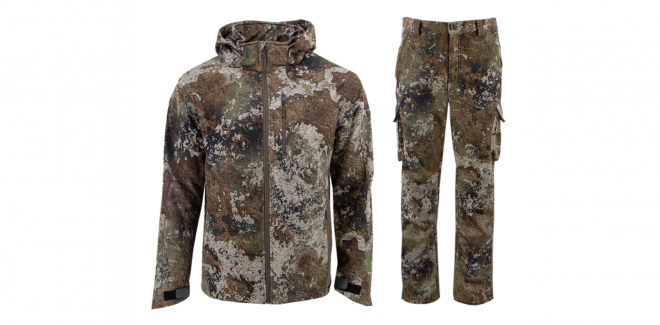 Hunters who pursue game the entire hunting season – from those balmy 70 degree days to the frigid negative degree days – can be incredibly demanding of their equipment because their dedication to success demands it. This extends to even their clothing, and TrueTimber realizes that. That is precisely why they engineered the TrueTimber Soft Shell series to be so versatile.
TrueTimber Coverage on AllOutdoor
Whether you need an outer layer that is light enough to stalk in or you want your outer shell strong enough to deflect bone-chilling wind gusts, the NEW TrueTimber Soft Shell series aims to do both and even more. With remarkably resilient 4-way stretch fabric and honeycomb fleece, this could be your end-all, be-all outer layer. TrueTimber goes on to explain this further in their remarks below as well as share their Specs and MSRP for each.
"TrueTimber fans remember when we first came out with the Pulse Soft Shell a few years ago, and many of them are still wearing that gear into the woods today," said TrueTimber CEO Rusty Sellars. "We took what was one of our most popular options and made it even better. With advancements in our technology and manufacturing capabilities, we took something that was already performing at the highest level and took it up a notch. Coast to coast, hunters will have a serious advantage wearing this set."
Pulse Axebutté Soft Shell Jacket
4-way stretch shell
Honeycomb fleece backing
Waterproof, breathable fabric
Zippered chest and lower pockets
Removable 3-piece adjustable hood
Adjustable sleeve opening with hook and loop closure
Available in size S – 3XL
Currently offered in TrueTimber Strata camo
Pulse Axebutté Soft Shell Pants
4-way stretch shell
Honeycomb fleece backing
Waterproof, breathable fabric
6 pocket design
Leg zippers for easy boot entry
Reinforced front pocket for clipping
Reinforced back kick panel
Available in size S – 3XL
Currently offered in TrueTimber Strata camo