AllOutdoor Review: Moultrie Deer Feeder Pro II and Micro-42 Trail Cam
Paul B. 11.07.22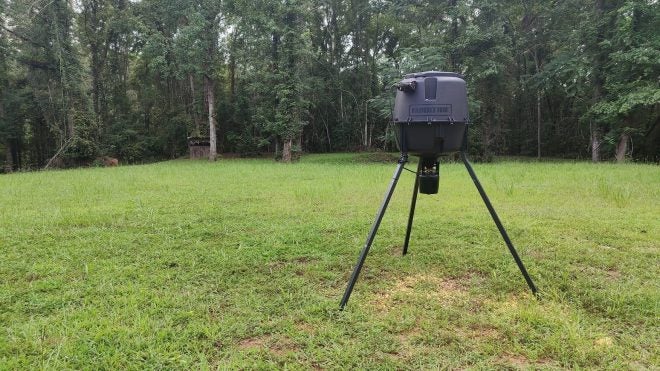 Outfitting your hunting property can get expensive quick. Added expenses deter many potential hunters from taking their first steps into the field, so is it possible to get results without breaking the bank? Moultrie offers feeders, cameras and other products at affordable prices but do they hold up and will you see results? Over the last couple of months, I found the answer.
About Moultrie
Founded by renowned game manager and hunter Dan Moultrie back in 1980, Moultrie is the best-selling brand of trail cameras and game feeders.

Moultrie Products has been bringing innovative game management products to the market for over 25 years. From game cameras to wildlife feeders, ATV spreaders and sprayers to deer supplements and attractants. Moultrie gives hunters the unmatched ability to plan and execute the perfect hunt. We've invested countless hours in research and development and continue to add new products to further position Moultrie as the trusted source for Total Game Management.
Deer Feeder Pro II
The Deer Feeder Pro II is Moultrie's more affordable automatic feeder. With an MSRP of $159.99 and claims of easy setup, plenty of capacity for corn, and robust programmability for feed times – this appears to be a bargain.
The Deer Feeder Pro II Tripod is one of the most economical options for a reliable wildlife feeder. The tough polymer hopper will hold more than 150 pounds of corn and features the Pro Classic II Feeder Kit with an adjustable funnel, plastic plate, ABS plastic housing, feed-level estimator, battery indicator and external power port.  The Easy Set programmable digital timer has been upgraded to allow scheduling of 10 feed times per day, 1-60 seconds in duration, specific days of the week, and Hi/Med/Low spin cast settings. Timer display includes battery level indicator and feed level estimator information. Coiled cable connecting timer and kit allows you to adjust settings with the timer in your hand. The Deer Feeder Pro II is easy to fill with the fill opening sitting at 5.5 ft. tall.
Heavy-duty polymer hopper holds more than 150 pounds of corn
Fill height of 5.5 feet for easy ground-level access
Included Pro Classic II Feeder Kit includes plastic spin plate, adjustable funnel, ABS plastic housing, feed-level estimator, battery indicator and external power port
Digital timer programs up to 10 feed times per day, 1 to 60 seconds long
Quick-Lock adapter mounts to any barrel or hopper
One (1) 6-volt battery required
Micro-42 Trail Camera
The Micro-42 is a traditional style trail camera relying on batteries and an SD card. What separates it from other traditional trail cameras is its incredibly small size while not skimping on the image sensor and low light performance all while keeping an impressive MSRP of $79.99.
Compact, convenient, and easier to conceal! With Moultrie's new Micro Series cameras, get everything you love about traditional trail cameras in a smaller package! The Micro-42 camera helps you minimize your footprint and keep an eye on the field without sacrificing any quality. Whether you're scouting for big bucks or using the cam as a security tool, enjoy ultra-high-resolution 42MP images and HD video (1280×720) with a blazing trigger speed and multiple capture modes.

Kit includes the Micro-42 game camera clad in Moultrie White Bark™, 4 AA batteries, and a heavy-duty strap for installation. SD card sold separately.
6V Feeder/Micro Camera Power Panel
The 6V Feeder Power Panel is a small and handy solar power panel that can either be used on a compatible Moultrie 6V feeder or a Micro series trail camera. The Power Panel has a built-in 1480 mAh lithium battery that is topped off during daylight hours by the solar panel. I recommend that you charge the integrated battery before installation as the battery will most likely be drained from transit. I chose to use the Power Panel on the feeder as I have had plenty of experiences with off the shelf 6V batteries draining prematurely or just flat out not working ruining the feeding schedule. You can opt instead to use the Power Panel with a Micro series trail cam.
Amorphous solar panel with built-in 1480 mAh lithium battery extends battery life for fewer trips to the tree or feeder
Weather resistant shell adjusts for perfect angles
All mounting hardware and tree strap included
Compatible with 6V Moultrie Micro Series game cameras and Moultrie feeder kits
Not compatible with 12V Moultrie game cameras
Setup and Initial Impressions
I packed up the products and headed to South AL to setup at a friend's hunting area that has not had an active feeder since last season but are known whitetail in the area. First up is the Deer Feeder Pro II.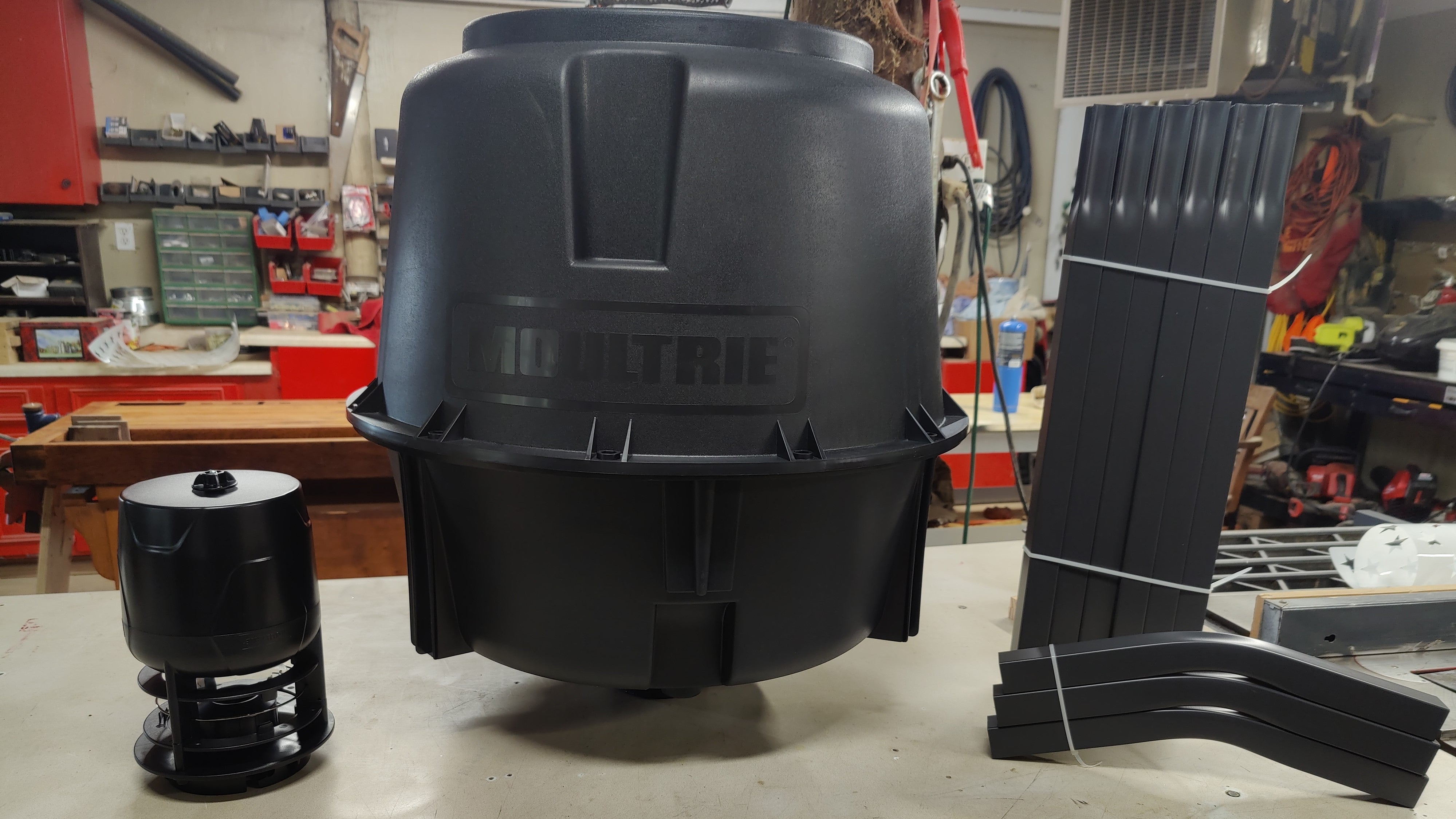 The Deer Feeder Pro II has a beautifully simple assembly not requiring any tools and just a few minutes of your time. This could easily be done in the field, instead we opted for the air conditioned workshop.
All included hardware laid out. Bolt heads are captured in the body of the hopper eliminating the need for a wrench. Wing nut fasteners are quick and simple.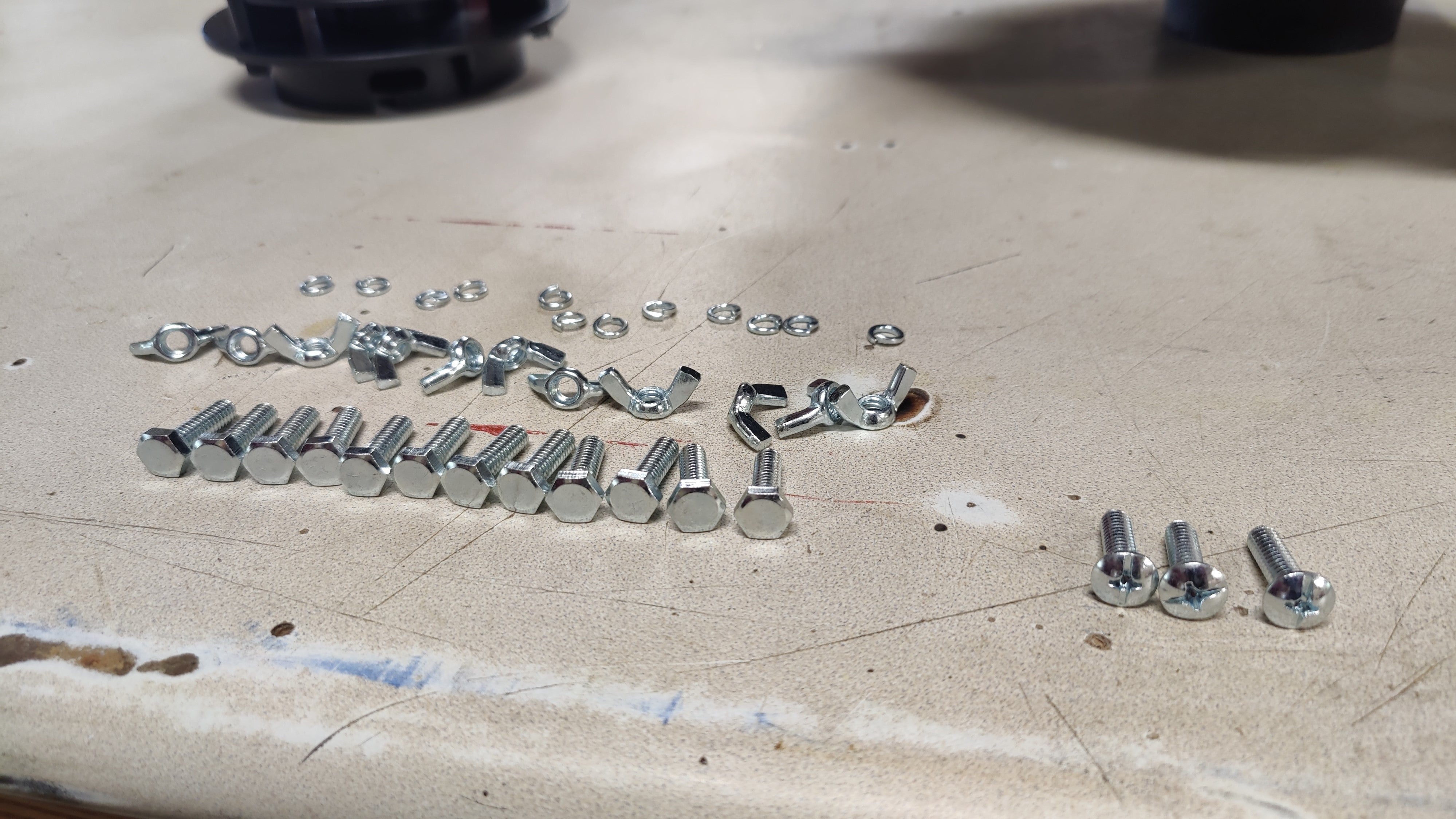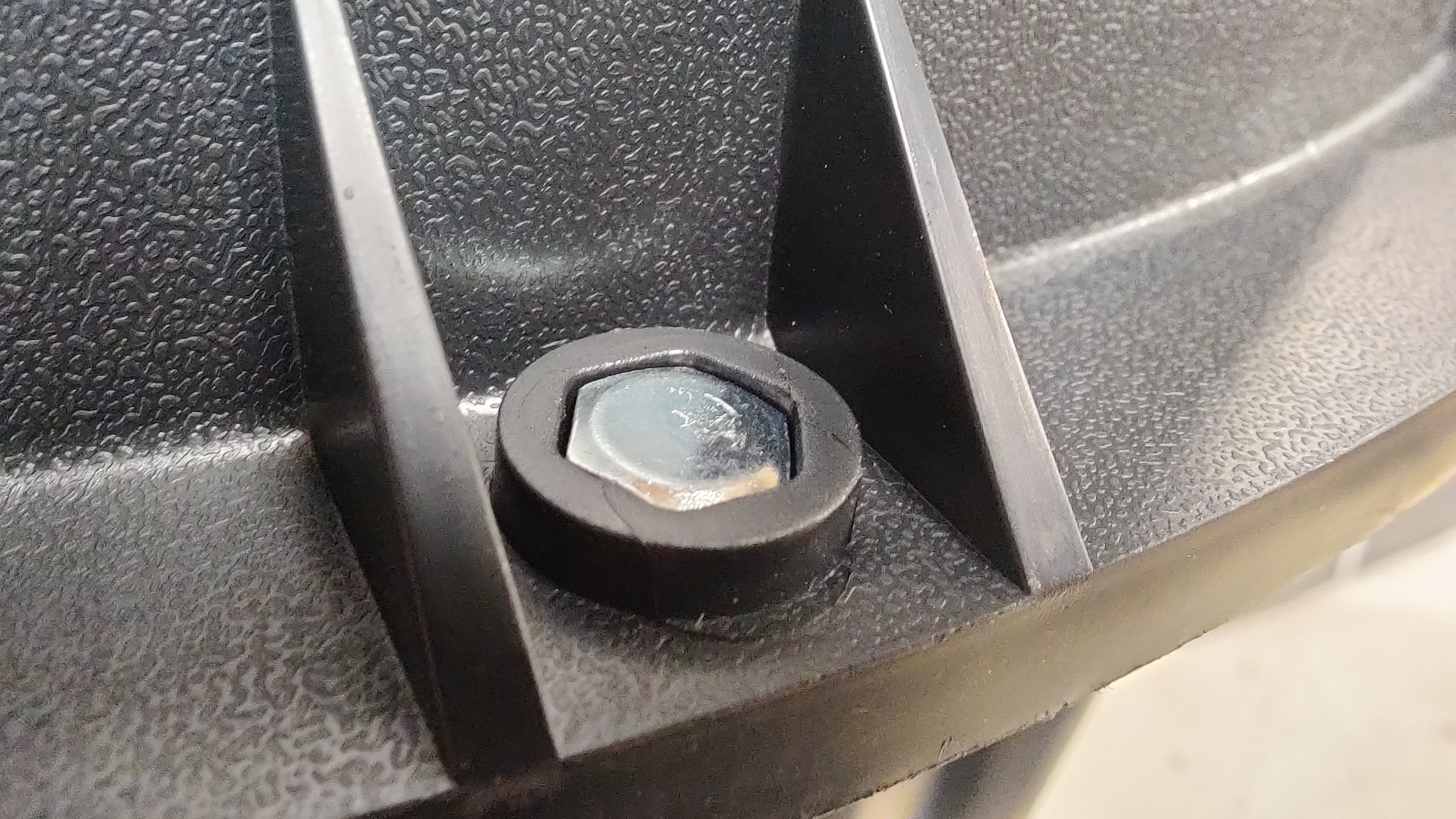 Feeder assembly slots and clicks into place while feeling solid.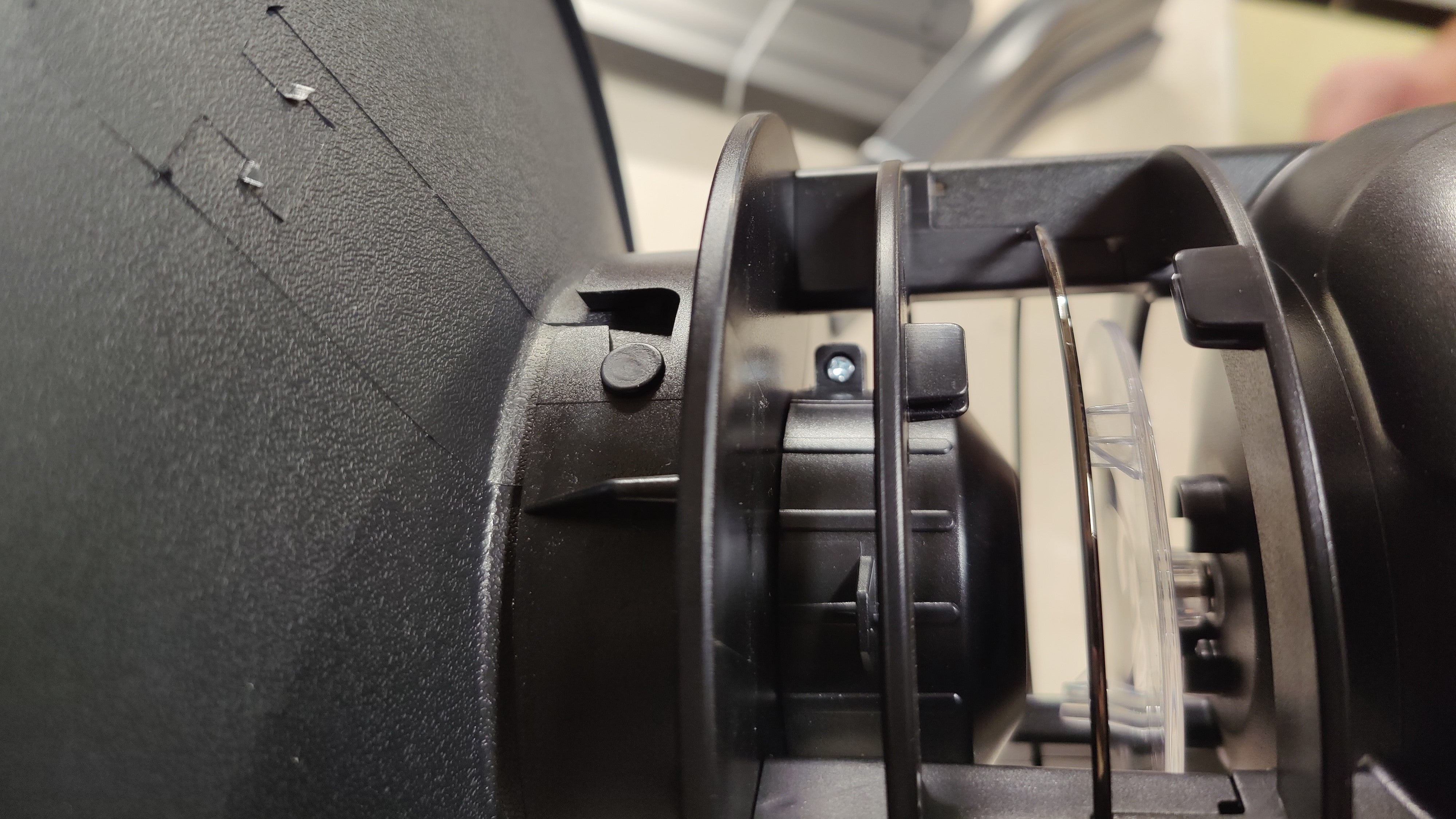 The only part of the assembly that is nice to have a second pair of hands is inserting the legs and standing the feeder up or moving it into place. The legs are held in place by the weight of the feeder.
To test the design of the feeder programming, I opted to program it without watching any videos or reading the included instructions. Hats off to Moultrie as the programming is possibly the easiest of any electronic deer feeder I have used. Within minutes I had set two feeding times, one in early morning before sunrise and another in the afternoon before sunset. Filling the 150lb of corn into the feeder is easy as the lid is only about five and half feet in the air.
Performed a test feed to see the dispersion of corn and am happy with the distance and volume. How long it spins corn can be set for each feeding schedule.
Powering the Feeder is the 6V Power Panel. You have a couple options for mounting the power panel, either with screws or an included tree strap. Using a Philips head screw driver, I mounted the panel on the body of the feeder in a position that would allow it the most about of day light. Plug the 6V braided power cable into the port on the feeder and you are done.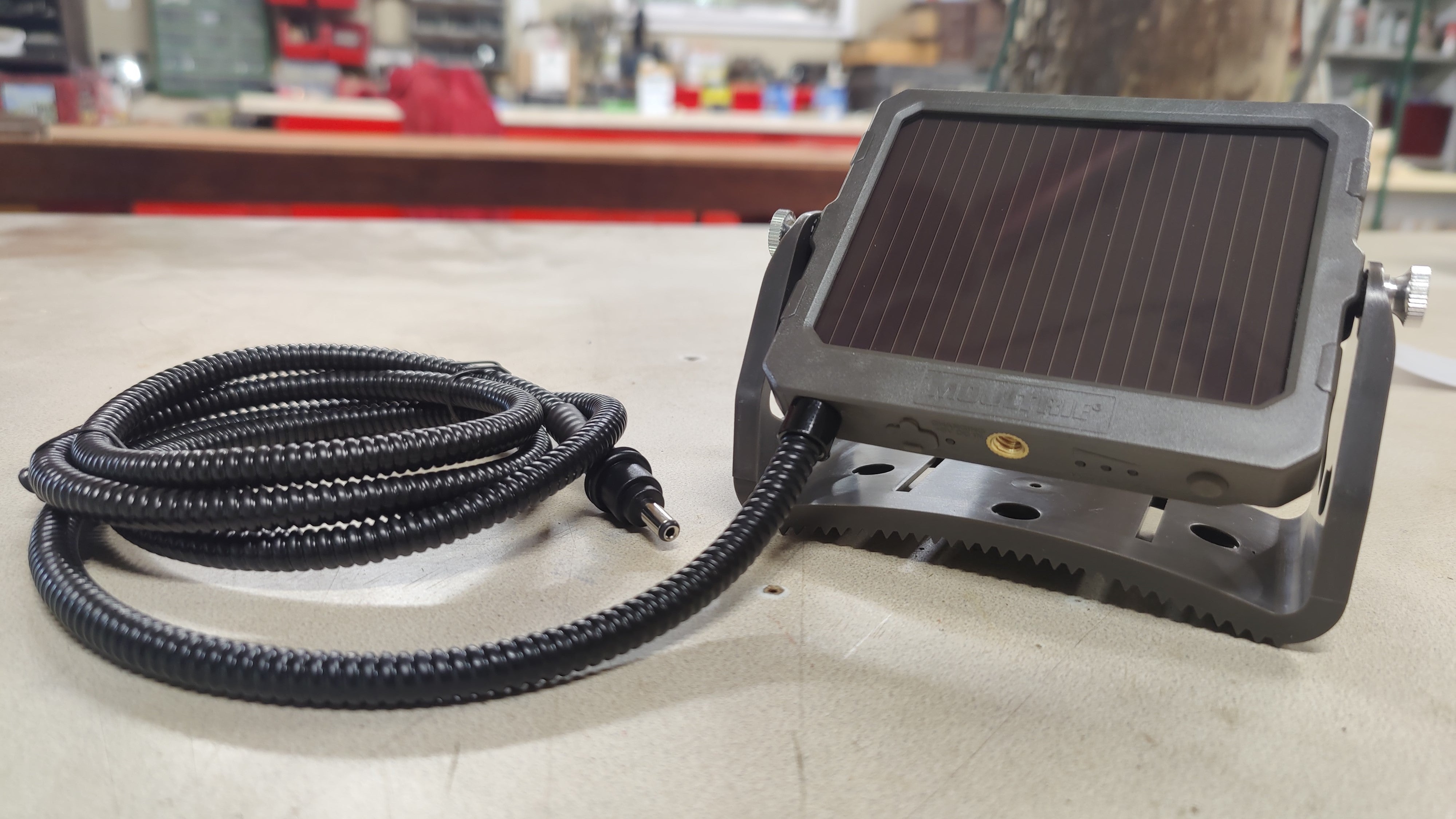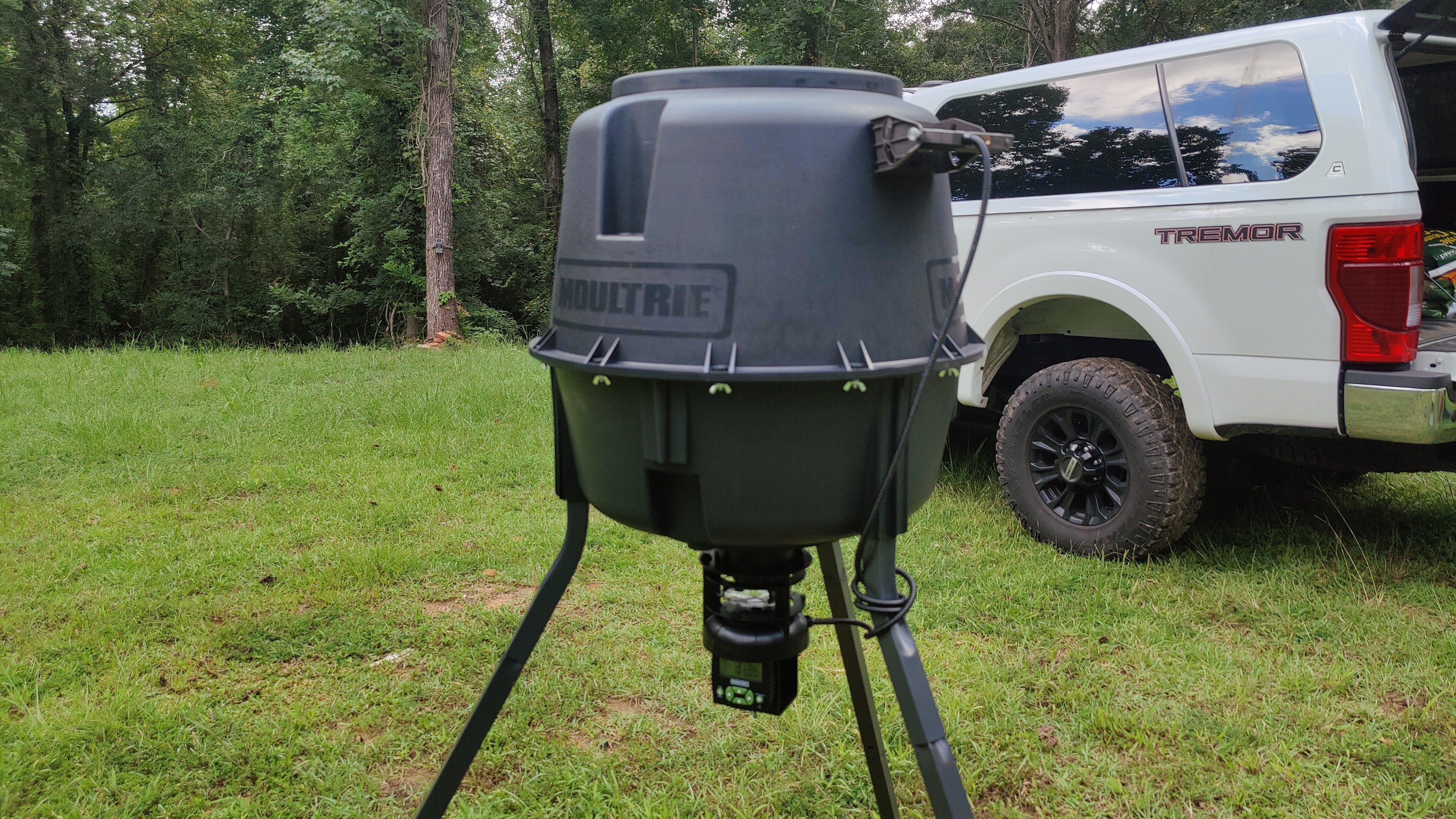 The Micro-42 is a surprising small camera. I know it has Micro in the name and the pictures online do make it look small but when it arrived and I unboxed it, I could not believe how tiny it really was. The down side to shrinking electronics in many cases is that you almost always have to sacrifice something. Less capable image sensors, less room for batteries making for shorter battery life, difficult to access SD cards or an impossible to use interface for programming. None of those issues are present on the Micro-42, it is a beautifully balanced camera with easy to access SD card, you don't even have to remove the camera from the tree it is mounted to. Interface to program the camera is simple and basic but does require referencing the instruction manual so don't throw those away.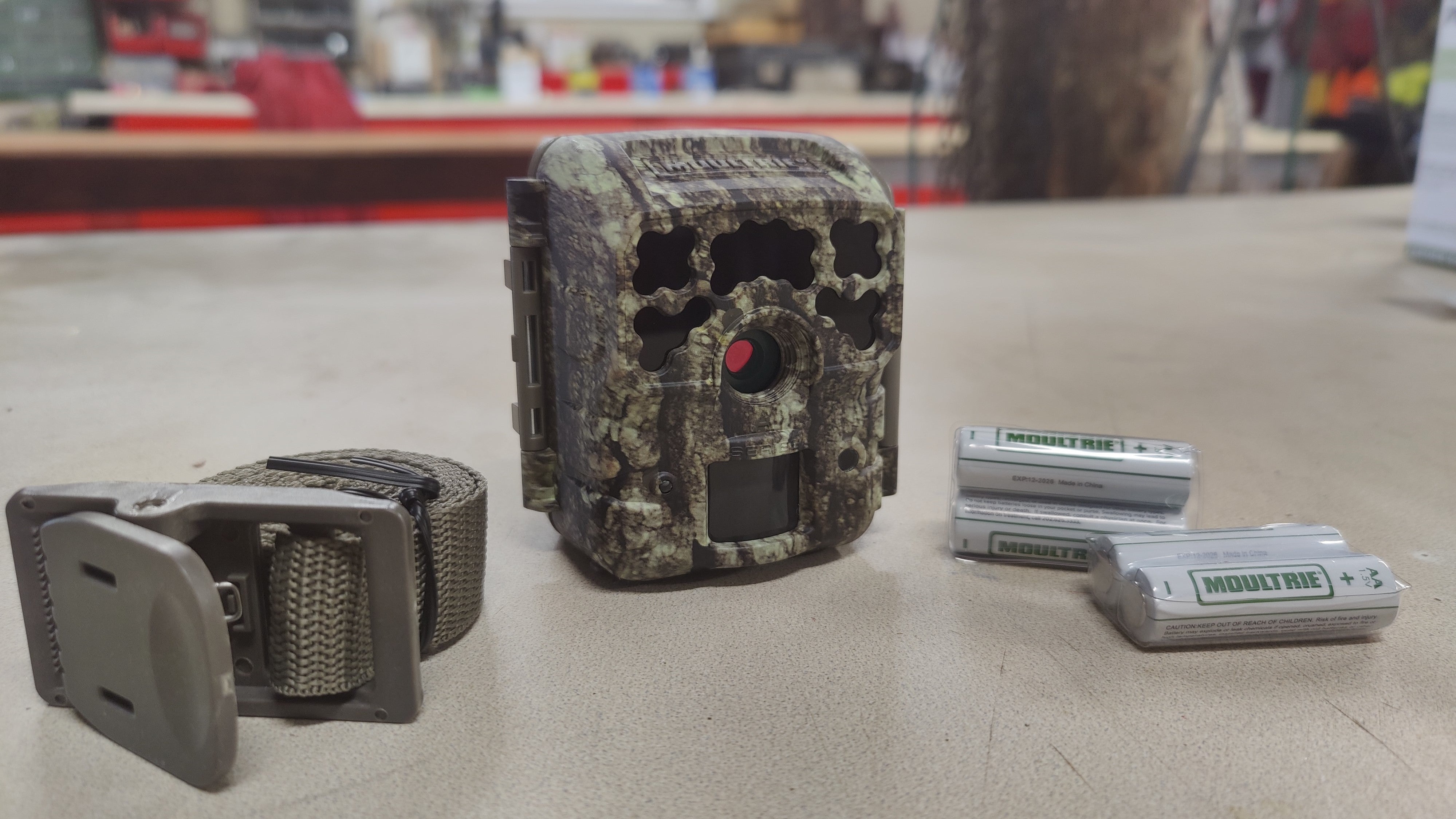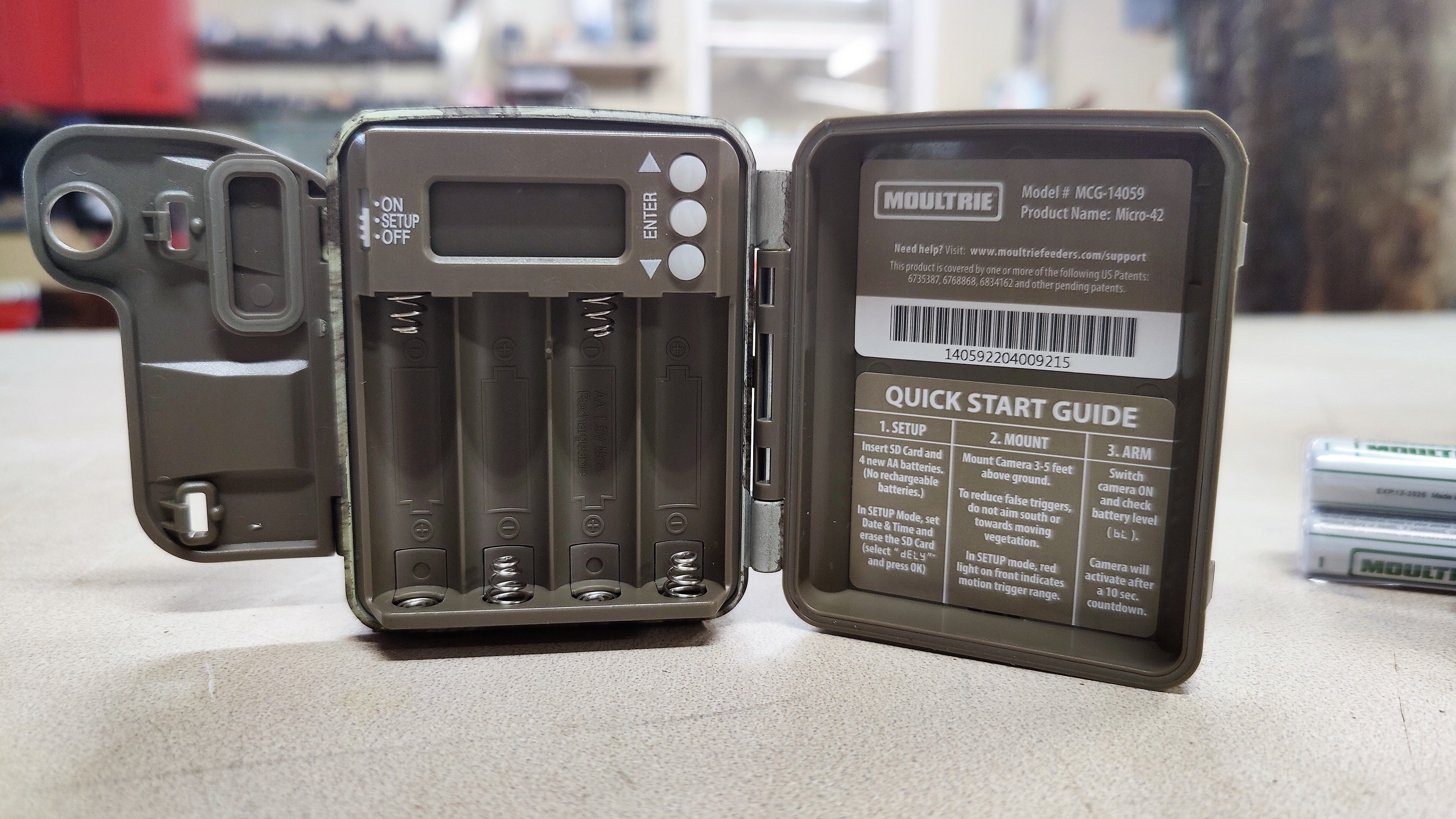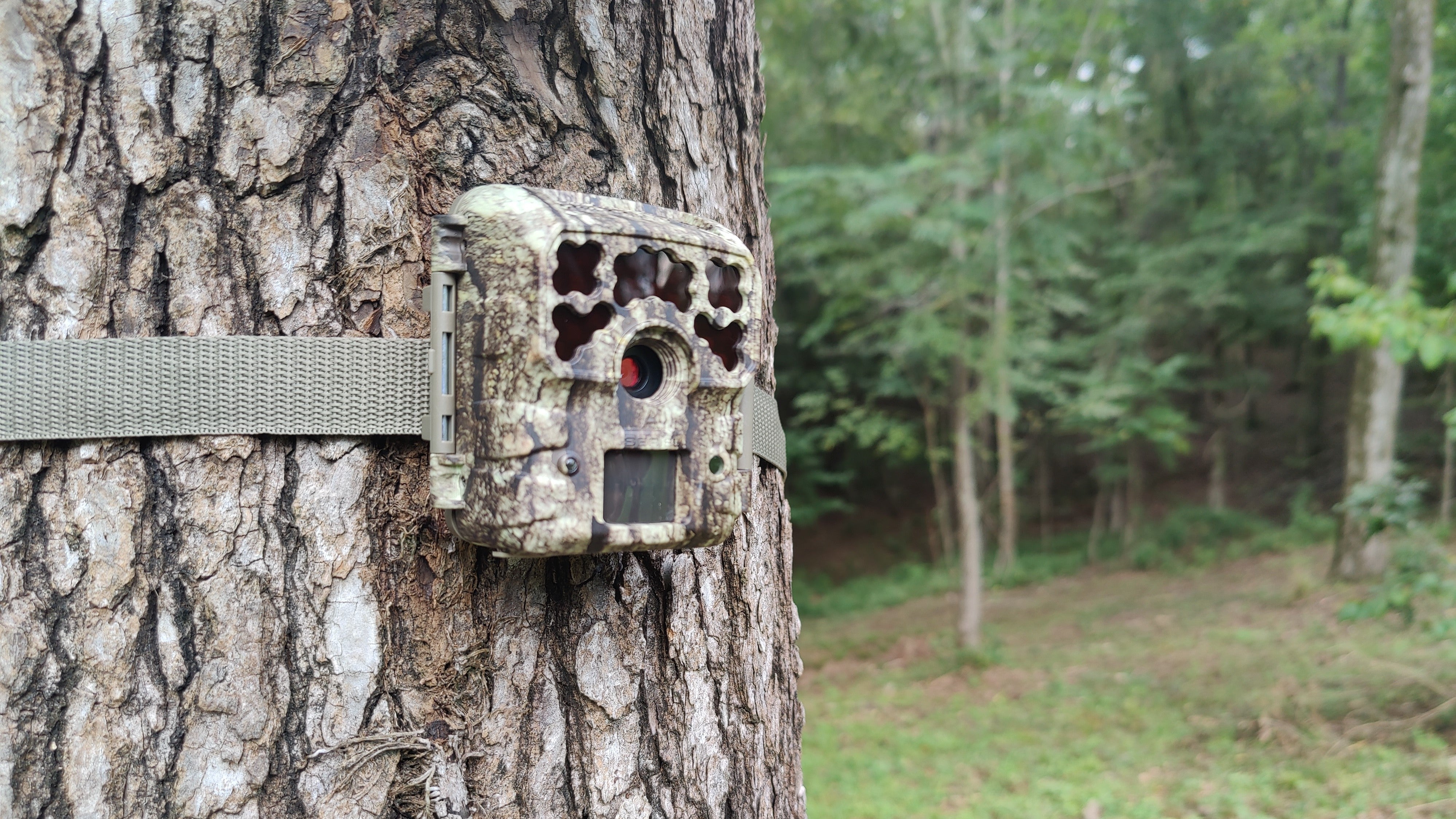 Immediate Results
I could not believe how quickly the deer found the corn. Coincidence? Possibly. What I can tell you is that they found it the first night and have been back every night, morning, and afternoon since. Bringing in nicely sized doe, bucks, raccoons and turkeys. The raccoons have yet to find a way into the feeder nor have they destroyed the feeding mechanism like they have with another feeder I have. The only issue I can report on all of the equipment is the Micro-42 did stop taking pictures on day 3 due to the included batteries draining prematurely. The batteries dying early on a non-LTE trail camera is annoying since you will only find out the batteries are dead when you physically check the camera, potentially missing pictures of game. This could be a one off issue with these included Moultrie brand batteries but just in case, you may want to toss them and use a set of quality batteries or a Moultrie 6V Power Panel. The feeder and power panel have been perfectly reliable.
First Day – Setup in late afternoon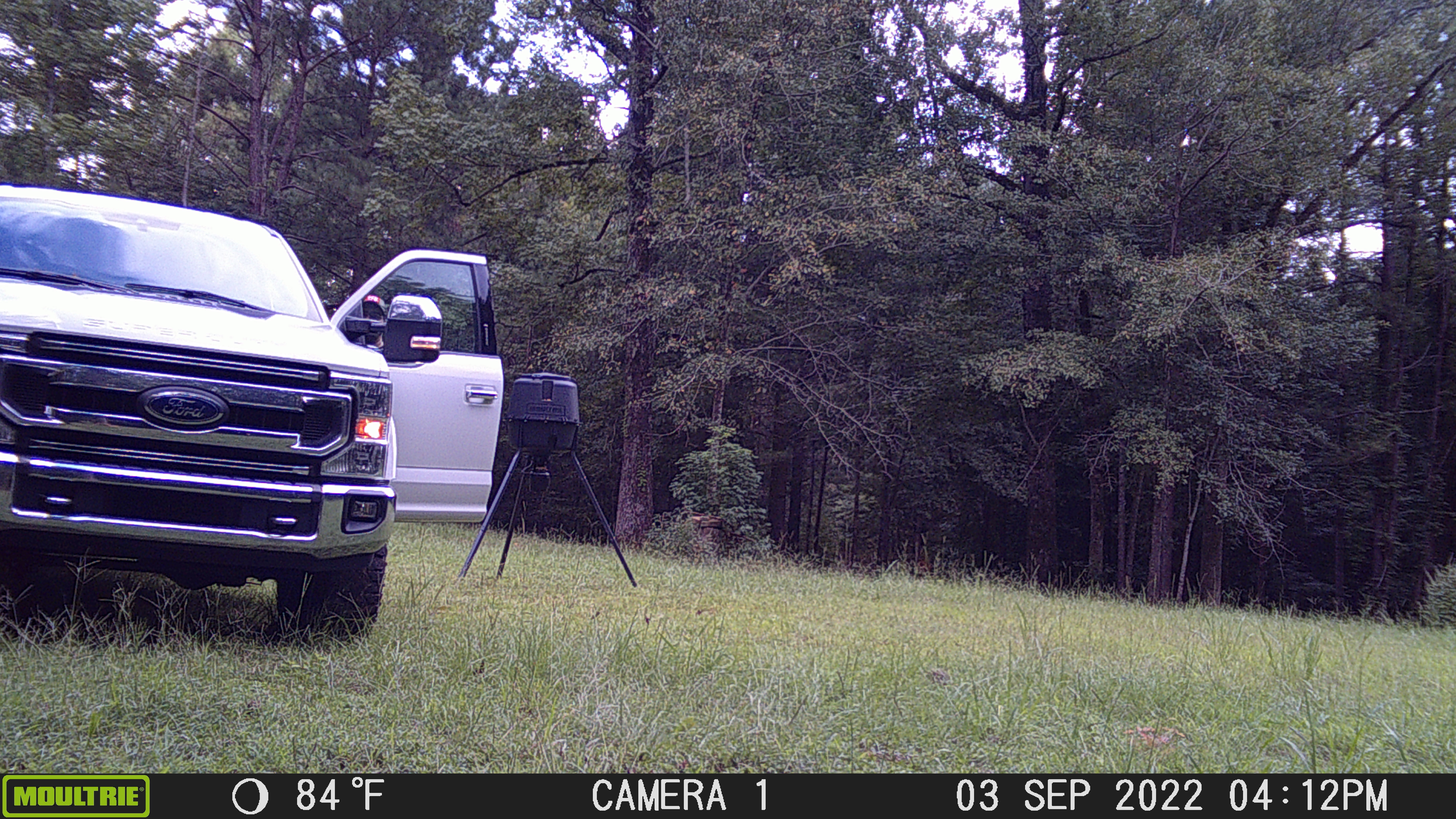 Discovered the first night just a few hours later. Low light performance on the Micro-42 is impressive given its small size.
The secret is out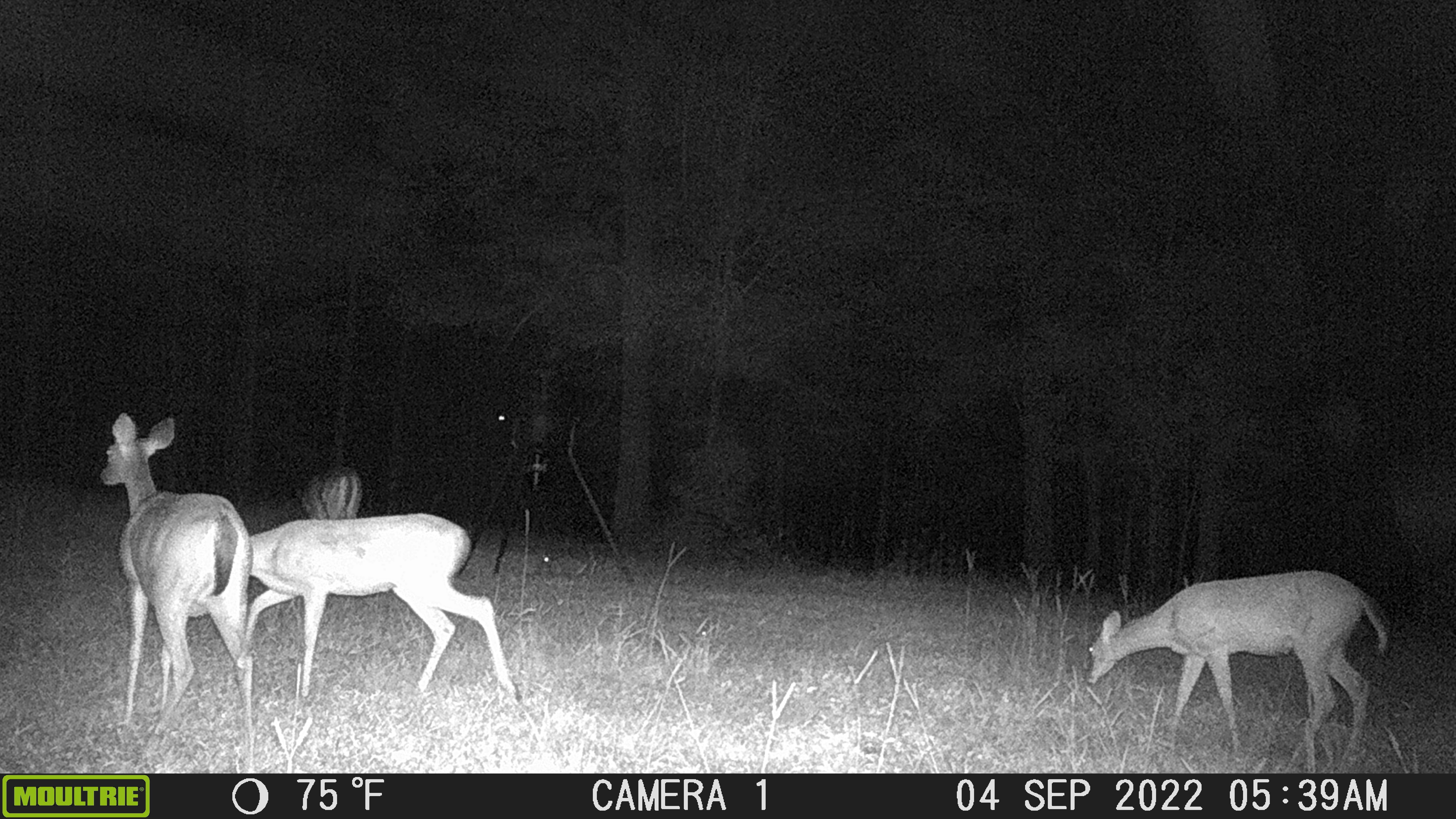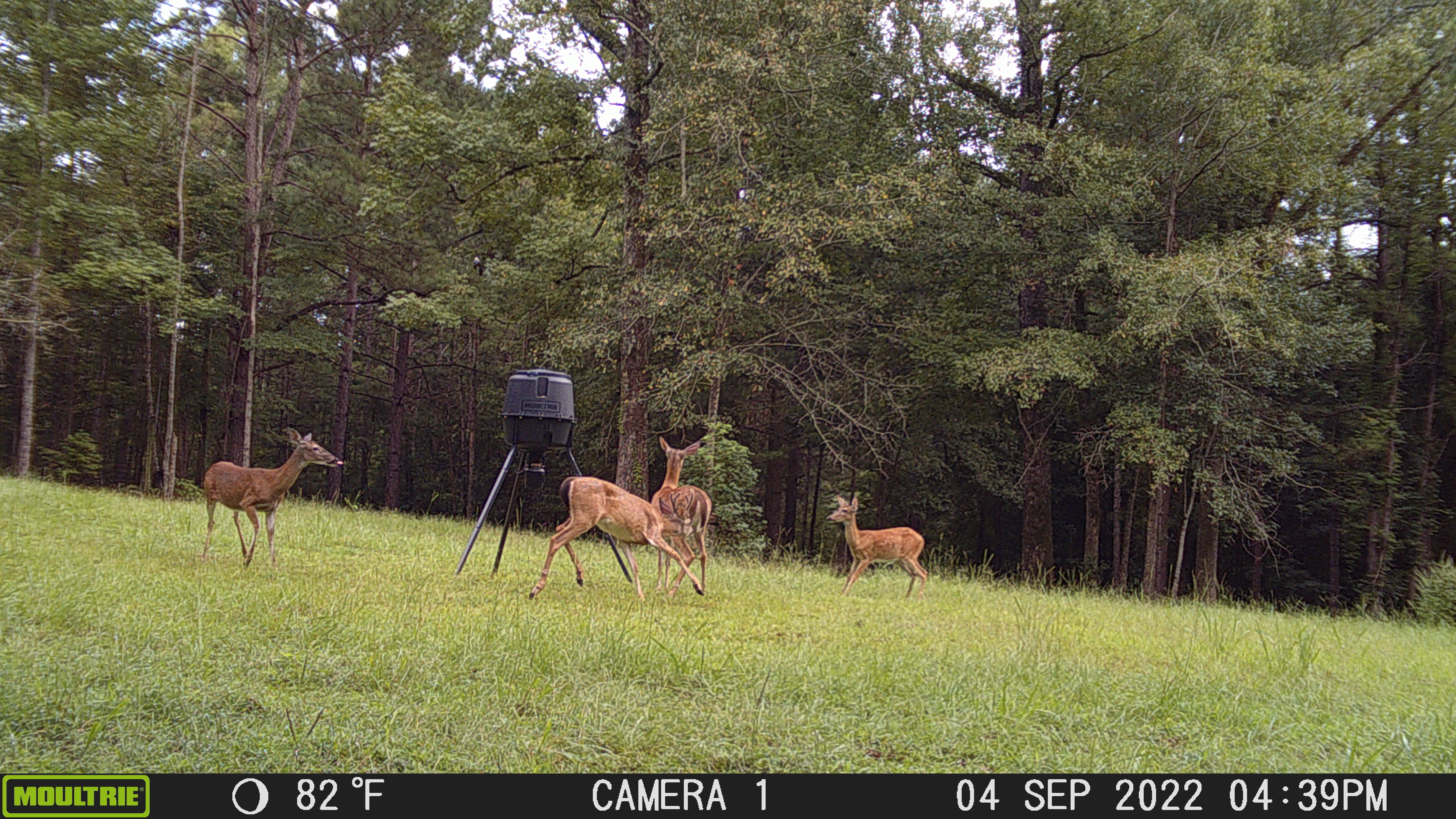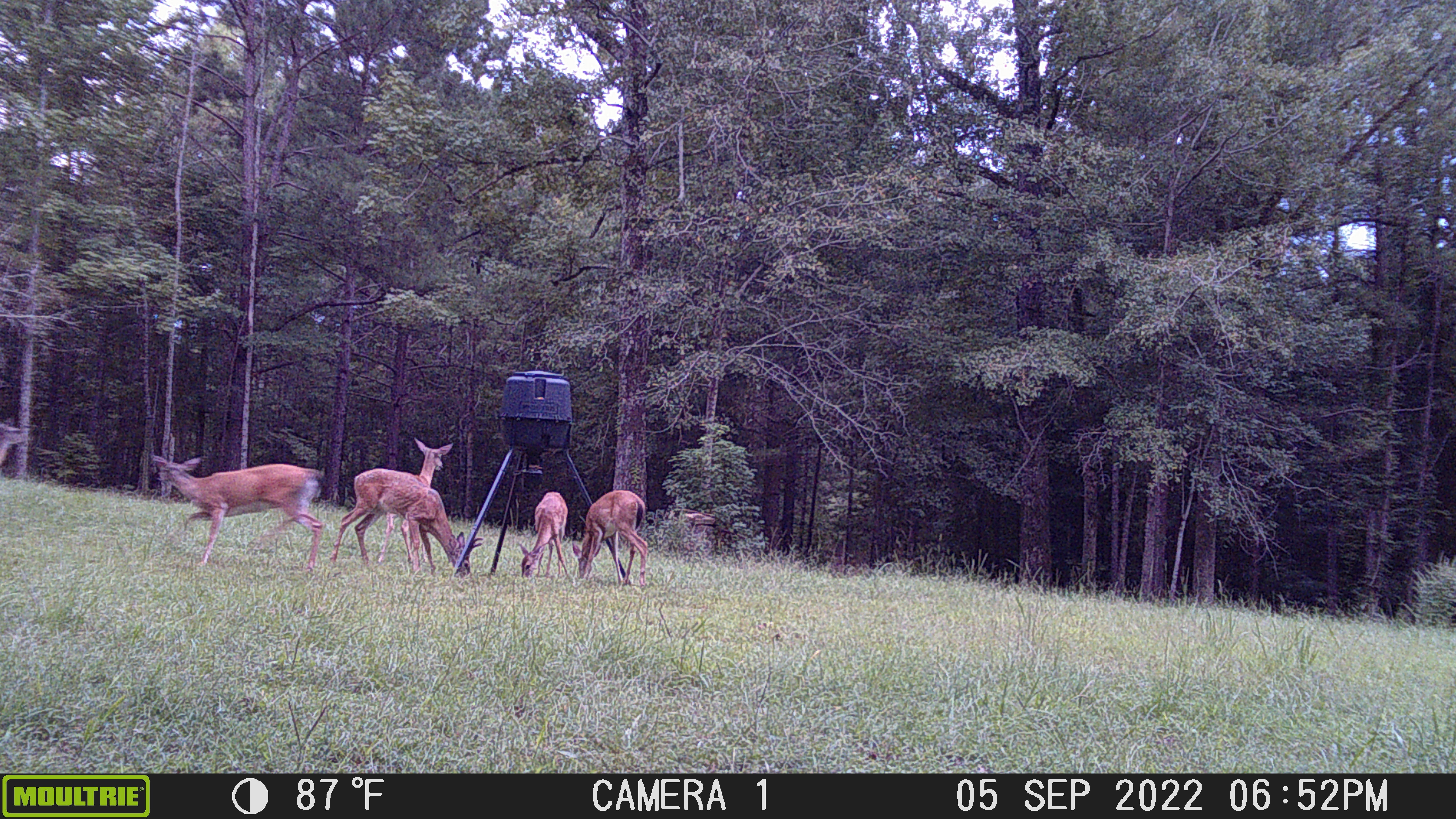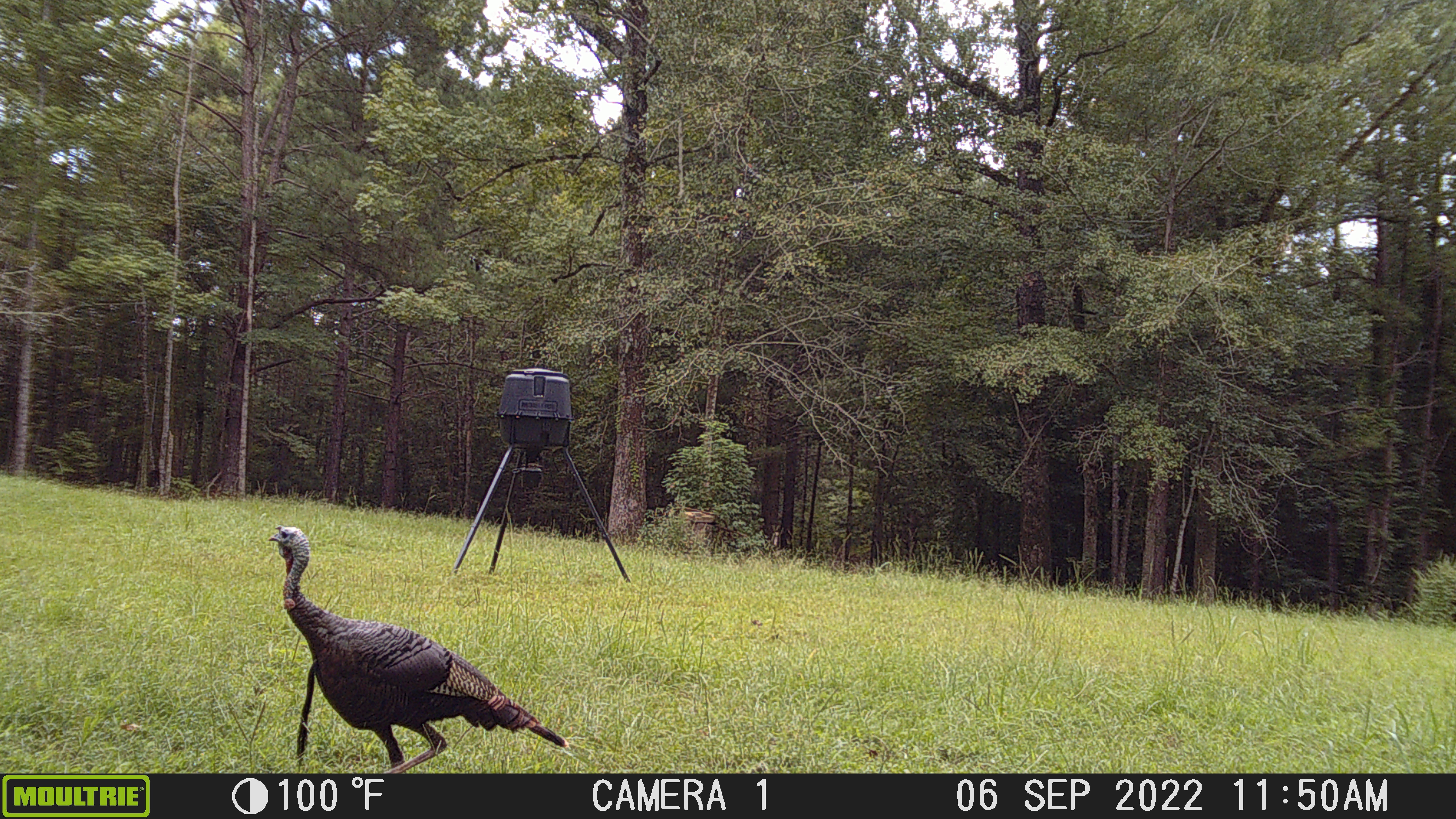 Final Thoughts
Near perfect operation, easy setup, immediate results, and fairly priced. It is impossible not to recommend these products from Moultrie. The Power Panel is still fully charged two months later. With a fresh set of batteries, the Micro-42 is back in action. The Deer Feeder Pro II hasn't missed a beat, spinning corn twice a day and the "Estimated Corn Volume" displayed in the Feeder is fairly accurate. Give Moultrie a look if you are in the market for new feeders or cameras. I know I will be picking up some more in the very near future. To get these for yourself, visit Moultrie's website or one of their many retail partners.