NEW Wilson Combat Sights for Modern Colt Pythons & Anacondas
Adam Scepaniak 11.07.22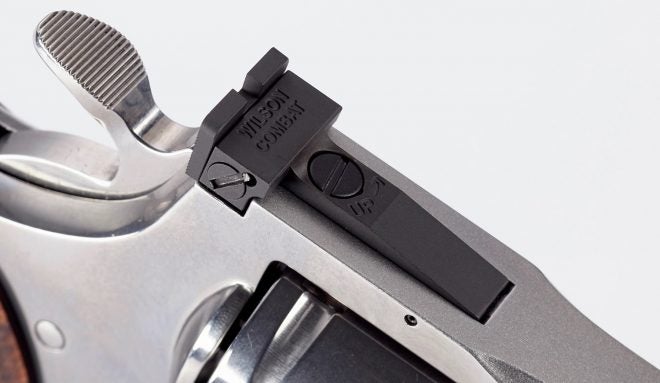 For those of us who immediately jumped on the Colt wheelgun bandwagon when the new Colt Pythons and Anacondas began coming, there is good news in sight for their iron sights. Wilson Combat has introduced improved front and rear sights for both models that require no modification of the revolver itself. You can simply trade out parts and instantly improve your sight picture whether it is for hunting, recreation, or target shooting.
Wilson Combat Coverage on AllOutdoor
Wilson Combat Adjustable Target/Tactical Rear Sight for Colt 2020 Python/Anaconda
The new Wilson Combat Target/Tactical rear sights for Colt Pythons and Anacondas are adjustable and come in 2 different options. You can either get an adjustable U-Notch rear or a Square-Notch rear; whatever is your particular preference. Both of them have an MSRP of $109.95 at the time of their release. Some of the other specifications for these rear sights can be read below as presented by Wilson Combat:
Material: Chromoly Steel, black oxide finish
Blade Type: Partially serrated U-Notch & Square Notch
Rear Sight Notch: 0.125" width Square Notch / 0.150″ width U-Notch, 0.099" depth
Dovetail: 2020 New Colt Python and Anaconda only
Elevation & Windage Adjustments: Yes
100% USA Made
Wilson Combat has developed a fix for what we consider the weakest link in the new 2020 Python and Anaconda models-the factory sights. Our new click adjustable rear sights mated with our new snag free front blades will give you a bigger, bolder sight picture that is easily click adjustable on the range. 
Wilson Combat Snag Free 2020 Colt Python/Anaconda Front Sight
The new Wilson Combat front sights being offered are sold separately of their rear sight counterparts. So, you can create 8 different pairings of a front/rear sight combo that suits your fancy. The two fiber optic front sights of Red and Green have an MSRP of $39.95 while the Gold and White Gold front bead retail for $79.95 each. All of the nitty-gritty specs for the front sights can be read below as presented by Wilson Combat:
0.180" height
0.125" wide
Choice of red/green fiber optic or 10K gold bead insert in a serrated ramped blade
2020 Python/Anaconda factory replacement height
Supplied with new retention screw/wrench
100% USA Made
The new, modern renditions of the Colt Python and Anaconda were an answered prayer for many revolver collectors because they are so iconic in cinema, and tales of their accuracy are legendary. Now, with better sighting options from Wilson Combat maybe some of us can create our own historic stories and feats of accuracy with these new "Snake Guns." As always, let us know all of your thoughts in the Comments below! We always appreciate your feedback.