Teaching Others About Firearms – Building your 1st Mobile Hunting Blind
Phil Godding 11.08.22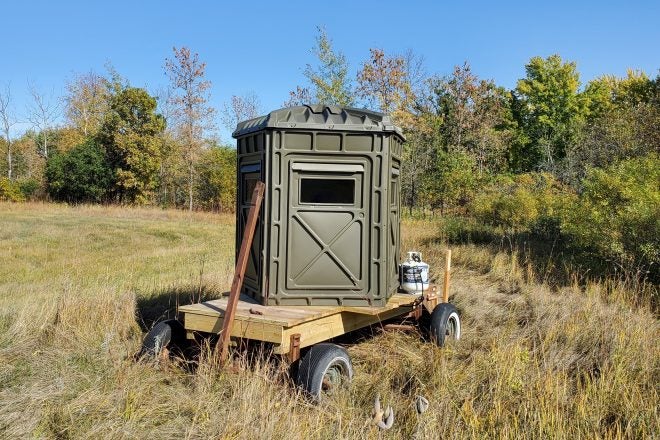 Where I hunt is mostly farmland and swamp so a hunting blind works as well as a tree stand. That is where our story begins. About a year ago I ran across a farm shop fabricated grain wagon. I got it from a guy who got it from a guy who had actually gone to the auction. I had seen similar size wagon frames on my childhood farm being pulled behind single-row corn pickers and small grain combines. How did I know it was farm shop fabricated?
The wagon tongue was too long for anything, but being pulled behind a specific implement
The old wooden box was made out of rough sawn native oak so it was sturdy and deceptively heavy
Some of the flat iron metal pieces were twisted
The wheel size was odd (literally)
There was a small but ingeniously designed gate at one end
Finally, the wood was painted a shade of green I had never seen on a commercial farm wagon
After finding the wagon it was time to get to work!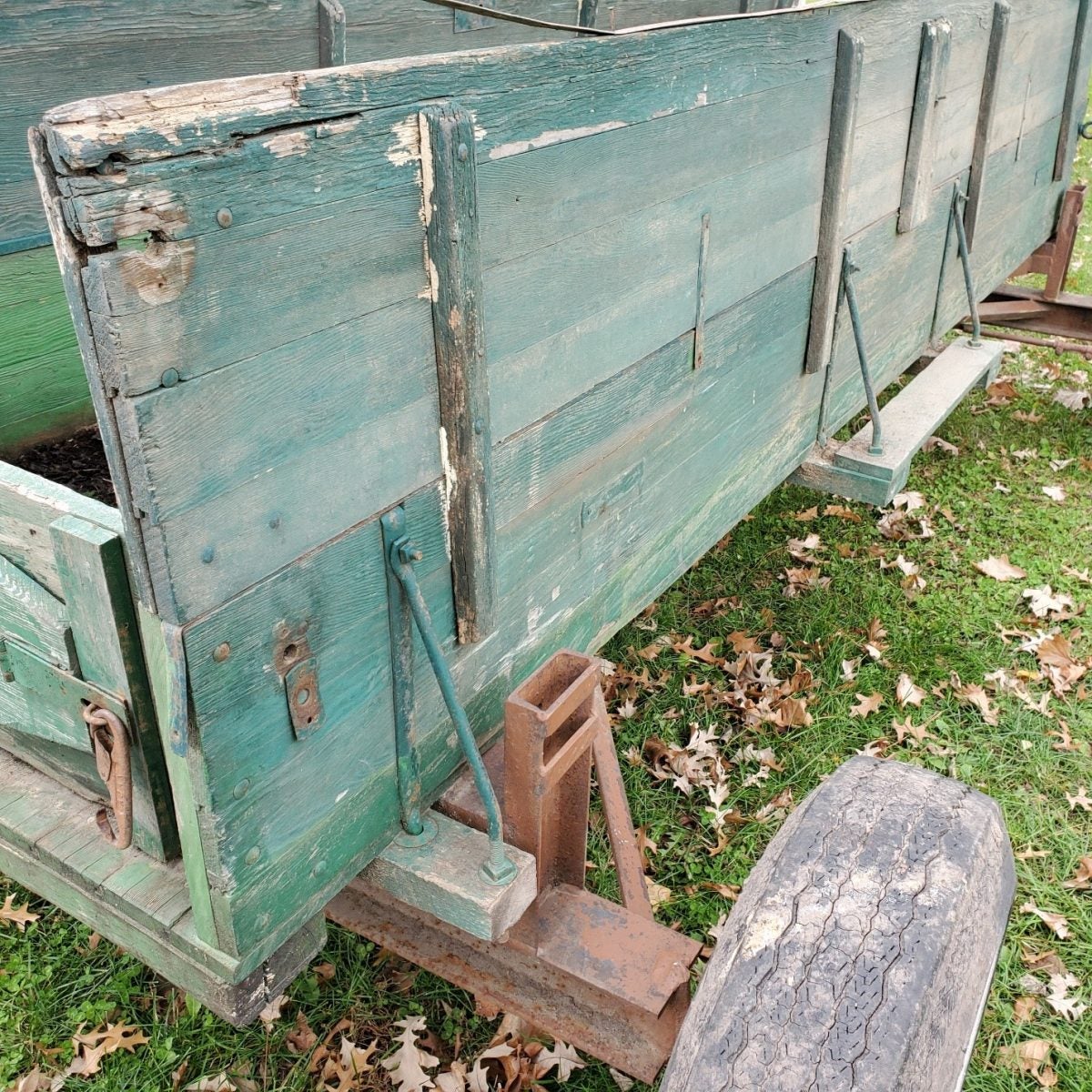 Teaching Others About Firearms – AllOutdoor
---
Step #1

Get the wagon delivered to my house (tires are too checked and weathered to be pulled on a road without making an adventure where an adventure did not need to happen). By this point I was doodling plans for my mobile deer hunting blind. Everyone I had talked to said it was a good idea, but nobody I talked to had actually built one.

Step #2

Remove the old box with the aid of my reciprocating saw.

Step #3

Attempt to buy needed lumber and develop heart problems after seeing the price at the big box store. This delayed me by a few months.

Step #4

Get way behind on the project, wait for the snow to melt, and find better prices on much needed pressure treated wood, glue, and lag bolts.

Step #5

build the frame using pressure treated 2X10s, using copious amounts of glue and decking screws to hold it all together. Your results may vary.

Step #6A

Build the deck for the Existing 5–Sided, Fiberglass Deer Blind (E5s-FDB: we gun owners apparently like to use code words to describe our projects so I created one of my own) after forgetting to measure the exact size of the blind the last time I was at the lease land. The E5s-FDB was currently sitting on a rotting platform some two hours away so I couldn't just run over to measure what I had forgotten to measure before. The decking was 2×6 pressure treated lumber laid out and I was hoping the E5s-FDB would fit perfectly without wasting lumber. Your actual results will absolutely vary, I am unskilled labor.

Step #6B

Realize I needed some steps. Step 6B: realizing I could take the steps from a deck replacement project. It was a stroke of genius to hinge the steps to truly make this platform portable.

Step #7

Find someone to haul the E5s-FDB platform to the deer lease. No, I did not buy new tires and I could not find used tires in better shape than what I had.

Step #8

Talk my brother and nephew into helping me shift the E5s-FDB from the rotted platform to the new mobile base. Step 8B involved evicting a family of mice from a roll of toilet paper I had left the prior hunting season. Step 8C was removing the lag bolts holding E5s-FDB to the old base. Then, lifting the E5s-FDB to the mobile base and re-screwing the E5s-EDB into place.

Step #9

Pull the E5s-FDB unit to the preferred hunting point, install carpeting, heater, and a comfy chair.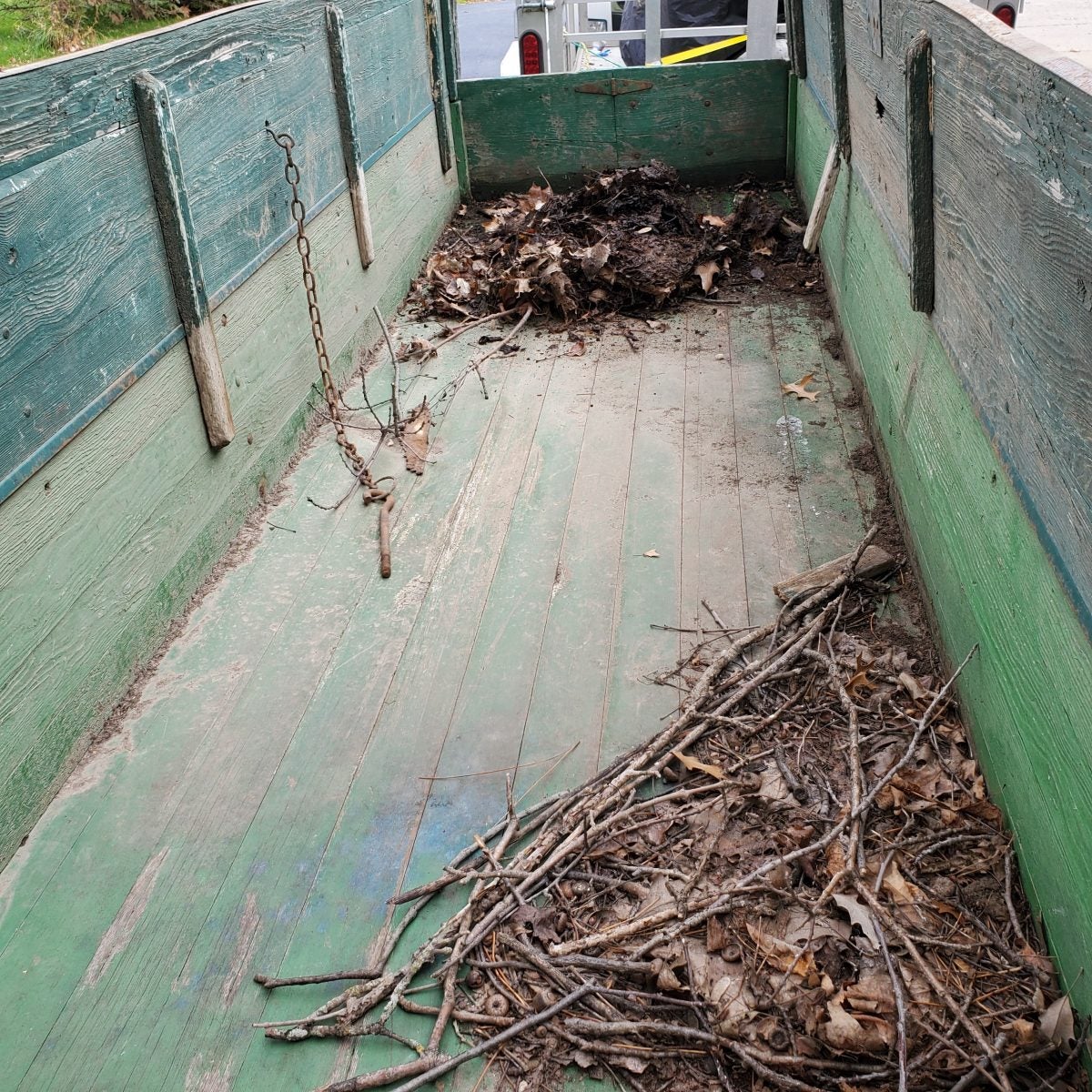 The total project took about 9 months due to wood costs and life events. All told it was about two long day's labor, but I had many wonderful hours drafting and daydreaming about how to complete this project. The old farm wagon cost $300, and about that much was spent on lumber, screws and glue. Transportation was about as much as the wagon itself. The benefit of the project in terms of satisfaction was priceless.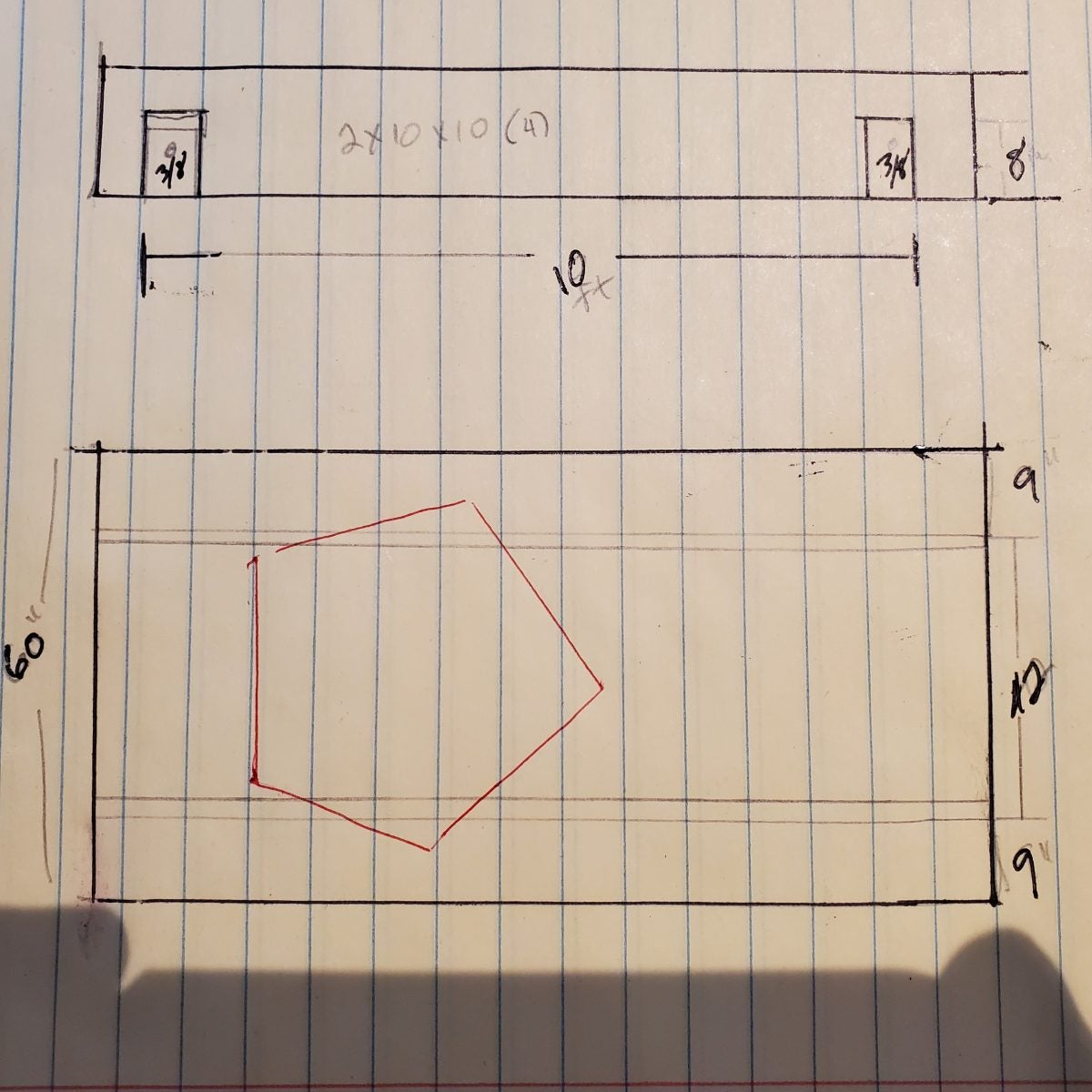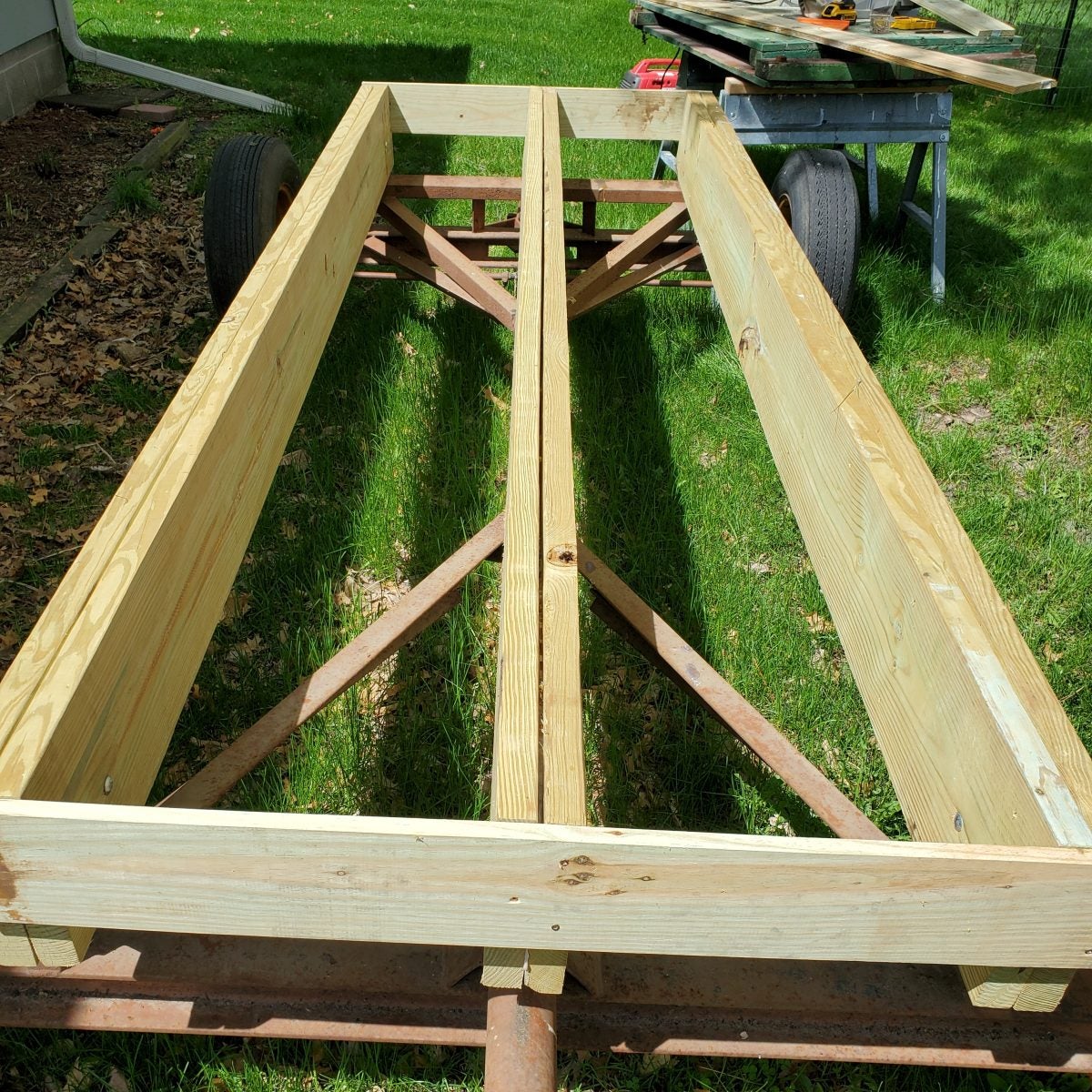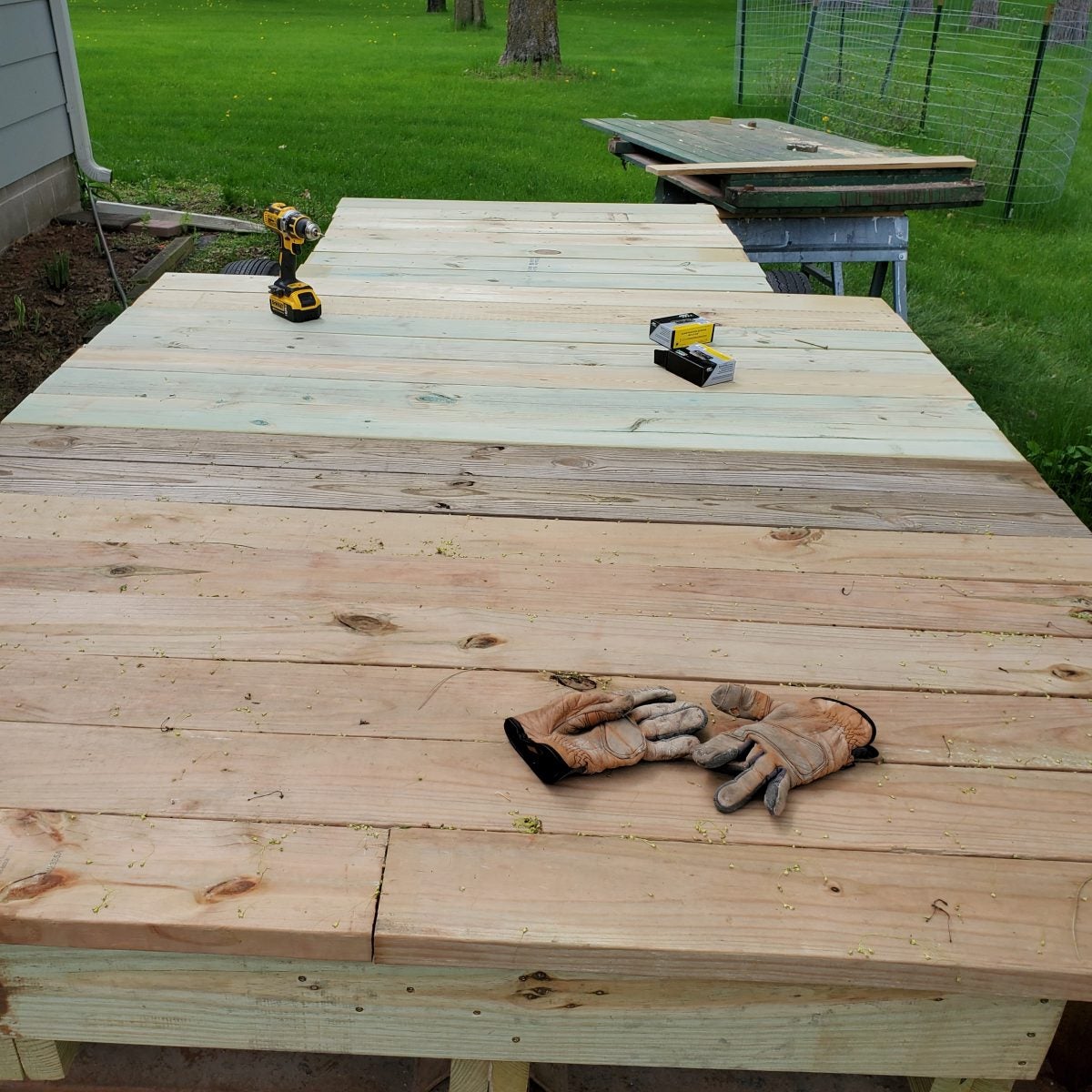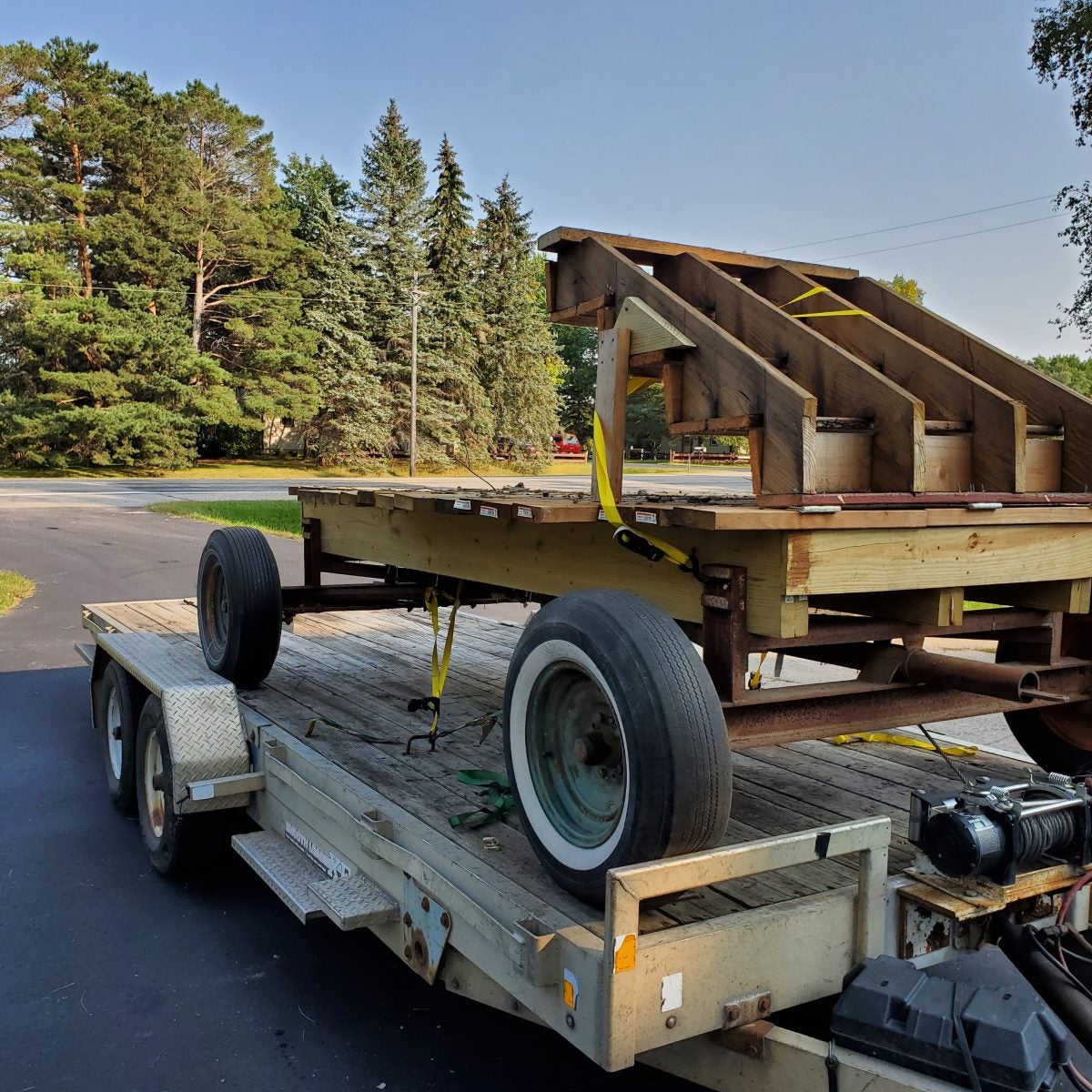 I saved the steps from a failing deck and they work great in my rebranded deer hunting blind. The 2×4 allow the steps to fold up without hitting the hunting blind. Cost for this addition was zero (yes, those are recycled hinges from another project).