AllOutdoor Review: Taylor's & Company TC9 1873 9mm Cattleman Replica
Eve Flanigan 11.10.22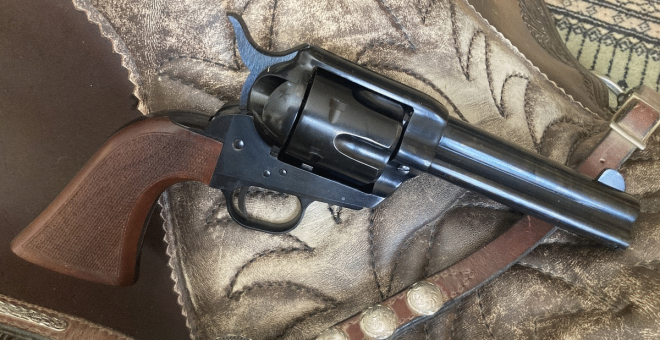 Taylor's & Co., based in Virginia, recently released a series of 1873 Colt Cattleman reproductions, with a twist:  they're chambered in 9mm Luger. The new product line is called the TC9. Currently I have one of these new wheelguns in hand and have had the chance to experience it on the range. As a shooter who spends the majority of her time with semiauto guns, this was a step out of the box.
Taylor's & Co. offers four possible finish, grip, and barrel length combinations for the TC9. At least that's the case as of this writing. The specimen in this review has the shorter, 4.75-inch barrel, with wooden Army checkered grips and blued finish. It's also offered in a 5.5-inch barrel version. Then there's a color case hardened version, in either barrel length, with black synthetic checkered grips described as offering a more modern grip. I find the shorter/traditional trim classy; but the others are attractive in their own right. Incidentally, Taylor's acts as distributor and has obviously branded the gun. The actual manufacturer is Pietta, of Italy.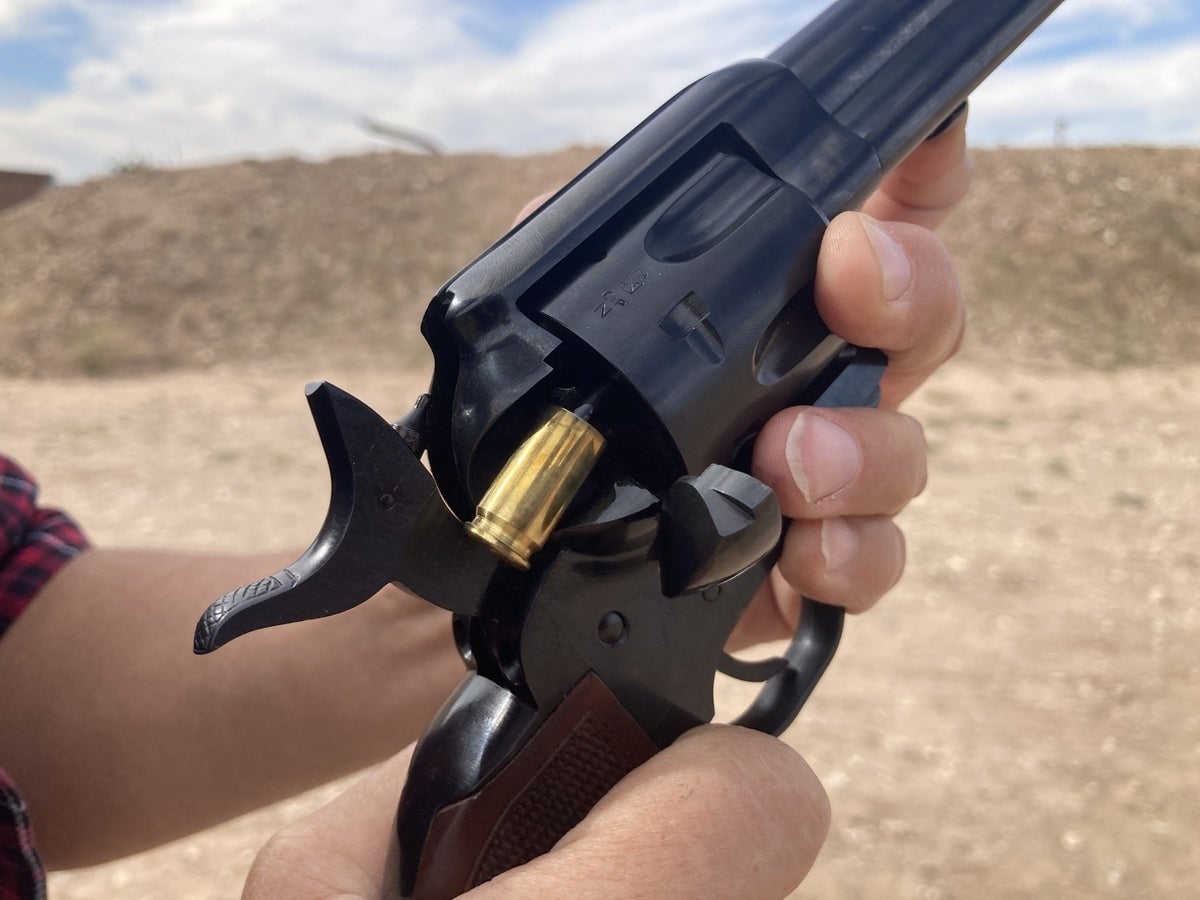 Of course, I first laid eyes and hands on this gun at my local gun store. The clerk who processed the transfer is a fan of classic revolvers and at first he sort of scoffed at the concept of European chambering in this symbol of the Old West. But his skepticism soon turned to a grin as he handled the TC9. "Four clicks, just like the real Colt," he said, working the hammer. Compliments on the fine quality of checkering on the grips soon followed. And as I was leaving, he opined, "with the price of ammo, it's a pretty good idea to have a revolver that runs nine."
The TC9 1873 SA comes in a carboard-sleeved Styrofoam box with an internal cut-out for the gun. Included is a slick, well-designed user manual with pictorial descriptions. While packaging quality rates highly with some, I was pleased to see what I perceive as the proper allocation of resources here.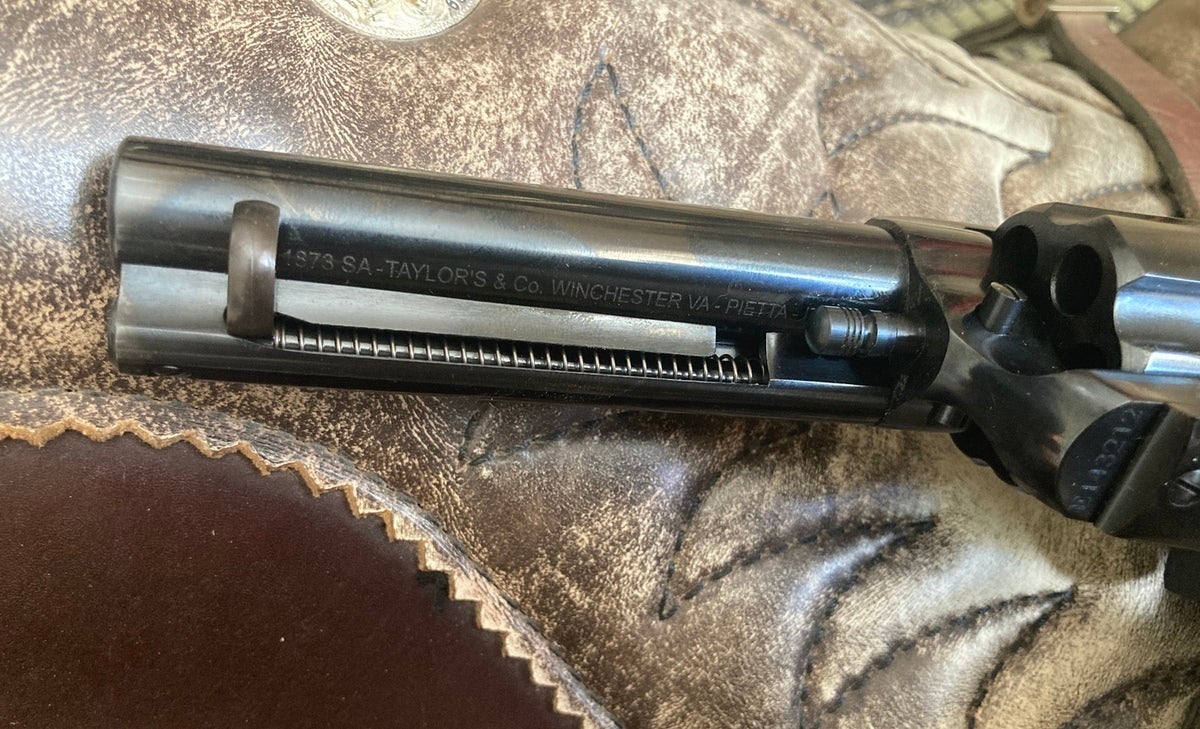 My only other experience with a revolver that runs a semiauto load is the double/single action Pitbull by Charter Arms. Its built-in moon clips provide a similar economic advantage, allowing a wheelgun to run 45 ACP ammunition. In my home state, concealed carry permits are action- and caliber-specific, so this gun gets a lot of mileage in our stable as it can reduce the overall cost of obtaining a license. That was the long version of the story of how this economic/ammo availability convenience is sometimes balanced by the somewhat fussy process of loading and unloading into a cylinder designed for rimmed cartridges. But I need not have worried; whatever company made this 1873 replica has worked out a seamless new design. The 9mm cartridges drop in effortlessly and the loading gate opens and closes without a hitch of any sort.
Likewise when it comes to shooting, it ran like a charm. Firing from five to seven yards, point of aim was point of impact except when I made the occasional mistake. As can be expected with any barrel, ammunition made a difference in precision. We ran three different ammo types:  Hornady Custom 124 grain XTP JHP, Horndady American Gunner with 115 grain XTP JHP, and a box of aluminum cased Federal Aluminum 115 grain FMJ. The Hornady  performed extremely well, as did the Federal. Errors outside of a single-hole, five-shot group were all mine. The American Gunner put in a disappointingly scattered group, though, and while it is perfectly good for practice, it would not be my first pick for pairing with the TC9 for home defense, competition, or anything that might call for great accuracy.
The TC9 is simply a joy. It handles and shoots extremely well. Its loading, cocking, and extracting processes, along with a crisp trigger, are as smooth as an over-the-counter revolver can get. It can run right alongside its 45 LC stablemates faster, thanks to less recoil, and longer, thanks to using less costly and currently widely available 9mm ammunition. It is a fantastic recreational shooter but can pull its weight for any appropriate job. I am not familiar with Single Action Shooting Society rules, but it seems like it could be a strong contender as a competitive gun. For anyone who enjoys a single action revolver and fine Italian craftsmanship, this one's a pleaser.
Specifications: Taylor's & Company TC9 1873 9mm Cattleman Replica
Cartridge: 9mm Luger
Capacity: 6-Round Cylinder
Barrel Length: 4.75″ | 5.5″
Overall Length: 10.25″ | 11″
Weight: 2.3 Lb | 2.4 Lb (depending on Barrel Length)
Finish: Blued (with Wood Grip) | Color Case Hardened (Synthetic Grip)
Grip: Checkered Walnut Wood (Army size) | Black Checkered Plastic (Navy size)
Price: $546.39 Black Grip/Case Hardened (either Barrel Length) | $588.14 Walnut/Blued (either Barrel Length)
Much appreciation to Hornady and Lucky Gunner for the ammunition used in this review.