POTD: Before the M1D Garand – The M1C Sniper Rifle
Sam.S 11.16.22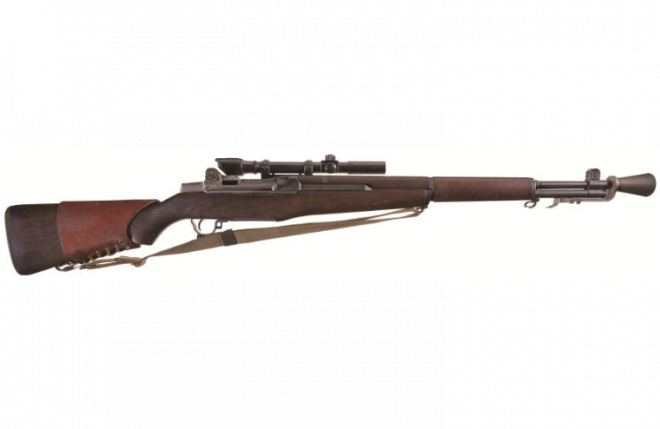 Welcome to today's Photo of the Day! Here we have the first instance of an M1 Garand rifle being fitted for sniper duty. This is the M1C and it is the precursor to the M1D which I have already talked about in a previous Photo of the Day. Developed in 1944, these rifles were to replace the M1903 rifles that were in the sniper rifle role. These rifles were chosen for their accuracy and fitted with a Griffin & Howe scope mount that was mounted with three screws on the lefthand side of the receiver. Later the M1D would replace the M1C with its barrel-mounted mount.
"This model was developed in 1944 and was the standard issue sniper rifle during late WWII, Korea and into Vietnam. It was eventually replaced by the M1D sniper rifle version which could be produced in-house by Springfield using a newly manufactured replacement sniper barrel fitted with a scope mounting block directly on the barrel. It is estimated that approximately 4,000 were produced during WWII with hundreds provided to various NATO allies in the late 1950s/early 1960s and hundreds destroyed by the U.S. Government in the 1980/90s. This rifle was originally manufactured in late January 1945. It was overhauled/rebuilt at some point, and it is now fitted with a Springfield Armory barrel marked "1-SA-3-45″. It is fitted with a set of WWII Springfield Armory manufactured parts, as follows: Bolt," -19SA", Hammer "-8 SA", Trigger Housing, "-18-SA", uncut Op Rod, "D35382-9SA". It is fitted with an earlier WWII type locking bar rear sights with a post-WWII wide base gas cylinder and an unmarked round top gas cylinder lock and four-slot gas plug. It has a matching scope base, fitted with three screws and two taper pins that is numbered "3495473" on the underside. The rifle comes with an original blue, WWII Griffin & Howe scope mount numbered "3512408"; it appears the last two digits have been over stamped. The mount is fitted with a late WWII M82 sniper scope, marked on the left side: "TELESCOPE M82/SERIAL NO. 40743/STOCK NO. F001-0084688". It has the standard "Post" crosshair reticle and an original rubber eyecup. It is fitted with walnut handguard set and a walnut buttstock. The stock is fitted with a very nice original WWII "K-Line" stamped leather cheekpad. The stock is stamped on the left side with boxed "SA/NFR" cartouche and a circled "P" proof in the grip area. It comes with a green web sling and the early milled, "SA M2″ Flash Hider. It has a light gray parkerized metal finish."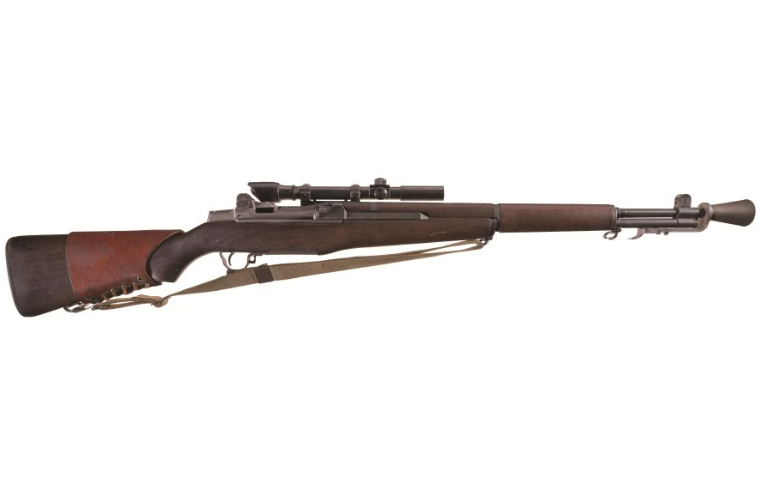 Lot 458: U.S. Springfield Armory M1C Semi-Automatic Sniper Rifle – Desirable World War Ii U.S. Springfield Armory M1C Semi-Automatic Sniper Rifle with M82 Telescopic Sight and Matching Numbered Bracket. (n.d.). Rock Island Auction Company. photograph. Retrieved November 15, 2022, from https://www.rockislandauction.com/detail/82/458/us-springfield-armory-m1c-semiautomatic-sniper-rifle.