POTD: Before The Circuit Judge – Colt Model 1855 Revolving Shotgun
Sam.S 11.28.22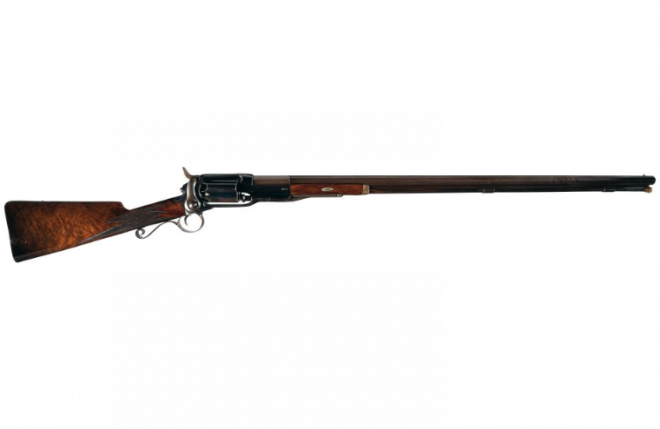 Welcome to today's Photo of the Day! Here we have an interesting piece of early Colt history. This is a Colt Model 1855 Revolving 10 Gauge Shotgun. These shotguns are "muzzle loaders" in the sense that it is percussion capped and loaded with powder and shot. The Model 1855 is sort of a misnomer since these were made from 1860 to 1865. Only around 1100 of these were made. They suffered from the same sort of dangerous issue in that if a chain fire were to happen then the user's outstretched supporting arm would almost certainly be injured. They were more so prone to the chain fire accident since the blast shield inadvertently deflected burning powder back at the other chambers. This resulted in most users holding the shotgun by the rear entirely which I suspect was not very comfortable.
"Part of a series of Model 1855 long guns manufactured by Colt that today are highly sought after. Examples of this limited production shotgun are scarce in any condition, thus making high condition examples, like this one, nearly impossible to find. These arms were also known as the Colt New Model Revolving Shotguns and are in basic design an enlarged version of the Colt Model 1855 Pocket revolvers. This 10 gauge shotgun is a deluxe example with a highly figured and checkered straight grip stock. The extremely rare 36 inch barrel has a brass bead front sight."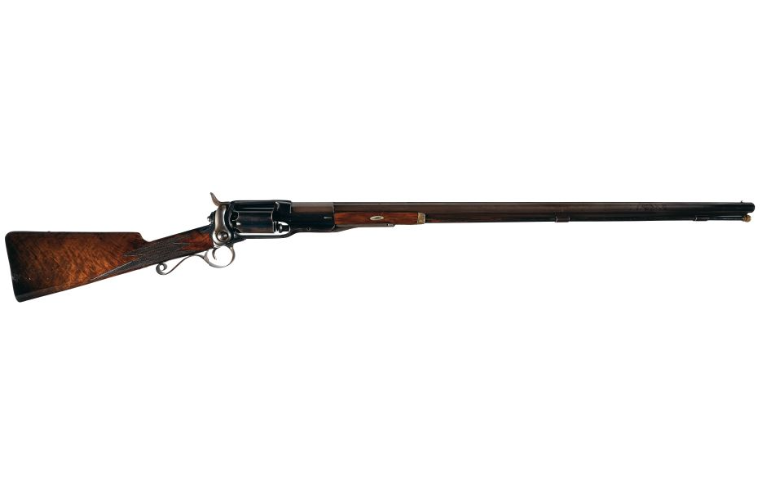 https://www.rockislandauction.com/detail/84/256/colt-deluxe-model-1855-10-gauge-percussion-revolving-shotgun. (n.d.). Scarce, Exceptionally Fine Colt Deluxe Model 1855 10 Gauge Percussion Revolving Shotgun. Rock Island Auction Company. photograph. Retrieved November 23, 2022.