AO Review: Savage Arms Renegauge Prairie in TrueTimber Prairie Camo
Adam Scepaniak 11.29.22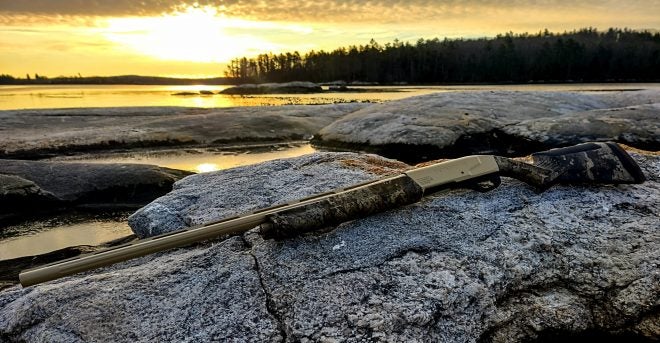 When it comes to waterfowl hunting those that chase puddle ducks, sea ducks, and ganders of every feather are truly folks from a different flock. It can be a torrential downpour, a whipping frigid wind, or rolling waves that put an amusement park to shame yet your hardcore waterfowler will endure it all for the excitement of the hunt along with the legendary tale they can regale to friends. In tumultuous weather we demand a lot from our equipment just like we demand a lot from ourselves. So, when you are choosing a waterfowl shotgun it cannot be a chump; it's got to be good. With all of that being said, we put the newer Savage Arms Renegauge Prairie to the test to see if it was a chump or the champ. In this AllOutdoor Review, we take a look at the Savage Arms Renegauge Prairie during a Maine Sea Duck hunt to see how it fares on ocean-faring waterfowl. Let's dive in!
Savage Arms Coverage on AllOutdoor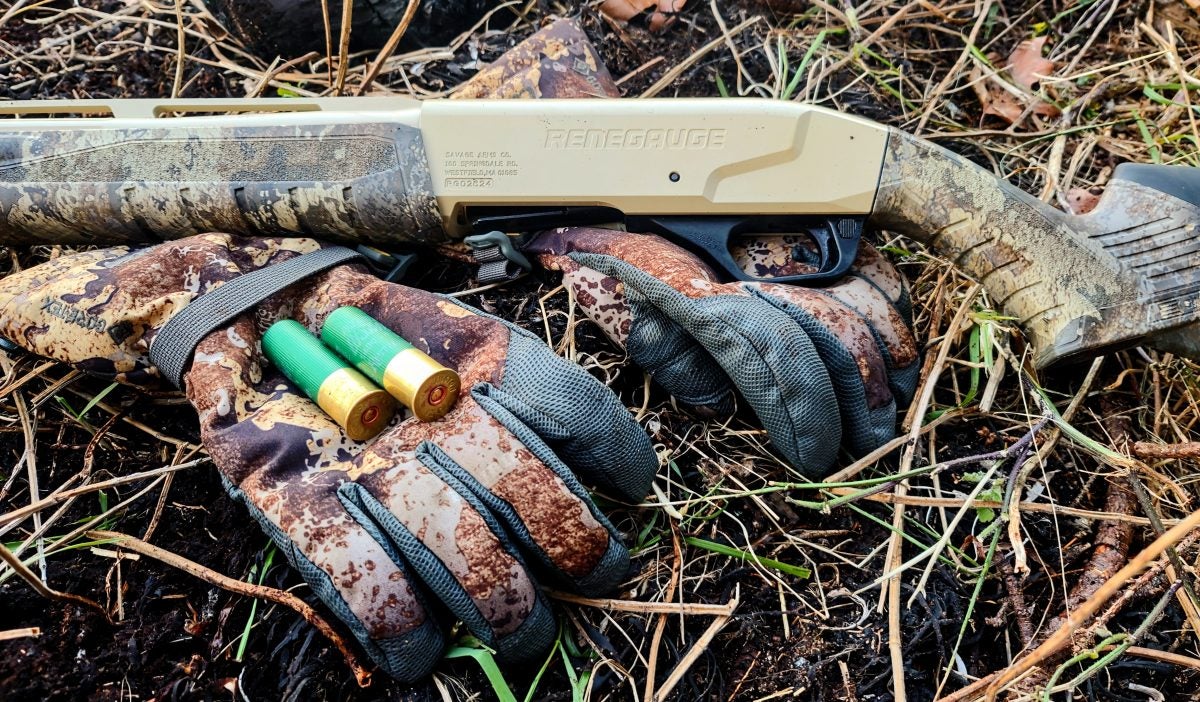 Specifications – Savage Arms Renegauge Prairie in TrueTimber Prairie Camo
The Savage Arms Renegauge was debuted at SHOT Show 2020, and now has seen multiple iterations hit the market thriving through 3 years of hunting seasons. This includes their Competition, Waterfowl, Field, Security, Obsession, Bottomland, and the Prairie that we are reviewing here today. All of these utilize Savage's D.R.I.V. (Dual Regulating Inline Valve) Gas System, but have small nuances different about them to be best suited for the discipline of shooting you are calling your shotgun to perform. All of the exacting specifications for the Savage Arms Renegauge Prairie in TrueTimber Prairie Camouflage can be read below as presented by Savage Arms:
Gauge: 12 Gauge
Barrel: 28″ Fluted, Vent Rib, Carbon Steel, Brown Sand Cerakote (H30372)
Magazine Capacity: 4+1 Shells
Handedness: Right-Hand
Length of Pull (LOP): 14.25″ – 15.07″
Overall Length: 49.5″
Receiver: Aluminum w/ Brown Sand Cerakote (H30372) Finish
Sights: Red Fiber Optic Front
Stock: Matte, Sporter Profile, TrueTimber Prairie Camouflage
Weight: 8.075 Lb

The MSRP for the Savage Arms Renegauge Prairie in TrueTimber Prairie Camouflage is set at $1,707. This puts it in a similar price range to other high-end waterfowl shotguns on the market today. Also, the Savage Arms Renegauge Prairie – like all firearms produced by Savage Arms – carries their 1-Year Limited Warranty in the rare event that you should ever need service. With their 1-Year Limited Warranty, Savage Arms stands behind the quality of their products for the 1st year of ownership where they will repair and/or replace the item with the same or similar product at no charge. Some of the other highlights encompassing the Renegauge Prairie can be read below as presented by Savage Arms as well:
D.R.I.V. (Dual Regulating Inline Valve) Gas System
TrueTimber Prairie Camouflage Forend and Stock

Adjustable Length-of-Pull (LOP), Comb Height, Drop, and Cast

One-Piece, Chrome Plated Action Bar Assembly

Chrome Plated Reciprocating Components

Stock Rod Buffer to Reduce Felt Recoil
Fluted Barrel and Receiver Cerakoted
Ventilated Rib with Red Fiber Optic Front Sight
Competition-Ready, Easy Loading Magazine Port
Oversized Controls
Includes 3 Interchangeable Flush Mount Choke Tubes (Beretta/Benelli)

Improved Cylinder, Modified, Full

Includes Hard-Sided Carrying Case

The American made Savage Renegauge will change the way you think about semi-automatic shotguns. The Renegauge can handle the hottest high-brass and the mildest low-recoil shells with the same dependability. The patented D.R.I.V. (Dual Regulating Inline Valve) gas system ensures excess gas vents before it drives the bolt, resulting in consistent ejection, less felt recoil, and a lightning fast cyclic rate for dependably fast split times. The Renegauge has been designed to fit almost any shooter. Everything from length-of-pull to comb height and drop at the heel can be adjusted to fit. These features combined with a Cerakote® action and TrueTimber® Prairie camo stock and forend complete a perfect combination for winged shooting.
Field Use – Savage Arms Renegauge Prairie in TrueTimber Prairie Camo
When it came to in-the-field use of the Savage Arms Renegauge Prairie in TrueTimber Prairie Camouflage I gained a lot of valuable insights. I had previously handled the Savage Arms Renegauge Prairie at a few trade shows, but there is only so much you can glean from merely handling a firearm. You learn a lot more when you shoot it; moreover, get out in the field and hunt with it. The first element I noticed is its recoil impulse. The proprietary D.R.I.V. (Dual Regulating Inline Valve) gas system is incredibly light-recoiling. Normally, all hunting shotgun loads – turkey, pheasant, waterfowl, etc – are punishing and unforgiving in high volume. On a 3-day Maine sea duck hunt I shot close to 3 boxes of Remington Premier Bismuth waterfowl loads (almost 75 shells) and my shoulder felt unburdened by the end of the hunt.
The camouflage on the Renegauge Prairie shapeshifts into a chameleon unto its environment. While any camouflage given the moniker of "prairie" does not evoke imagery of Maine, this shotgun's finish and aesthetic was suited for all of the varying backdrops of hunting we partook in chasing different breeds of sea ducks. Some days we were laid out in a lay-out boat on Penobscot Bay in rolling water while others days we were on saltwater islands watching the tide recede before our eyes. No matter what the gameplan for sea duck hunting was, the TrueTimber Prairie Camouflage blended in well everywhere.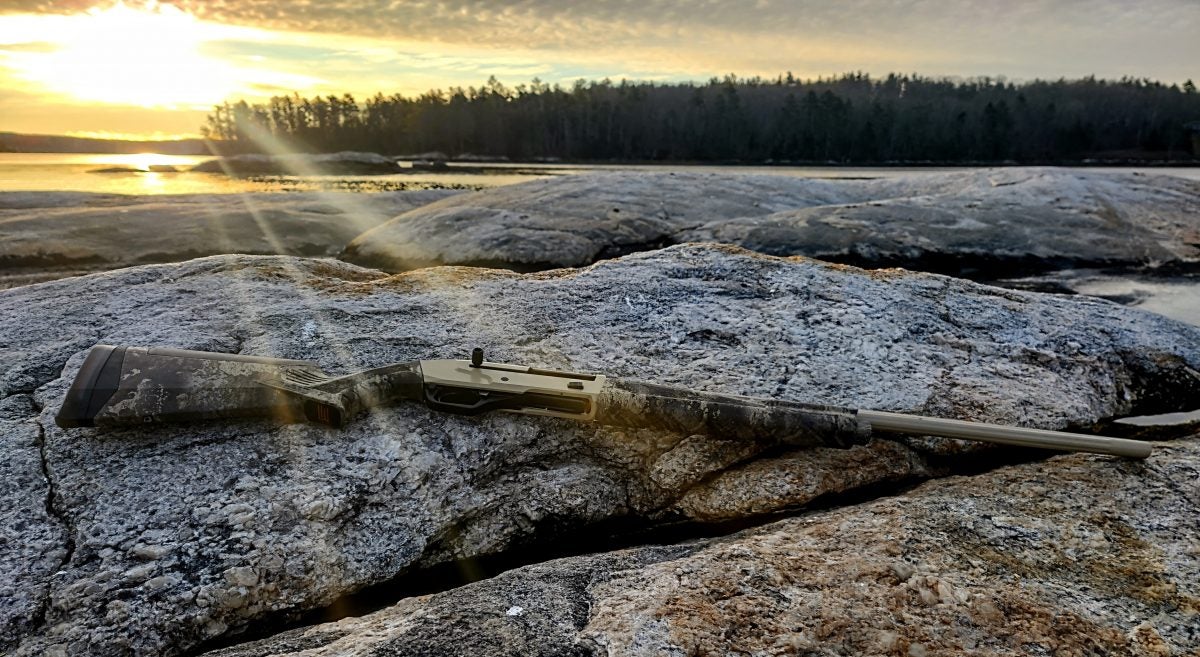 The oversized features of the bolt/action handle, bolt/action release, and trigger guard are all designed with the hunter in mind for those dexterity-impaired, frigid mornings. Everyday that we spent sea duck hunting started out around 28 degrees with a light wind, but couple that with a fast boat ride in the dark to our hunting spot, we often had chilled bones to start the day harvesting ducks. So, the oversized controls were greatly appreciated to still accurately and safely manipulate all of the functions on the shotgun.
Aside from the increased-in-size controls, I found the Renegauge Prairie to be pretty ergonomic. I was bundled up for the cold-weather we were hunting in and even though I felt like the Michelin Man many mornings I could still get a good cheek weld to the shotgun and felt comfortable pulling up on birds. There is nearly infinite adjustability between the Length-of-Pull and Comb Height as well as the Drop and Cast.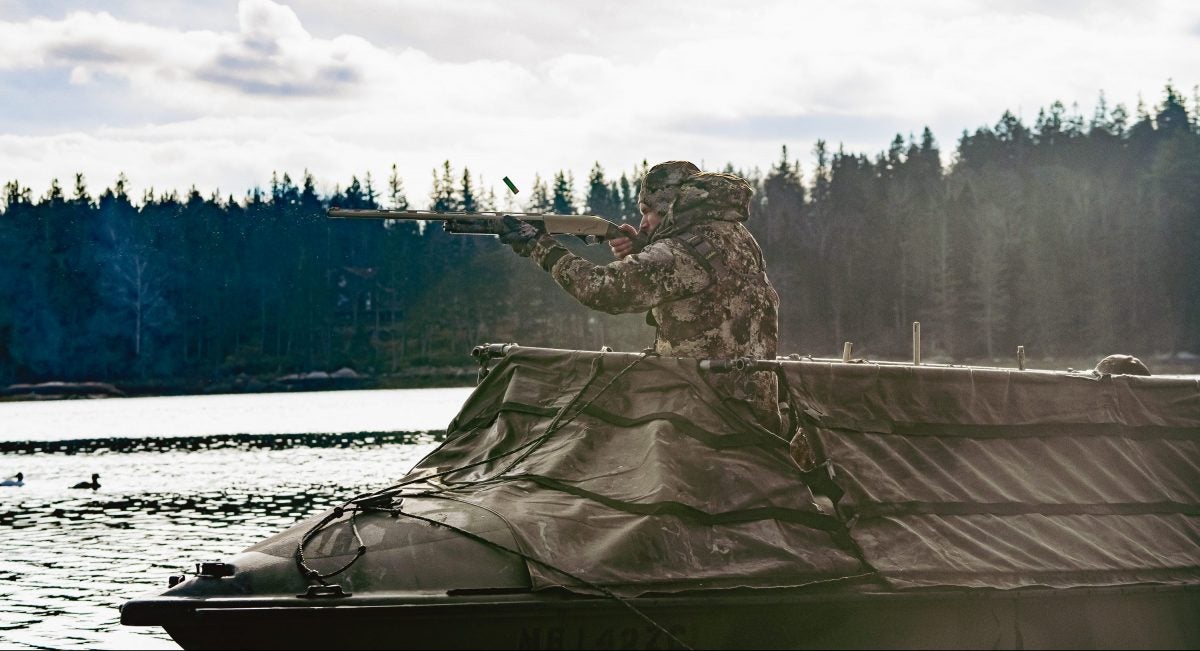 What also impressed me about the Renegauge Prairie is how light and quick it was. By appearances only, the Renegauge looks to have a slightly thick forearm and a generally larger 2-dimensional footprint, but when handling it the Renegauge Prairie felt as wieldy and nimble as anything. My hands are average in size and I could get ample grip and dexterity on the forearm to make rapid shots on sneaky-fast Buffleheads as well controlled flight ducks like Eiders. No matter the species of waterfowl we were tagging, I could meter my speed and control to match the duck in front of me.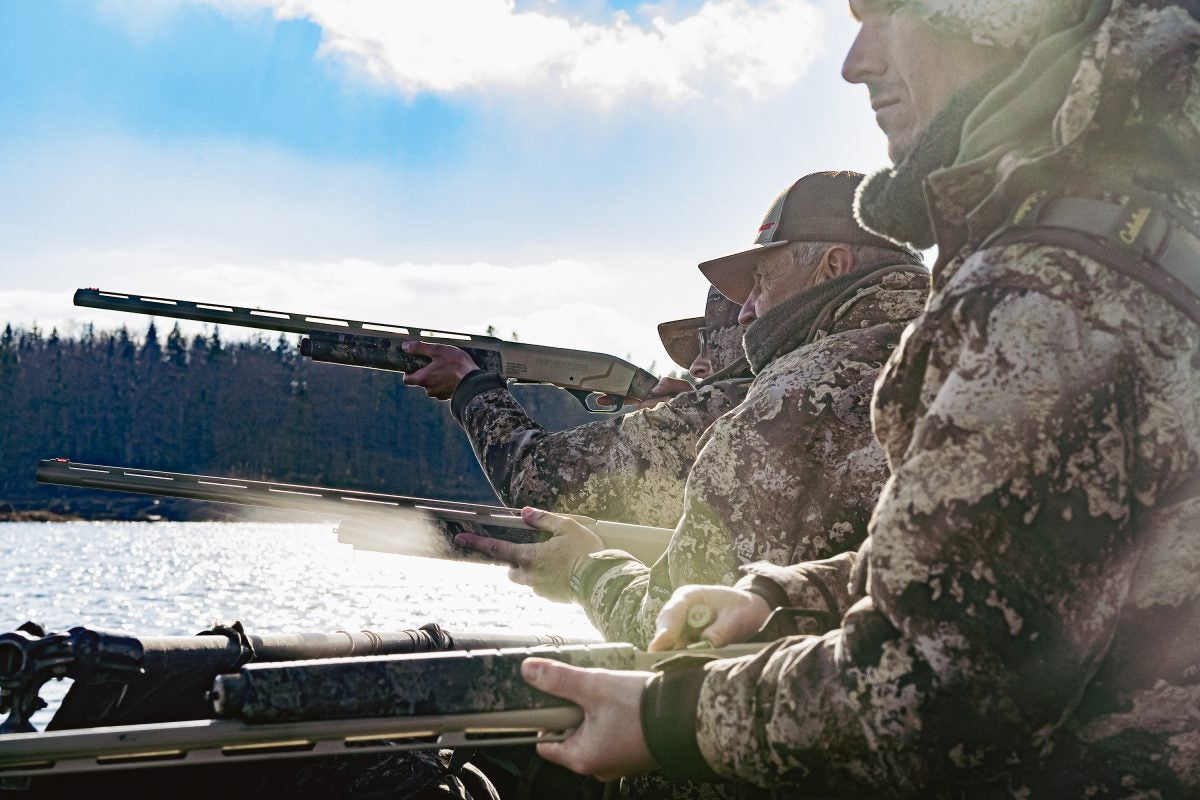 Final Thoughts – Savage Arms Renegauge Prairie in TrueTimber Prairie Camo
So, what are my final thoughts on the Savage Arms Renegauge Prairie in TrueTimber Prairie Camouflage?… Overall, I was authentically impressed by its performance over the course of a 3-day sea duck hunt in Maine. These were long 12 hour days of hunting in a saltwater environment and no one in my hunting party (we were all running the Savage Arms Renegauge Prairie) had a single malfunction in 3 days shooting collectively hundreds of rounds on birds.
The only genuine negative I have to say about the shotgun is the price-tag, but that, too, is merely my opinion. Is $1,700 a lot for any shotgun?… Yes, but I would file away my own statement – and play devil's advocate – by saying this is a cry once, buy once scenario. I view firearms as tools. Would I rather own 1 tremendously reliable shotgun that maybe was a bit spendy or 2 – 3 shotguns that are meh. Of course, everybody would take the bullet-proof shotgun that has sexy curb appeal and never fails. So, if you want to pull out the cash for a one-and-done shotgun, then the Savage Arms Renegauge Prairie absolutely falls into that category.
For anyone who has not gone sea duck hunting in Penobscot Bay with the Penobscot Bay Outfitters, we cannot recommend it enough! Finally, there is a great thanks to be made to Savage Arms for outfitting our entire hunting party with the Savage Arms Renegauge Prairie 12 Gauge in TrueTimber Prairie Camouflage plus the support of TrueTimber and Remington Ammunition for tremendous ammunition and hunting apparel driving a successful hunt. That is all greatly appreciated. Also, we would like to know what all of you guys and gals think? Do you believe that the Savage Arms Renegauge Prairie 12 Gauge in TrueTimber Prairie Camouflage is something worth spending your money on for waterfowl hunting? Would you use it on geese, ducks, or all of the above? As always, let us know all of your thoughts in the Comments below! We always appreciate your feedback.