MDT Announces the MDT TIMBR Frontier – Tikka T3x SA Inlet
Adam Scepaniak 12.05.22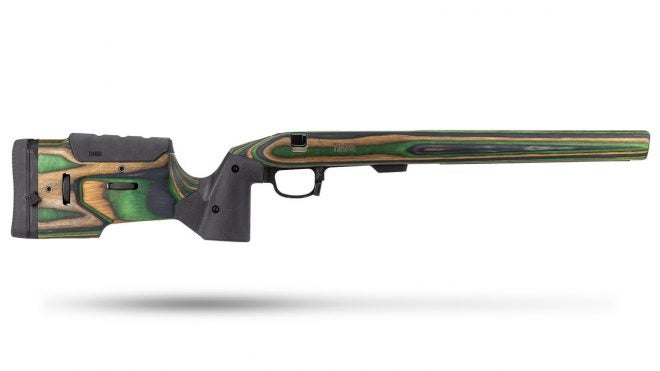 MDT Sporting Goods announced back at SHOT Show 2022 the debut of one of their newest stocks in the MDT TIMBR Frontier. Now, almost 1 year later, they are excited to announce yet another new fit for shooters with it being compatible for the Tikka T3x SA (Short-Action) inlet.
MDT Coverage on AllOutdoor
MDT is excited to announce the addition of MDT TIMBR Frontier – T3x SA to their lineup of TIMBR Frontier chassis inlets. The MDT TIMBR Frontier Stock provides shooters with a beautiful fusion of warm wood and solid aluminum to create an accurate platform for your Tikka rifle. At its core is the full Aluminum micro-chassis that guarantees a perfect ridged platform. It features an adjustable buttstock to enable a solid connection between shooter and rifle, and, an M-LOK rail forend to be compatible with a variety of accessories.

The TIMBR Frontier Chassis is designed for shooters that want the fit and feel of a more traditionally shaped rifle stock, warm wood asthetics, and the benefits of a modern precision rifle chassis system. Each TIMBR Frontier Chassis is constructed from a CNC machined core of 6061 aircraft grade aluminum mounted in a hardwood laminate, and fitted with aluminum rails and hardware. The precision aluminum V-block bedding system ensures fit and function to maximize the accuracy of any Remington or Tikka rifle action. The TIMBR Frontier Chassis features a replaceable over molded and textured grip system, with both an angled grip and a vertical grip included in box.
Compatibility

Remington 700 Short Action
Tikka T1X – Coming Soon
Tikka T3/T3X Short Action
Savage Short Action – Coming Soon

Colors: Charcoal | Green Mountain Camo
MSRP: $899
There are still a few more stocks on the way with some of the MDT TIMBR Frontier offerings for the Savage SA and Tikka T1X still in the works. For everyone who is shooting a Tikka T3x SA though, you now can try this stock out on your very own rifle. As always, let us know all of your thoughts in the Comments below! We always appreciate your feedback.