New FN Rush 9Ti 9mm Silencer – Never Suppress your Expectations
Adam Scepaniak 12.06.22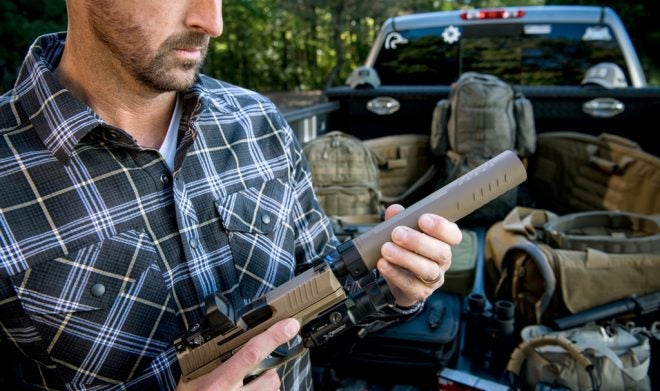 FN America is predominantly known for their military small arms as well as their incredibly popular firearms for civilians. Now, FN can lay claim to silencers as well. They have announced the Rush 9Ti silencer as their newest suppressor offering suited for 9mm and any other smaller cartridges. As they state at the time of this newest release, "never suppress your expectations" referring to the high-quality of this new offering.
FN Coverage on AllOutdoor
The FN Rush™ 9Ti is a highly versatile and reliable 9mm suppressor, delivering an unmatched shooting experience. When paired with the FN 509 Tactical®, reliable feeding and extraction with most common ammunition types is the new standard, maintaining the exceptional accuracy, cycling reliability and high durability standards FN owners expect.

With the advanced booster assembly, mounting the FN Rush 9Ti to any pistol barrel threaded ½" x 28 is fast and repeatable. A tight piston gas seal contains carbon fouling in the baffle core, making for a smooth shooting experience without the heavy blowback and stoppages common with most suppressors.

The FN Rush 9Ti has the ultimate strength to weight ratio, with the titanium tube holding strong at just 10.8 oz. The light, easy-to-maintain design breaks down quickly for cleaning and holds a limited lifetime warranty.

Caliber: 9mm
Length: 7.3″
Tube Diameter: 1.375″
Weight: 10.8 oz.
Piston: 1/2″x28 TPI
Materials: Titanium, Stainless Steel, Aluminum
Finish: HT Cerakote™
Silencer Comes With:

½" x 28 TPI Piston
Booster Assembly
End Cap and Front Cap Assembly Tool
Premium Storage Case
The new FN Rush 9Ti will be available in two different finishes of Flat Dark Earth (FDE) or Black. This silencer currently has an MSRP of $849 – and like all FN products – it will carry FN's Limited Lifetime Warranty. FN has always been known for quality and this new silencer should be no different. As always, let us know all of your thoughts in the Comments below! We always appreciate your feedback.