AO Review: Patagonia Level 3A Jacket – "The Jacket They Won't Sell You"
Patrik Orcutt 12.13.22

Yvon Chouinard, who began his career as a climber in the early 1950s, is credited with starting Patagonia. Chouinard, billed as both an outdoor enthusiast and environmental activist had developed a lifelong love of rock climbing, which later led to the creation of an outdoor retail chain that has dozens of locations around the world. By 1957, as he continued to pursue his hobby, Chouinard began to teach himself how to blacksmith to create climbing tools. With his new talent, the passionate climber was able to make his first pitons with an old harvester blade. By 1970, merely five years into the business, the company was billed as the largest supplier of climbing hardware in the United States, according to Patagonia's website. Fast forward to 2022 and Patagonia is one of the biggest outdoor clothing brands in the world and has a line of clothing tailored for military applications. Today, we will review the rare Patagonia Level 3A Jacket – "the Patagonia Jacket they won't sell you."
The Level 3A Jacket was independently purchased by the reviewer. Patagonia did not send a review copy and had no say in this written review.
Patagonia Level 3A Jacket – Testing 
The Patagonia Level 3A Jacket is a lightweight synthetically insolated garment designed for military use but takes many of its design cues from Patagonia's other jackets like their nano and micro puff offerings. I have owned my copy of the Level 3A for over a year now and have taken it on missions to places like Finland and Germany in the winter. It has also seen a few range trips to the back woods of Maine as we move into December here in New England. 
Patagonia Level 3A Jacket – Construction and Materials 
Just like the Nano Puff jacket, the Level 3A is constructed of a 20-denier (D) recycled polyester shell fabric which is about average in terms of durability for a lightweight insulated jacket. In practice, the upgraded ripstop construction has put up a good fight against snags and abrasion. This was a surprise to me as you would imagine this fabric would tear easily considering its weight, but it simply does not. 
The Level 3A is filled with synthetic insolations meaning that it will retain warmth even when wet but will not have the long-term sustainability of other materials like Goose Down or Wool. Synthetic insolation tends to get compressed over time and lose its ability to retain warmth. Of course with Goose down, if it gets wet it loses much of its insulating properties. Wool will stay warm regardless but can be incredibly expensive when used in a jacket like this.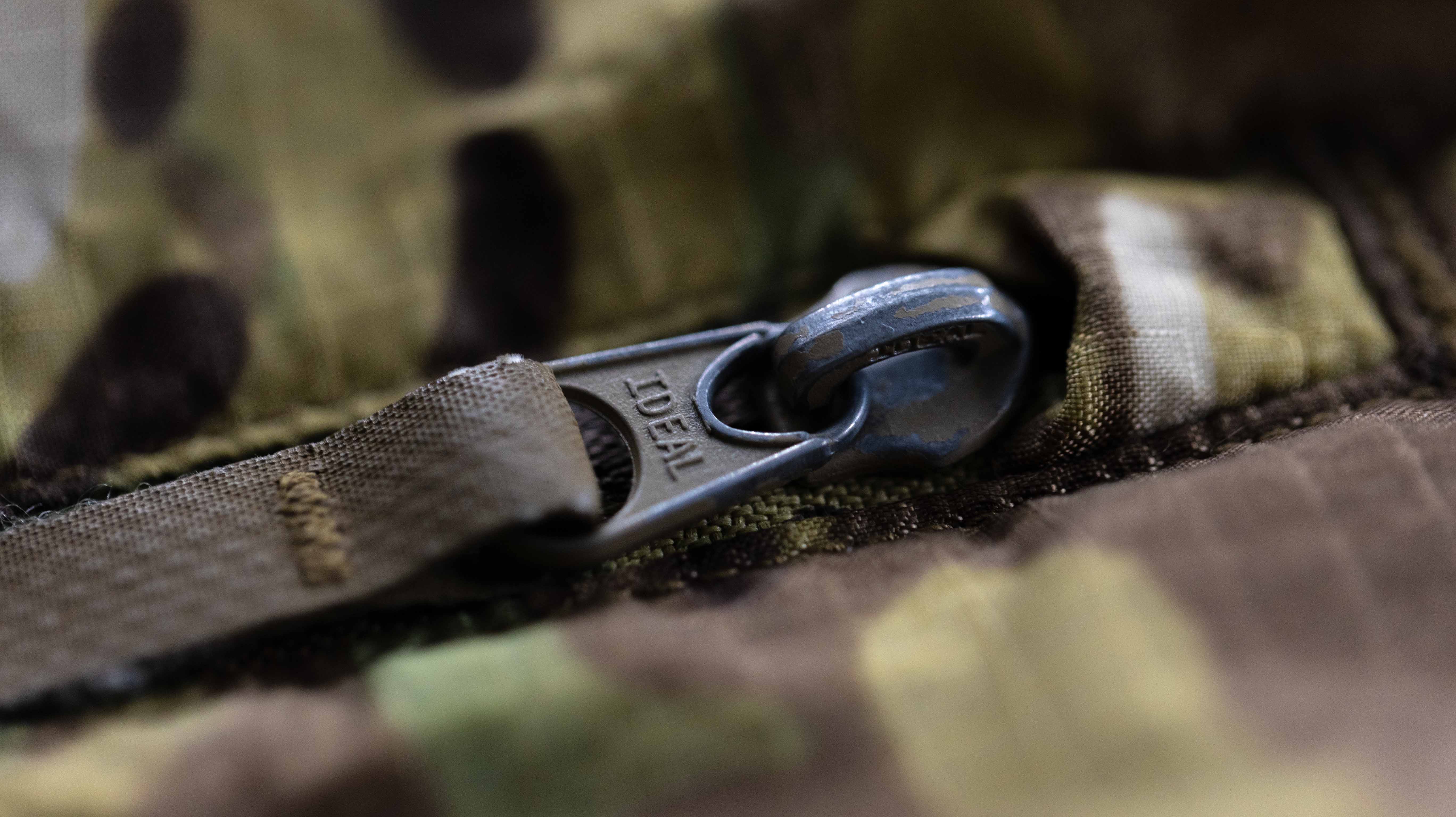 I think Patagonia went with the right material for this jacket to keep it warm while being weight and size efficient, all important things for any soldier. The pocket zippers on the jacket are from IDEAL zippers and feature nice Hypalon pull tabs for easy acquisition while the main zipper is an oversized YKK. As I purchased this jacked off the second-hand market, the main IDEAL zipper that came on the garment was in pretty rough shape and needed to be replaced so that is why you will see me running an oversized YKK in many of my pictures. This brings me to my first major complaint about this jacket, the zippers. I assume that to be BERRY compliant with DOD for this contract, Patagonia went with the IDEAL zippers as they have a manufacturing faculty in the United States. Unfortunately, these zippers kind of suck and the pockets love to get caught up in the material of the jacket. 
Patagonia Level 3A Jacket – Features 
The Level 3A features a full zip design allowing for easy removal of the jacket if you are getting warm while wearing it. There are three zippered pockets, two hand pockets, and one chest. The sleeves are gusseted with a bit of elastic just like on the Nano Puff and have the perfect amount of tension so as they keep the cold air out while not becoming uncomfortable after prolonged wear like on some other jackets. There is also a drawstring on the bottom of the interior of the jacket for tightening or loosening. 
Patagonia Level 3A Jacket – Performance 
The overall performance of the Level 3A has been what I would have expected out of it. The jacket keeps you warm in sub 40 F and 30 F degree weather with ease but after that, you will want to start layering under or over the garment. Very often I would find myself only wearing a t-shirt under this jacket in the winter if I knew I was going to be moving frequently. 
Likes
Very warm for its size and weight 

Great for Military applications
Dislikes 
Pocket zippers often snag on pocket material 

Difficult to purchase as only issued to Military Special Operations
Patagonia Level 3A Jacket – Wrap up 
Overall The Level 3A is a superbly well-designed and executed garment (aside from the zippers) Unfortunately Patagonia won't sell these directly to the public so you will need to scour the used market for one to pop up in your size as I did. I paid $250 for mine and I think that's a fair price for what you are getting. The Level 3A is an upgraded Nano Puff with tougher materials. If you're in the market for a Level 3A and can't find one and are not worried about having that extra protection, I would recommend just getting the Nano puff as they are practically the same jacket from and end user's perspective. Plus you can wear the Nano puff in more places as it doesn't come in Multicam.