NEW Nebo Columbo Keychain – Loads of Lumens at a Moment's Notice
Adam Scepaniak 12.13.22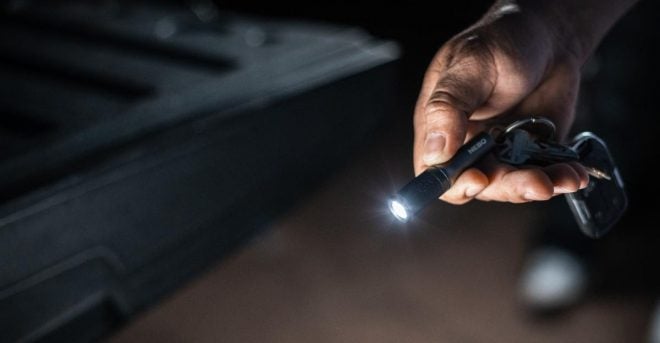 When it comes to fiddling with your keys while getting into your shed, vehicle, house, or any manner of structure, often times what could really help is if we could shed some light on the situation. A new Nebo Columbo Keychain pocket light has been announced that will afford you "loads of lumens" – according to Nebo – at a moments notice, and it punches in at a very affordable price-point. This might be something worth clipping onto your keyring to more easily access locks.
Nebo Coverage on AllOutdoor
The new Nebo Columbo Keychain pocket light has an MSRP $9.99 making it incredibly affordable and a prime candidate to be a stocking stuffer this Christmas and holiday season. With it being waterproof and impact resistant, it should even withstand a fall or two in the slippery, wintery weather that is ahead of all of us. The short-and-sweet specifications for this handy tool can be read below as presented by Nebo:
100 Lumen LED
1 Light Mode
One-Hand Twist Operation
Removable Steel Key Ring
Aircraft-Grade Aluminum (Anodized)
Water-Proof IP67 Rating
Impact-Resistant 1M Drop Rating
Run Time: 1 hour
1x AAA Battery Included

Fort Worth, Texas (December 12th, 2022) – A reliable lighting source is the most convenient and helpful thing a person can keep on them. A dependable flashlight can be invaluable, whether on a dark and stormy night or during a power outage.

Thanks to NEBO, this does not mean carrying around a big, bulky light at all times. The Columbo Keychain Pocket Light is compact, convenient and constructed to be the everyday carry light for the person who doesn't want to think about carrying a light with them.
If you are like me you can never have enough tools and do-dads at your disposal; especially a fun little flashlight that comes along with you everywhere. Also, at that cheap price-point of $9.99 – if it actually works as advertised – that is pretty had to beat. As always, let us know all of your thoughts in the Comments below! We always appreciate your feedback.