One of the Largest Poaching Busts in Wyoming History
Eugene L. 12.14.22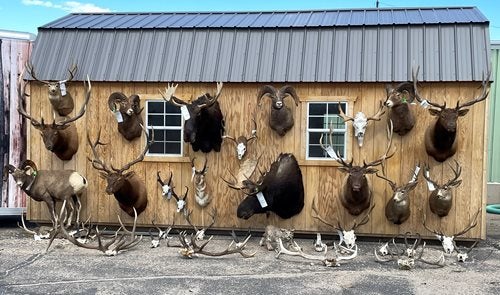 Three men were convicted on numerous charges in one of the largest poaching cases in Wyoming history. The three men had been charged with more than 100 wildlife violations, a mixture of felony and misdemeanor charges that were the result of a seven-year, multi-agency investigation. This investigation spanned across four states and involved thousands of man-hours from state and federal wildlife law enforcement officers, county and federal prosecutors, the Wyoming Game and Fish Department forensic laboratory personnel, and others. The charges were prosecuted across four different Wyoming counties and concluded in Park County in September of 2022.
"Investigating and successfully prosecuting a case of this size and scope required years of effort by many individuals and agencies," said Rick King, Game and Fish chief game warden. "Dozens of people worked hard to make sure that even though some of these violations occurred a decade or more ago, they would not go unpunished."
The three men involved were; Russell Vick of Alabama, Robert Underwood of Oklahoma, and David Underwood of South Dakota. The three were convicted of many wildlife offenses and cumulatively fined $171,230 along with $131,550 in restitution.
The case started 7 years ago back in October 2015 when a Gillette game warden received a request from a hunter for an interstate game tag to accompany a deer head that was being shipped to Mr. Vick in Alabama for taxidermy work. But when the database was searched it showed Mr. Vick having a Wyoming address and a Wyoming resident hunting license for several years. This little conflict of information caused the warden to start digging deeper into the case which would eventually lead to this giant poaching bust.  Identifying dozens of wildlife violations in Wyoming.
The investigation into Mr. Vick was widened his cellular and social media sources were investigated. This tied his acquaintances Robert Underwood and his son, David, both former Gillette residents, into the investigation. As more evidence was found, a coalition of Assistant United States Attorneys in multiple states, special agents from the U.S. Fish and Wildlife Service, and local Alabama wildlife officials was formed. They executed a federal search warrant on Vick's residence in May 2017, while at the same time a federal search warrant was executed on David Underwood's residence in Edgemont, South Dakota. Robert Underwood was interviewed at his home in Jones, Oklahoma as well. Multiple elk, deer, pronghorn, and a bighorn sheep ram mount were seized from the Vick and Underwood's residences, as well as some digital evidence of their crimes.
Additionally, at Mr. Vick's residence and taxidermy shop, Alabama officers found many additional violations of Alabama law and got a state search warrant. They seized several illegally poached alligators and migratory birds. That was not it for Mr. Vick though, in November of 2017 officers got a second federal search warrant. The officers had learned that Mr. Vick had removed more than a dozen mounts from his residence and hidden them in a trailer 60 miles from his property. All of these mounts were tied back to locations in Wyoming. The mounts this time included three bull moose and three bighorn sheep rams.
Using all collected evidence and information from the multiple interviews. The three men had charges filed against them in the following four counties in Wyoming; Campbell, Weston, Sheridan, and Park. You can check out the original announcement by the Wyoming Game & Fish Department here to see the full list of their crimes and charges over the years.