POTD: The First of Its Kind – The Webley-Fosbery Automatic Revolver
Sam.S 12.15.22

Welcome to today's Photo of the Day! here we have an example of the first "automatic revolver". This is the Webley-Fosbery Automatic Revolver and I had thought that it had already had its own Photo of The Day. Yesterday I mentioned it in my Curious Relics #054: All I Want For Christmas – Curious Relics Edition article and found out that I had only mentioned it in articles. The Webley-Fosbery is basically a regular Webley upper assembly modified to automatically cock after each shot. The recoil sends the upper assembly rearward and a pin on the frame indexes the cylinder which lines up the next shot. This is advantageous since each shot is effectively a single action trigger pull which is typically a method for better accuracy. The problem? It was designed for military use and did, in fact, see battle fronts of World War One but its mechanism is susceptible to dirt and grime and small portions are prone to breakage. It is one of the rarest and sought-after old-time revolvers out there.
"The Webley-Fosbery revolvers built based on designs by Lt. Col. G. V. Fosbery are among the rarest and most interesting of all revolvers and are some of the few "automatic" revolver designs. Less than 5,000 of the revolvers split across multiple variations were manufactured before production ended in 1924. This is a Model 1902 variant. Like all Fosberys, it utilizes a novel "automatic" mechanism. It is a true revolver with cartridges held in a rotating six shot cylinder, but the cylinder is turned by recoil: the top section of the revolver shifts backwards, cocks the hammer, and prepares the next chamber utilizing a spur in the top strap and zig-zag grooves on the cylinder. This mechanism allows for faster firing while maintaining the low trigger pull of a single action revolver. The Fosbery design was reported to have been as fast if not faster than its magazine fed semi-automatic counterparts and as fast to load if a speed loader was used and is known to have been purchased by British military officers and to have been used during both world wars. It has an octagon barrel with a solid rib and a blade front sight, and the rear sight is integral to the top strap latch. The top strap is marked "WEBLEY·FOSBERY" on the left. The left side of the frame is marked with the "winged bullet/W&S" trademark followed by "455 CORDITE", and the right side has the serial number. The serial number is also lightly hand marked on the grips and is stamped on some of the components including the rear face of the cylinder (partial)."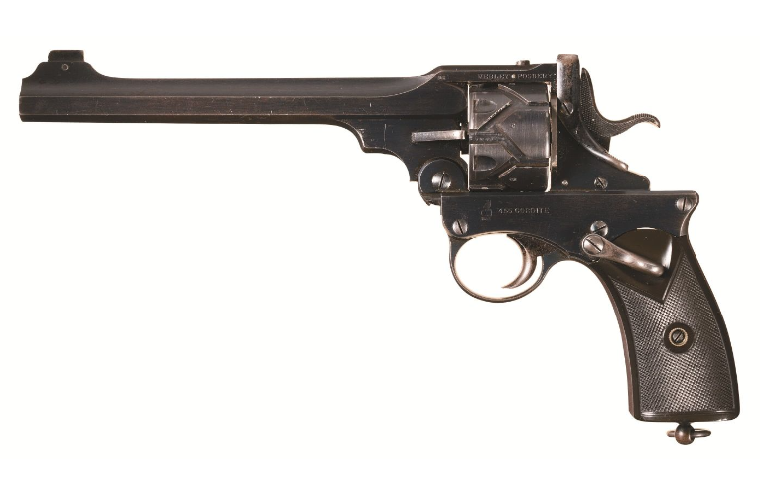 Lot 1563: Webley-Fosbery Automatic Revolver – Exceptional Webley-Fosbery Automatic Target Model Revolver. (n.d.). Rock Island Auction Company. photograph. Retrieved December 14, 2022, from https://www.rockislandauction.com/detail/81/1563/webleyfosbery-automatic-revolver.