AllOutdoor Review – Salomon Quest 4D Forces 2 Boots
Travis Olander 12.15.22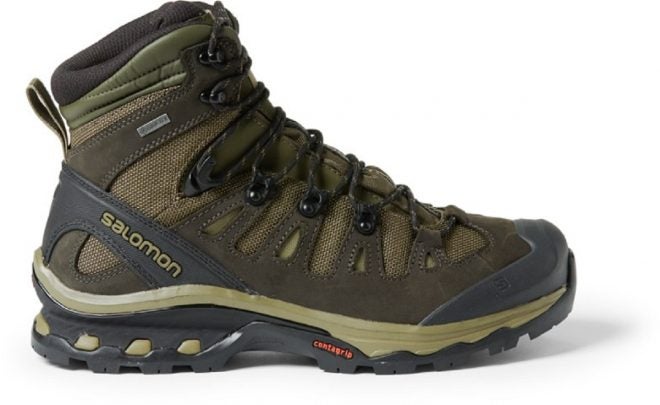 The Salomon Quest 4D Forces 2 are some of the lightest, most well-insulated, and properly waterproofed boots I've worn. They're my new daily drivers for hikes throughout Utah's hot and cold seasons. I bought these boots at my local Blue Line LEO outfitter – they're issued boots for some U.S. Army Ranger units, and Salomon contracts with police departments. These boots are, technically, "mil-spec" and conform to ISO 20344:2011 for puncture resistance.
The presentation is nothing special: A typical shoebox with some packing paper stuffed in each boot, and a small tag with warranty info. Salomon warranties these for two years against defects.
Specifications – Salomon Quest 4D Forces 2 ENs
Outsole: Rubber Contagrip®
Footbed: Molded "Ortholite"
Upper: Gusseted Leather (2mm)
Weight: 23.5 oz / 665 grams
Lacing: Standard
Eyelets: Leather, steel
Waterproofing: GORE-TEX
Colors: Black, Green, Brown
MSRP: $260
Out-of-the-Box Fitment – Salomon Quest 4D Forces 2 ENs
I have wide, flat feet, and run a size 11 in street shoes, so I grabbed the Salomons in 10.5 – I find most boots run about half a size large, and I was right this time.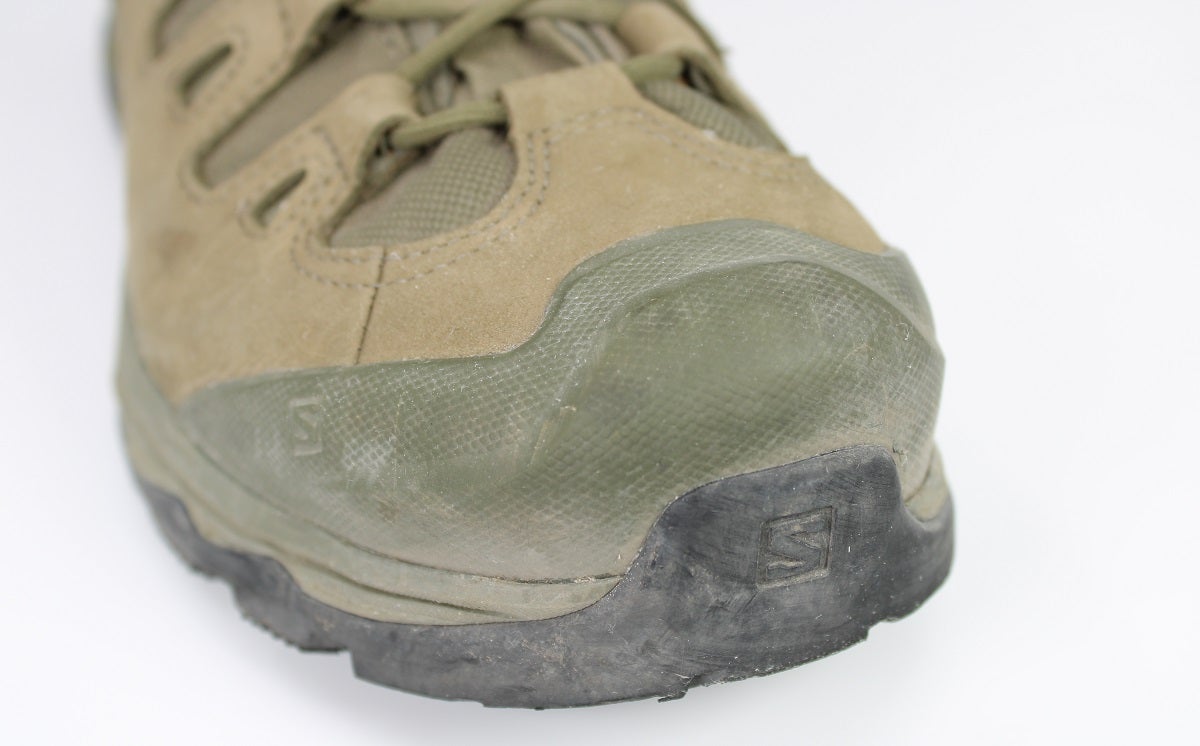 The toe cap provides adequate protection against hard strikes.
I find most boots to feel too narrow towards the toe box, but that isn't the case with the Salomons. They have plenty of wiggle room for your toes. I had no issues with compression against the sides of my feet.
Breathability
The Salomons hug your ankles and the balls of your feet, but they open and provide some "vapor" space around the top of your foot. This provides good breathability, so long as you're not wearing thick socks – a challenge with any waterproofed boot that has a big, gusseted tongue clamping the insole shut. I wore these in the August heat while hiking through Cougar Canyon in Utah. Over the span of three hours, I ran into no issues with sweat build-up, so I didn't have to swap socks.
Freedom of Movement
I thought these boots would prove a challenge with things like driving, getting in the way of my car's peddles, or causing me to trip up on small obstacles while I got used to them. But the Salomon Forces 2 are surprisingly nimble and flexible.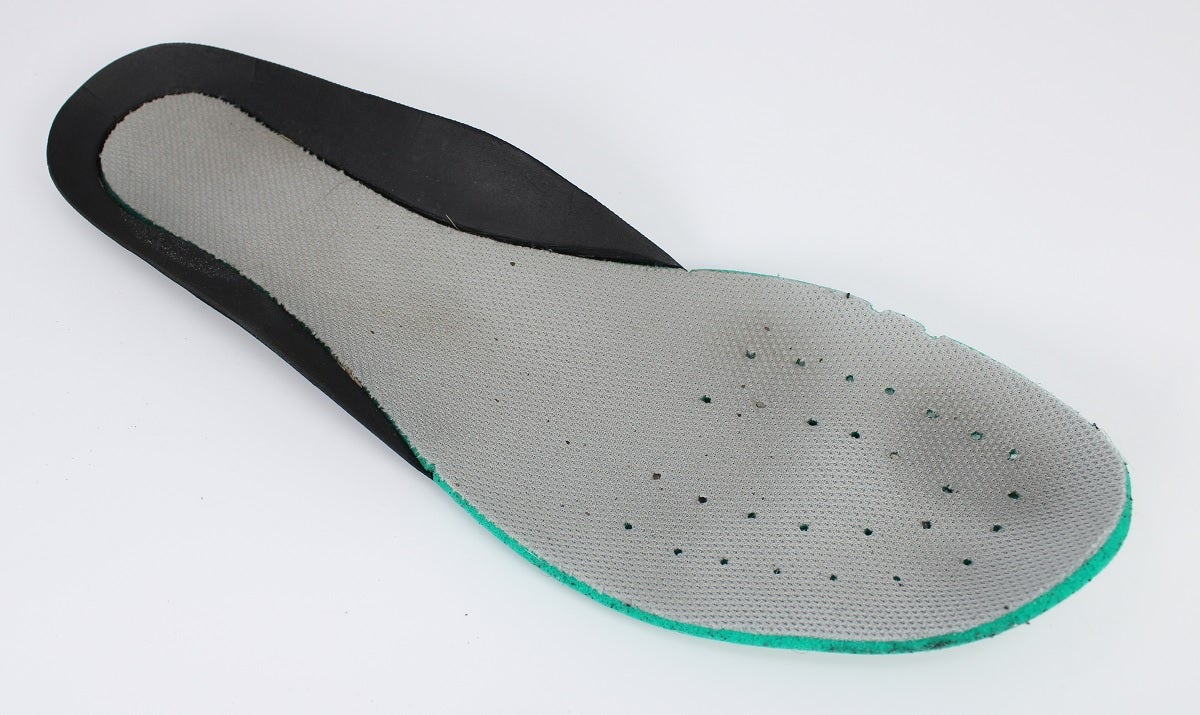 After some hard miles, the insole liner has kept its spring without compressing or tearing.
At first glance, the insole liner doesn't look impressive. But the rubber bridge at the rear provides good spring and support, and it is breathable. Folks with high arches will want a fitted, custom liner; arch support isn't great. My flat duck feet have done well with it. For having such a broad rubber sole, these boots provide decent tactile feedback. That's probably thanks to the pliable cap which bends easily with toe presses, in addition to the light weight.
Support
For me, the Salomons are in the "Goldilocks" zone. Ankle support is, honestly, perfect – not too low to allow for a rolled joint and a limp down the trail, but not so high as to restrict freedom of movement or make you feel like you're stomping your path.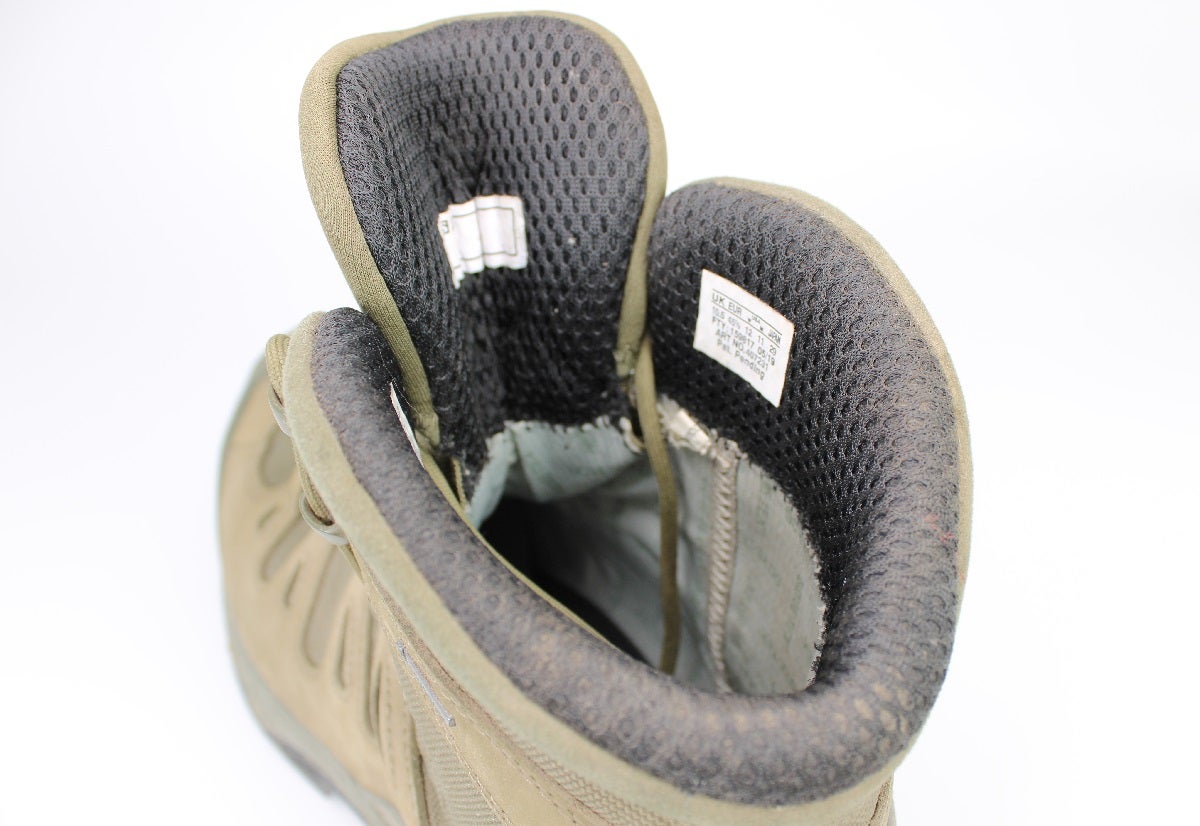 The mesh liner and wide brim do a good job preventing hot spots and chafing.
I'm not a fan of low-rise hiking boots, but I wish I was. They provide the most shoe-like fit and feel. But they leave you open to injury if you're not on a well-treaded, maintained path. The Salomons get close to that feel without sacrificing the kind of support you need to climb a scramble or egress down some rocky or wet hikes. Speaking of wet…
Waterproofing
Finally, a boot that I can properly submerge up to the tongue, without winding up with a 5-pound bucket of soaked sock. The Salomon Forces 2 provide impressive waterproofing – little surprise given the GORE-TEX liner.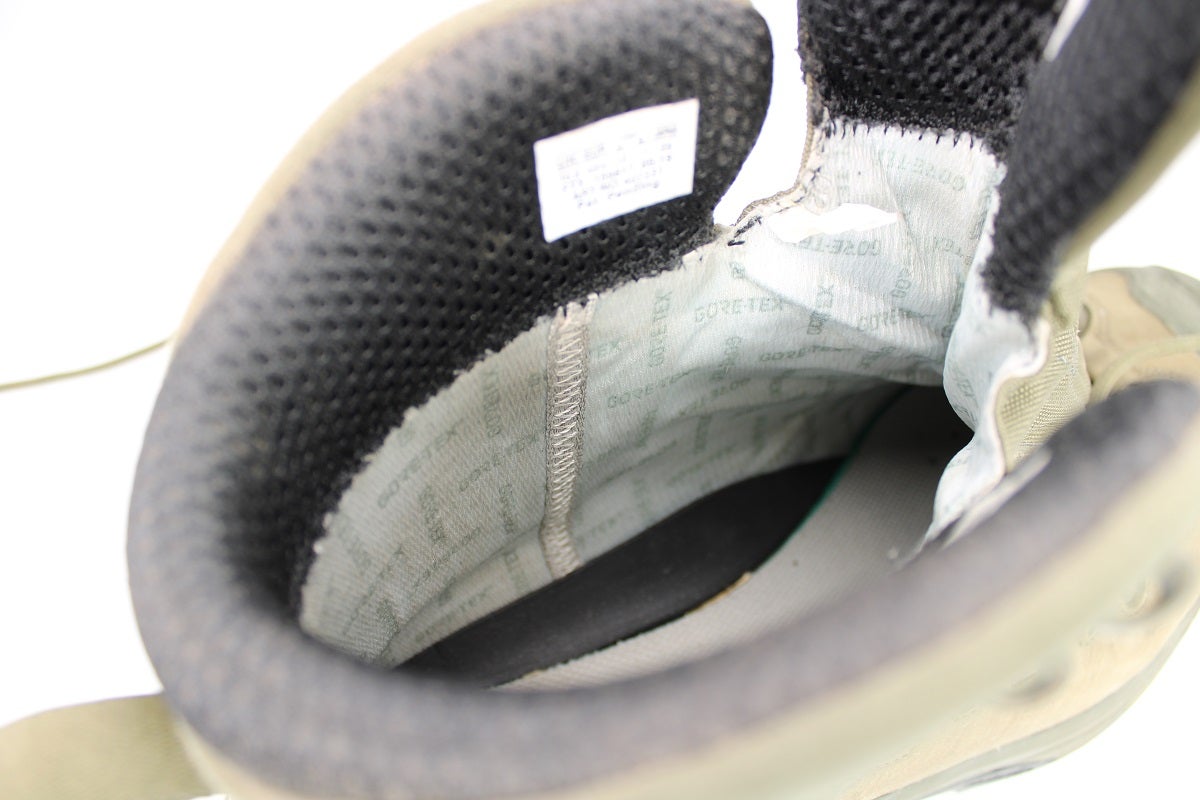 The GORE-TEX liner wraps underneath the insole liner.
The leather and textiles are also treated with a waterproofing compound, evidenced by wicking and beading when I climbed up a waterfall trail (Horse Tail Falls) in October.
Grip and Traction
The Salomon's rubber lugs don't disappoint. They're not exactly Vietnam Jungle Boots, but they provide the grip needed on slippery stuff. I had no issues keeping traction on the wet granite and washed pebbles found along the Horse Tail Falls trail.
The treaded lugs provides good wet-weather grip; I haven't had any chip or crack.
The lugs stay relatively free of mud, and they're easy to pick and clean off. Part of their performance is, again, thanks to this boot's surprising flexibility.
Stitching and Construction
A boot with glued toe caps is going to eventually suffer some separation. After wearing these in Utah's backcountry for the better part of six months, I've found the corners of the toe cap just starting to separate from the leather upper.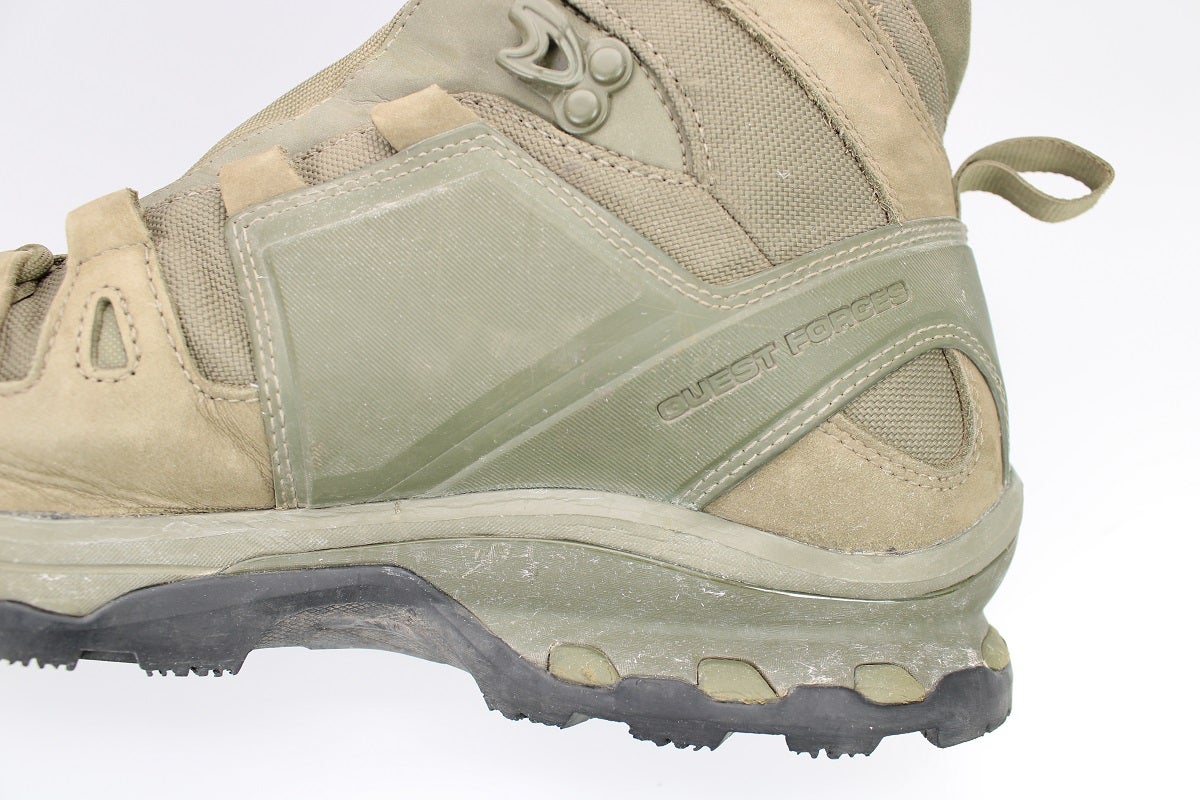 After six months and ~70 miles, no stitches have popped or torn.
I wish the toe cap was stitched, but it isn't a huge concern to me. I've worn enough hiking boots to know that most uppers with a toe box this flexible are going to have some peeling edges after a while. It's nothing that some Shoe Glue didn't fix up, and it didn't compromise the waterproofing. After some basic maintenance, the problem hasn't returned.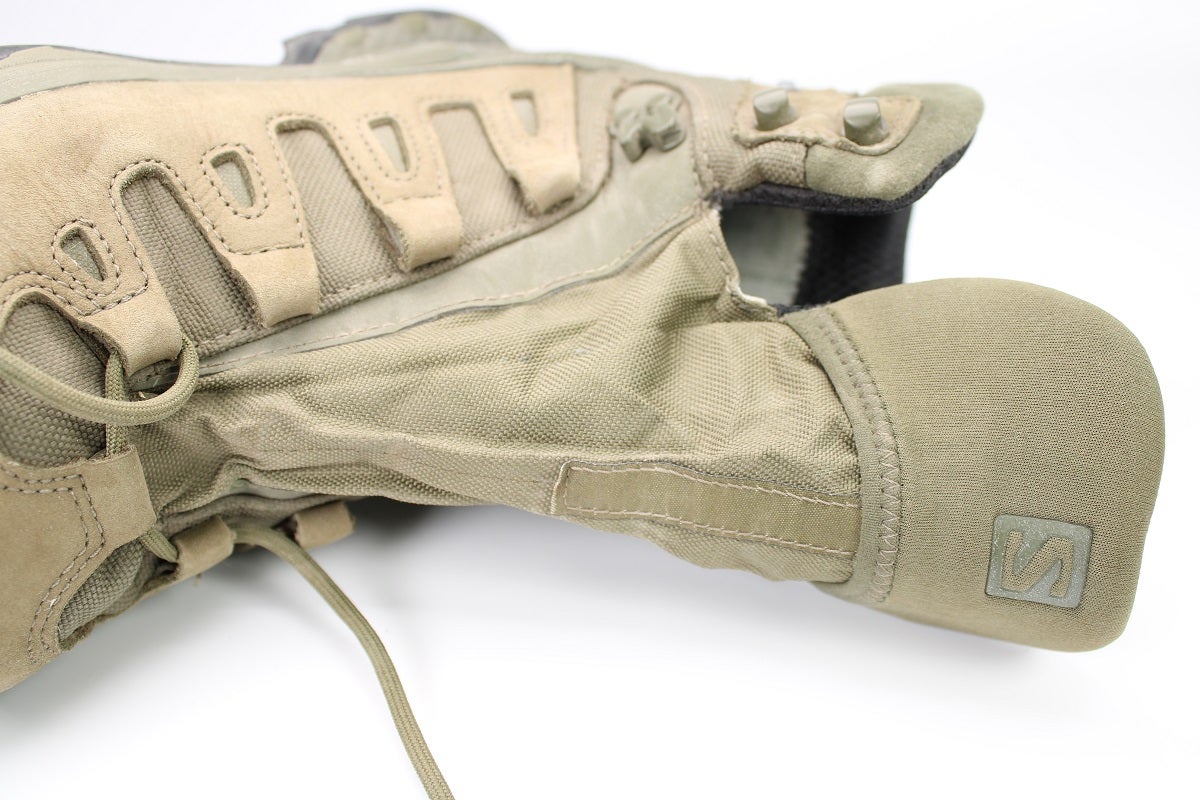 The ripstop tongue feels like Cordura; the GORE-TEX liner runs its entire length.
If you put these treads through their paces, you'll likely find yourself in a similar situation before the boots' two-year warranty is up. If your outsole or cap is excessively worn, Salomon is pretty squared away when it comes honoring their craftmanship. If it's under two years, you can email them for replacements without much fuss. Just keep your purchase receipt.
Lacing and Eyelets
There's not much to say here, other than the Forces 2's laces work well. I'm a huge fan of metal eyelets; I'm always cautious about the longevity of textile or leather eyelets. I've seen others say they tore one or two, but I've yet to run into this issue.
The wide, crescent ankle eyelet provides good tension without pinching.
Thankfully, the ankle eyelets are all metal, with rivet fasteners. That's where I find myself cinching my laces tightest. I like to leave the laces above the top of my feet looser. I've put about 60 to 70 miles' worth of trails on these boots, and I have yet to notice any leather eyelets that seem ready to rip or tear. As long you're not guerilla-arming your laces (which you shouldn't for the sake of circulation and breathability), then you'll probably be fine.
The leather eyelets are double-layered; This should prevent tearing over time.
If you're a stickler for this kind of stuff, the Forces Quest 4D GTX 3 boots are nearly identical to the Forces 2, but they have metal eyelets for all the laces.
6 Months of Wear: What's not to Like?
The Salomon Forces 2 EN are excellent kickers, but no boot is perfect. I've already mentioned the two misgivings I have, and they boil down to one thing: Durability. Yes, over time, I expect the leather eyelets to fray, but not tear or fail. And yes, I noticed the toe cap separation, which was an easy fix with some Shoe Glue. Keep in mind these boots are "mil-spec." That doesn't mean they're made to be indestructible. It  means they were designed to get the job done without costing an arm or (frostbitten) foot.
Although the Salomon Forces 2 ENs seem expensive at around $260, they're a fair bit cheaper than other boots of similar construction and intent. I'm talking about $400 Arc'teryx Acrux GTX's or Zamberlan Cresta's, or $450 Danner Mountains. Having worn two of the three boots I just mentioned, I can attest that the Forces meet that bar – they're just lighter, cheaper, and perhaps a tad less durable but more comfortable.
Who are the Salomon Forces 2 ENs for?
The Forces 2 EN boots make an excellent duty boot, as evidenced by the fact they're current issue for some Ranger and airborne units. They're now my go-to hiking boots for challenging trails along Mount Timpanogos. If you're EMS, police, security, or military (and your commander is lax when it comes to AR 670-1), these boots will work well. They're super comfortable, and can withstand just about everything you encounter at work and outside.
If you're an Alpinist, ultra trail runner, or the type of hiker to drop $800 on a framed pack or some NASA-inspired sleeping pad, then you're probably not bothering with what you perceive to be "mid-budget" boots like these.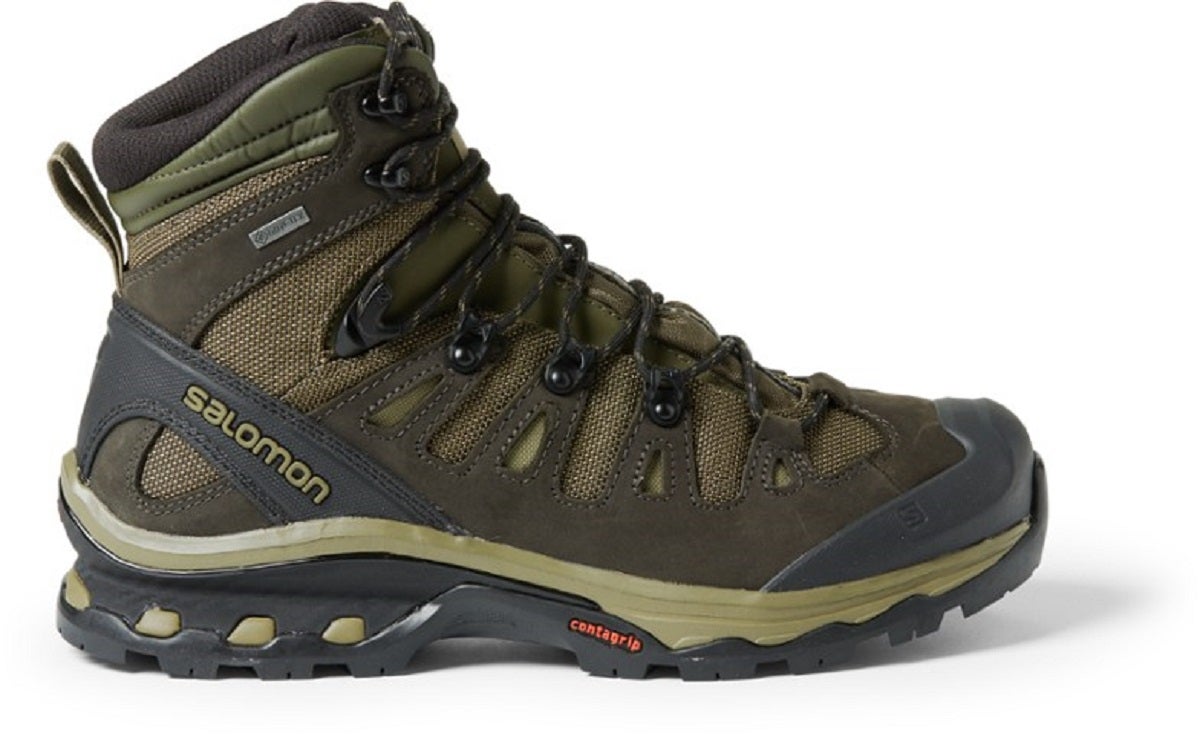 For all-metal eyelets, check out the Salomon Quest 4D 3 GTX
I think the Forces 2 EN's the right fit and price for the mountain enthusiast who hikes through wet stuff and climbs 10- to 20-mile trails in summer and winter. That descriptor fits me and my kit quite well. The comfortable, agile, always-dry Salomons have yet to fail me. The Irish Setter VaprTek 2815's are a top competitor to the Salomon Forces. Check out our review of those boots.