RMEF Donates $3.3 Million to Oregon for Wildfire Rehab, Habitat Work
Adam Scepaniak 12.20.22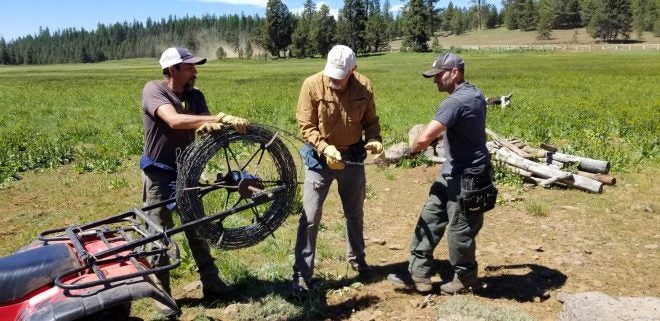 The Rocky Mountain Elk Foundation (RMEF) recently gave Oregon a donation to the tune of $3.3 Million for wildfire rehab, habitat work, and elk research. This donation will push forward the Rocky Mountain Elk Foundation's mission of ensuring the future of elk and other wildlife. More specifically, this donation will help Oregon with its wildfire rehab that has ravaging the state in recent years.
Rocky Mountain Elk Foundation (RMEF) Coverage on AllOutdoor
The Rocky Mountain Elk Foundation and its partners allocated $3,351,126 for more than two dozen projects across Oregon. This was accomplished by the RMEF supplying $324,894 in grant dollars which was then leveraged to $3,026,232 from its partners. It is amazing to not only witness the Rocky Mountain Elk Foundation's generosity, but how quickly it can be magnified to do good. An expanded explanation can be had below via the Rocky Mountain Elk Foundation's Press Release explaining more about the wildfire rehab projects:
Missoula, Montana – "Unfortunately, high-severity wildfires over the last several years damaged soil and native seed banks in large swaths of Oregon elk habitat. And that opens the door for invasive weeds to crowd out native vegetation," said Blake Henning, RMEF chief conservation officer. "Among other things, this funding goes toward 13 on the ground habitat conservation projects to restore and enhance elk habitat."

Additional projects across more than 20 counties include scientific research to assist elk management and populations, support of mentored hunting events and funding for youth archery and recreational shooting clubs.

"Our volunteers in Oregon have a long and robust history of raising funding that benefits their state," said Kyle Weaver, RMEF president and CEO. "To them we say, 'Thank you.'"
The Rocky Mountain Elk Foundation might look like a non-profit organization that loves elk hunting from the outside (and believe us, they definitely love hunting elk, too), but they are so much more than that. Their philanthropy and generosity is humbling, and the affect they have across the country is absolutely contagious. As always, let us know all of your thoughts in the Comments below! We always appreciate your feedback.