The Fire Rises! NEW 7mm PRC Ruger American with Go Wild Camo
Adam Scepaniak 12.23.22

The 7mm PRC (Precision Rifle Cartridge) invented by Hornady follows in the footsteps of prior PRC cartridges by being extremely fast for its caliber and efficient with its energy. Now, the growing popularity for the 7mm PRC cartridge continues to rise as a new Ruger American is being offered with Go Wild camouflage. For any hunters who want to utilize the supersonic power of the 7mm PRC, the Ruger American in Go Wild Camouflage is a great opportunity to do so.
Ruger Coverage on AllOutdoor
The Ruger American rifle is a very bread-and-butter offering from Ruger, but it gives shooters and hunters alike everything they need. You have a bevy of modern features to allow for silencers, slings, and modern finishes in the Go Wild Camouflage and Cerakoted barrel to protect your investment. The full specifications can be read below as presented by Ruger:
Stock: GO Wild Camouflage I-M Brush Synthetic
Magazine: 3+1, Single-Stack
Barrel: 24″ Burnt Bronze Cerakote with 5/8″ x 24 TPI Muzzle and 5-Groove Rifling
Weight: 7.1 Lb
Twist: 1 in 8″ Right-Hand
Overall Length: 44″
Length-of-Pull (LOP): 13.75″
MSRP: $789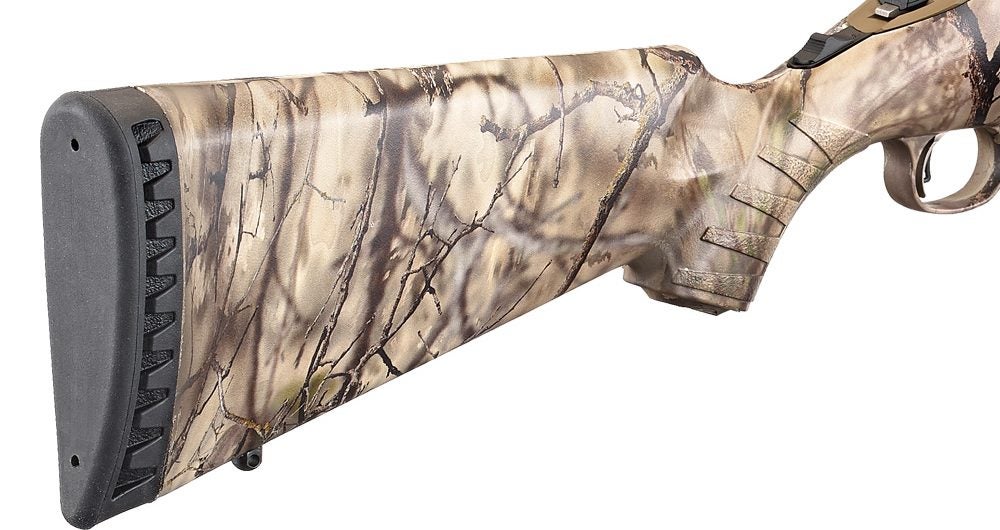 Ruger Marksman Adjustable™ trigger offers a crisp release with a pull weight that is user adjustable between 3 and 5 pounds, allowing shooters to make that perfect shot.
Ergonomic, lightweight synthetic stock designed for quick, easy handling blends a classic look with modern forend contouring and grip serrations.
Soft rubber buttpad is crafted for maximum recoil reduction.
The one-piece, three-lug bolt with 70° throw provides ample scope clearance and utilizes a full diameter bolt body and dual cocking cams for smooth, easy cycling from the shoulder.
Patented Power Bedding®, integral bedding block system positively locates the receiver and free-floats the barrel for outstanding accuracy.
Factory-installed, one-piece Picatinny scope base.
Outstanding accuracy helps make every hunt a success.
Threaded barrel with factory-installed muzzle brake is cold hammer-forged, resulting in ultra-precise rifling that provides exceptional accuracy and longevity.
The visible, accessible and easy-to-actuate tang safety provides instant security.
Also includes: one magazine; sling swivel studs.
Many hunting seasons around the US are wrapping up for the year, but this rifle – in its newest chambering of 7mm PRC – would still make a great varmint rifle for fox and coyotes. When predators are "hanging up" really far away and won't come in closer to your electronic calls, this could be the answer to connect on a fox or coyote on what was previously too far distances. The 7mm PRC with the right optic is an easy 1,000 yard cartridge. As always, let us know all of your thoughts in the Comments below! We always appreciate your feedback.