AllOutdoor Review: 5.11 Tactical Styles for Women
Eve Flanigan 12.28.22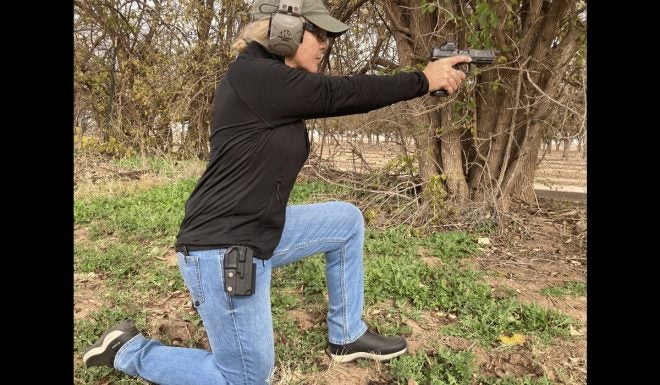 Recent years have seen a trend away from a strict duty/tactical gear focus for several companies that used to cater to uniformed personnel. Most have diversified their product lines to include streetwear for off-duty carry, and most recent expansions include fashion apparel. The well-known 5.11 brand is no exception. Recently I've been trying out some of their latest garb for women, and am overall pleased. Here are three 5.11 Tactical Styles for women I'm enjoying, and my impressions as a person who navigates life with protection of self and others in mind. Style is a distant second.
Thermees Insulator Jacket: This mid-weight jacket has the look and feel of the inner, insulated component of a windbreaker/insulated layer combo. But its comfort and wear-ability surpass the military designs that probably inspired it. Its lightweight 65g polyester fill is quilted only in vertical lines, giving it a custom touch. The zipper is heavy-duty and non-fussy to use. My favorite features are many. First, there's the draft-blocking hemmed bottom and cuffs. Then the generous length that wraps around the hips cozily, and the satiny lining. The latter allows for easy donning of the jacket when wearing long sleeves and facilitates free movement when it's on. When it's so cold that I put the zipper all the way up so the collar shields my neck, the wonderful chin guard keeps the top of the zipper from grating away at my chin as most jacket zippers will.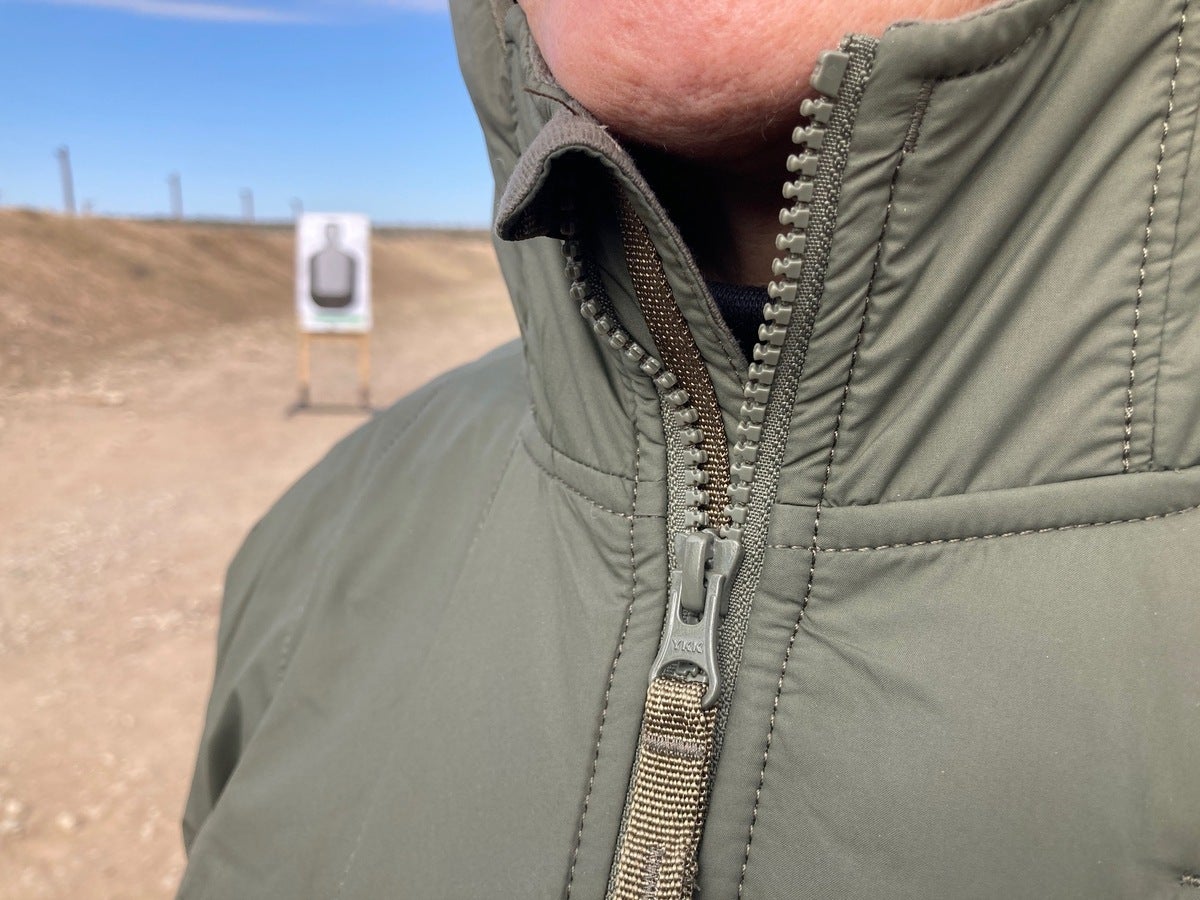 It has a hood with an elasticized opening that can be scrunched down to keep the chill off on windy days. The hood is roomy enough to wear over ear protection on those cold, miserable range or hunting days. Speaking of hunting, the fabric has a slightly peached texture that's never noisy. Yet it's smooth enough to not be an animal hair magnet like polar fleece. The trim-less hood does look a little naked in my opinion, like a mid-layer missing its outer shell. It's not going to block out bad weather, but it makes a breathable barrier for days too cold for a bare head.
Pockets are so important for function, and the Thermees does them well. Its handwarmer pockets are positioned just right for comfortable use, and zip closed if desired. They're large enough to carry heavy gloves, the most common item that ends up in them for me, on or off my hands. There's also a zippered external chest pocket to keep little valuables in easy reach but secure.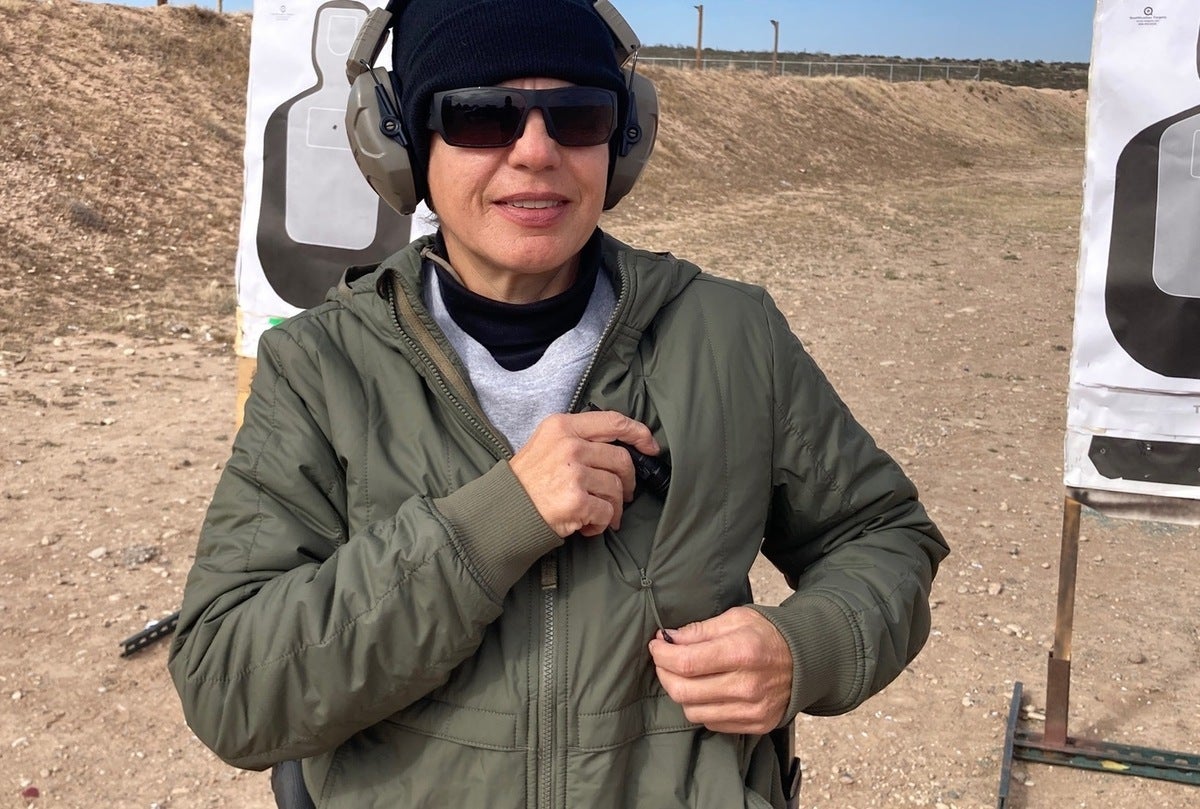 This jacket/coat is also packable. I've rolled it up and stowed it in my pack for shifts that put me outside in dramatically shifting temps. The wrinkles fade away quickly, even in dry desert air, and it adds no annoyance to the chore of dealing with my pack, taking up less room than a puffy down vest but delivering as much or more relief from the cold. It's become a favorite in a very short time, in large part because it allows freedom of movement and has great pockets. The Thermees is normally priced at $180, with occasional discounts offered. Sizing is really generous; a medium normally fits me perfectly but the Thermees super roomy, so much so that it allowed me to have five layers under it, including soft armor, when I donned it for extra warmth at work on a very cold morning. It's available in black and green, priced at $160 but 5.11 sales offer significant discounts. "Thermees" is the name of a Pokemon, a random fact I learned during this review.
Britta Slim Denim Jeans:  I'll jump right to the conclusion, these jeans are an instant favorite in my book. And I'm not even a "slim" jeans wearer. Women who can't or don't want to carry a purse everywhere often bemoan the absence or miniscule size of pockets in our clothes. When I saw the tag on these jeans that read "loaded with pockets," it brought a smile to my face. The Britta Slim jeans did not disappoint. The front pockets are deep and roomy, allowing me to keep a folder clipped in the pocket without risk of it walking out and becoming lost. That necessary luxury is also due to the fairly high rise on these jeans. It's not 80s music video star-high, but enough to keep that blade in place and also to comfortably conceal under all but the currently fashionable crop tops that make concealment impossible and which I feel I'm a couple decades past being a candidate to wear anyway. Despite the slim moniker, I find these jeans generously sized and easy to move around in.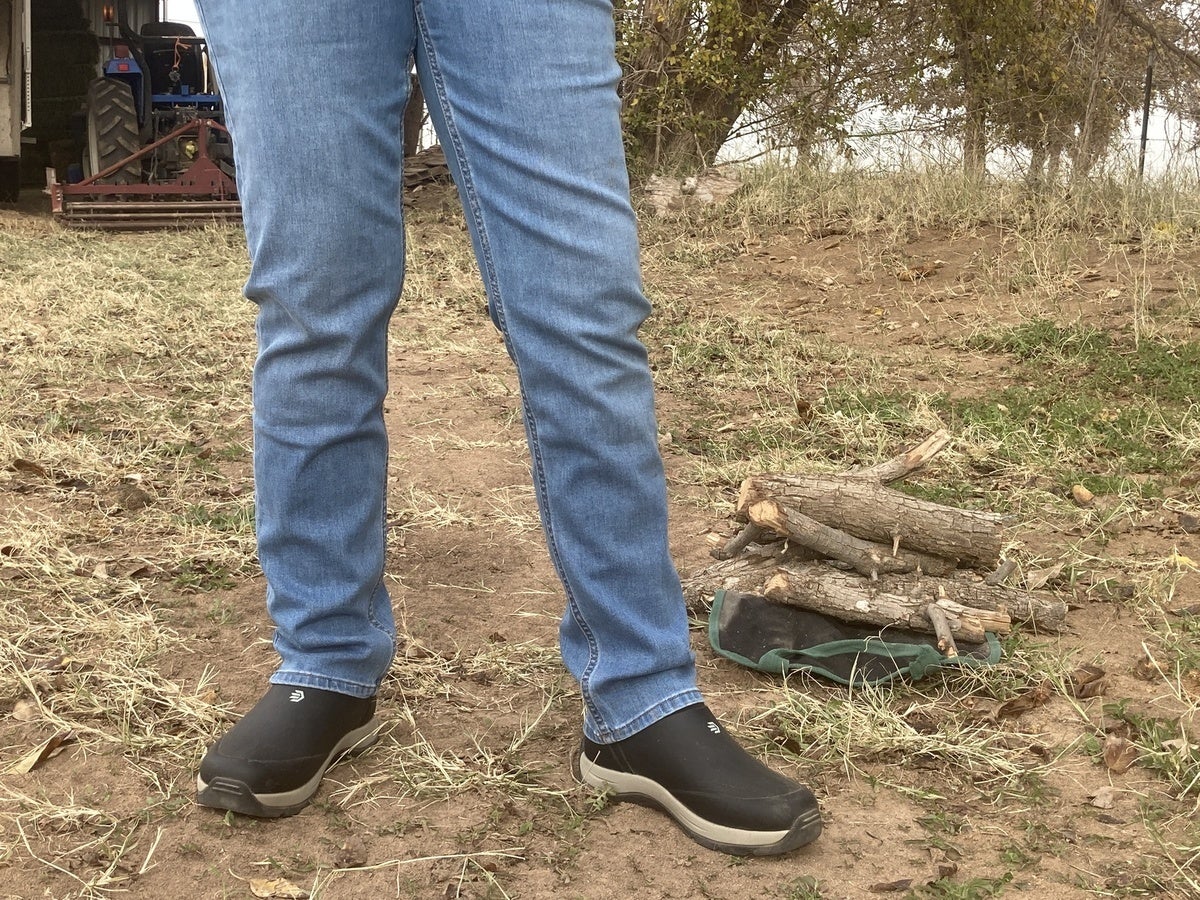 Made of only 75 percent cotton, the balance of the material is a mix of synthetics including something called elastance stretch slub denim, which I suppose assists in making those deep bends and high step-ups more comfortable. Across the back are four large pockets. Two are typical jeans pockets; the others lie behind them and are large in capacity yet subtle in appearance. While it's never comfy to sit down with a 30=round AR mag in your pocket, it's definitely possible to keep a couple back there for standing work at the range.
These are not paper-thin fashion jeans. They're ready for work or anytime you need a neat but functional pair of pants. Branding is embroidered and low-vis. 5.11 did a great job with these in every way. Colors are dark wash indigo, light wash indigo, and washed black. There are a great range of sizes and lengths, too. Retail price is a reasonable $68.00.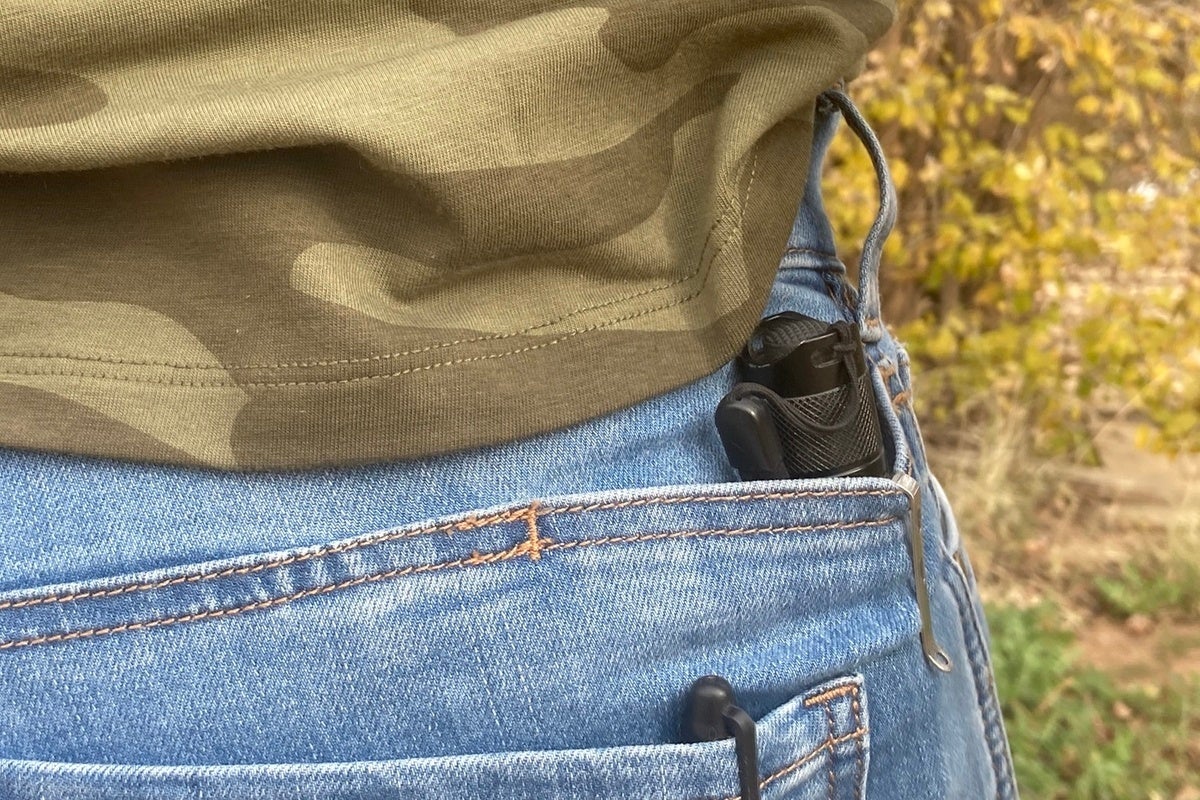 Stratos Full Zip Jacket:  This is a lightweight helper if one needs a light layer over a tank top when heading out for a run on a cool spring or fall morning. The ruched, thin material on the arms clings to sleeves or bare arms. I find it kind of annoying; if I were still the person with the great V-taper/big delts shape, I'd rock it. So could anyone with bony arms. But for the majority who are between those two descriptions, this one comes in as not a favorite, as I see it.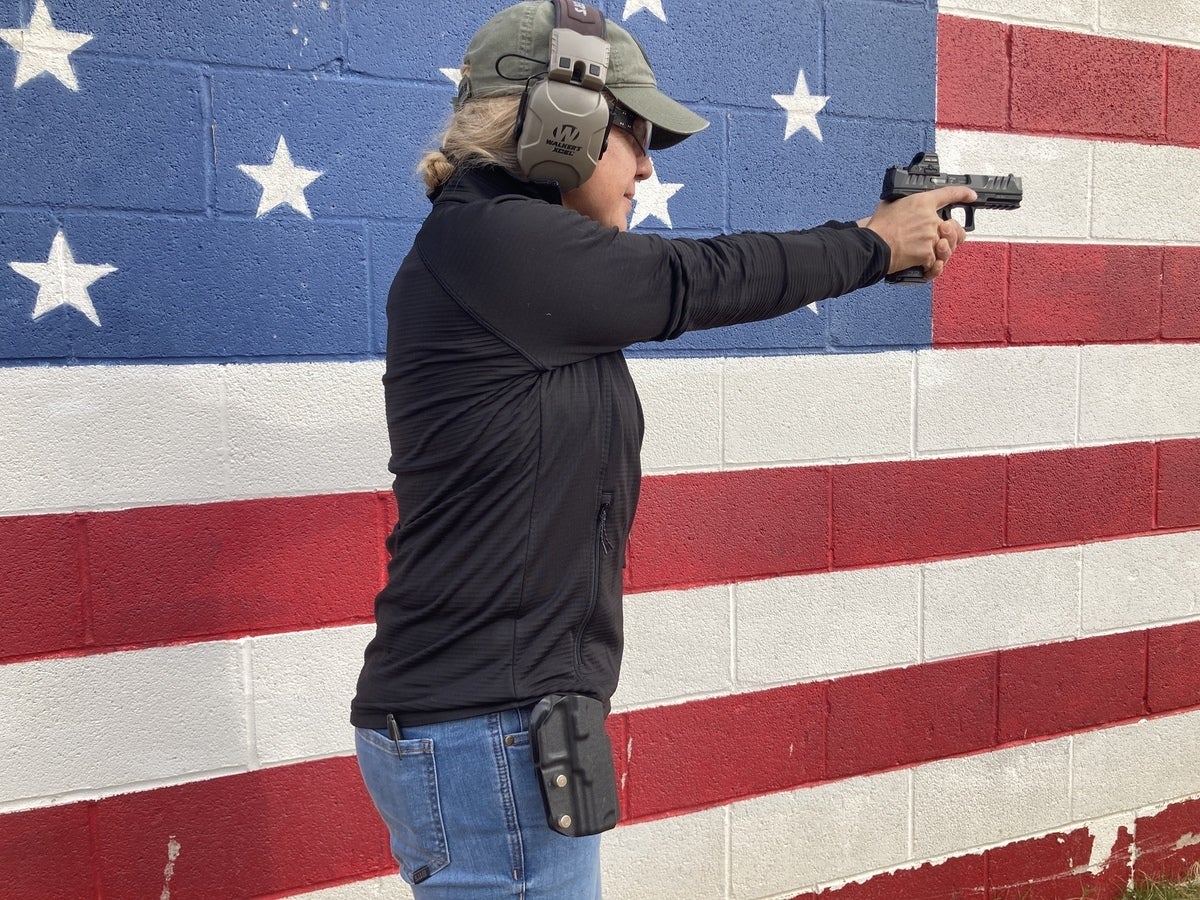 On the upside, there are nice features. There are two pockets right where hands need them. And they zip to secure valuables. Inside the lower torso is another slot/pocket large enough for a checkbook or a piece of mail. The collar can stand up for a little wind protection and has a chin guard to prevent zipper rash. Or fold it down for a more formal look.
The 91 percent polyester/9 percent elastane material has a subtle raised checker pattern reminiscent of old-fashion long john material. But this is a modern cut of modern materials which cuts a sleek, body-hugging profile. I normally wear a medium jacket but if I were to choose this one again, I'd take a large. As a layering piece, it has to go on early to fit. As a covering garment for IWB carry, it requires skillful use.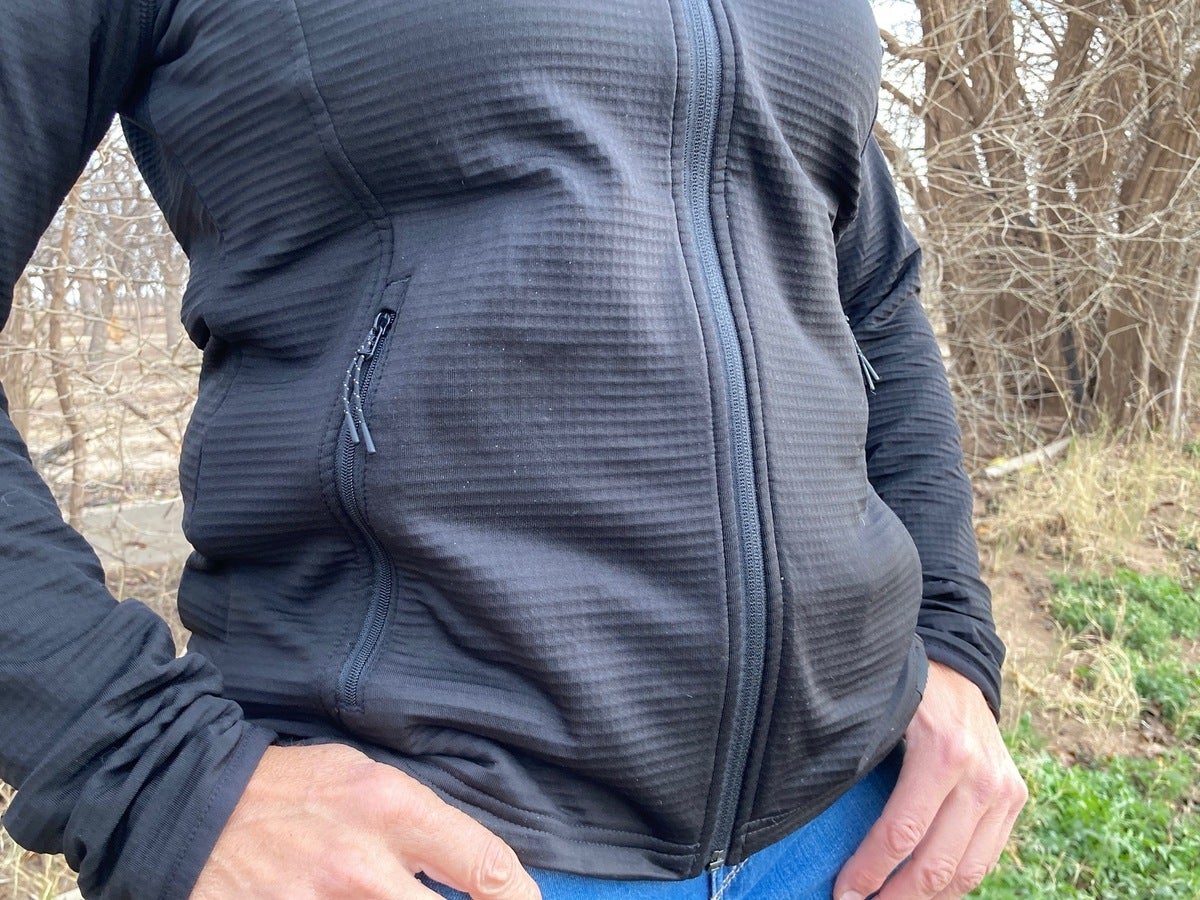 Again on this garment, 5.11 did subtle branding that appears on the left waist hem, and thoughtfully included a heat-transfer decal instead of an itchy fabric tag. If you want a slick, urban jacket and have a plan for the components of concealment that doesn't require a covering garment, this could be a top pick. Colors are olive, dark violet, black, and dark gray. Retail price of the Women's Stratus Zip is $74.00.
5.11 has made sizable strides away from its roots as a tactical/duty gear brand. As an emerging fashion company, their new goods, like the Britta Slim jeans, stay true to their "Always Be Ready" slogan. And while I like the other products here, they don't stand out as helping my daily practices of readiness, like having room for emergency gear or making concealed handgun carry easier. Diversification of products isn't always a neat process, and I can't blame them for trying to be a fashion company, but the throngs of newcomers to the defensive lifestyle should be aware that tactical-brand items still need to be examined through the lens of workability with the tools and habits that travel with them.
Thanks to Springfield Armory for the Flowy Camo tee that makes an appearance here, and to Lacrosse for their excellent Alpha Meadow Mud Boots.