AllOutdoor Review – 5.11 Tactical Rush 12 2.0 Backpack
Patrik Orcutt 12.28.22

5.11 is a company that has been offering a huge line of tactical gear to a broad audience for many years now. One of the 5.11s mottos is that they provide purpose-built gear, and the purpose of today's gear is to carry your daily items with you. The Rush 12 is somewhat of a legendary bag at this point in the pack community. It's been featured in dozens of movies and tv shows and recently in multiple Tom Clancy licensed video games. You also can't walk around a military installation and not see a few soldiers rocking these packs. While I never owned the original Rush 12 or 24, they seamed to always strike a good balance between cost and quality. So, I tested the Rush 12 2.0 as my work EDC bag for serval months while also taking it on only one hike for this review. 
The Rush 12 2.0 was provided by 5.11 for this review and while I am allowed to keep the product indefinitely, this will not change my opinion on this product or any of 5.11's current or past offerings.  
5.11 Tactical Rush 12 2.0 Backpack  Quality and Comfort 
The backpack is built from high-quality 1050-denier nylon, and it also has PUx2 for enhanced water repellence. The material is sturdy but not heavy, and it is just right for heavy-duty use in rough environments. The bag is not just water-resistant as it is also resistant to wear and tear. The overall impression I get from the material is that it is built for strength yet won't slow you down. The stitches are good all around the bag including the storage compartments. The bag also comes with YKK self-repairing zippers.
The bottom line is the Rush 24 is built with strength in mind. While I have not personally tortured my pack that much, I have seen many people on the internet in the military that has and this pack seems to hold up.  The bag has several padded areas so even if full, there is less pressure on your back. The bag's design also allows for sufficient airflow between your back and the bag, and the weight distributes evenly.
The shoulder straps are comfortable and designed for long-term use. Constructed from dual-density closed-cell foam and DuraFlex hardware, the shoulder straps are fully adjustable and should keep you comfortable even during long walks. There is also an option for a sternum for increased stability. ​The bag has upper compression straps that you can use to compress the bag. This is a handy feature as it allows you to squeeze the bag if it's not fully loaded. Even if it doesn't have lower and upper straps these are more than adequate.
​The bag also comes with elastic keepers, so everything is matched up neatly and I really love this inclusion. The yoke harness allows for an even distribution of the weight, essential if it's a full load. Due to the way the yoke has been implemented the bag is not going to cause any problems when you're using it. ​The bag comes with waist belt attachment points if you want to use it, and the stitching is pretty good so even if the backpack is fully-loaded it's not going to give up.
The bag comes with a lot of pockets, but if they are not enough you can add more as both sides as well as the front have MOLLE platforms. Since the bag is MOLLE compatible, it is easy to add additional pockets and pouches to suit your requirements.
5.11 Tactical Rush 12 2.0 Backpack  – Organization 
Currently, The Rush line comes in a variety of sizes to fit whatever task you require. There are 11-liter sling packs, 37-liter backpacks, and 60-liter hiking packs with many other offerings in between. While the subject of today's review will be Rush 12 2.0, I would like to clear up some possible confusion. 5.11 likes to give all of their packs names based on how many hours they are designed to sustain you for. The Rush 12 2.0 is a 12-hour pack but it has a capacity of 24 liters. Another example is their Rush 100 which is a 60-liter pack. A bit confusing at first but not terribly difficult to grasp after a minute or two. 
The main compartment measures 20″ H x 12.5″ L x 8″ D with a 2070 cubic inch capacity giving this pack a very roomy main compartment. Inside the main compartment are three additional mesh pockets for organizing your stuff, ideal for storing small items, so they don't get cluttered in the central area. One of the pockets in the main compartment area comes with a pull cord, handy for stuffing keys, batteries, and other small items. ​At the top of the bag are a couple of "bookend pockets" that you can use to store small items that could get lost when placed in the main compartment. I use these pockets to keep my smaller items headphones or batteries.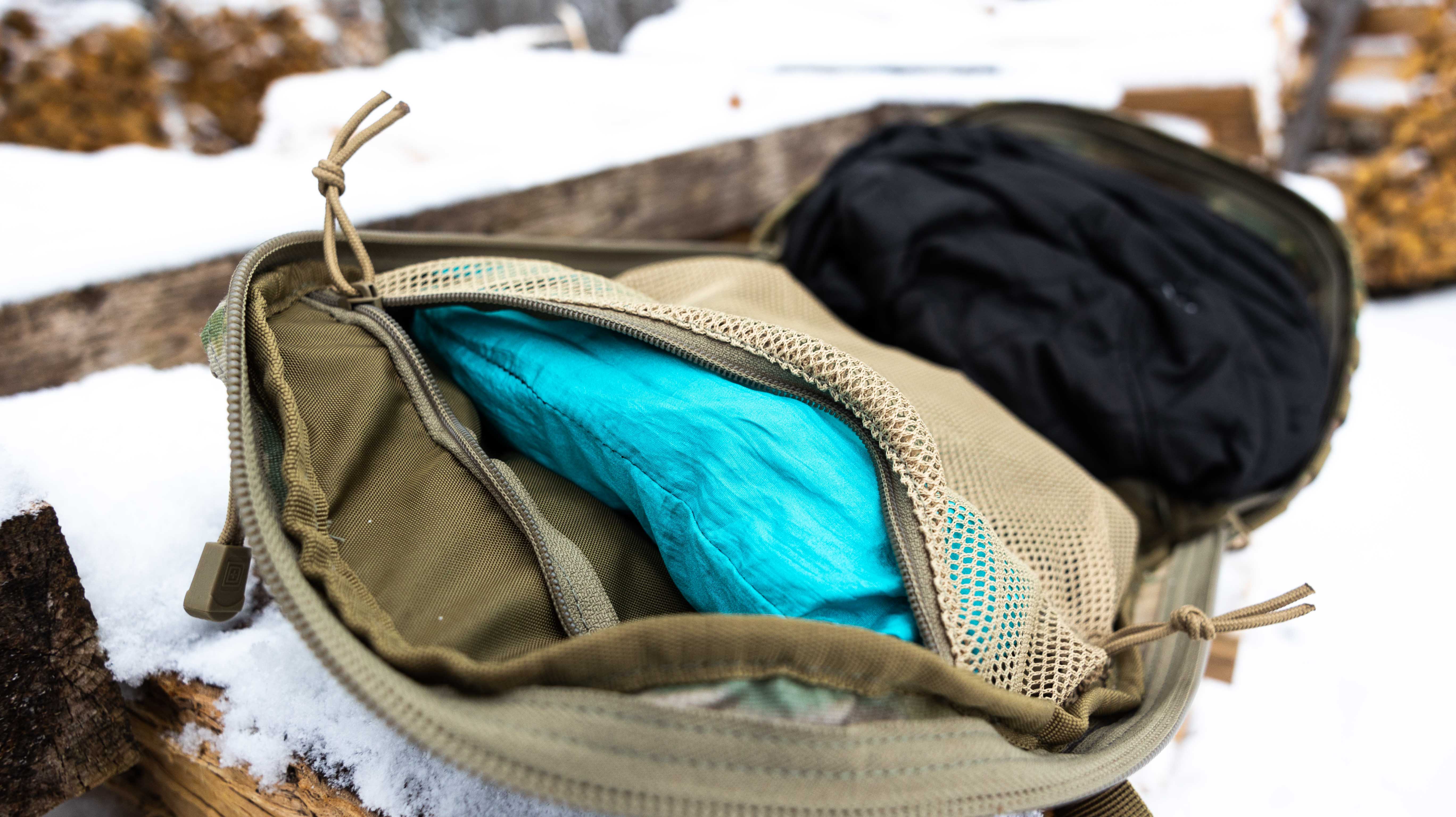 ​The bag has an eyewear pocket too. This fleece-lined, zippered outer pocket is set at the back of the bag, and it's the right spot to place your sunglasses while you're moving around. On each side of the backpack are a couple more zippered pockets. These are sizeable, and you can use it to store maps and documents you may want to bring along.
The biggest addition to the Rush 12 is the inclusion of a laptop sleeve in my opinion. The sleeve is large enough to accommodate my 15-inch MacBook Pro with ease. I know for years people had been asking for this feature in the Rush 12 and I'm happy to see 5.11 is listening to its consumers. 
Likes 
Long track record of durability

Lots of pockets for organization of all types of gear

Surprisingly very comfortable and does not require a break in period

Very cost-effective, MSRP is just over $100
Dislikes 
Very Tactical looking so it has limited uses in my opinion

Not a full clamshell design when buckles are attached making it difficult to access certain gear when fully loaded
5.11 Tactical Rush 12 2.0 Backpack  – Wrap up 
Overall, I think if your on a budget and your looking for a tactical bag that has the ability to hold a laptop, this is about as good as it gets. The 2.0 fixes a few of the major gripes consumers had with one 1.0 and therefore its a superior product over the original.