Annual ConcealedCarry.com Guardian Conference 2022 Wrap-Up
Adam Scepaniak 12.29.22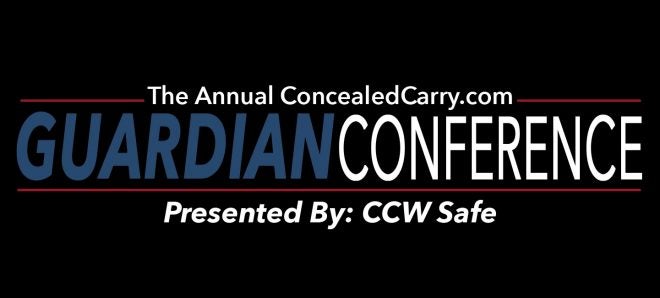 This is the 2nd year that the annual ConcealedCarry.com Guardian Conference was held where hundreds of gun folks got together for a weekend of knowledge sharing, learning, and practicing of valuable skills. This ranged from trauma medical classes, night time shooting courses, and lots of handgun shooting opportunities surrounding concealed carry. We were fortunate enough to attend this conference and will share with you what it was all about so you can get a good idea if this is something you might want to attend in the future.
Concealed Carry Coverage on AllOutdoor
ConcealedCarry.com – What Are They All About?
For those who might be unfamiliar, ConcealedCarry.com is an all-inclusive source of knowledge for those who own firearms and/or carrying them everyday work or personal protection. The scope of the information they share covers the gamut of legal advice for when you are carrying to medical equipment everyday citizens should be trained on to even more common things like news, a podcast, YouTube videos, and products you may enjoy. All of this makes them a great resource for firearm owners.

ConcealedCarry.com Guardian Conference 2022
As mentioned in the intro, the ConcealedCarry.com Guardian Conference is a blend of many skillsets to make you – as a firearm owner, shooter, and training enthusiast – as prepared for life as possible. If you choose to attend the conference you get to choose the classes you would like to attend the most via an a la carte style format. You can give higher priority (classes you'd love to attend) and also lower priority (classes you'd be OK if you missed out on) to all the courses you select.
Then, the people at ConcealedCarry.com get every person's preferences and compiles a final schedule. You will receive your individualized course list for the conference and then can decide what you may or may not need to pack. The classes cover a varying and wide range of topics, but some of them are as follows:
Red Dots on Handguns
Medical and Trauma
Shooting while Moving
Low Light Pistol Shooting
Less than Lethal Options (OC and Pepper Spray)
Vehicle Defense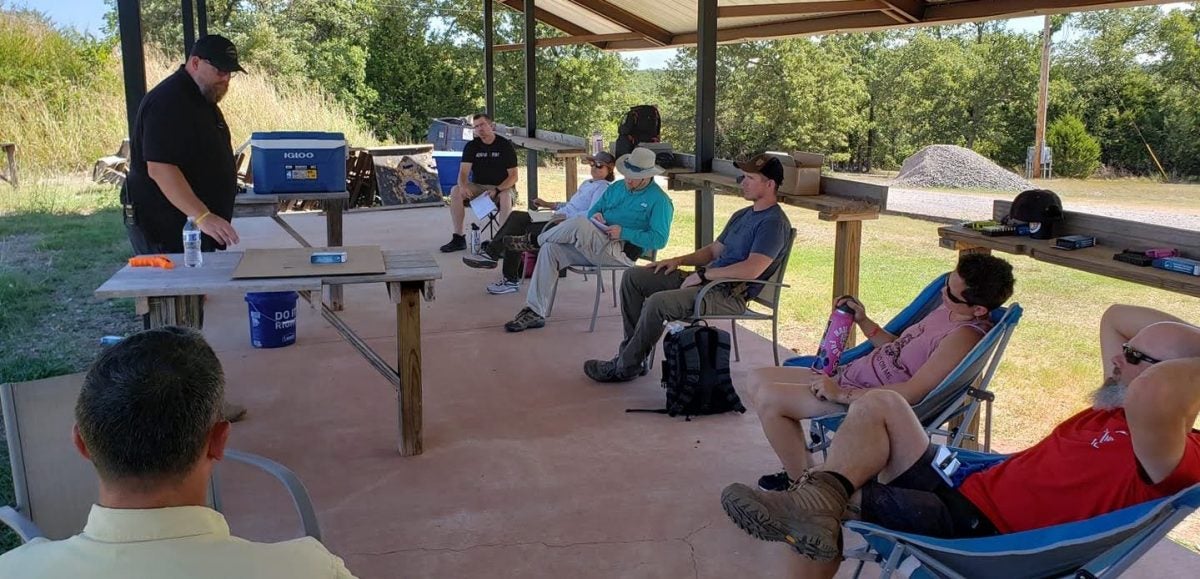 Again, this is a small sampling of the style or nature of the classes that are being offered. Some of them can be very specific down a rabbit hole of sorts while others are meant to be more broad and generic for potentially new shooters. Also, if you want to gather more info (soft skills versus the hard skills of drills) there are even legal classes you can sit in on to further your knowledge base.
Next, we'll give you a very condensed overview of some of the courses we attended and what our experience was look. Hopefully this can be formative in you deciding if you would like to attend the ConcealedCarry.com Guardian Conference in future years.
Trauma Medicine in a Hostile Environment – Instructor Brian McLaughlin of Mountain Man Medical
One of the earlier classes we attended during this year's Guardian Conference was "Trauma Medicine in a Hostile Environment" which was instructed by Brian McLaughlin of Mountain Man Medical. It is great that there is a growing awareness in the firearms community for the need of adequate medical training. Most people have been indoctrinated by the internet to own tourniquets by now, but do you know how to use one? Really? Also, knowing basic first aid such as taking care of the C-spine during head and neck injuries, packing larger wounds (which could be from a gunshot or being impaled by a different object), and carrying something simple items in your vehicle, range bag, etc, like band-aids, anti-septic ointment, and aspirin can all go a long way. Within a 4-hour block of Brian ran us through much of this and got us "hands-on" experience by working on and with our classmates.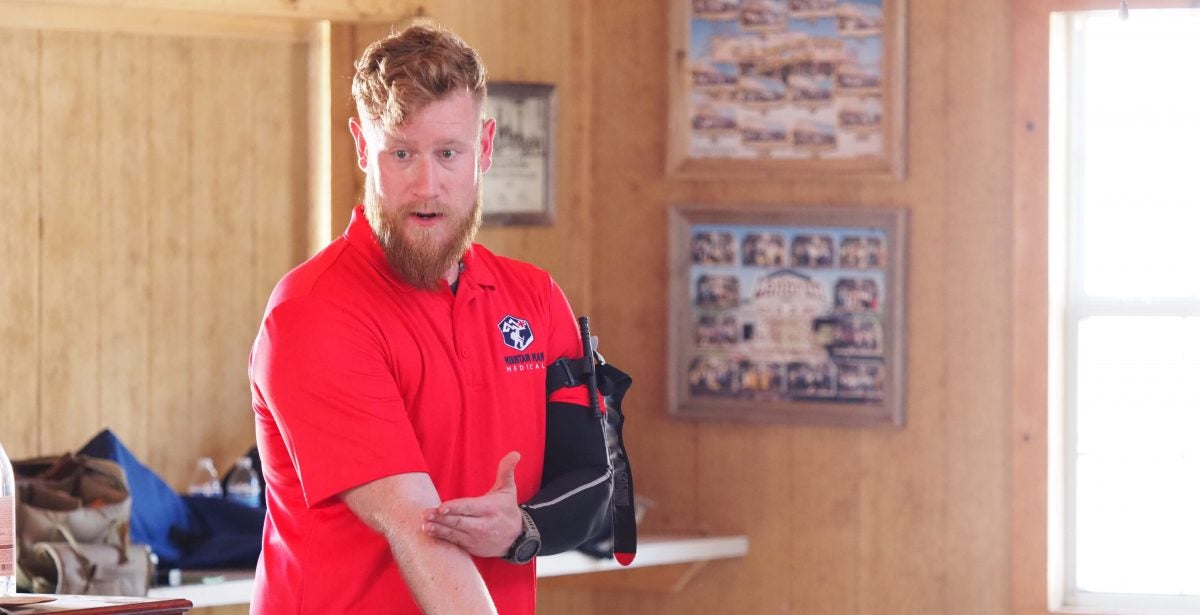 The Test – Instructor Samuel Middlebrook of Redhawk Firearm Training
One of the final classes we took – which was aptly named for our attendance at the Guardian Conference – was "The Test" instructed by Samuel Middlebrook of Redhawk Firearm Training. This was a very low round count class, but the lead sent down range had more purpose behind it. We spent a great deal of time talking about why we shoot: is it to defend our families, compete, sheer enjoyment? We discussed why we care to even improve: is it again for competitive reasons, do we want to ensure we are more swift and accurate than those who wish to harm us? The class started off getting a bit personal, but it was meaningful.
Once we got into a bit of shooting he challenged students to identify what happened to their rounds down range after the shot. Did you feel yourself pull the trigger poorly? Were simply rushing to "shoot quickly" and were not actively involved in the experience? It was a bit of quiet Zen that paid dividends for a lot of students.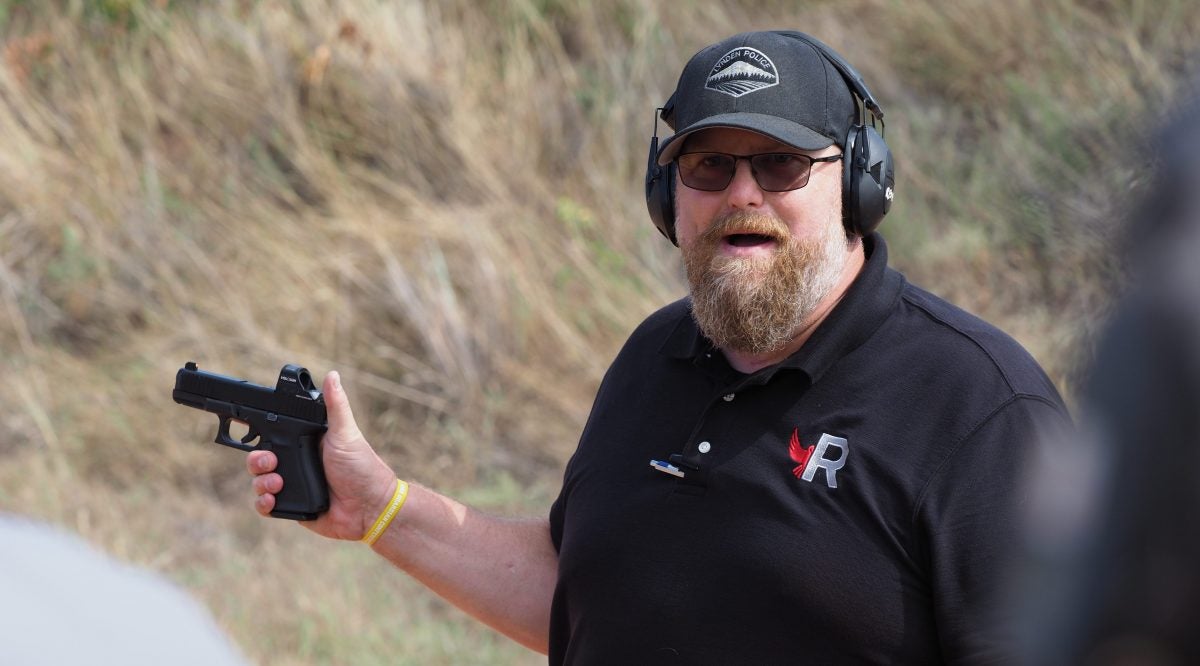 Dot Performance – Instructor AJ Zito of Practical Performance
One of my favorite classes from the entire Guardian Conference was "Dot Performance" instructed by AJ Zito of Practical Performance. His course covered everything pertaining to the burgeoning trend of red dots on handguns. A lot of people believe in this misconception that red dots on handguns are "automatic kill shots" like a video game… they make you automatically more accurate… automatically faster… but the truth is is that it is a tool; nothing more. You need to train with it, understand it, and hone your abilities with it.
In my travels I had met AJ Zito before when he was co-instructing a Modern Samurai Project course in Iowa with the famous Scott "Jedi" Jedlinski. So, I was familiar with the basic tenants of what he might cover, but I 100% wanted to attend his class anyways. It is like watching your favorite movie 100 times. Even though you know some of the elements that are going to be covered, there is always a little nugget you maybe overlooked in the past and take with you this time for the future. That exactly happened. I have full-on been on the bandwagon of red dots for years and AJ helped me hone my abilities a tiny bit further so I am more effective with a red dot.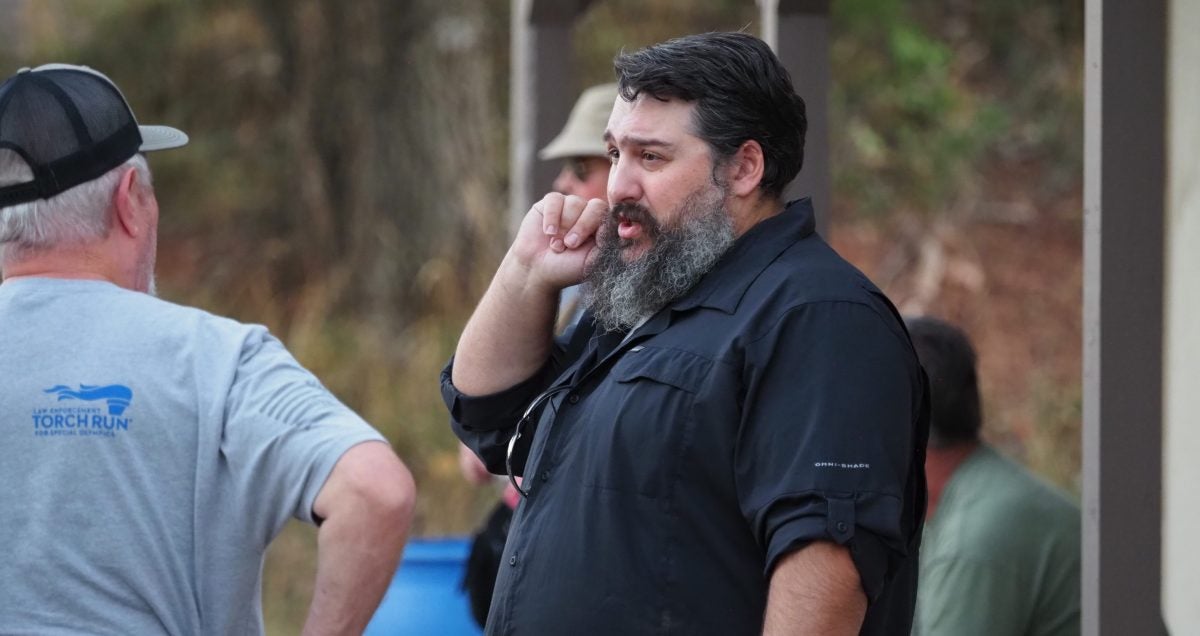 Conclusion – 2nd Annual ConcealedCarry.com Guardian Conference 2022
Overall, the Guardian Conference is worth the price of attendance. The pricing for next year's conference is starting at $650. Everyday they cater in a local lunch so food on-site during the day is a non-issue if you attend. There are a lot of vendors in a pseudo vendor village for you to check out in between classes (we picked up an EDC Belt Co belt that has now become our true everyday carry belt as well as an expanded med kit from Mountain Man Medical to put in a truck). The opportunities for unique training is really what drew us in. Most ranges don't allow for drawing and shooting from a holster… you can't do low light shooting… you often aren't allowed to do dynamic shooting on the move… and you can't pack an entire roll of gauze into a gaping impalement wound.
So, if you are looking to further your knowledge base on everything you find interesting surrounding concealed carry – from medical to tools to dynamic shooting – the ConcealedCarry.com Guardian Conference is the place to attend to get all of that covered in one full weekend. As always, let us know all of your thoughts in the Comments below! We always appreciate your feedback.