AllOutdoor Review: 5.11 Tactical Union 6" Waterproof Boot
Sam.S 01.04.23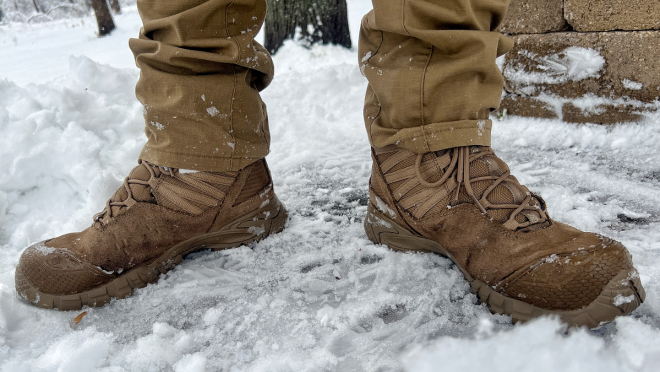 The snow times have come! Here in Minnesota, it gets pretty cold and snowy in the winter months. Luckily I was prepared and had some awesome 5.11 Tactical boots on hand. I of course am talking about the 5.11 Tactical Union 6" Waterproof Boots. I have had these for months and they have been just begging to be put to the test and for the last month and a half, that is exactly what has happened. Let's dive right into my review of the 5.11 Tactical Union 6" Waterproof Boot!
5.11 Tactical Coverage on AllOutdoor
Specifications: 5.11 Tactical Union 6" Waterproof Boot
The 5.11 Tactical Union 6" Waterproof Boot is a combination of comfort-enhancing features. Most importantly to its waterproof reputation, it has what is called an eVent® BBP Waterproof lining. The outsole has a Vibram® XS-trek formula which allows for better grip and traction in less dry situations. The final feature of the main three would be the Ortholite® X-25 footbed which is intended to provide cushion and comfort above all through the duration of being worn.
Vibram outsole w/PU midsole using Vibram XS-trek formula
Waterproof suede upper/high abrasion nylon upper
New 5.11® rubber toe for protection & durability
eVent® BBP Waterproof lining
Sizes: 7, 7.5, 8, 8.5, 9, 9.5, 10, 10.5, 11, 11.5, 12, 13, 14, 15
Color Schemes: Black, Dark Coyote, Coyote
Width Options: Regular or Wide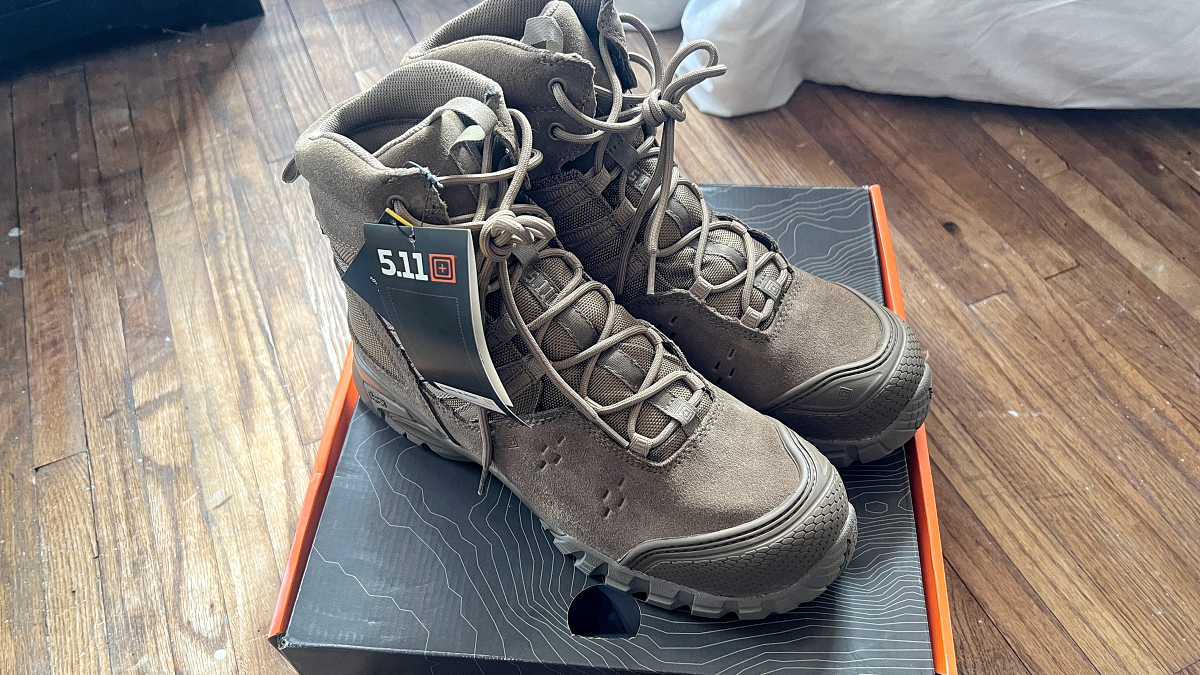 The MSRP of the 5.11 Tactical Union 6" Waterproof Boot is $180 in any of its given colors or sizes. The size range goes from Men's size 7 all the way up to size 15. The 5.11 Tactical Union 6" Waterproof Boot is also available in wide sizes. The size range is the same for the wide options.
"When duty calls for some serious foot work, the Union Waterproof Boot steps up with outstanding comfort and toughness. The outsole with Vibram® XS-trek formula provides excellent grip and balance, so you can feel confident traversing wet or dry terrains. And the eVent® BBP Waterproof lining gives you all the more reason to ford that stream. Did we mention comfort? A new Ortholite® X-25 footbed gives you the kind of aah you feel right away, and cushioning you feel all day. Imported."
First Impressions: 5.11 Tactical Union 6" Waterproof Boot
I picked these boots out of their lineup for many reasons but one significant one, as superficial as it is, is that they looked really neat! The overall shape and height of the 5.11 Tactical Union 6" Waterproof Boot is appealing in of itself but the stylistic choices caught my eye and I wanted to see if they performed as well as they looked.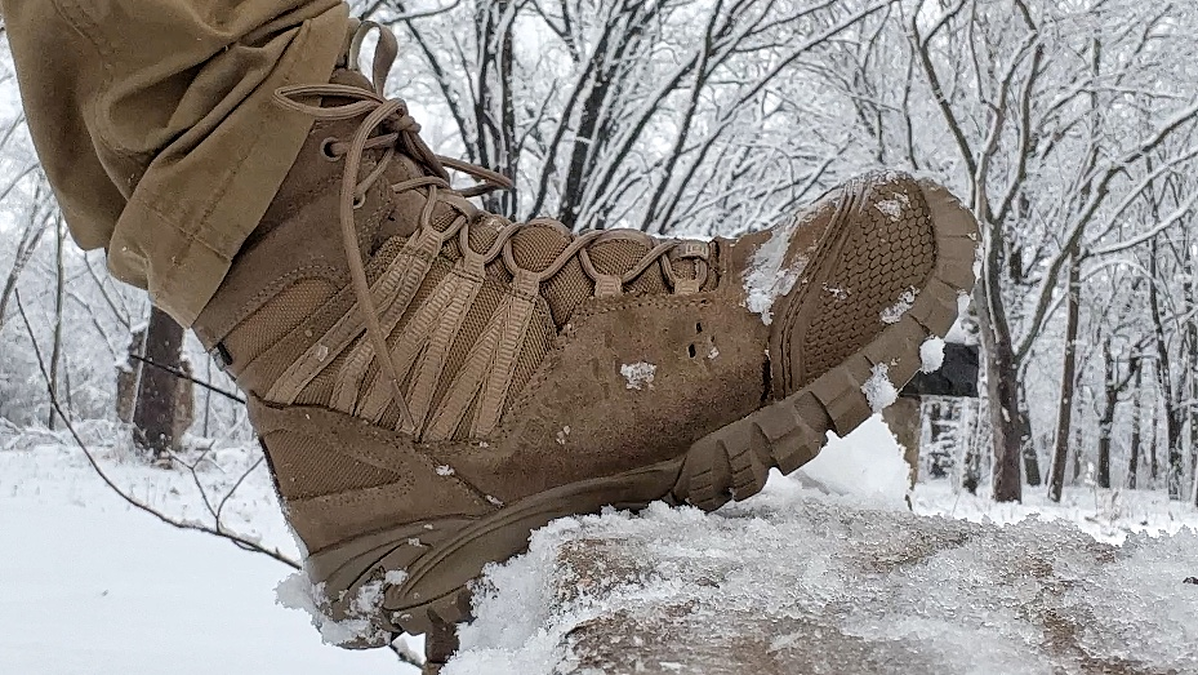 They come in a standard 5.11 shoe/boot box with cool 5.11 prints all over it and are packed with paper and so forth. The details of color, size, and SKU are displayed conveniently on one end and in an easy-to-read way. This would be helpful in a retail setting and at the very least is a good way of confirming an order received. The tags attached to the boots listed normal specifications and features as mentioned above. Overall a good and exciting first impression.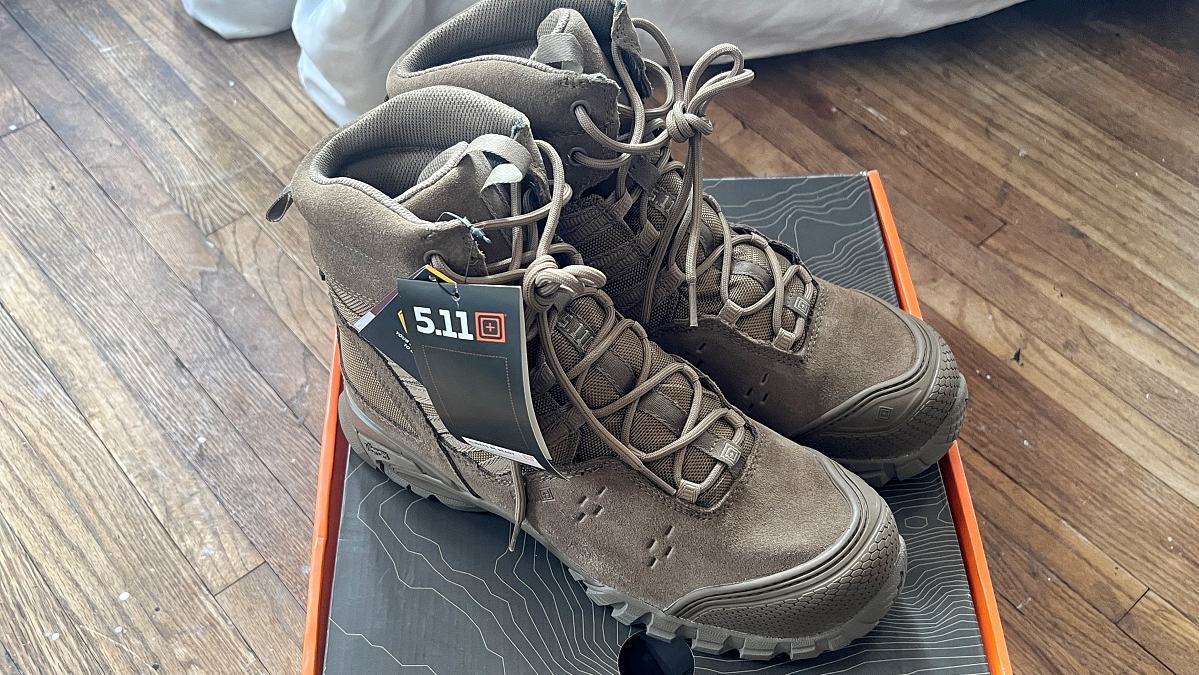 Out and About: 5.11 Tactical Union 6" Waterproof Boot
First Day: The first full day out with these boots was the first day of deer hunting here in Minnesota. Usually, around this time, there is a good amount of snow and temperatures can get down into the teens or negative teens (some years in recent memory). This year it was a pretty tame weekend hovering in all over in the 30s. With no snow on the ground and the temperatures not super low, I was afraid that this initial go of things would not be a good test. Fortunately, as I sat motionless in my stand the cold crept about my inactive body. The only consistently warm part? My feet! These boots did a good job all weekend. The initial fit was perfect. Genuinely, I was surprised at how well they fit my feet and I had the right amount of toe room. I was also gladdened by this since I have fairly big/wide feet. A wide was not necessary for me.
Note: I should mention that one of my favorite features of these boots is the tongue and heel finger loops. They are thick and wide enough to get large fingers into to help put the boot on. Awesome feature and actually a usable feature!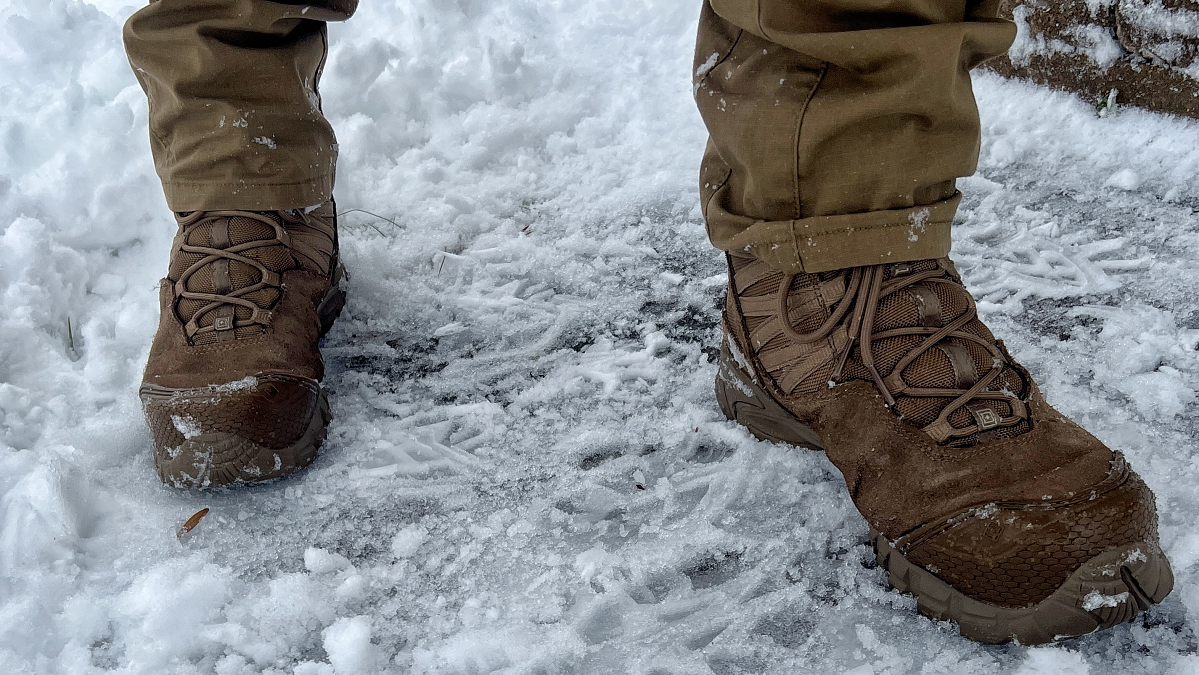 One Month of Everyday Wear: Fast forward one month and I had been wearing these basically full-time. All day at work, every day. Despite my normal winter-style boots getting attention a handful of days out of the winter, I wanted to give these a proper hard time of it. I wore them in the deep snow, on Ice, and at work back and forth on the concrete floor. To this day, all through December, I have been sporting the 5.11 Tactical Union 6" Waterproof Boot. The 5.11 Tactical Union 6" Waterproof Boots are comfy. The footbed is noticeably comfortable for my feet. These boots, unlike normal everyday shoes and footwear, did not require a break-in for me. They felt like a perfect fit which seemed sort of foreboding and potentially worrisome since if/when they did break in they may get loose and uncomfortable.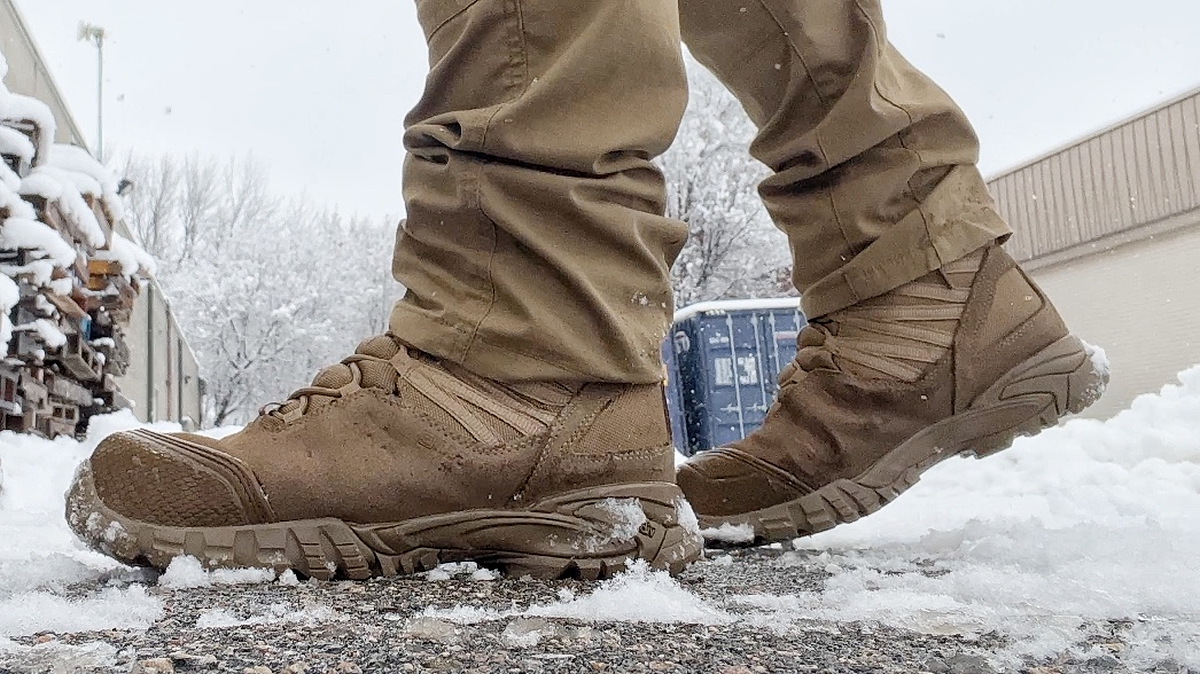 Present Day: A month of warmth and comfort went by without any issues. No wear and tear on the outside. They did not hold a whole bunch of snow, mud, or grim on the tread. My only complaint at this point is that due to the overall waterproof construction and (the 5.11 Tactical Union 6" Waterproof Boot) not necessarily being meant for cold weather, they tend to carry snow fairly well on the top toe portion of the boot. Quite considerably so at times, I will have a mountain of snow on my toe cradled by the plastic toe cover. Beyond that, I have been up to my knees in snow whether it was snow-blowing or shoveling. My feet always stayed dry and I thankfully never felt overheated or sweaty.
Note: On 5.11 Tactical's website these boots are not under the cold weather category but rather the waterproof category. Since these boots are effectively sealed they keep in heat and insulate themselves just fine so they have my approval for the temperatures I have experienced this far and to present.
Conclusion: 5.11 Tactical Union 6" Waterproof Boot
These boots were a very pleasant surprise. I have never had boots this expensive or well put together and I have a healthy dose of skepticism about higher-priced products. I was afraid that they would not deliver but they ended up doing so and more! I transparently and genuinely really enjoy these boots. I was surprised at them in every facet. They held together through snow and mud. They kept me warm or at least my feet warm. They supported my ankles while standing at work and they kept me dry in cold temperatures. They are not too bulky like some boots get so that makes them feel a bit more casual. I highly recommend the Union 6" Waterproof Boot as a winter boot and fall/winter season everyday boot!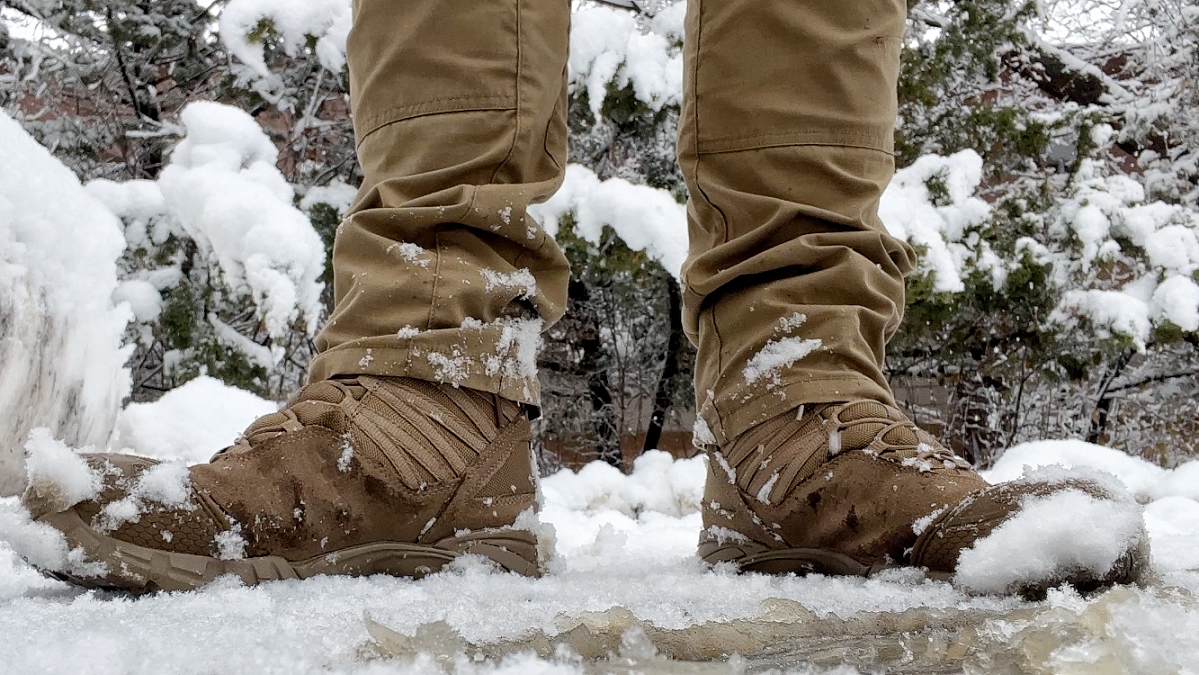 In closing, I want to say thank you to 5.11 Tactical for allowing AllOutdoor and myself the opportunity to try out their Union 6" Waterproof Boot. That is greatly appreciated. Also, we would like to know what all of you guys and gals think. Do you believe that this pair of footwear is worth spending your money on? Would you take these out hiking, hunting, or to the range? Would this be your go-to pair of boots? Let us know all of your thoughts in the Comments below! We always appreciate your feedback.