NEW Vortex Strike Eagle 3-18x44mm FFP & 34mm Pro Series Rings
Adam Scepaniak 01.05.23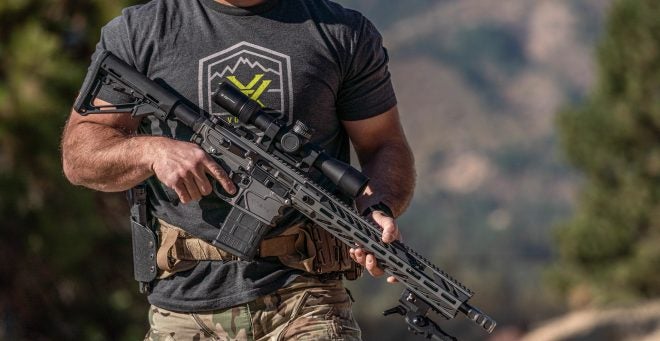 Vortex Optics has ushered in the new year with a brand new piece of glass and a set of rings to match as well. They have unveiled the Vortex Strike Eagle 3-18x44mm FFP, and a 34mm set of Pro Series rings. This larger bodied riflescope should afford shooters to reach out and touch nearly anything viewable in their reticle and the new 34mm Pro Series rings will help you mount that scope on any rifle you see fit.
Vortex Optics Coverage on AllOutdoor
The MSRP for the Vortex Strike Eagle 3-18x44mm FFP is set at $849.99 while the 34mm Pro Series rings come in at $119.99 per set of two. The compact design on this scope along with the large main tube and objective lens should let plenty of light to come through even in difficult viewing conditions for target shooters and hunters alike. All of the specifications for the Vortex Strike Eagle 3-18x44mm FFP can be read below as presented by Vortex Optics:
First Focal Plane Reticle: Accurate holdovers through the entire magnification range.
Illuminated EBR-7C Reticle: Provides precise aiming under low-light conditions.
Revstop® Zero System: Fast and reliable return to zero.
Compact Design: When shooting on the move, the exposed elevation turret delivers faster adjustment, while the capped windage turret cuts the scope's size and weight.

XD Optical System
Fully Multi-Coated Lenses
Amortek®
Shockproof, Fogproof, Waterproof
Nitrogen Gas Purged
When you're ready to step up your long-distance game, the Strike Eagle® 3-18×44 FFP gives you more of the tools you need for less than you'd expect. Start with excellent edge-to-edge sharpness and add a first focal plane, illuminated reticle for fast reads at any magnification and lighting situation. Add in our RevStop® Zero System for a reliable return to zero, and locking turrets for fast, stay-put adjustments. Build it around a 34mm tube that accommodates massive amounts of elevation and windage travel, and a throw lever for rapid magnification changes, and you've got a long-distance impact machine that'll have you wondering how you ever shot without it.

The Vortex Strike Eagle 3-18x44mm FFP is an exciting announcement from Vortex Optics to open up 2023, but it is also good to see that they are expanding their offering of 34mm rings. More riflescopes are being produced in 34mm main tubes (especially from Vortex Optics) and you need to have rings like the new 34mm Pro Series rings to get them on your rifle. The Pro Series of rings from Vortex is exactly that – professional, exacting rings to ensure your optic stays true to where you mount it for the life of the optic and your firearm. I, personally, have Pro Series rings on a couple of my firearms from Vortex Optics and they do a stellar job. As always, let us know all of your thoughts in the Comments below and tell us whether this is an optic you would entertain purchasing. We always appreciate your feedback.