AllOutdoor Review – Tasmanian Tiger Tac Modular Pack 30 Vent
Patrik Orcutt 01.06.23

Tasmanian Tiger is a global supplier of premium professional Military, Tactical, and Police Equipment founded by Tatonka GmbH in 1999. While many of us in the states have never heard of this company, they are very popular in Europe and especially in their home country of Germany. In addition to having high manufacturing standards, they are very proud to offer factory tours on any Friday you might find yourself in the area. Tasmanian Tiger sent me a review copy of their Tasmanian Tiger Tac Modular Pack 30 Vent or (TMP30V) for review this past summer and I decided to take it on a 10-day camping trip to Montana. I used just this one pack to carry everything I would need for this trip to include sleep systems, clothes, camera gear, toiletries, and of course, bear spray. 
While this bag was provided to me free of charge and I get to keep it indefinitely, this will not affect my opinion on this piece of gear and Tasmanian Tiger will not be allowed to preview this review prior to publication. 
In short, the TMP30V is a cleverly designed, highly modular pack that has great organization and a unique back panel system considering the market it's aimed at. 
Specs – Tasmanian Tiger Tac Modular Pack 30 Vent
Material: 

T-Square Rip CORDURA® 700 den

Volume: 

30 Liters | 1,831 Cubic Inches

Weight: 

51 oz | 1.45 kg

Dimensions: 

20″ x 11″ x 7″ | 51 x 27 x 18cm

MSRP: $219
Quality and Comfort – Tasmanian Tiger Tac Modular Pack 30 Vent
The TMP30V is primarily constructed of T-Square Rip CORDURA® 700 denier giving the pack a very robust exterior shell while not weighing down the bag. While I did not abuse this pack, there are zero signs of wear on it after 10 days of being thrown around in cars and carried up and down mountain trails. The bottom of the pack looks to be a 1000 Denier Cordura and offers extra resistance to straps and scratches and this is usually the first part of any bag to wear out. I can happily say there are no signs of wear here either.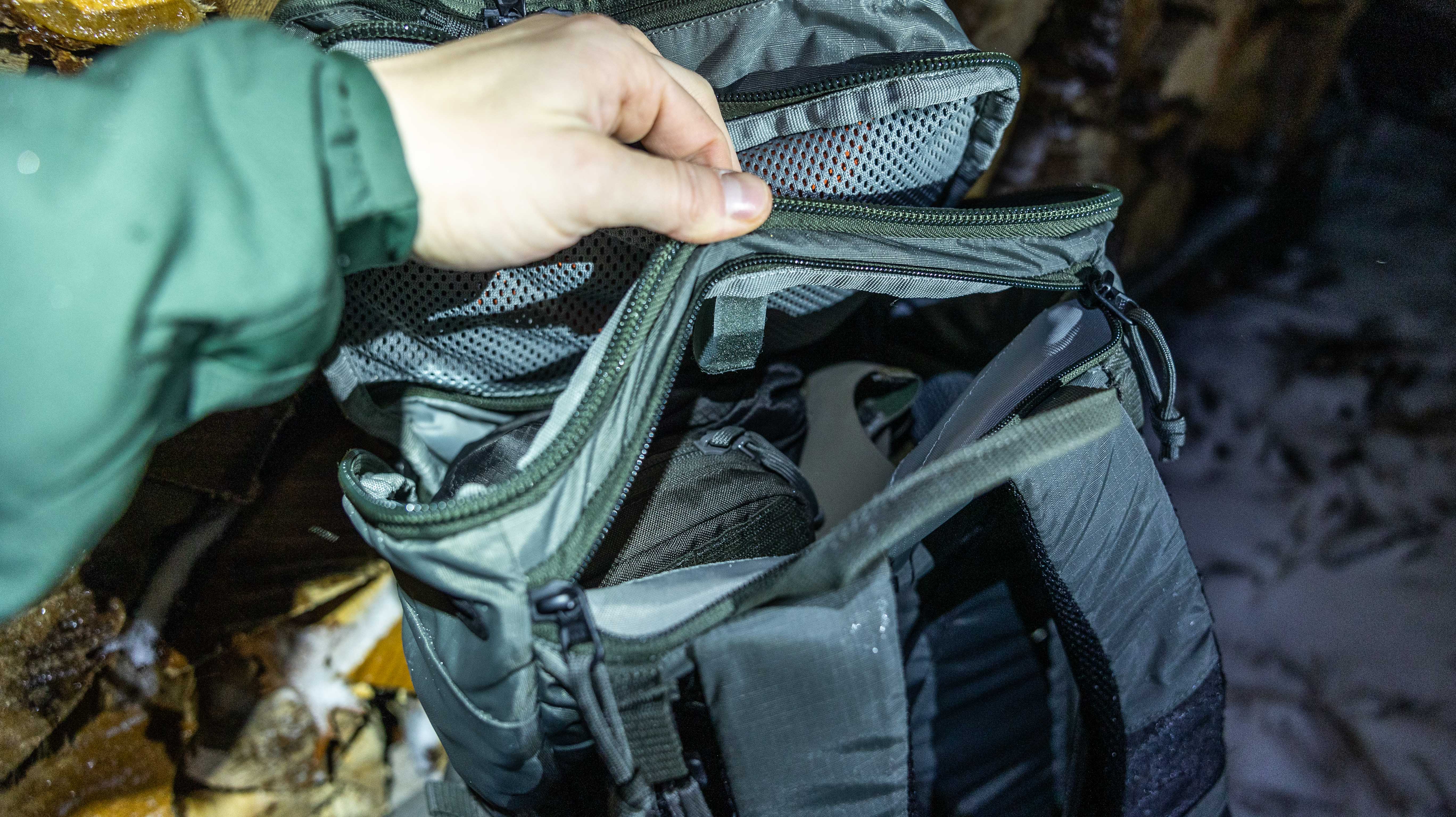 All of the zippers on the bag are of the YKK variety so you know they will probably outlast everything else on the pack. The main compartment zippers are oversized and open very easily. Overall the quality of this pack and very high and I could see it lasting a long time. With that being said Tasmanian Tiger does offer a 12 month warranty with all of their products as long as you're not purposely abusing them. Basically don't throw this bag at a flamethrower and expect Tasmanian Tiger to send you a new one, but if you did, please send pics.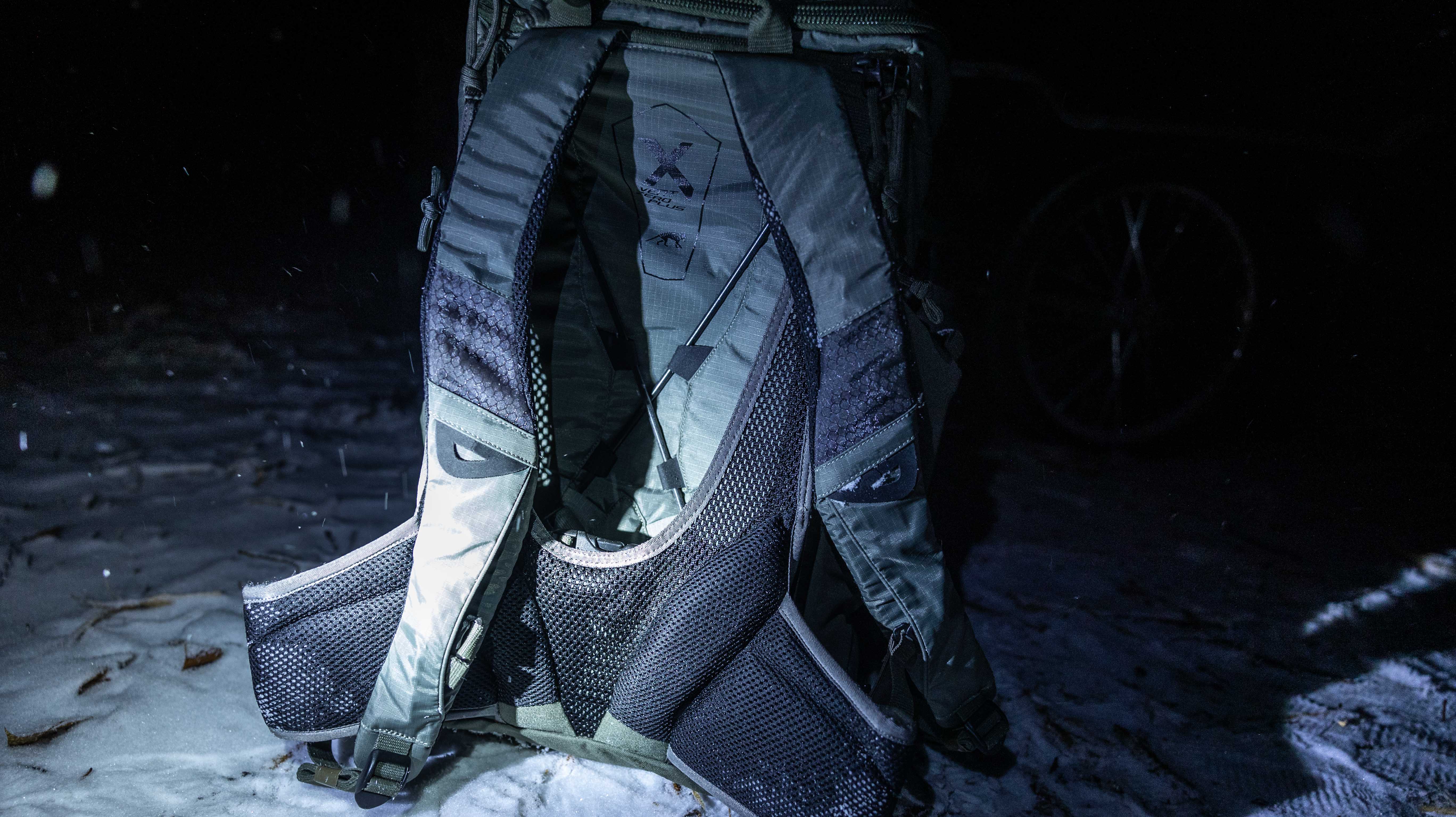 The main draw and patrial name of this pack come from its unique harness system. I have seen a few companies like Osprey and Deuter offer ventilated back panels on their bags but never a tactical company like Tasmanian Tiger. Its a welcomed change to see more cross-pollination between the two markets as I think this leads to better products overall. With Tatonka being Tasmanian's parent company it does make sense to see features mixed between the two.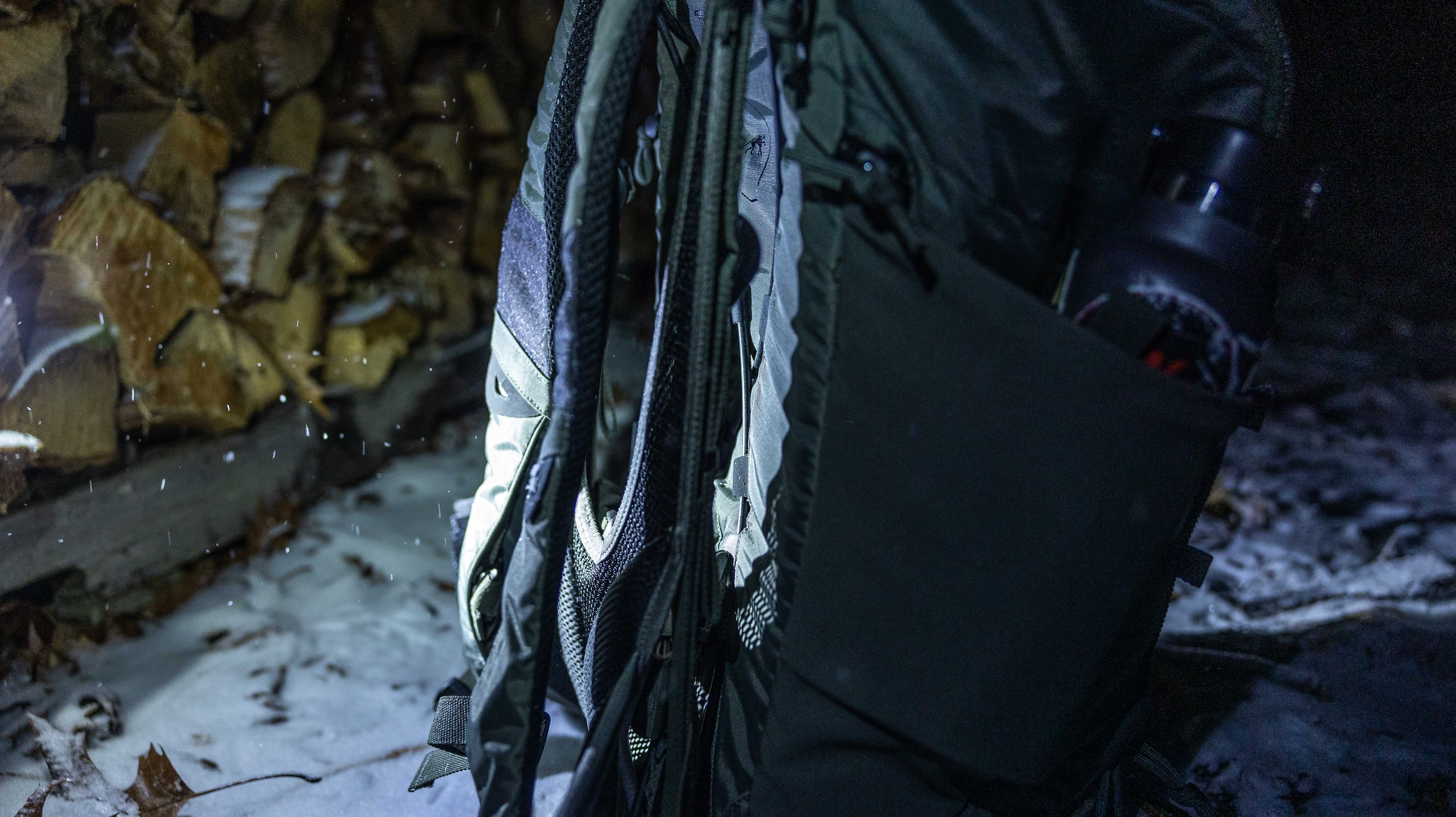 The X Vent Zero Plus Carrying System offers great breathability for your back while still giving good support for the pack. The harness is mesh-backed and sets about two inches off your spin. In my testing, I could definitely feel a difference in the amount of sweat building up on my back so this does work as advertised but I still sweat. The nicer part of this design is you won't absolutely soak whatever shirt you're wearing for the rest of the day. You can adjust the entire harness system to fit your back better too.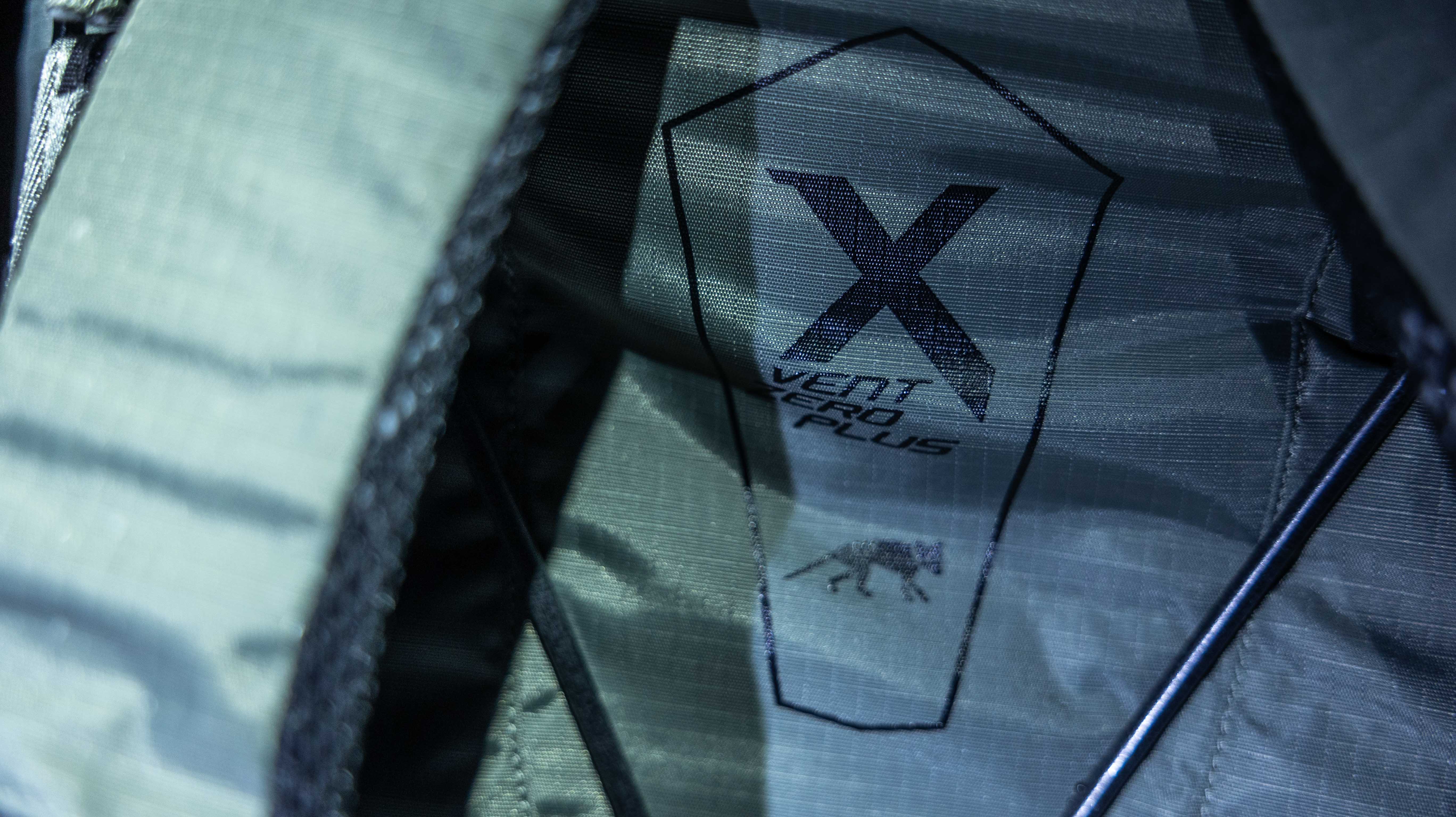 TMP30V does come with a non-removable hip belt that can easily be clipped behind the back panel when not used. I'm not sure if Tasmanian Tiger did this on purpose but I still appreciate that I can do this when I don't need the hip belt. The shoulder straps are padded and vented well and I found them very comfortable. There are two Hypalon loop points on the shoulder straps and pockets for the sternum straps to be stowed in when not used. The top grab handle is also well constructed but a bit small in my opinion. 
Organization – Tasmanian Tiger Tac Modular Pack 30 Vent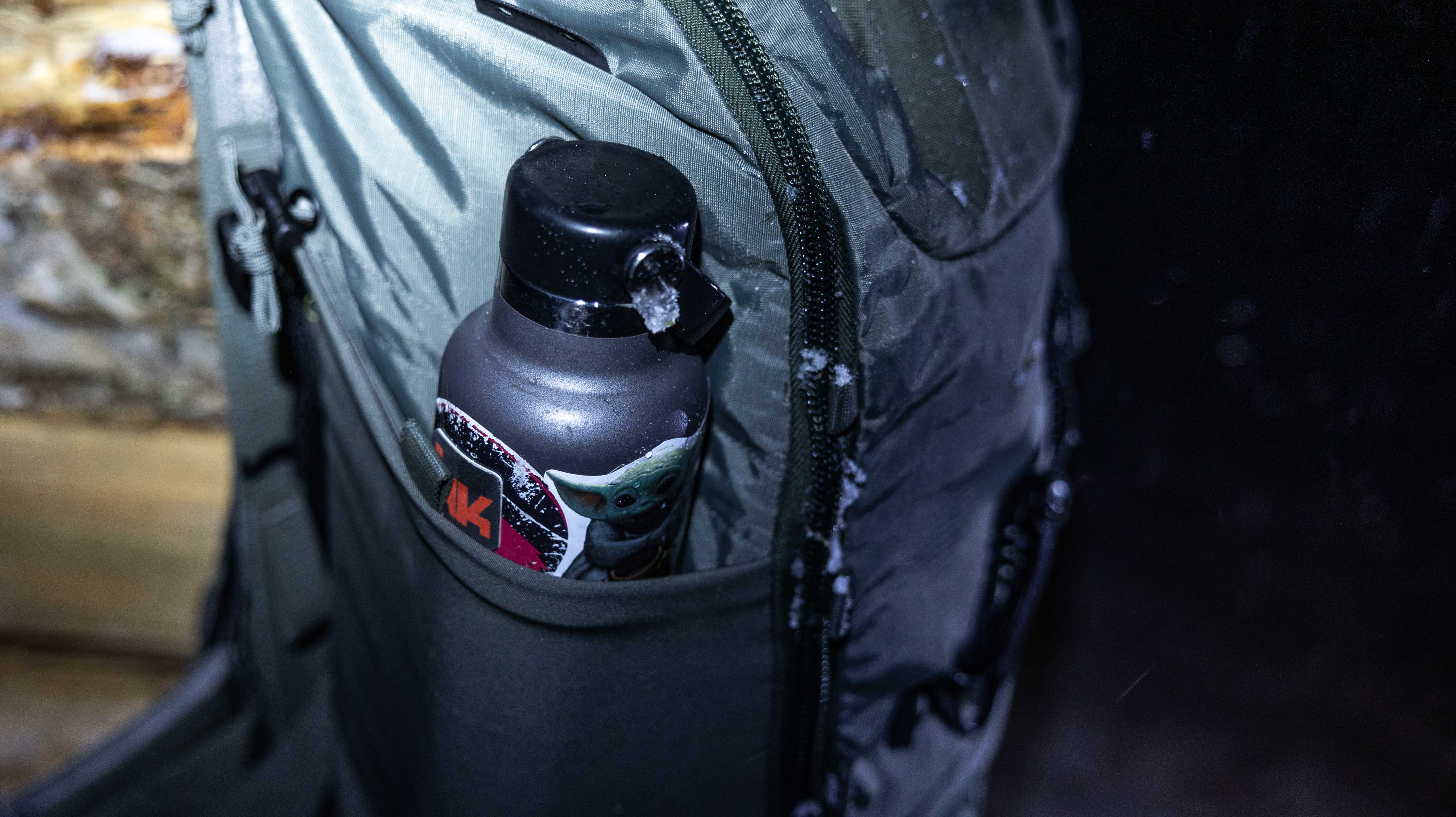 Tasmanian Tiger really did a great job with the modularity and organization of the TMP30V. On both sides of the pack, there are stretchy water bottle pockets that can barely hold a 32 oz Nalgene bottle, they can also hold a can of bear spray just fine. The exterior face of the pack has some laser-cut MOLLE  for attaching additional pouches or gear, I usually stored a carabiner here. Above the MOLLE is a section shock cord for holding a light layer like a jacket or extra shorts in case you did end up seeing a bear while walking in the woods of Montana.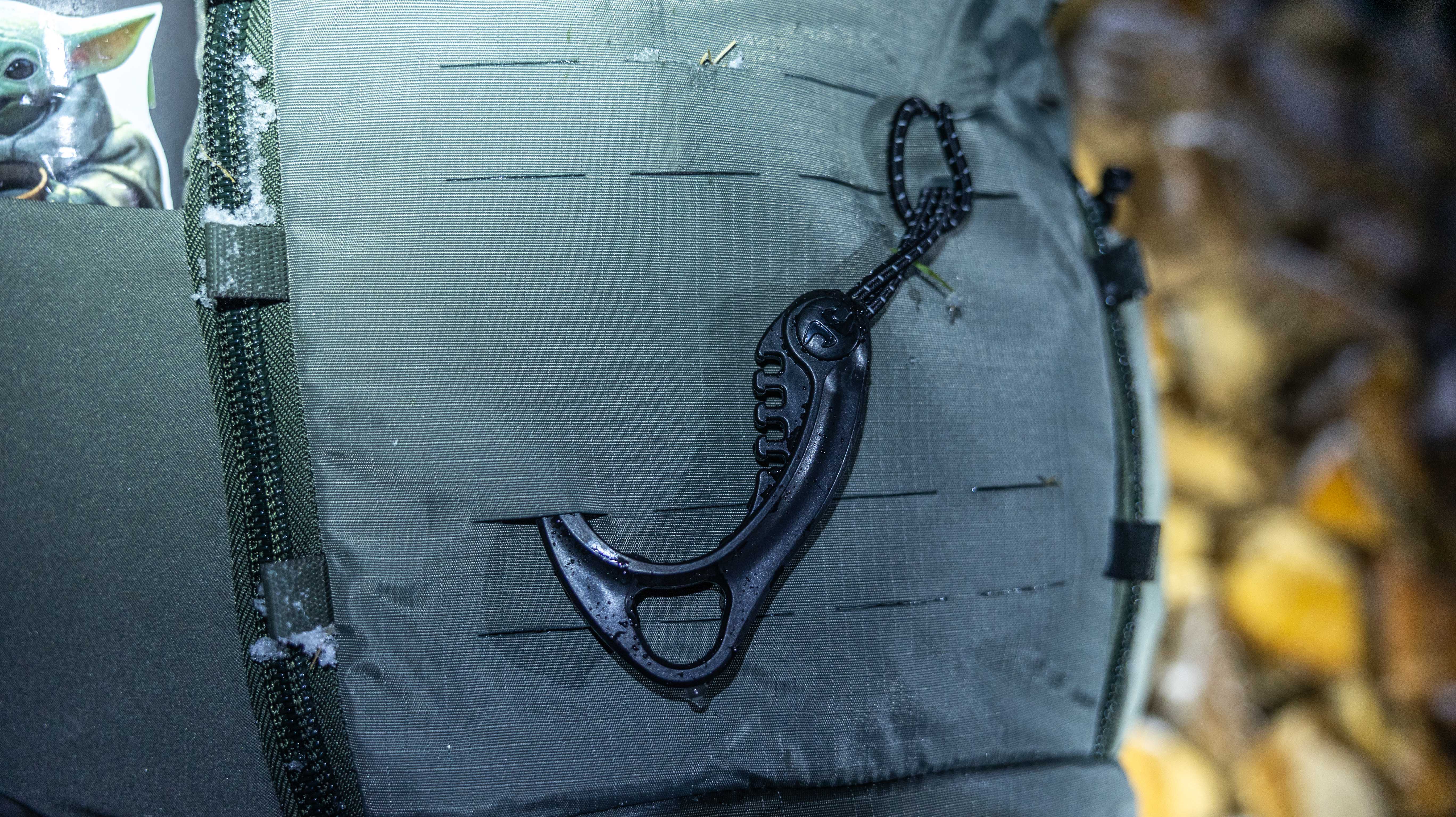 This leads us to the zippered top pocket that has one medium-sized mesh pocket,  two plastic D-rings, and one smaller pocket with a velcro closure. This is a good spot for your keys and other high-use items like sunglasses and lighters. To get inside this 30-liter pack you have 3 options. The large clamshell opening runs most of the length of the bag. The top quick-access zippered opening that's designed for radio antennas. Or the bottom zippered opening. You may be wondering why this bag has so many ways to get into it and that would be because you can close off the top of this pack from the bottom via a zippered closure. It is just like the zippered closure on the U.S. Army Issued MOLLE II rucksacks.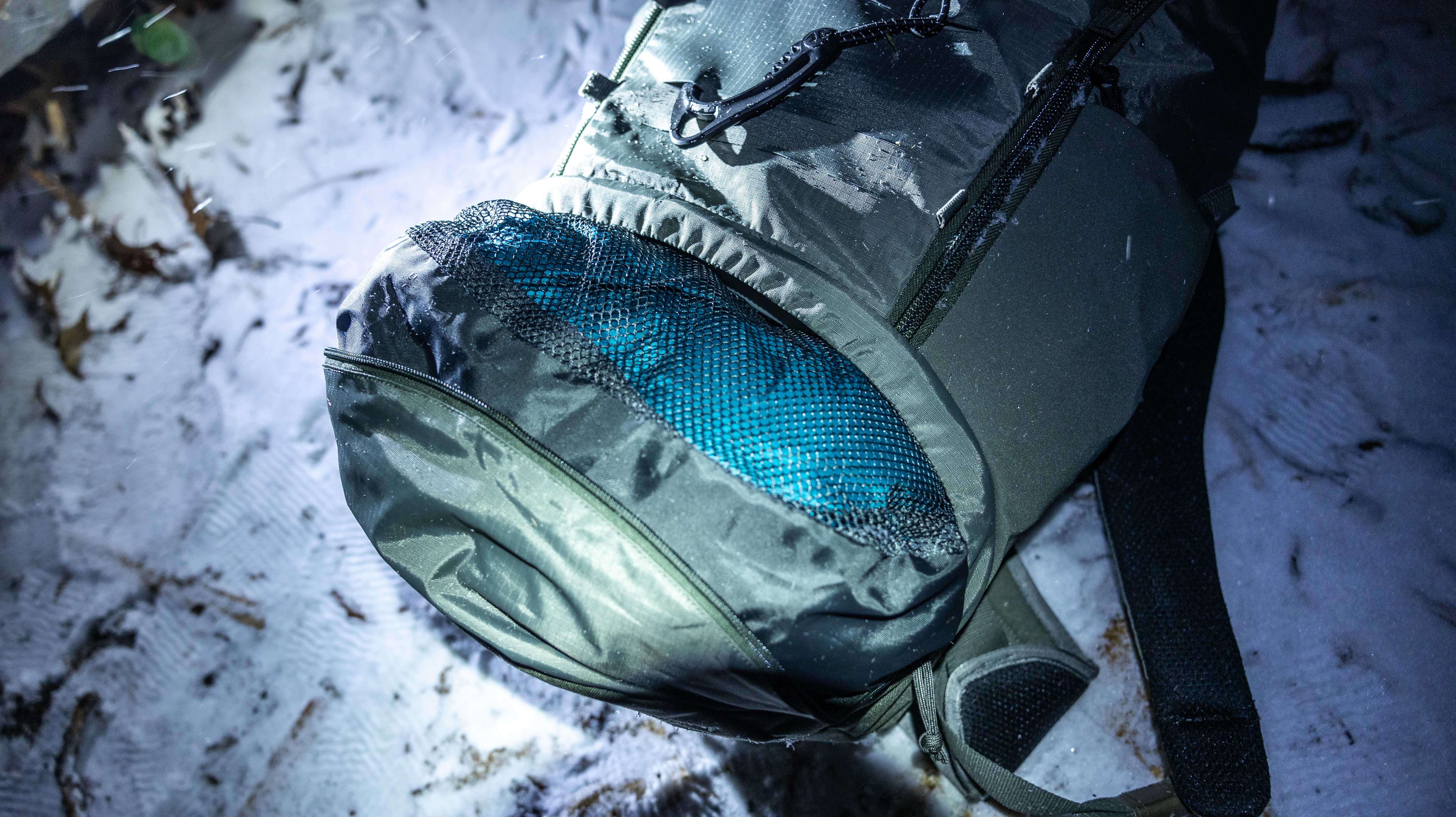 I really love the inclusion of this feature for a few reasons. If you have not fully loaded the pack and want to keep its contents easy to access and higher on your body, this is a great way to do so. This also gives you a way to segregate your gear of needed. If I'm hiking and I have worn through pair of socks, Id rather not throw them in with the rest of my clean clothes, so having a dedicated spot for smelly gear is great in my opinion. On my trip to Montana, I used the bottom compartment to hold all of my camping gear while clothes stayed in the top compartment. This compartment also has some Velcro for attaching whatever you feel is needed.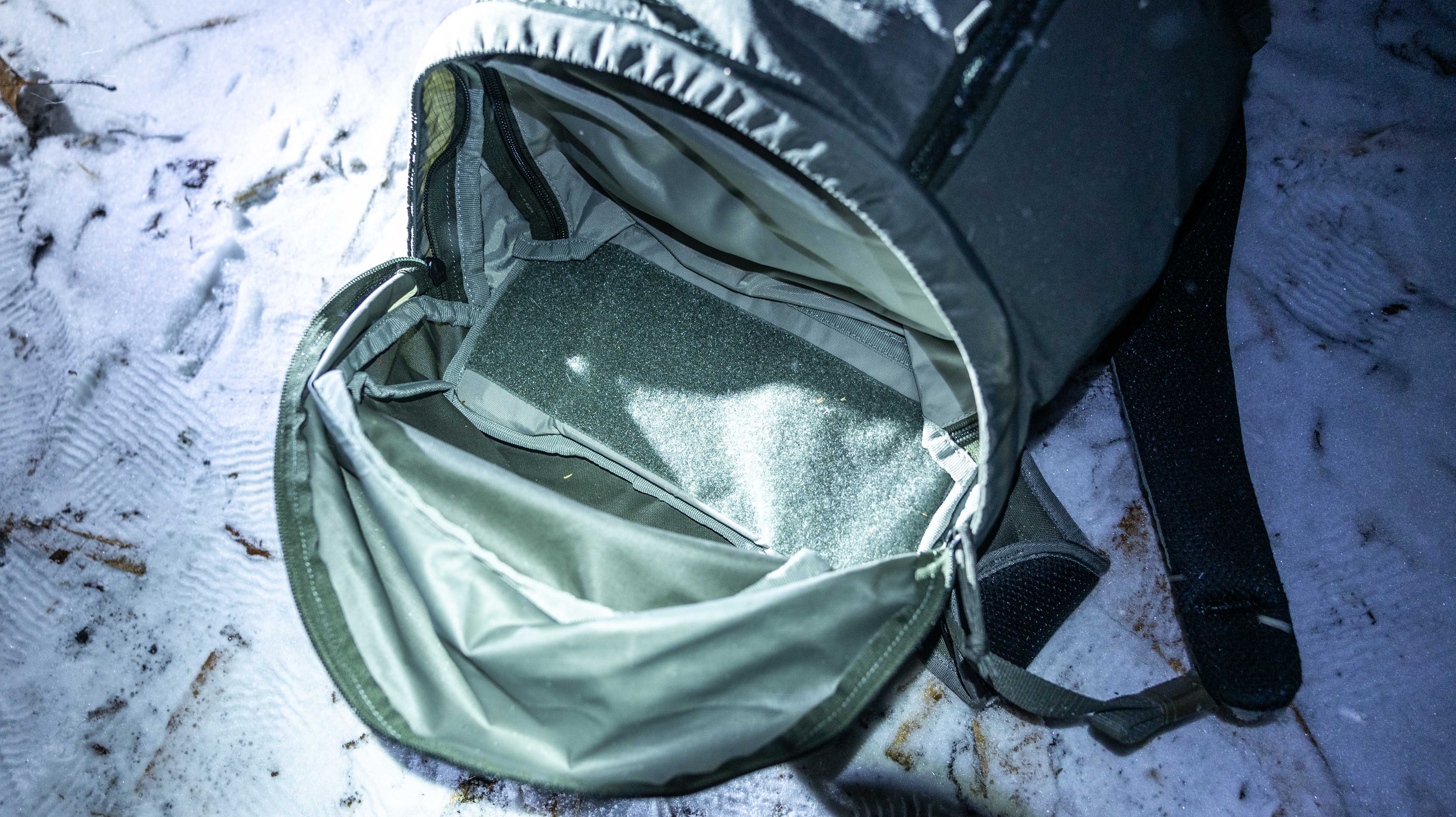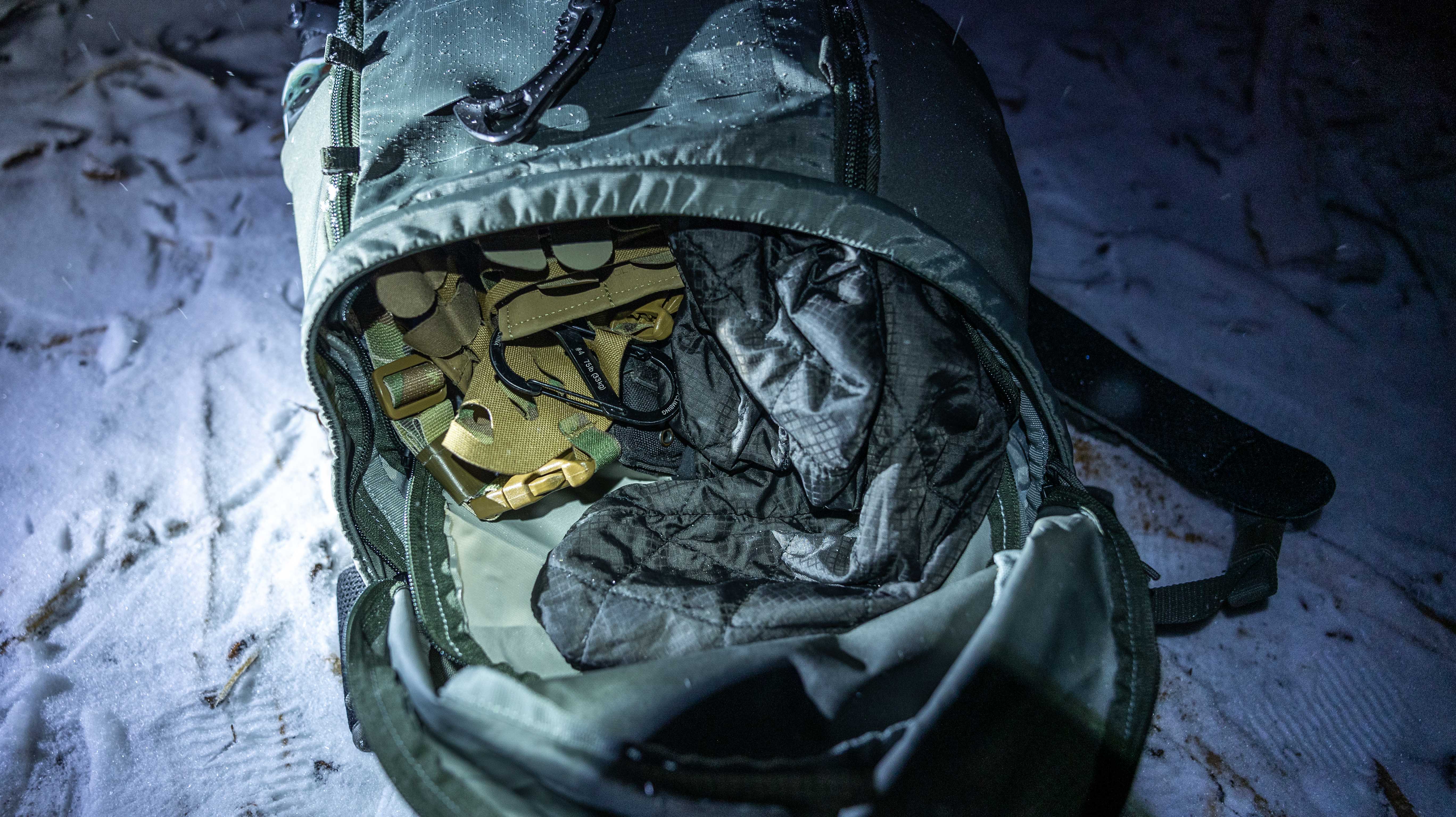 The main compartment has four additional zippered pockets for even more organization. Three mesh and one nylon that varies in size from small to medium. I always am looking for more way to keep my gear organized so this is a welcomed feature in my opinion. Finally, the back of the main compartment is all Velcro with a few slots of MOLLE available for mounting any kind of pouch you desire. This makes the pack even more modular and adaptable. Tasmanian Tiger makes a line of pouches that would fit great in this bag. There is also a slot for hanging a bladder or securing a radio in this compartment.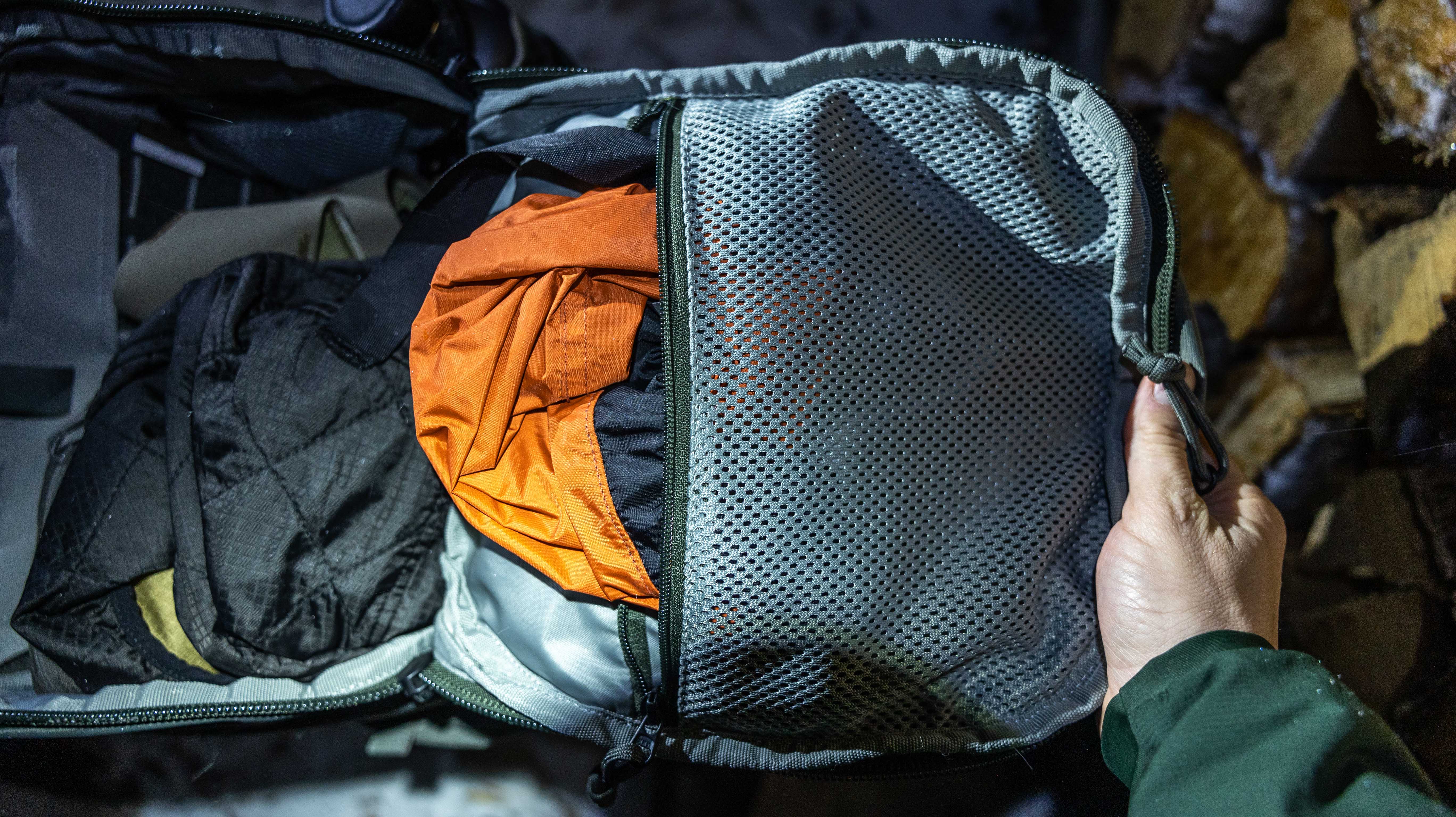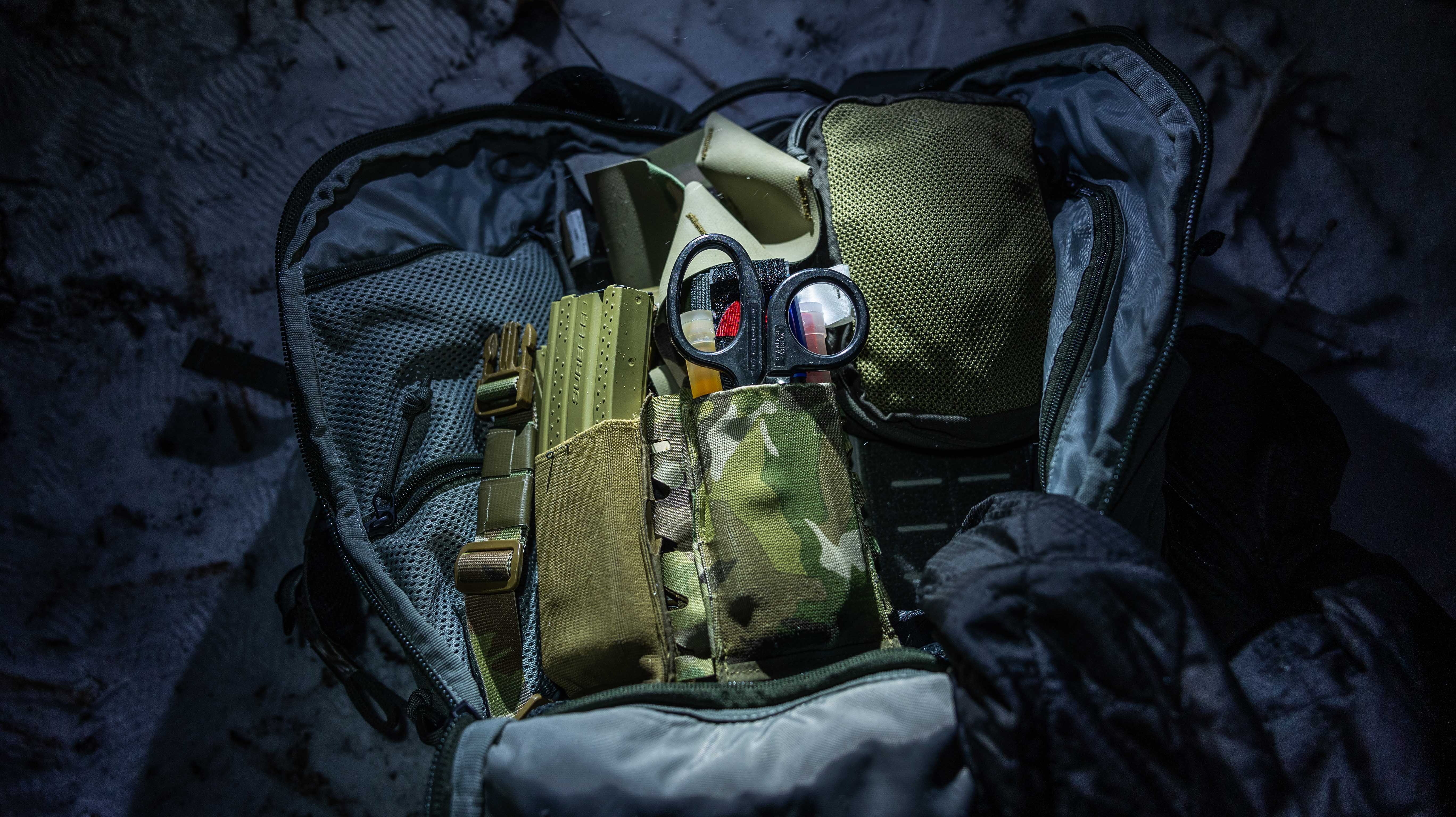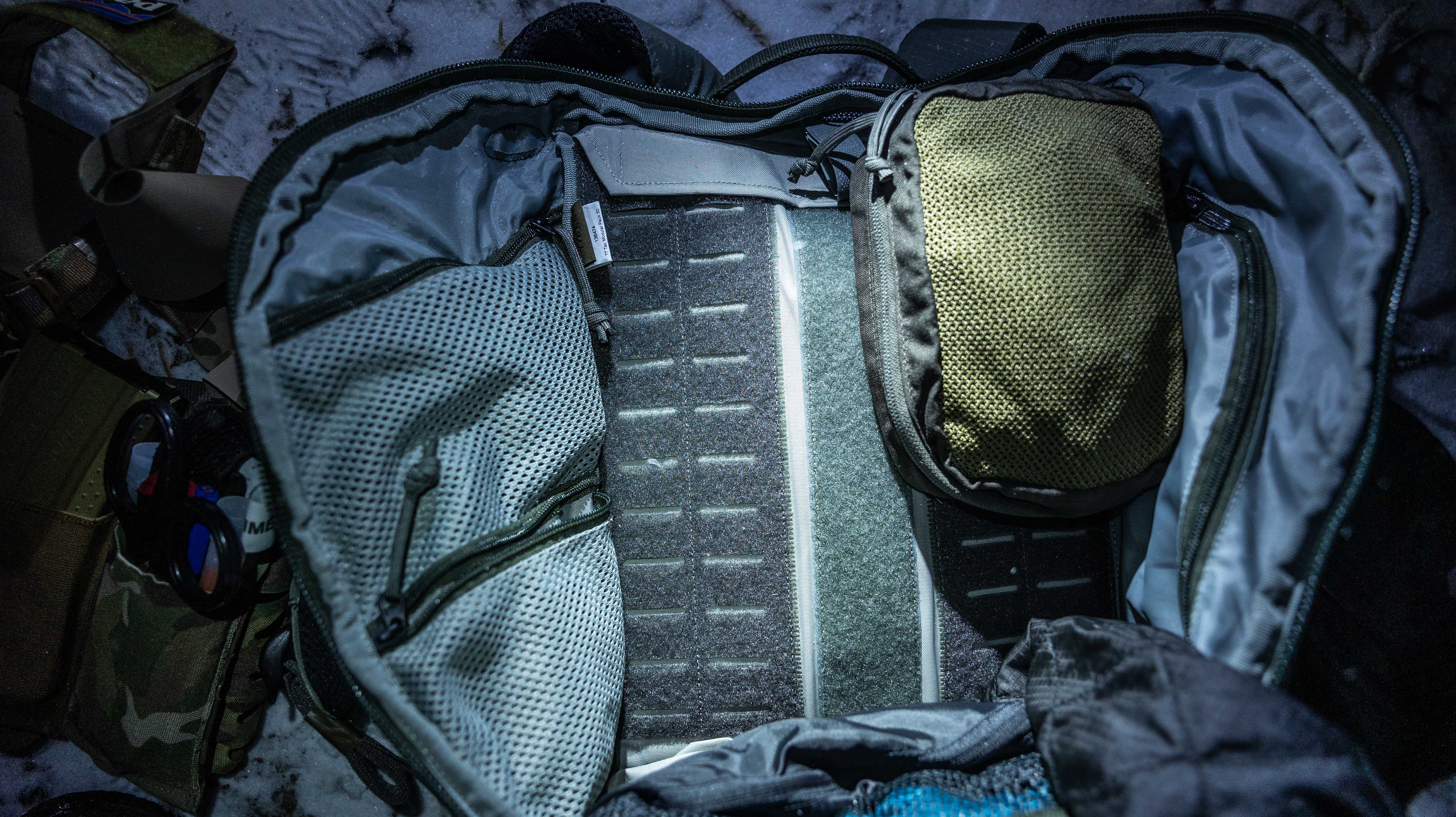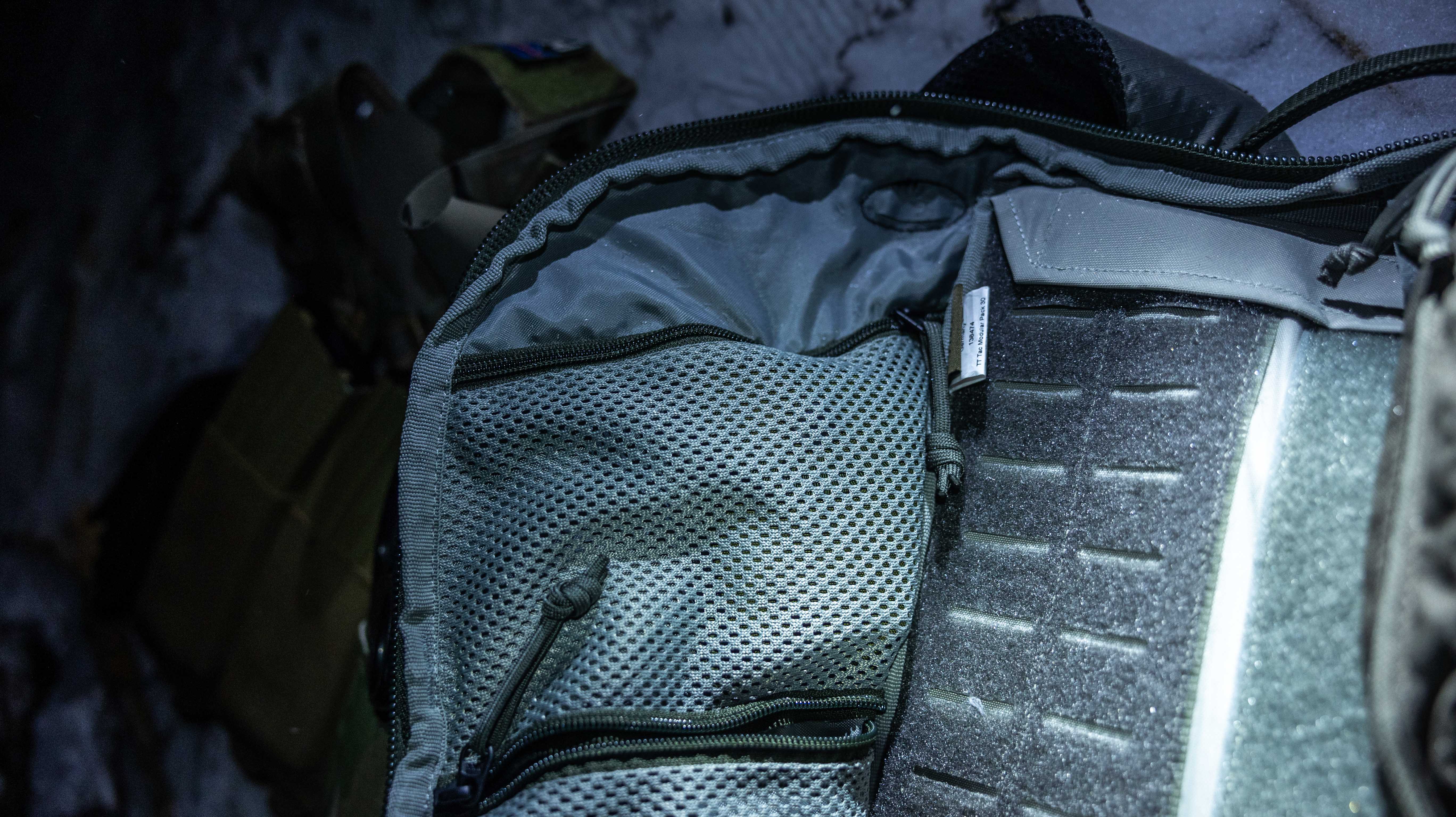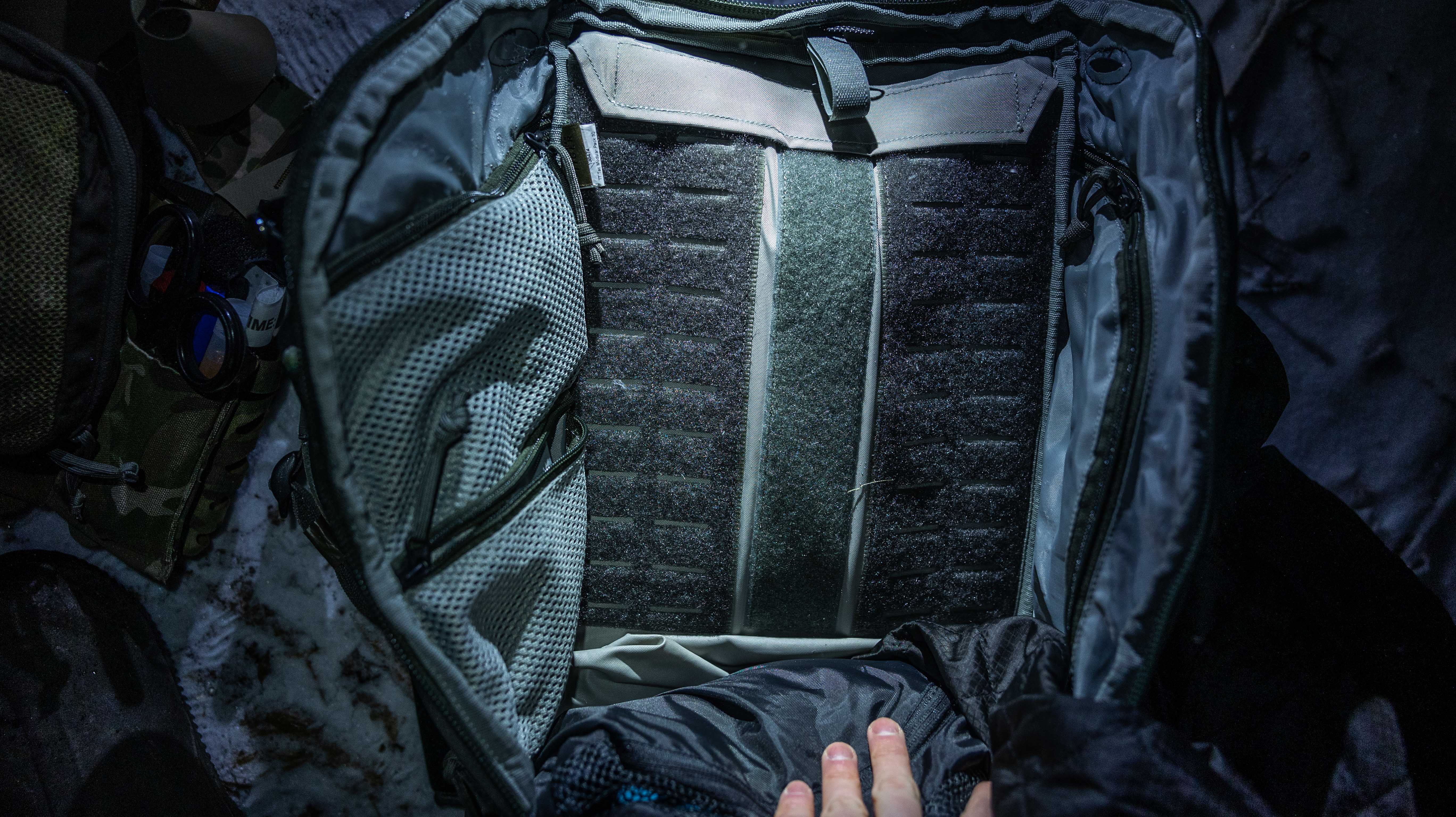 Likes 
Lots of modularity and packed with features

Price is just right

Vented back panel
Dislikes 
Still looks pretty tactical for an "undercover" type pack

Can't fully remove hip belt 

Only offered in three colors (Grey, Black, Brown/Green) 
Wrap Up – Tasmanian Tiger Tac Modular Pack 30 Vent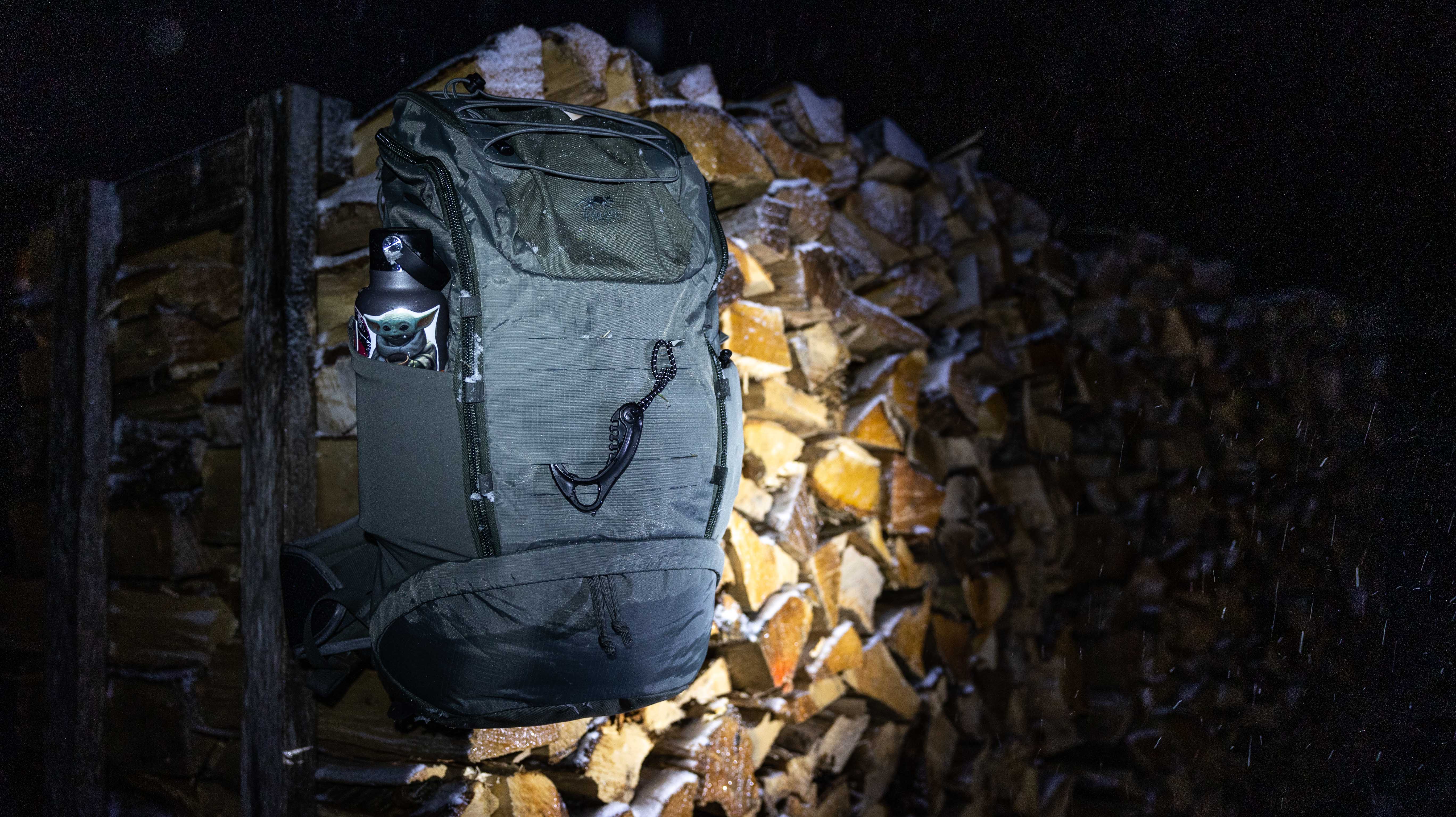 In the end, the TAC MODULAR PACK 30 VENT is a really interesting pack that has a lot of thoughtful features that is priced just right. It's very similar in its design to my Arct'yrex Assult 30 and comes in at almost half the price. That being said this bag is manufactured in Vietnam. It served me well in Montana and had just enough room for 10 days of camping supplies. I'm happy to say I really enjoy this pack and think its a sleeper on the U.S. market. 
Modular backpack with innovative, ventilated X Vent Zero Plus carrying system. The front opening of the backpack pulls up completely. The insides have hook-and-loop sections for individual features. The backpack has elastic outer pouches, a lid pouch and reduced Laser Cut MOLLE on the front. – Tasmanian Tiger
X Vent Zero Plus Carrying System

Divided main and bottom compartments

Height adjustable chest belt

Hip fins

Side compression on the inside

Carrying handle

Lid pocket

Side pockets made of an elastic material

Zigzag rubber lacing

Antenna ports into the main compartment

MOLLE hook-and-loop on the inside for limitless modularity