TFBTV – What is the SIG MCX RSAR? (New SOCOM PDW)
Adam Scepaniak 01.09.23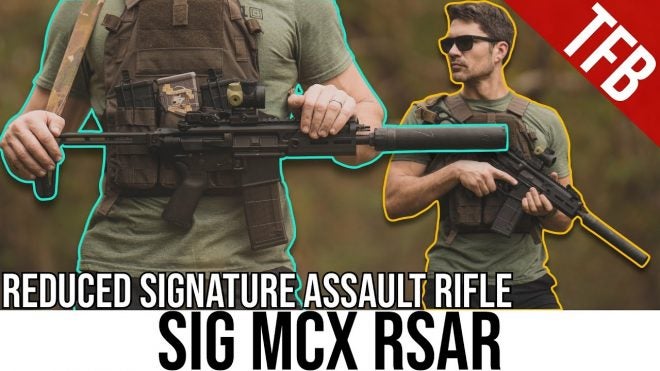 SIG Sauer was recently awarded a 5-year, indefinite delivery, indefinite quantity contract valued at $5 million to provide the United States Special Operations Command (USSOCOM) with a new Reduced Signature Assault Rifle. The MCX RSAR is essentially the MCX Rattler in .300BLK but with a slightly longer barrel, different gas system, and packaged with a SIG SL-series suppressor, making this, perhaps, the ultimate PDW. The search for a weapon to fit the RSAR requirement has been ongoing since 2017. SOCOM describes the RSAR as a 'PDW system [which] will allow Operators to have maximum firepower in a concealable weapon.'
(Some copy lifted from Matthew Moss' article on the RSAR, https://www.thefirearmblog.com/blog/2022/10/18/ussocom-sig-rattler-reduced-signature-assault-rifle/ )
One correction from the video: The MCX series was actually developed out of the LVAW program, not the other way around. In other words, the LVAW actually pre-dates the formal MCX series.
««« GUN & GEAR GIVEAWAYS »»»
Consider supporting us at patreon.com/tfbtv
Gun and gear giveaways are not affiliated with, associated with, or in any way endorsed by YouTube and TFBTV is solely responsible for the giveaways mentioned in this video and this description. No purchase required for gear worth over $250. Full rules and terms are found at http://tfbtv.gun.team/
««« FOLLOW US ON SOCIAL MEDIA »»»
https://www.facebook.com/TheFirearmBlogTV/
https://www.instagram.com/TFBTV/
https://www.reddit.com/r/tfbtv/
««« SPONSORS »»»
Please Support Them! They help make our videos possible.
– Ventura Munitions – www.venturamunitions.com
– Blue Alpha Gear – www.bluealphabelts.com
– Top Gun Supply – www.topgunsupply.com
««« TFB CHAT ROOM »»»
Want to join the TFBTV chat room? Use our Discord Invite: discord.gg/tfbtv
#TFBTV