Summit Treestands – Universal Backpack, Footrest & FasTrack Bow Holder
Adam Scepaniak 01.11.23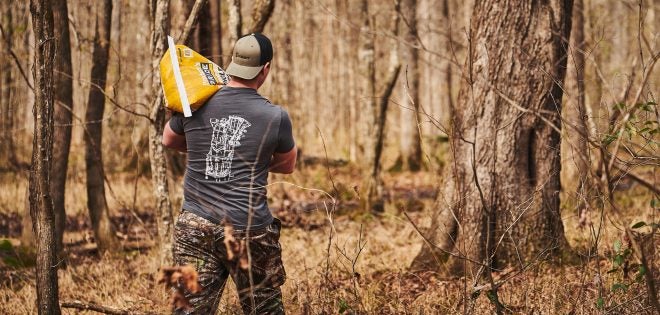 It is that time of year where new products abound and Summit Treestands is no different. With SHOT Show (Shooting, Hunting, Outdoor Trade Show) fast approaching next week, they have a bunch of new products to share with the public as well. Summit Treestands has announced a NEW Universal Backpack System, Universal Footrest, and FasTrack Bow Holder for hunting this coming year.
Summit Treestands Coverage on AllOutdoor
Summit Treestands – Universal Backpack System
The Universal Backpack System is designed to reduce stress, increase transportability, and minimize noise thanks to upgraded padding on the backpack base and shoulder straps and six neoprene-covered buckle attachment points. Adjustable straps on top help distribute climber load and when nested properly, its seat can be used as lumbar support during transport. Works with Summit treestands as well as other commercially available stands.
Breathable padded mesh backpack base and shoulder straps
Adjustable straps including load adjustment ability
Quick-attachment buckles with neoprene sleeves
Weight: 1 lb.
Dimensions

Backpack: 9.5" W x 6.5" H
Shoulder strap pad: 17" L x 3.25" W
Backpack base and Load Adjuster strap length: 21"

Summit Treestands – Universal Footrest
The Universal Footrest is an adjustable and easily transportable option for elevated comfort while in your stand for those all-day sits. The footrest can be positioned two different ways to fit your preference, and its steel construction helps reduce additional noise and provides extra stability for your boots.
Steel Construction
Dimensions: 16.25" W x 8" L
Weight: 2 lbs.
Compatible with all Summit climbing treestands, the Summit Dual Axis® Hang-On treestand, and other commercially available treestands with 1"x1" square tubing

Summit Treestands – FasTrack Bow Holder
The new FasTrack® Bow Holder joins the popular accessory lineup compatible with the Viper® PRO SD's integrated FasTrack rail. Safely secure the bow holder using one of the four entry ports on the front and side frame for quick access to your bow whenever the opportunity for the perfect shot arises.
Steel with overmolded rubber
Weight: 0.5 lb.
Dimensions: Fork Opening Length: 4" Fork Opening Width: 0.9"
Compatible with the Viper PRO SD using the FasTrack rail

A lot of AllOutdoor's staff are archery hunters, so it is exciting to see that Summit Treestands has so much gear tailored to hunting – specifically, archers – this coming year. Between everything new that they have coming out, what would you like to try: the Universal Backpack System, Universal Footrest, or FasTrack Bow Holder? As always, let us know all of your thoughts in the Comments below! We always appreciate your feedback.