NEW Upland Game & Turkey Loads from HEVI-Shot Ammunition for 2023
Adam Scepaniak 01.11.23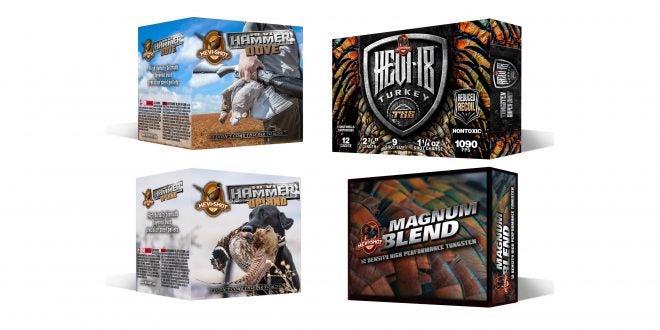 If you happen to consider yourself an upland game or turkey hunter there is good news on the horizon because HEVI-Shot is bringing more ammo selections to the market at SHOT Show 2023 next week. They will be unveiling new offerings through HEVI-18 TSS Turkey, Magnum Blend Turkey, HEVI-Bismuth Upland, HEVI-Hammer Upland, and HEVI-Hammer Dove. All of these upland game loads are elaborated upon by HEVI-Shot leading up to next week's public debut.
HEVI-Shot Ammunition Coverage on AllOutdoor
HEVI-Shot HEVI-18 TSS Turkey – Brings best-in-class performance to the turkey market with 18 g/cc density pellets in No. 7 and 9 shot. The loads provide high pellet counts, long-range lethality, and incredibly tight patterns thanks to the friction-free, sealed-in-the-shell spherical buffer. New loads are now available in reduced-recoil 12- and 20-gauge loads, as well as 28 gauge.

HEVI-Shot Magnum Blend Turkey – Offers three shot sizes (5, 6 and 7) in a single shell. The 12 g/cc cast tungsten lets you drop one shot size from lead for the same lethality. These heavy loads really pack some punch–437 deadly pellets in a single 12-gauge, 3-inch shell. New loads are now available in 3-inch 28 gauge.

HEVI-Shot HEVI-Bismuth Upland – Hunters can now hit upland birds harder with the power of 9.6 g/cc HEVI-Bismuth. These Upland loads are safe for classic and modern shotguns and available in a full line of options, including new offerings in 12, 16, 20 and 28 gauge, and .410 bore.

HEVI-Shot HEVI-Hammer Upland & HEVI-Hammer Dove – With 15 percent high-density bismuth layered over 85 percent steel pellets, HEVI Hammer packs nearly 50 percent more power than steel at 40 yards. Both bismuth and steel feature the same shot size for the energy that hits like a hammer. New 2-3/4-inch loads are now available in new shot size No. 3, 5 and 7 loads in 12 and 20 gauge.


More options in the way of ammunition is always a good thing to hear. We all understand the difficult crunch the last few years has put on us in regards to finding our favorite ammo for hunting. So, to hear that HEVI-Shot has some more answers for us in the way of upland game loads is tremendously welcomed news. As always, let us know all of your thoughts in the Comments below! We always appreciate your feedback.