Louisiana Dept of Wildlife & Fisheries Cites 3 Men for Red Drum Violations
Eugene L. 01.12.23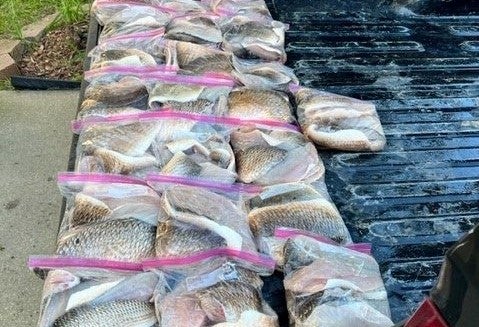 Enforcement agents of the Louisiana Department of Wildlife and Fisheries cited three men from Georgia last month on December 29th. They were cited for alleged red drum(redfish) violations in Plaquemines Parish. The LWFC agents cited Cole T. Kennedy, 18, Chapman Ward, 18, and Steven Ward, 51, all three men from Newnan, Georgia, for off-the-water possession of too many red drum, being well over the legal daily limit.
The LWFC agents received complaints from other anglers about the three men making multiple trips, each time catching large quantities of redfish on December 28th. The LWFC agents responded the next day to the complaint about the subjects while the men were at a camp off Hermitage Bayou. The LWFC agents found the men in possession of 134 red drum fillets putting them in possession of 67 red drum total. After talking to the men the agents learned that the trio had caught and kept the 67 red drum over a two-day period. The legal two-day limit per man is 10 red drum, so the trio would be allowed 30 fish. The 67 fish worth of fillets put them 37 fish over their legal possession limit.
Being over the limit on red drum has a fine that can be up to $950 as well as 120 days in jail, plus $25 per fish over the limit. In addition to any of those applicable fines, the trio of men shall have any and all fishing licenses they held revoked. They are also prohibited from obtaining any new fishing licenses for at least a one-year period. They are also possibly facing a civil restitution fine totaling $979 for the illegally taken fish. The LWFC agents who participated in the case are Lt. Adam Young and Corporal Blaine Wagner.