[SHOT 2023] Beretta's Manurhin MR73 Sport 6″ & MR73 Gendarmerie 4″
Adam Scepaniak 01.17.23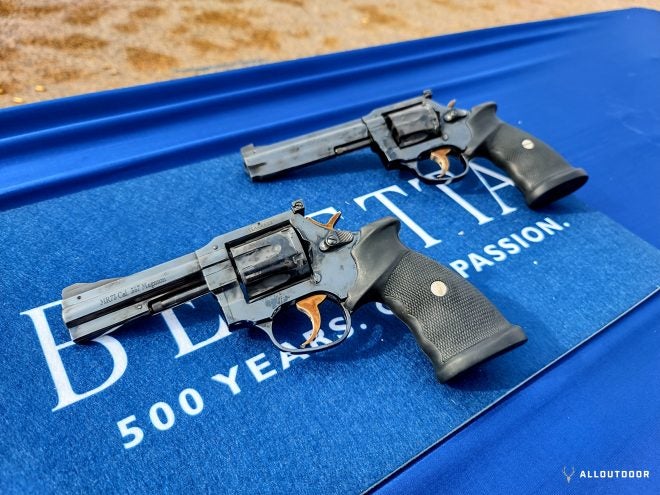 AllOutdoor is taking in all of the sights and sounds of SHOT Show 2023, and our week got kicked off by attending a private Range Day with Beretta. They had on had an assortment of their shotguns from field to sport to tactical, there were Sako and Tikka rifles, and even some of their imported Manurhin revolvers. They did not have any new models to announced from Manurhin this year, but these finely-tuned wheelguns are so rare that many of the people on our staff had not handled or fired one until now. So, let's take a look at Beretta's Manurhin MR73 Sport 6″ & MR73 Gendarmerie 4″ revolvers.
Beretta Coverage on AllOutdoor
Beretta's Manurhin MR73 Sport 6″ .357 Magnum
One of the most immediate and eye-catching things about the Manurhin MR73 revolvers are their glossy black finish. It is smooth, sultry, and slick to the touch; flat-out gorgeous. Also, whether you are dry-firing the revolvers to get a feel for them or actively shooting, they have some of the smoothest triggers – from double-action or single-action – that you will ever touch off.
The Manurhin MR73 series of revolvers was developed specifically for the requirements of the French Gendarmerie and special service units of the French Police and Military.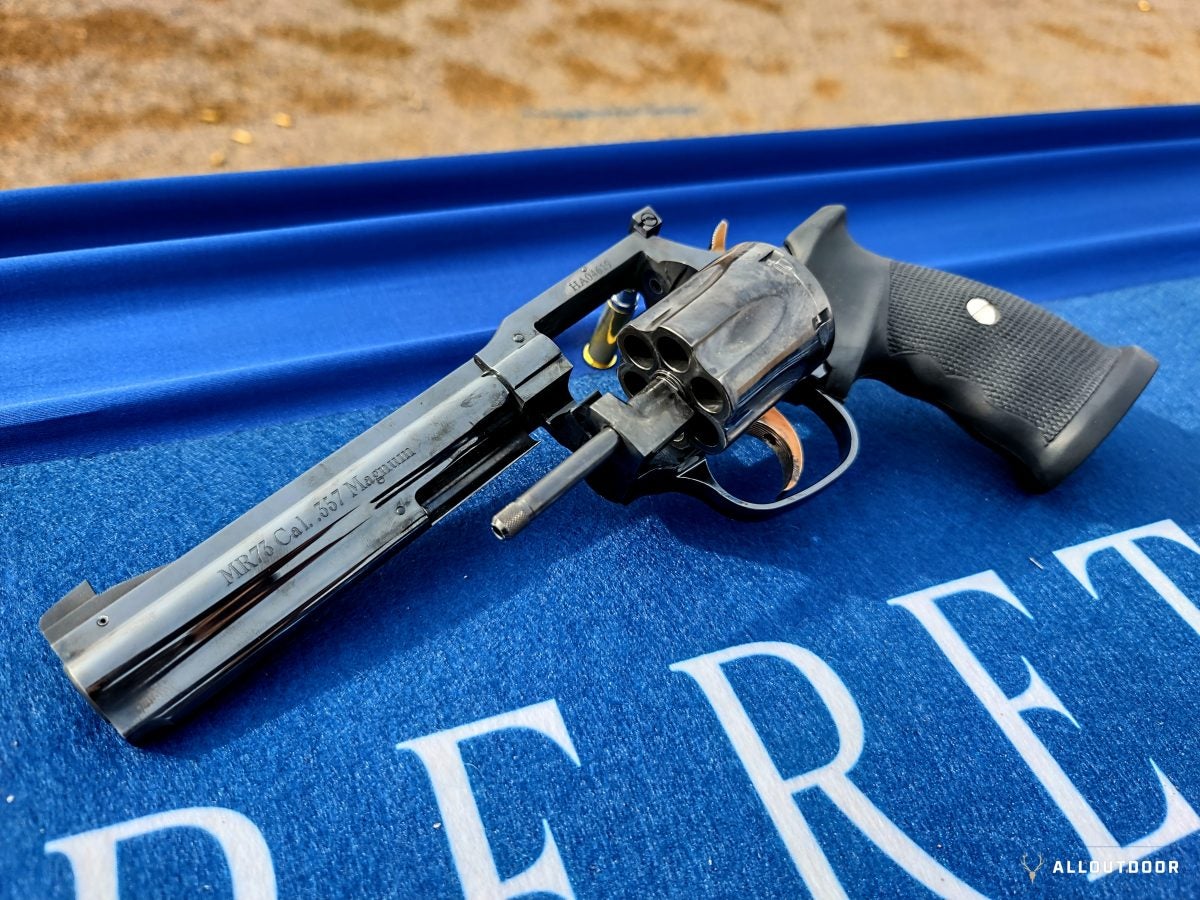 Beretta's Manurhin MR73 Gendarmerie 4″ .357 Magnum
We fired both the Manurhin MR73 Sport 6″ and MR73 Gendarmerie 4″ revolvers side by side to compare recoil, see if there was a difference in the trigger, and to compare which was more controllable. Overall, their glass and lightweight felt nearly identical. We didn't bring a trigger pull weight gauge with us, but they felt exactly the nice; very nice pull and break.
When it came to accuracy we were shooting on steel from 10 – 25 yards and they impacted with seemingly identical accuracy at 10 yards; no discernable difference. When we shot a little further out to 25 yards then the Manurhin MR73 Sport 6″ was a tiny bit more accurate. Overall, the felt recoil was a little less on the 6″ model as well. The 6″ model would make for a terrific target or hunting revolver while I can definitely see the 4″ revolver being perfect for carry, law enforcement, and/or defense.
Barrel: 4″
Cartridge: .357 Magnum/.38 Special
Cylinder: 6 Rounds
Action: Single-Action/Double-Action
Overall Weight (Unloaded): 34.2 Ounces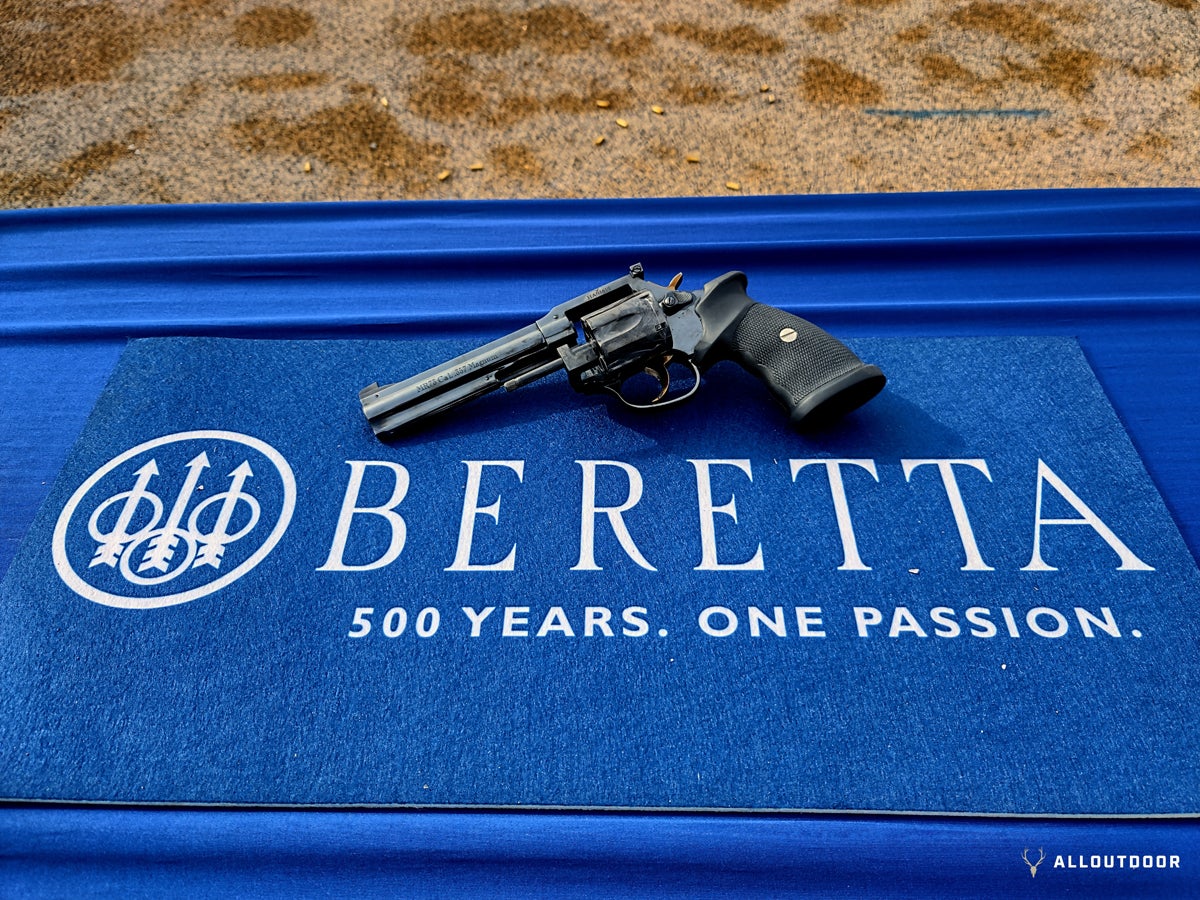 The MSRP on Beretta's Manurhin MR73 Sport 6″ and MR73 Gendarmerie 4″ .357 Magnum revolvers is set at a kingly $3,600, but multiple people on our staff agree these are the best revolvers in the world – bar none. They are crafted from artillery steel. They will never loosen up or have sloppy timing over time and they are as crisp and finely tuned as a Swiss watch.
As always, let us know all of your thoughts in the Comments below and if you have ever handled a Manurhin revolver before. We always appreciate your feedback.
AllOutdoor's coverage of SHOT Show 2023 is proudly sponsored by 5.11 Tactical. Click HERE to check out their new products.