The Path Less Traveled #071: Copper Cow Coffee – New Outdoor Fuel?
Andrew D 01.23.23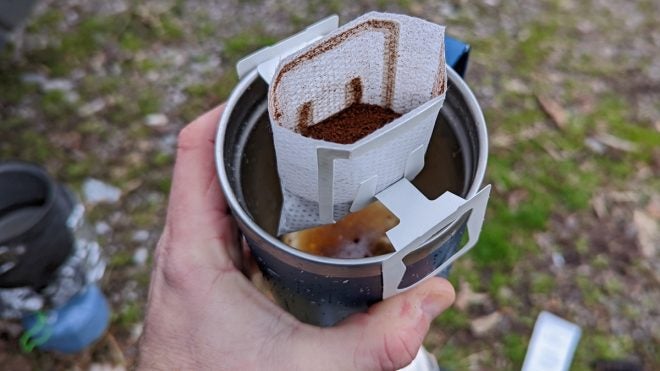 Copper Cow Coffee's Classic Latte pour over packs are a pour over coffee kit that I gained interest in after seeing another brand's pour over kit for a higher price. Copper Cow Coffee's product was essentially the same product, but with an added milk element to the pack, cost less, and had a good story.
Copper Cow Coffee pour overs are worth taking on a backpacking trip because they are lightweight, easy to prepare, and provide a delicious and energizing cup of coffee. The pour overs are made with single-origin Vietnamese coffee, which is known for its smooth and balanced flavor. The pour overs also come in individual packets, making them easy to pack and store. Plus, they are made with all-natural ingredients and are free of preservatives, so you can enjoy a cup of coffee without worrying about any artificial flavors or additives.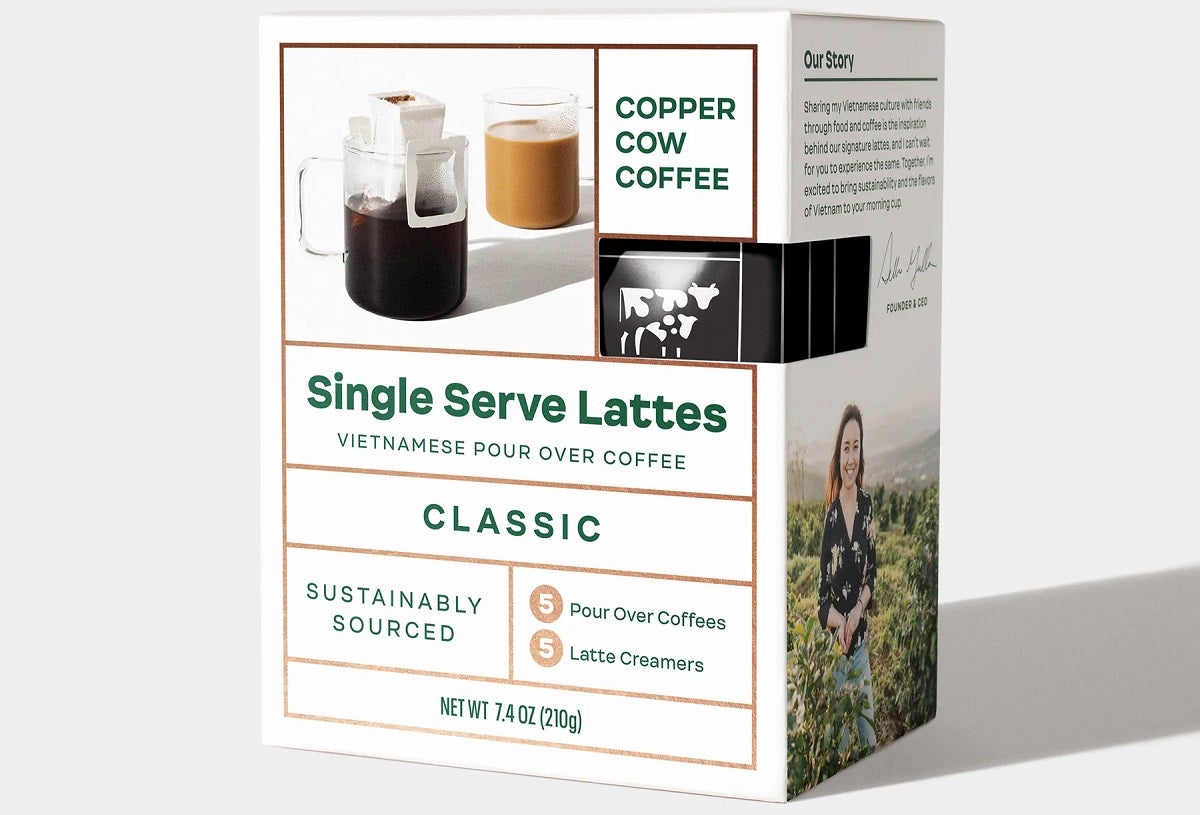 Coffee fuels our lives. Interested in more posts about Coffee? Check these out:
Copper Cow Coffee is a coffee company based in Los Angeles, California. Founded by Vietnamese American entrepreneur and coffee aficionado, Debbie Wei Mullin, Copper Cow Coffee is an award-winning specialty coffee line that honors her Vietnamese heritage. The company sources their beans from Vietnamese farmers and roasts them in small batches to ensure a high quality cup of coffee. Each cup is crafted with the intention of providing a unique experience that pays homage to Debbie's Vietnamese roots. Copper Cow Coffee is committed to sustainability and pay their Vietnamese farmers double the market rate, as well as working with them to reduce their environmental footprint.
The coffee line consists of single-origin, medium roast specialty coffees and classic blends, as well as Vietnamese-style coffee drips and pour overs.
Copper Cow Coffee also offers a variety of flavorings and creamers that have been carefully chosen to pair perfectly with the coffee. The company is committed to sustainability and social responsibility. They strive to empower their farmers and contribute to positive change in the coffee industry and global communities.
When doing research for this article, I also found out they were on Shark Tank
There's something special about enjoying a hot cup of coffee on a crisp morning, inhaling the delicious aroma of freshly brewed grounds. That's why Copper Cow Coffee pour overs have been added to my collection of options to have a fancy cup of brew while hitting the trails.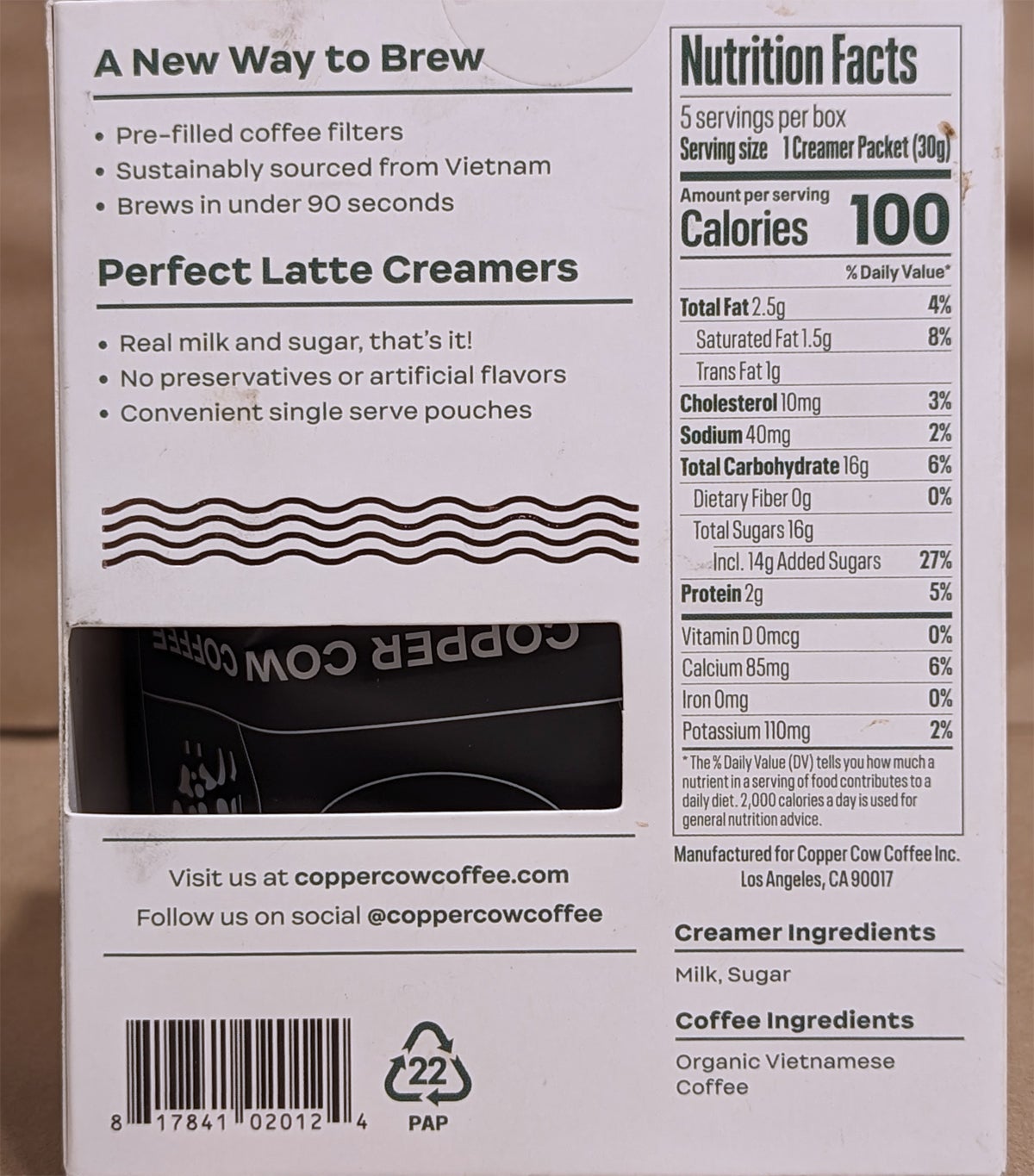 The convenient, eco-friendly pour overs make it easy to enjoy premium coffee blends no matter where you are; plus, the creamy Vietnamese latte packets add an extra punch of flavor before pounding out more miles.
Copper Cow Coffee pour overs are a great choice for backpacking trips because they are lightweight, easy to prepare, and provide a delicious, high-quality cup of coffee. Unlike instant coffee, Copper Cow Coffee pour overs are made with freshly ground, specialty-grade coffee beans, which provide a richer, more flavorful cup of coffee. Plus, Copper Cow Coffee pour overs are made with all-natural, non-GMO ingredients, so you can feel good about what you're drinking.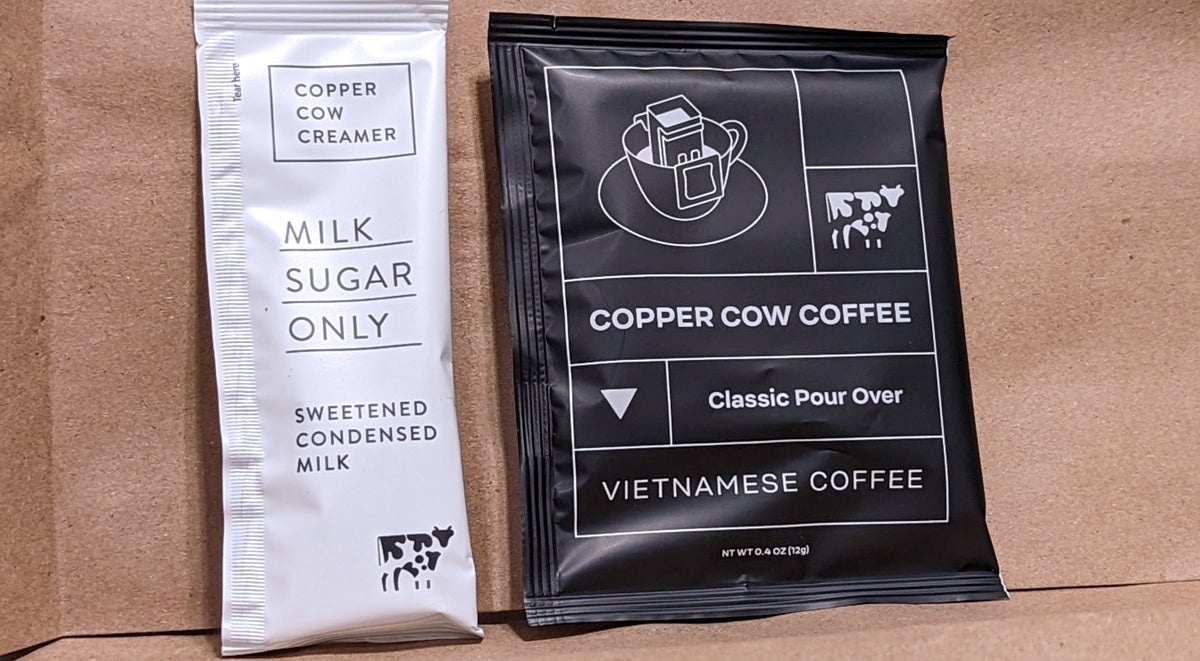 Observations
Copper Cow Coffee's pour over system is small, smart, but very strange looking for someone unfamiliar with the methodology. There are way more steps than when you are just throwing some Coffee, Instant, Type II in water and calling it a day.
Think of this more like using a Hario V60 pour over system, but minimalized for ease of portability. I mean, can could you imagine Coffee Daddy James Coif-mann  bringing his Chemex out into the woods?
While the main difference between the Copper Cow Coffee Classic Latte Pour Over and a traditional pour over is the amount of control you have over the flavor and strength of the coffee. The Copper Cow Coffee Classic Latte Pour Over is a pre-made blend of coffee and sweetened condensed milk, so you don't have as much control over the flavor and strength of the coffee except with temperature, time, and volume. This is a fair compromise for ease of use.
Once you open the packet, you can see two separate things, the sweetened cream packet and the coffee filter.
The sweetened cream, I'm pretty sure is just sweetened condensed milk. Could be wrong.
The coffee filter is filled with 12g of coffee each, and has a neat little system for brewing with wings that attempt to hold onto your cup. Both at home, and in the woods, I had to hold onto the wings nearly the entire time to prevent them from falling into my mug.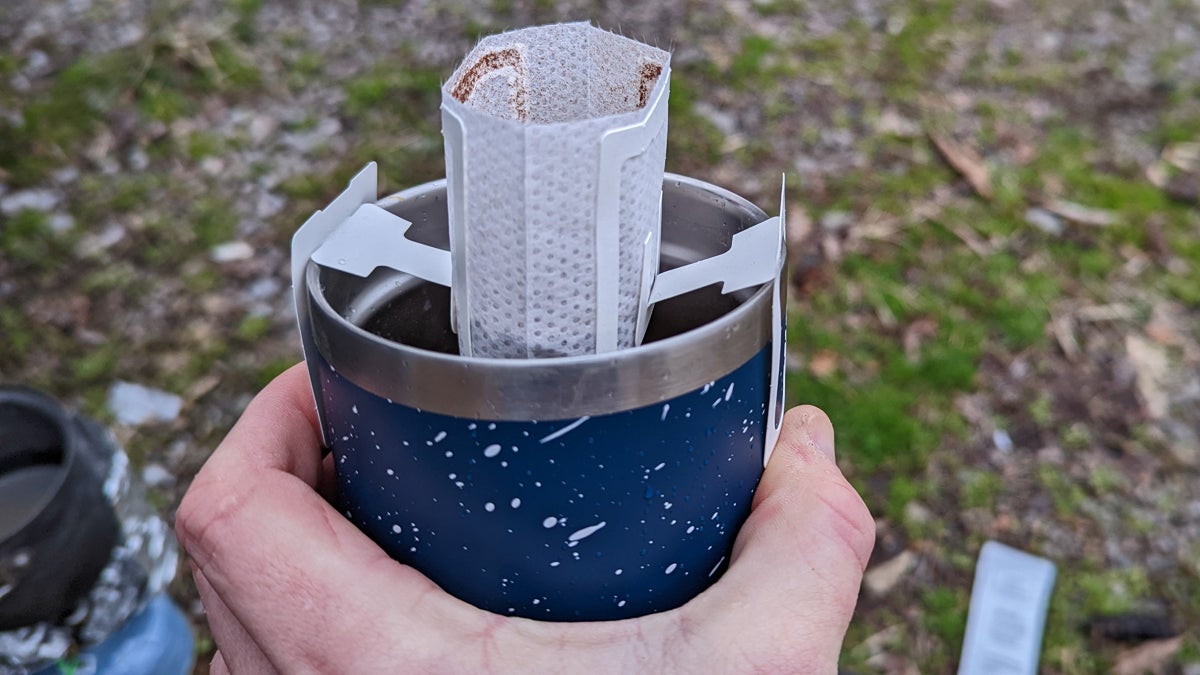 Instructions:
Step 1: Start by tearing open the bag of coffee grounds.
Step 2: Hang the wings of the bag on each side of your cup. (and hold them once you begin pouring water.)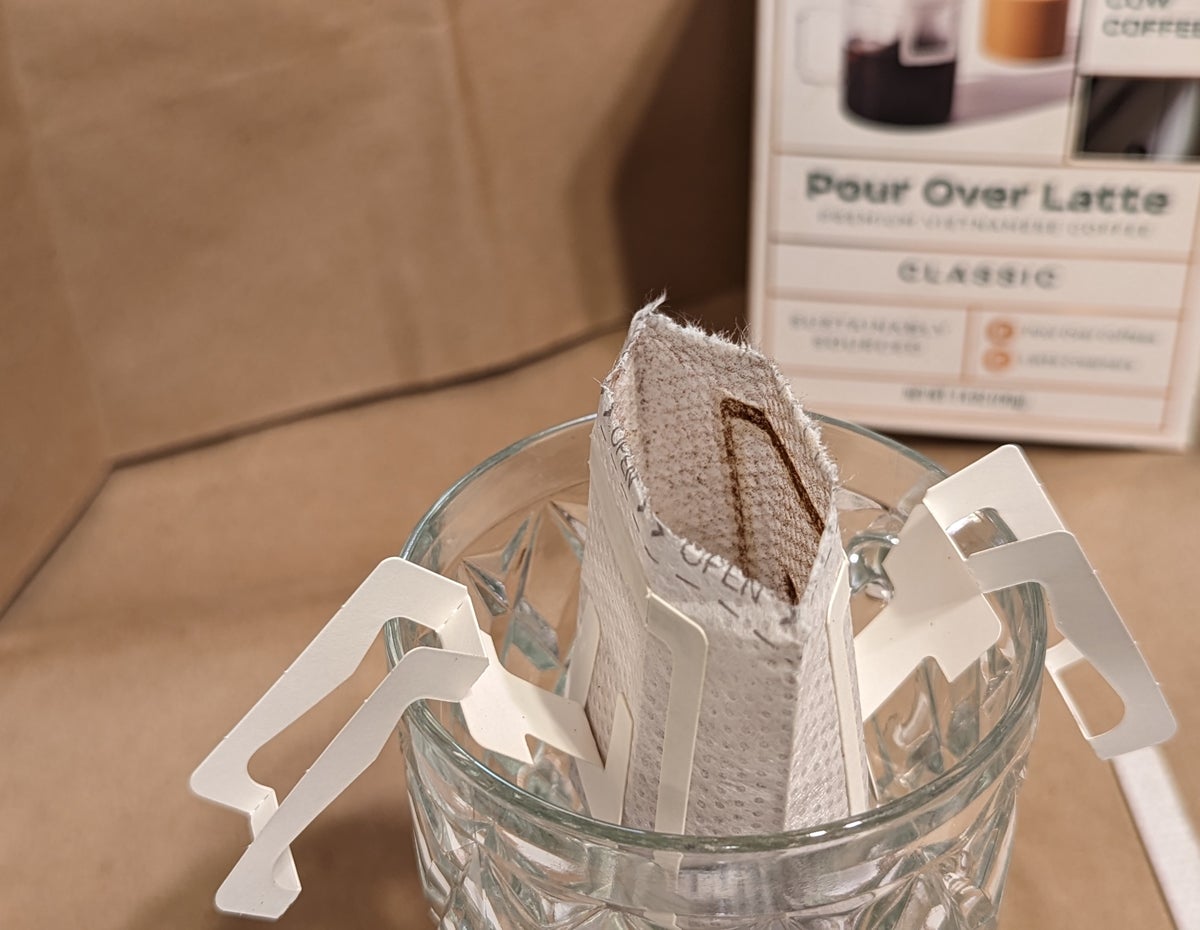 Step 3: Wet the coffee grounds with a small amount of hot water (about 1 ounce) and wait ~30 seconds.
Step 4: Pour enough water over the coffee grounds to submerge them.
Step 5: Allow the coffee to filter through and take a moment to enjoy the aroma.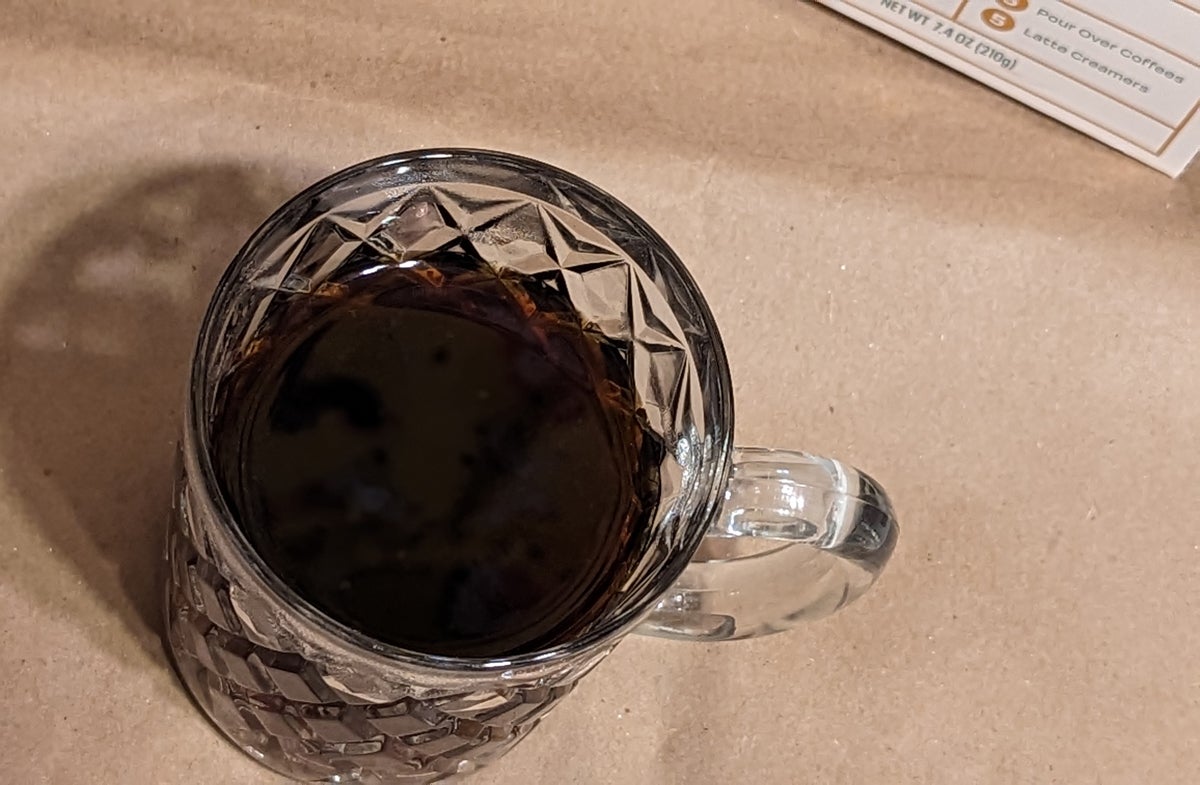 Step 6: Repeat steps 4 and 5 2-5 more times until you reach your desired quantity and strength.
Step 7: Enjoy your freshly brewed cup of coffee as-is, or add creamer to taste.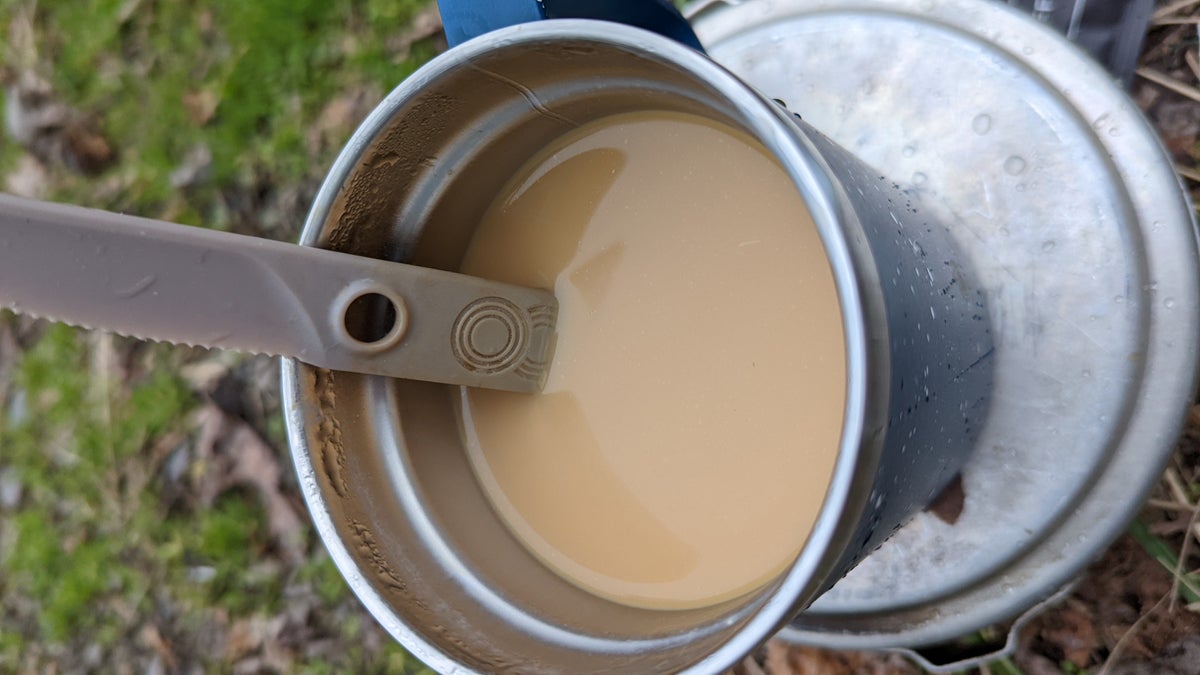 While I was not able to test dissolved solids (Although I do have a refractometer on it's way!), I did appreciate the combination of Robusta and Arabica coffee that had a deeper flavor that instant coffees. There were deeper nuances compared to things like Folgers, feeling a bit velvety even before adding the milk.
The sweetened milk tasted just like sweetened condensed milk. If there is anything different about them, I could not figure it out. Strange in coffee if you've never had it before, but if you've drank a real boba tea or Vietnamese coffee, you'll know what's up.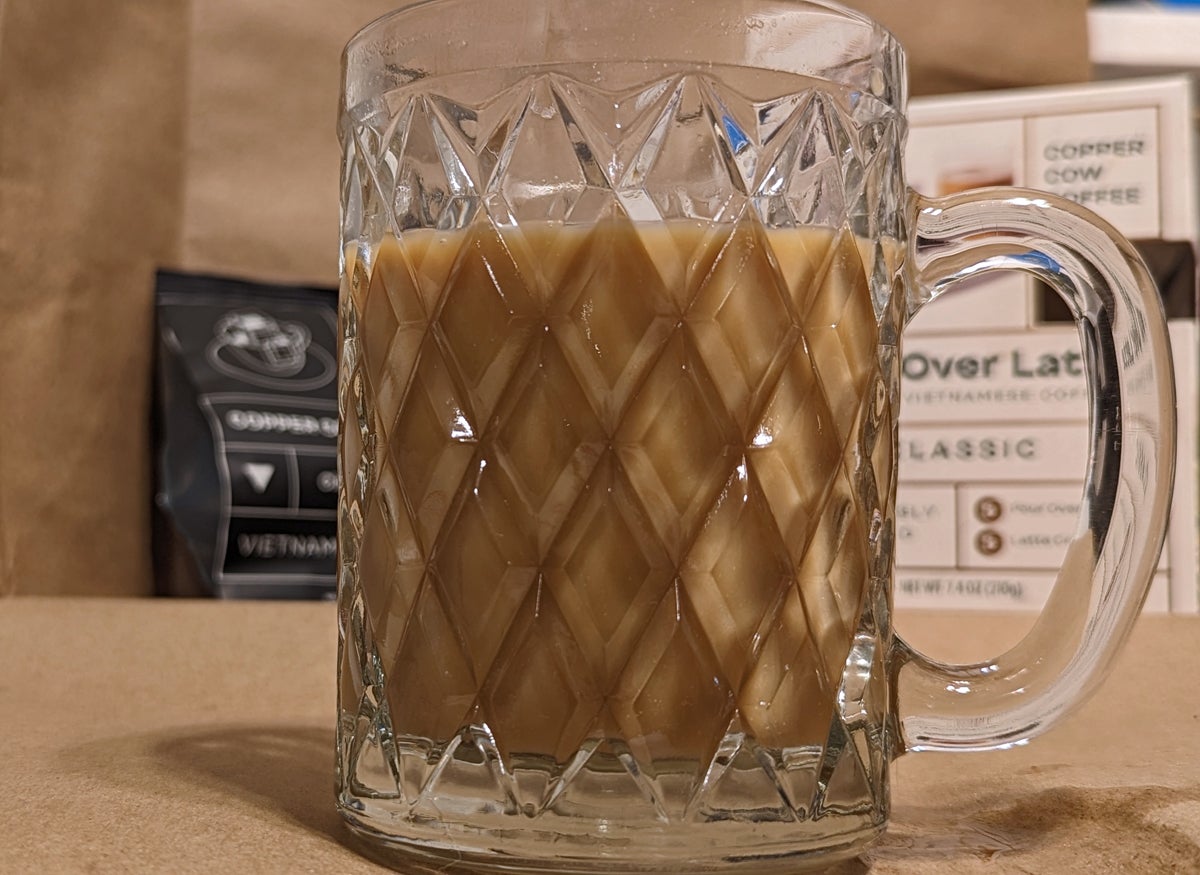 Copper Cow Coffee does speak highly of it's eco-friendly methodologies, I am curious whether they can cut down on the amount of plastic packaging that the filter comes in. I feel they could save a few cm of packaging.
The way a backpacker is going to use this is not going to be with a gooseneck kettle with time and precision being taken to get the best cup. Flavors were better than your typical brew you'd get at a worksite, but for the cost… this is the kind of thing you bring on a novelty, or when you bring your girlfriend camping as a compromise for her complaining that you stole most of the quilt all night. |
Would I review this higher for an occasion outside of the AllOutdoor sphere of influence? Probably, it's a neat and good concept, but a little to pricey for me to have on hand as my go-to with the frequency and volume of days I'm out on trail.
Get it, try it, and enjoy it. There are other coffee products marketed to camping folk that are a lot more expensive and don't help Vietnamese farmers, nor come with the creamer pack.
Overall 3 out of 4 stars 
Comparison
So in terms of coffee out on trail, you can from full on cowboy percolator to Steve1989'ing it and making some Nice instant. There are a few things in between that can compare to this, but are still not as ritualistic and customizable as this pour over allows.
Sea to Summit X-Brew Collapsible Camping Coffee Dripper with Reusable Steel Filter – $14.96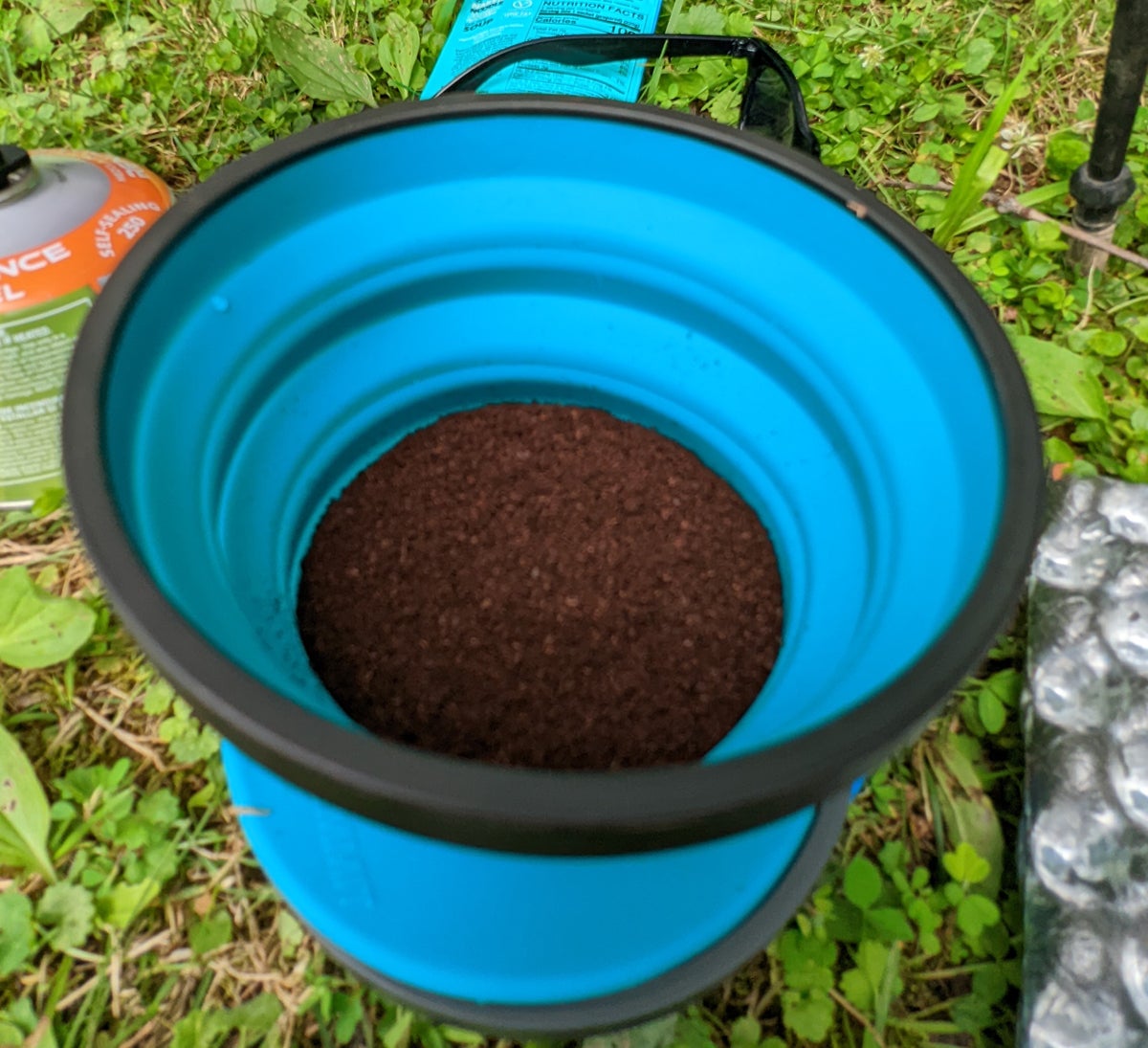 I enjoy this coffee brewer. It's a pour over adjacent product, but I think most of us would treat it like your typical coffee brewer. The metal screen is the selling point as it prevented faff from getting in my mug.
Nescafe Cafe Viet Milky Iced coffee instant coffee & Creamer drink mix – 14 Packets
While I'm linking this one because I really like it, you can get better prices at your local H-Mart or other Asian grocery. The one I get typically has 6g of sugar, as they can range up to 16g.
Copper Cow Coffee five pack comes with five 1 oz packs of sweetened condensed milk and five 12g coffee packets.
MSRP: $18.00 – Note, I got mine at Walmart for $9.97
As Per Copper Cow Coffee's Site: 
Pour Overs: Make a pour over in 90 seconds by adding hot water to our prefilled single-serve coffee filters.
100% Vietnamese Origin Coffee: Our unique blend of robusta and arabica coffee exude tasting notes of rich chocolate and nutty undertones with a smooth finish.
Sustainably Sourced: We pay our Vietnamese farmers 2x market rate and partner with them to drastically reduce their environmental impact.
Creamers: Our single-serve sweetened condensed milk creamers are made with just milk and sugar – that's it.
---
Random note, they do have a rewards program and mystery packages on their site where you can do a lot of things and get a major discount on your first purchase. I get no benefits from this other than trying to save you some buckaroos!
---
The opinions expressed above are entirely from the author and weren't subject to review by Copper Cow Coffee, or any external entity.
Come join Alloutdoor's Discord server and chat about Archery, Firearms, Fishing and other topics with others! Sneak peaks, early notifications, and perks await. We have a Tiktok account, too!