Curious Relics #056: A Legend is Born – The Mauser C96 Part Two
Sam.S 01.25.23

Welcome, if you are a newcomer to this fun bi-weekly segment of AllOutdoor.com! With all the ShotShow 2023 hubbub out of the way, it is back to your regularly scheduled Curious Relics content. In the last article, I covered the history (abridged) of the iconic Mauser C96 "Broomhandle" pistol. This time I plan to detail some of the more prominent and important variations. I have so much admiration for the Mauser Construktion 96 otherwise mostly known as the Mauser C96. Let's dive right into the legendary Broomhandle!
Recent Curious Relics Coverage:
Note: Much of this article was greatly aided by a book by Mauro Baudino and Gerben van Vlimmeren. This book is an excellent source of specific information on the Mauser company, its products, and its people. The book is called Paul Mauser His Life, Company, and Handgun Development 1838-1914. In the future, I will do a full review. Go check it out! 
---
Welcome to our recurring series of "Curious Relics." Here, we want to share all of our experiences, knowledge, misadventures, and passion for older firearms that one might categorize as a Curio & Relic  – any firearm that is at least 50 years old according to the ATF. Hopefully along the way you can garner a greater appreciation for older firearms like we do, and simultaneously you can teach us things as well through sharing your own expertise and thoughts in the Comments. Understanding the firearms of old, their importance, and their development which lead to many of the arms we now cherish today is incredibly fascinating and we hope you enjoy what we have to share, too!
---
Variations: The Mauser C96
Kicking things off with a little disclaimer. There were dozens of variations of the C96 in its lifetime and even after. There were military contracts, clones, modifications, etc. This list of variations will be composed of what I would consider a mix of Major notable variations and also some cooler and rarer ones. Some will include and exclude certain milling operations, safety types, and hammer styles. Please understand there is so much more out there. Also, I will begin with three basic designs. This is to inform you that these three iterations can be applied to any after the fact. Example: Just because something is a "cone hammer" Mauser C96 does not mean that it was only made in the 10-shot model.
The Major Three:
6-Shot: Among some of the more rare Mauser C96 pistols, the six-shot C96 was made in various iterations and more importantly some of the earliest. Remember, this was a time when folks were more mindful of their rapidity and waste of firing. More than anything it was produced to lessen the overall weight since this was typically a crucial deciding factor for military trials. Many initial 6-shot pistols had fixed rear sights.
Lot 3457: Mauser 1896 Pistol 7.63 mm Mauser auto. (n.d.). Rock Island Auction Company. photograph. Retrieved February 1, 2022, from https://www.rockislandauction.com/detail/66/3457/mauser-1896-pistol-763-mm-mauser-auto.
10-Shot: Considered to be the standard variation due to its regularity on the used gun circuit today. Ten shots are to be paired with all of the ten-shot stripper clips and holster stocks. This is almost certainly because the ten-shot model was alone that actually got military contracts.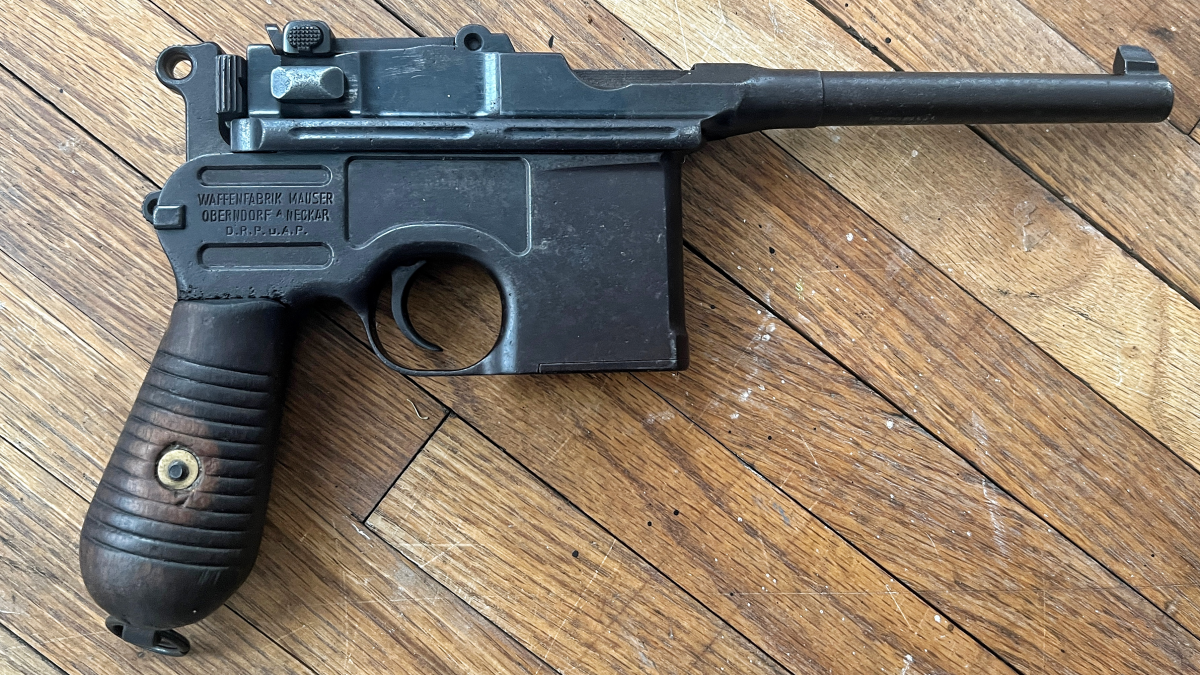 20-Shot: A very uncommon one to find given its (even then) absurdity and excessiveness. This was an early example of Mauser feeling things out and seeing both what they themselves could do and also what the market may want. The 20-shot versions had a tendency to be a bit cumbersome (besides the obvious reasons) to load since the second stripper clip full would be noticeably stiffer and more difficult. Production of the 20-shot model was ended in 1911.
Fantastic Mauser C96, 20-Shot Conehammer, Milled Panel, With Correct Stock. (n.d.). Morphy Auctions. photograph. Retrieved January 4, 2023, from https://www.jamesdjulia.com/item/2203-373/.
The "Actual" Variations:
1895 "Spur Hammer" Prototype: This/these were the first functioning prototypes of what would become the Mauser C96. They are significantly different from later ones in their obvious "spur hammer" design along with the rear sight being fixed (a common feature in the earliest iterations). Even though the barrel is at 5.5″ like some of the more common variations later on, it has the uniqueness of being screwed into a non-reinforced barrel extension. Most later pistols had a reinforced extension or a taper that acted as one. It should be mentioned that the first production run of C96 pistols shared many of the features of this pistol (now with that barrel reinforced) but toward the end of that run of 50 there were notable changes popping up (cone hammer, different markings, etc).
System Mauser "Cone Hammer": After the first 50 or so pistols the C96 was changed to have adjustable rear sights, its single locking lug shortened 9later ones would be changed to two locking lugs, and its namesake on top of the barrel simply said "System Mauser". The "Cone Hammer" continued on with the prototype in having a distinctly long extractor. Most notably, especially for its namesake, the hammer was changed to its legendary cone shape. These "Cone Hammer" C96 pistols are some of the most sought-after and raved-about pistols in the collection circles. Early cone hammer models had the barrel reinforcement extension but quickly transitioned to the tapered style. All three of those previously mentioned "major" variations were made in the "cone hammer" arrangement.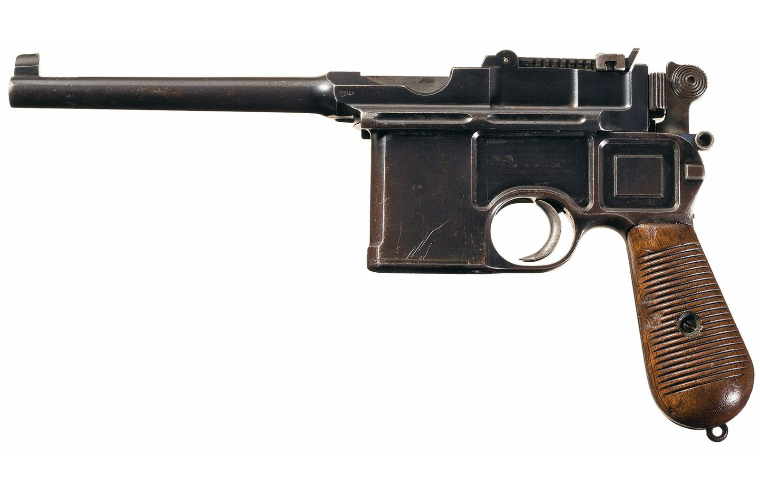 Lot 3448: Antique Cone Hammer Mauser Broomhandle Pistol – Antique Mauser Model 1896 Cone Hammer Broomhandle Semi-Automatic Pistol. (n.d.). Rock Island Auction Company. photograph. Retrieved January 3, 2023, from https://www.rockislandauction.com/detail/74/3448.
Cavallerie Karabiner: This is thought to be the first iteration of a Mauser C96 Carbine. It was of the "Cone Hammer" era. It was intended to get the attention of cavalry officials in the German military (perhaps even others). A ten-shot takedown handgun was certainly appealing, right? Famously the serial number 1 Cavallerie Karabiner was hand tested by Kaiser Wilhelm II. Despite positive reviews by military officials and the Kaiser himself, it met very little purchase and usage. Later versions (Large and Small Ring) of the Mauser C96 Carbine would pop up but in small numbers and at the very least with a more useable stock/pistol grip setup.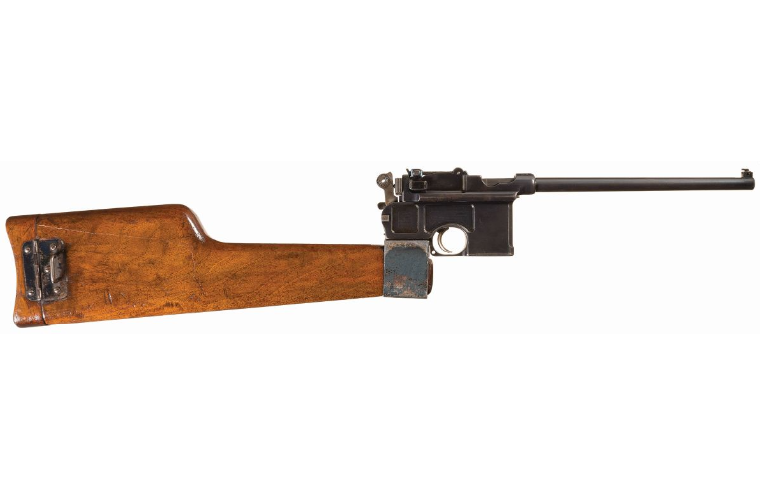 Lot 3557: Early System Mauser Model 1896 Stocked Carbine Serial Number "5" – Extremely Rare Documented Early Production Antique System Mauser Model 1896 Stocked Semi-Automatic Carbine Single Digit Serial Number "5". (n.d.). Rock Island Auction Company. photograph. Retrieved January 4, 2023, from https://www.rockislandauction.com/detail/79/3557/early-system-mauser-model-1896-stocked-carbine-serial-number-5.
Large Ring C96: Talked of as a "transitional" model, it is the next notable progression on the Mauser handgun lineup of C96 pistols. It is easily discernable by its "Large Ring" hammer instead of the famous cone one. By my own research, these started popping up by 1900 and ceased by roughly 1905. These models (in varying configurations) still had the long extractor.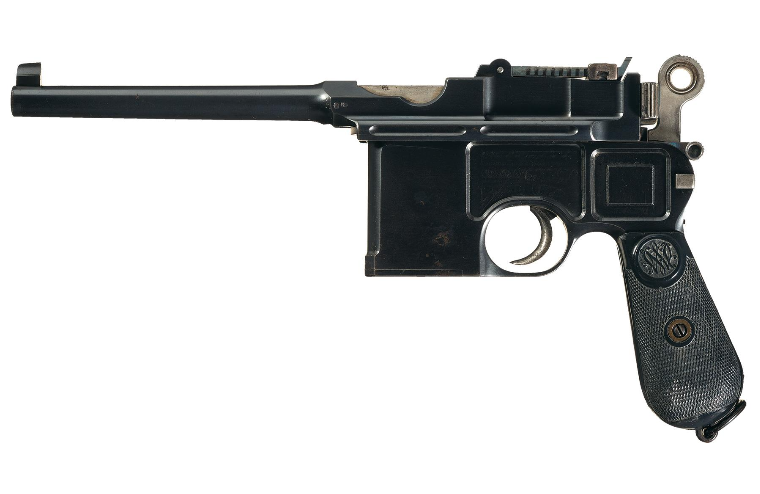 Lot 3364: Mauser 1896 Large Ring Transitional Broomhandle – Mauser Model 1896 Large Ring Transitional Broomhandle Semi-Automatic Pistol. (n.d.). Rock Island Auction Company. photograph. Retrieved January 25, 2023, from https://www.rockislandauction.com/detail/69/3364/mauser-1896-large-ring-transitional-broomhandle.
Small Ring C96: This, in a sense, is what was settled on…at least as far as the hammers go. The hammer is noticeably smaller and less bulbous than that of the Large ring C96. These began popping up around 1903 and would continue on until their production ceased completely in the 1930s. The shorter extractors also began appearing around 1904.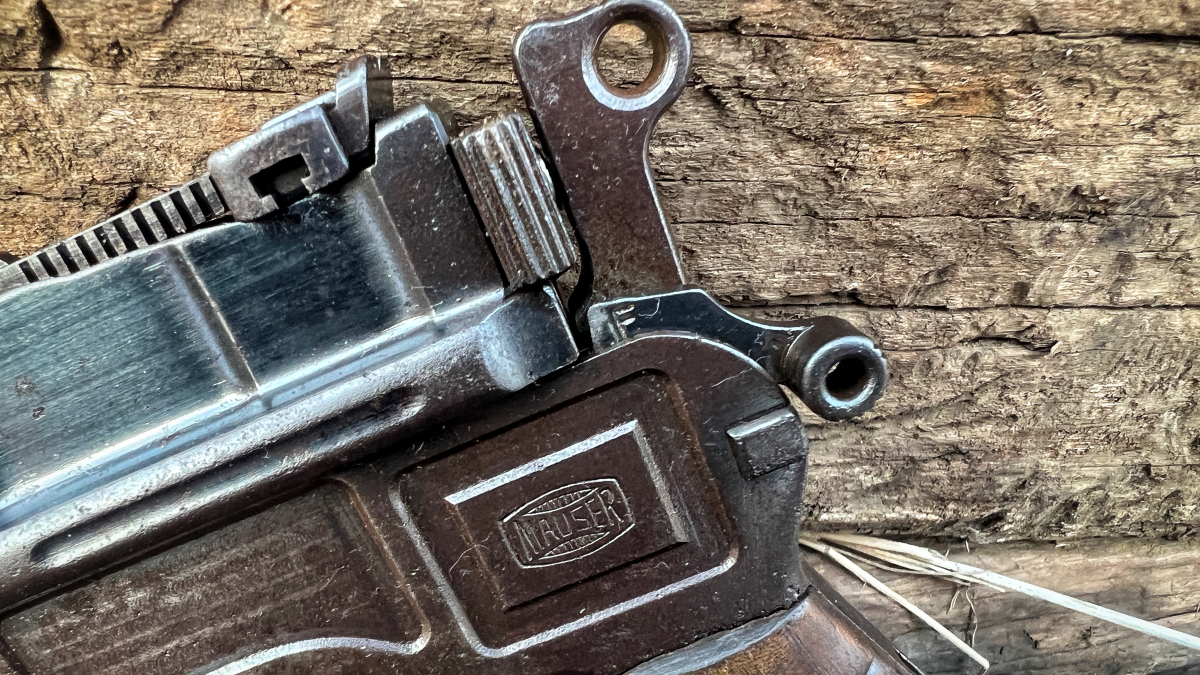 End of Part Two: The Mauser C96
This one ran a lot longer than intended (more variations to follow in Part Three!) but that is only a small chunk of what is the wide world of the Mauser C96. There were several military contracts and orders of the C96 (Italy, Norway, Germany, and even Mexico) all of which have small differences that really reflect positively on the Mauser company as a whole. They constantly innovated, changed, and applied wants and needs to their orders of small arms. Paul Mauser put it best when he said "When something can no longer be improved, it is obsolete". A big thank you to Mauro Baudino for getting in touch with me and helping me secure a review copy of his book which will be featured in its own article later on. See you folks next time!
Note: This article on variations will continue on into Part Three. I will come back to link to that article here.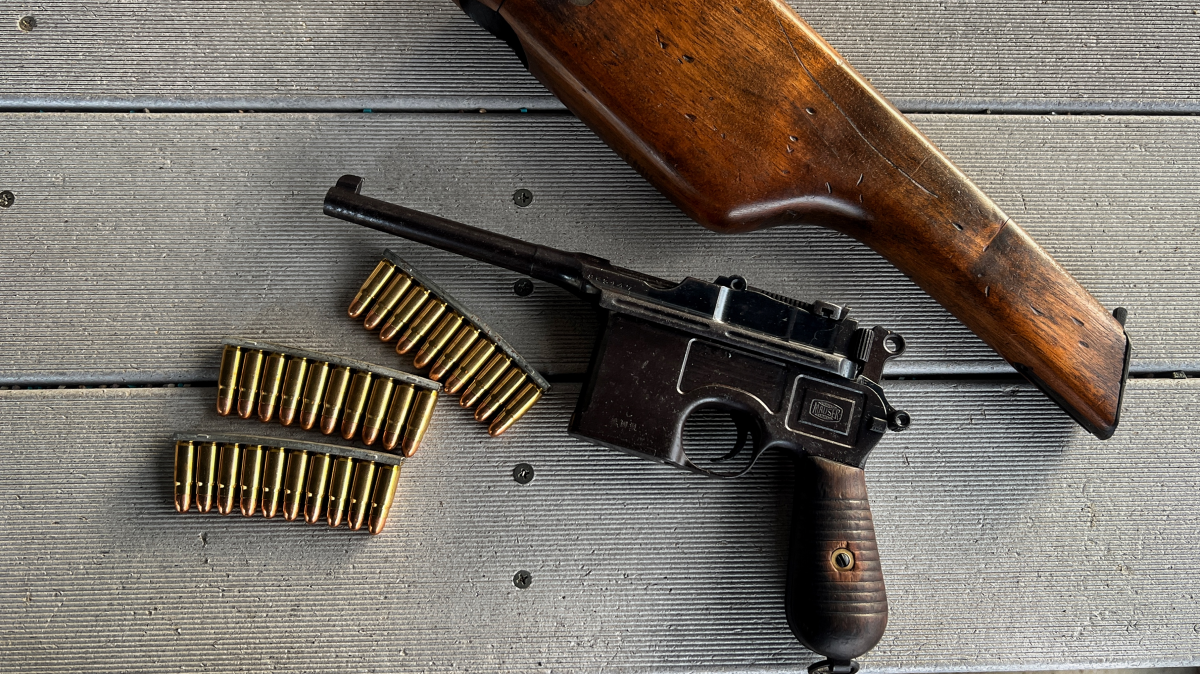 In closing, I hope our Curious Relics segment informed as well as entertained. This all was written in hopes of continued firearm appreciation and preservation. We did not just realize how guns were supposed to look and function. It was a long and tedious process that has shaped the world we live in. So, I put it to you! Is there a firearm out there that you feel does not get much notoriety?  What should our next Curious Relics topic cover? As always, let us know all of your thoughts in the Comments below! We always appreciate your feedback.