[SHOT 2023] AK Builders Rejoice! Recreator: Trunnions, Front Ends, More
Paul B. 01.25.23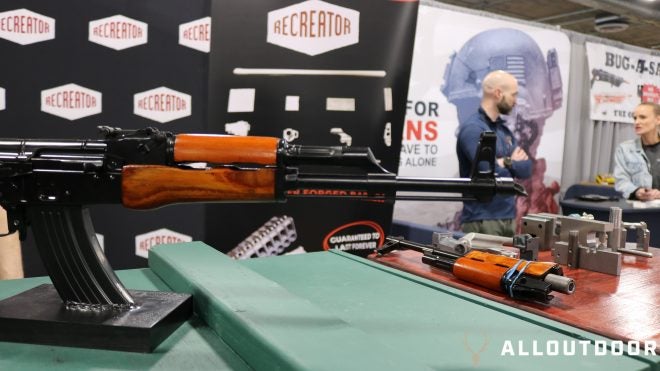 Recreator are known for their excellent quality AK receivers and blanks, but they are expanding into much more. With 80% receivers all but doomed, Recreator set out to fill every niche available for fans of AKs and, even more so, those that build them. Let's take a look at what they showcased at Shot Show 2023.
[SHOT 2023] Recreator – AK Builders Rejoice
There is a lot to unpack here so lets get started. First off, populated barrel front ends.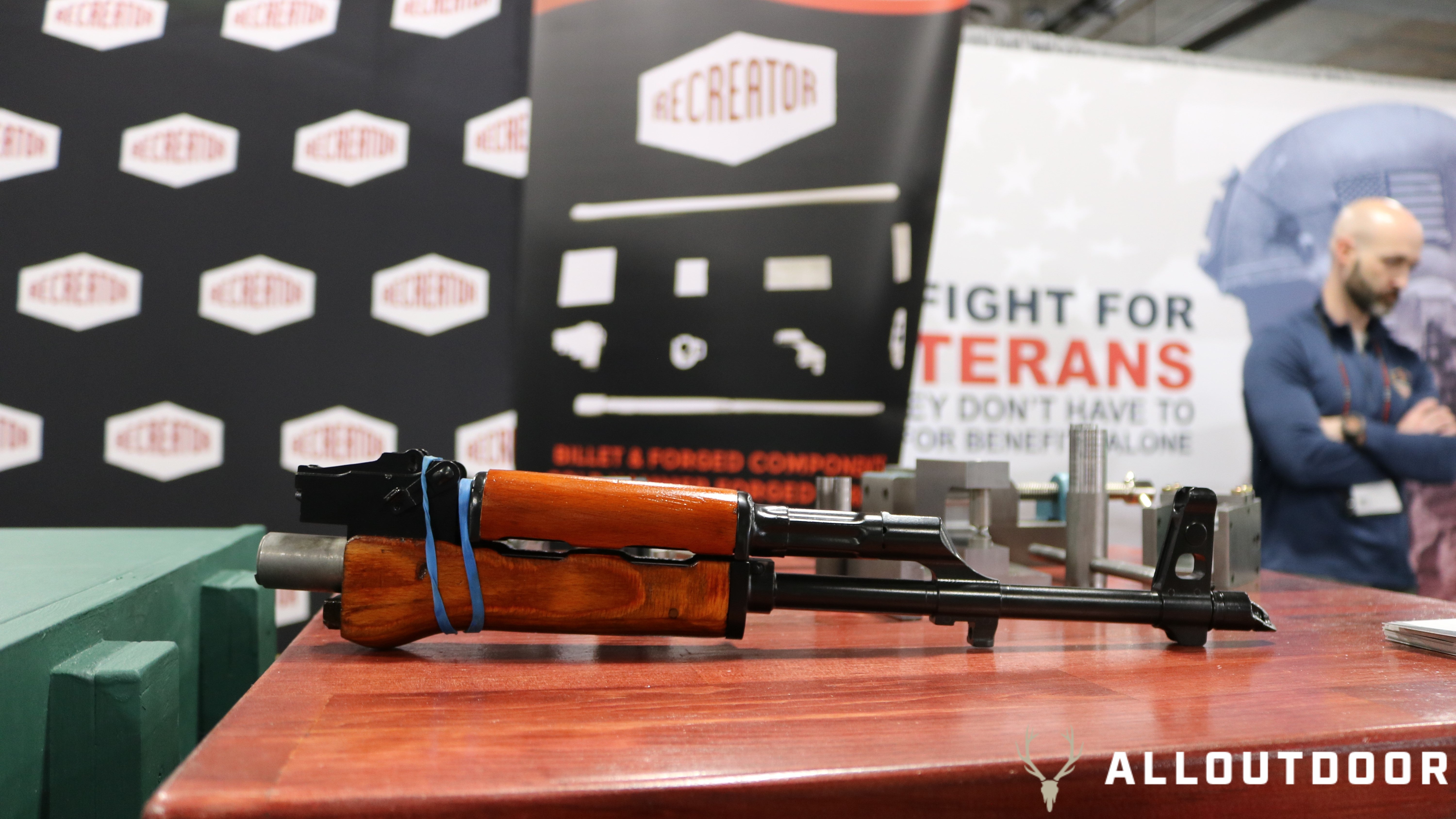 Taking some of the most difficult parts out of building an AK, this kit will get you going quick for your build without having to worry about canted front sights, or bad fit for gas blocks or rear sights. Just because its easy doesn't mean they skimped on the quality. You even get a cold hammer forged barrel with this kit.
ReCreator Blanks cold hammer forged barrel assemblies with all new US made components. Barrels caliber 7.62×39 make up the backbone of the package. On the front end sits the perfectly straight front sight block with the addition of the lightening cuts. Behind this you will find the 45 degree gas block with its smooth radiuses. This combination of complex curved surfaces makes for the beautiful traditional profile that is immediately recognizable in the AKM platform. Next in line is the handguard retainer that utilizes two reverse keyways and a locking lever which securely affix it to the barrel. Last and certainly not least in line is the rear sight block.
Locking levers on lower handguard retainer and rear sight block are installed.
Barrel is chrome lined.
All barrel components black oxide coated.
Front sight includes push drum and sight post.

Barrel comes with complete front sight, rear sight, gas block with bayonet lug, hand guard retainer, and upper & lower wooden hand guards.
The populated barrel kit is available now on their website for $469.99.
[SHOT 2023] Recreator -US Made Front Trunnion
Next we have new front trunnions. These are US made, fully heat treated, and made from 4140 steel.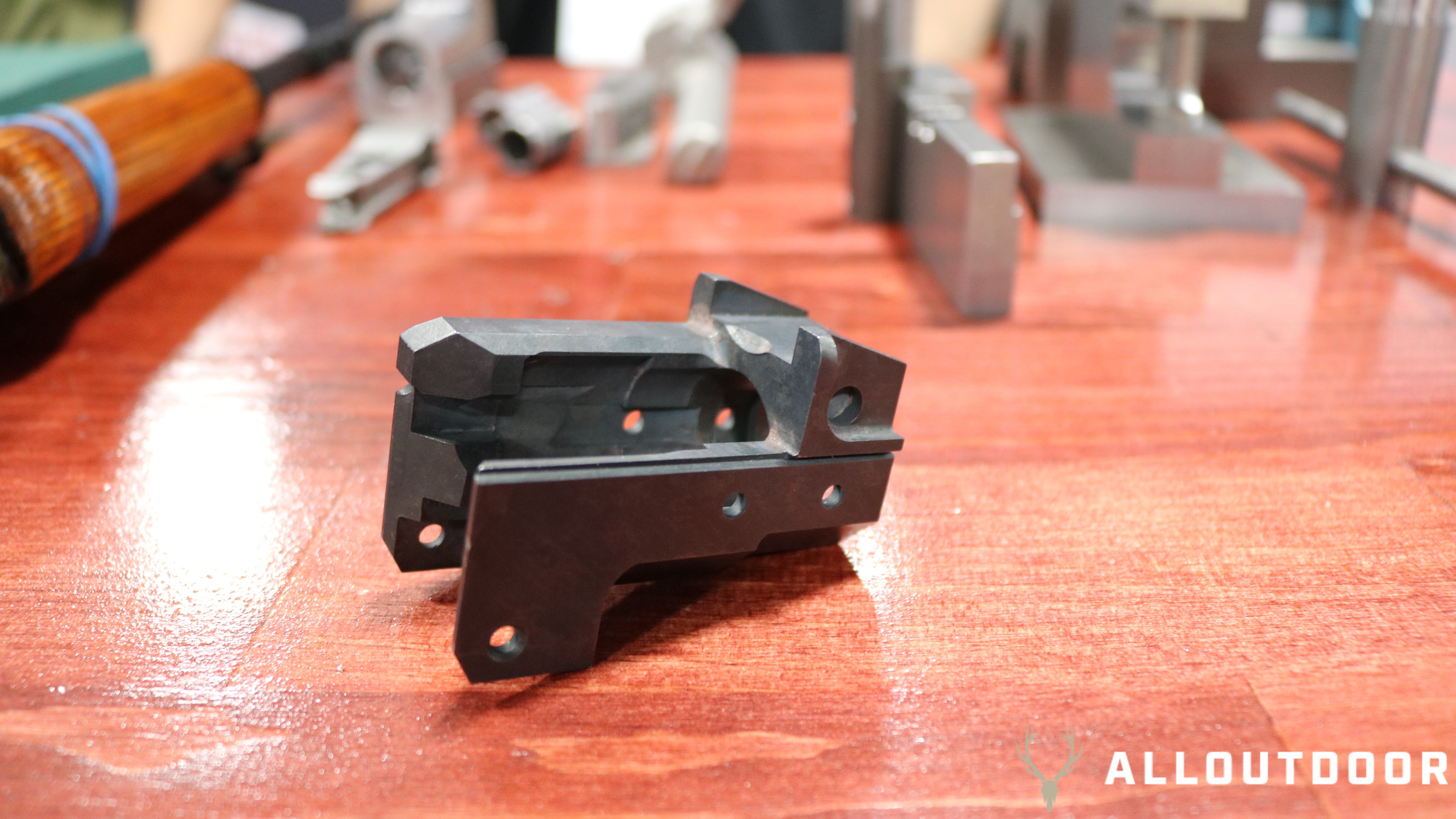 Brand New – US Made, from certified 4140 Aerospace Grade Steel.

Fully Heat treated.

Made in ReCreator's factory, minimum machine marks, the nicest trunnion available anywhere. Perfect match to your ReCreator Blanks and Receiver.
These new front trunnions are available for $85.00 and give builders another affordable option.
[SHOT 2023] Recreator -AK Headspace Setting Vise Conversion Jaws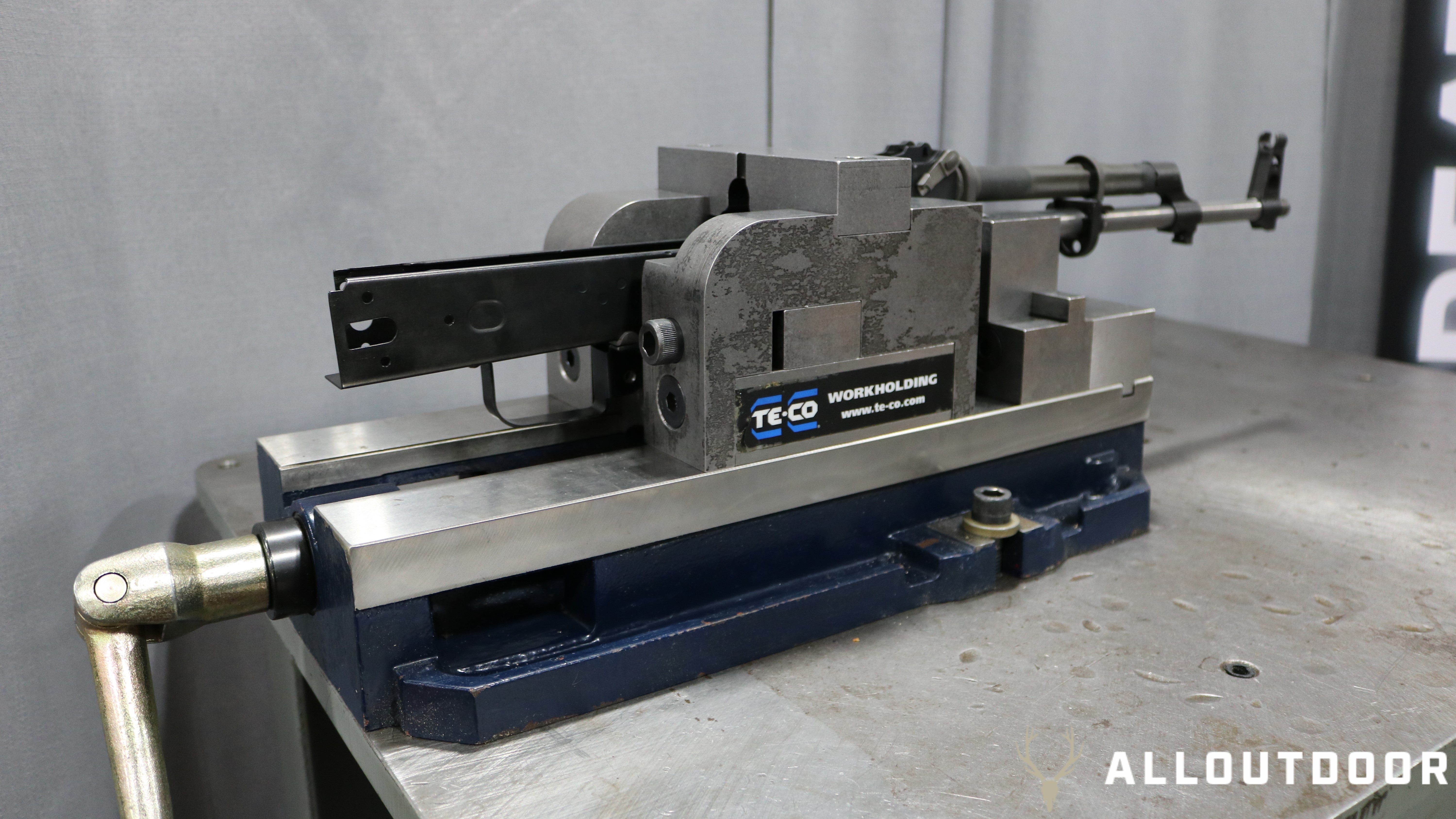 This is one of the coolest AK building tools I have seen. Easily and accurately set the headspace on an AK with minimal effort. There is even space to fit your bolt and headspace guage to check while the rifle is still clamped in.
Turn your 6-inch machine vice into a precision instrument that will give you absolute control over the installation of your barrel.

How would you like to look forward to the headspacing step of building an AK? No more beating on your 20 ton press with a hammer and hoping it jumps into position. You can now have a complete engineered solution capable of headspacing hundreds of guns per day! This system was developed by masters of the AK platform and designed to work flawlessly every single time.

What would it be worth to you if you could always depend on any member of your staff to produce impeccable results over and over again with zero intervention?

The big companies do not want to see tooling like this available for such a low price because they have spent over 100 times as much to build their own tooling.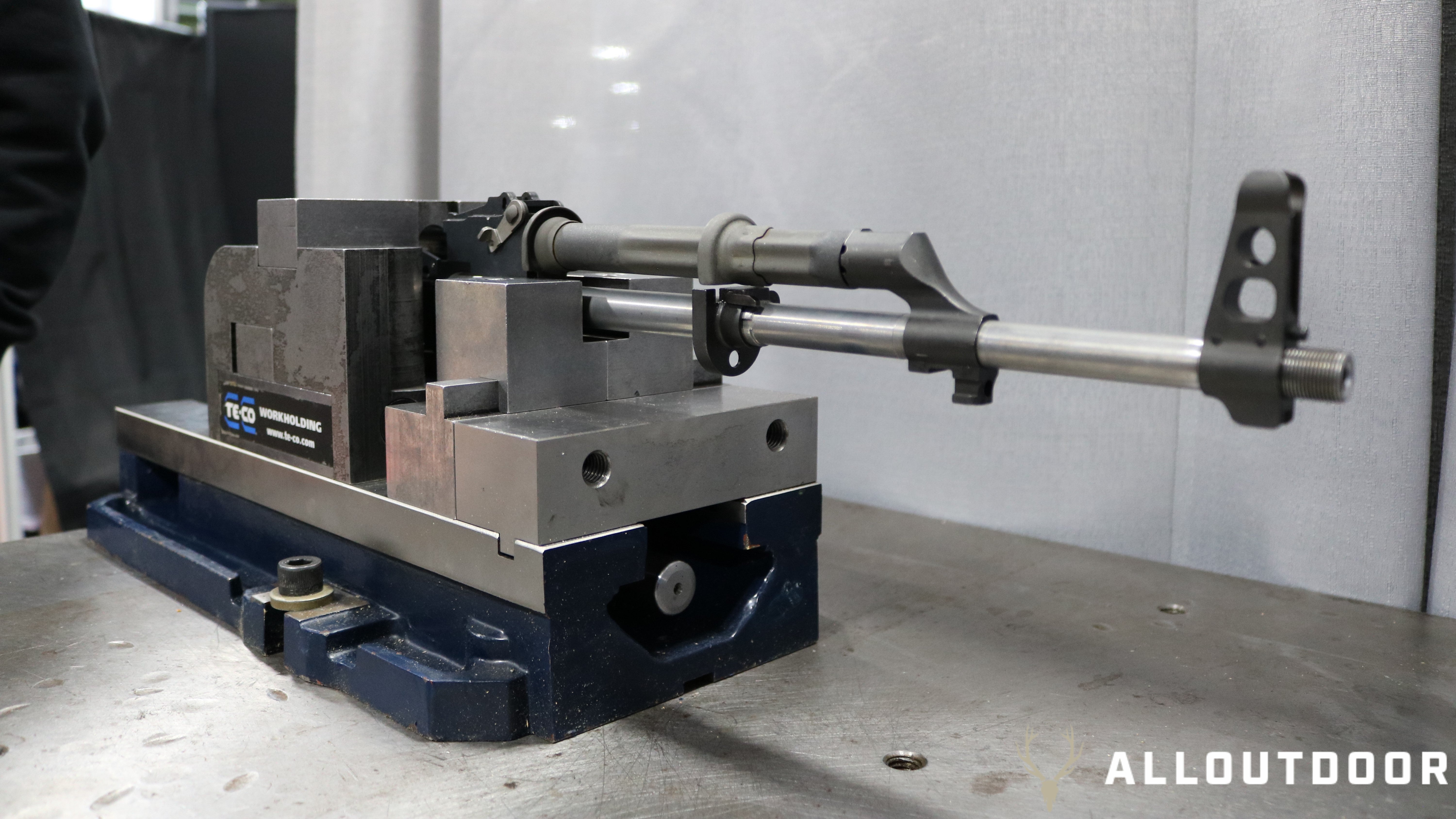 Available for preorder for $2,499.99 and scheduled release in Q2 of 2023.
Recreator has plenty more products and tools available, check out their website here to view their online store.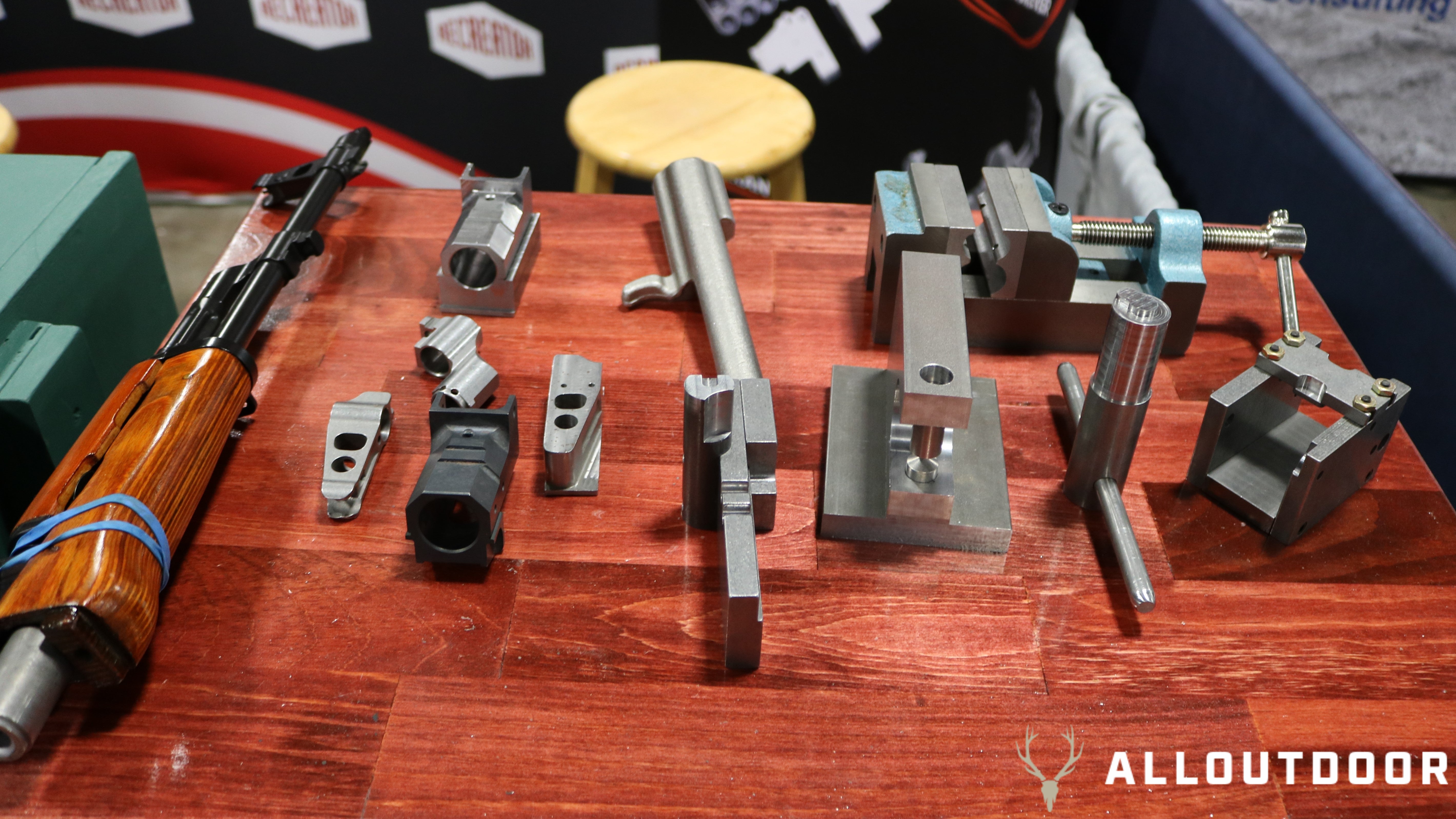 A big thanks to the guys at Recreator for going over their new releases with me. What do you think of these new tools and parts? Let us know in the comments section below.
AllOutdoor's coverage of SHOT Show 2023 is proudly sponsored by 5.11 Tactical. Click HERE to check out their new products.