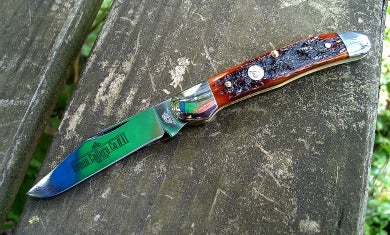 Anyone in the market for an easy-to-carry folding knife that fits in the pocket — what the old-timers called a "pocketknife" — faces an embarrassment of riches. There are tens of thousands of models to choose from, from high-tech customs to the "knife" that costs $1 at Wal-Mart. In the past twenty years the market has come to be dominated by modern folders, or so-called "tactical" folders.  These are knives that open with one hand, have a pocket clip, have a lock, and using cutting-edge steel. The best of these knives are truly great, but their aggressive appearance and large size can make them less welcomed in public and in your pocket. If you want to carry a knife, but are looking for something easier to carry or less threatening, you need to take a look at traditional folders.
Traditional folders are what your grandpa carried, and they're made by brands that your great grandpa was familiar with in many cases. I recently got bit by the traditional folder bug and I am glad I did. There are some truly excellent pieces of cutlery made in the traditional style. Five makers are pumping out excellent production traditional folders, and the custom world is giving birth to gems that refine patterns centuries old.
Makers new and old
If you are looking for something that is easy to carry, immaculately finished, and totally people-friendly you could go to the two stalwarts of the traditional folder market, Case and Queen, both of which have survived for close to a century now. Additionally AG Russell, though the professor emeritus of the knife world, is actually a newer maker, having started in the 50s and 60s. And two new companies, Great Eastern Cutlery (GEC) and Canal Street Cutlery, are making what is old new again with truly top-shelf designs and materials.
But beware, as there are lot of junky traditional folders out there. Schrade sold their name and the stuff that goes out under their brand is of much lesser quality than it was a few decades ago. The same is true for Winchester. Buck's stuff is still good, but not in the same league as the folks above. Careful research and consultation with traditional knife forum goers can save you money and heartache. The five brands mentioned above all have sterling reputations for exceptional quality. Even Case, the inhabitant of many a hardware store display case, has truly superlative fit and finish.
The main drawback with these traditional knives is the steel. Case uses two steels in its production knives: Tru-Sharp and CV. Tru-Sharp steel is a whipping boy for many an Internet hater, but their other steel, CV (for Chrome Vanadium), is well liked. The other companies use very good steel generally — my recently purchased Queen came with mirror polished D2. That works for me.
Case, AG Russell
A couple of patterns have really caught my eye. I like the simplicity of form of a Copperhead, pictured above.The Copperhead is a knife with a single, clip-point blade and double bolsters (the metal caps on both ends).
I also really, really like the Sway Back with its wharncliffe blade and positive handle angle. This is a small, refined, gentleman's knife, something I imagine opening wax sealed bourbon bottles on Mississippi riverboats in the 1850s. There is nothing else that looks like a Sway Back.
Case makes a line of very high end production knives in collaboration with perhaps the finest traditional knife maker on the planet — Tony Bose. Bose and his son Reese have books filled with orders, but if you can find one of their blades on the secondary market be prepared to be amazed. I have only seen one Bose in person and it had fit and finish that exceeded anything I have ever seen. They regularly sell for more than $1,000.
Ron Lake's designs are amazing blends of traditional and modern folders and they are, well, beyond most mere mortals. Lake's more unusual or rare designs will regularly sell for more than $10,000.
Finally there are the work knives. Case trademarked the term "Sodbuster" but Case, GEC, and AG Russell all make knives in this pattern — a very simple, non-threatening, drop-point blade with a synthetic handle, usually delrin or some other hard plastic. The handle shape is also very simple: a straight spine with a gentle curve to the interior. The only flourish is usually found around a large brass or gold-colored pivot. There are other patterns, but the bulk of a Congress or a Canoe pattern knife is something I just don't like.
The Swiss option
There is still yet another option in the traditional folder market — the Victorinox Swiss Army Knife (SAK). After years in the wilderness of modern folders, I rediscovered the joys of a great SAK when I purchased on my very favorite blades of all time, the SAK Alox Cadet.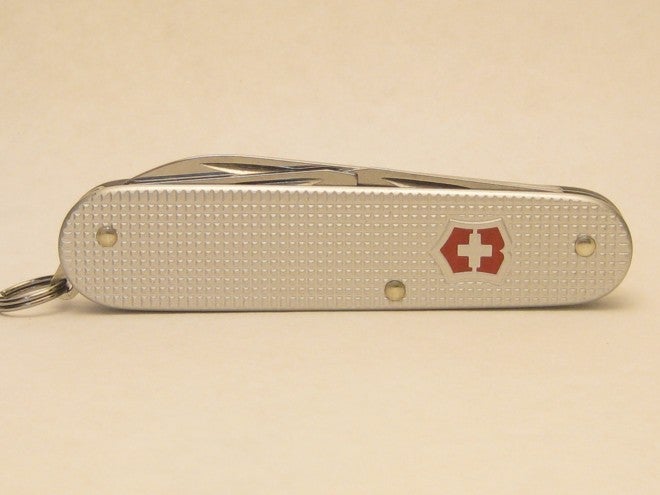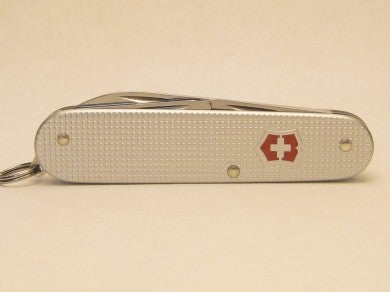 The SAK Alox Cadet has the super soft, easy to sharpen steel that all Victorinox knives come with, but its main selling point is the thin, slim profile, highly durable handle scales, and the just-right tool complement. This SAK, like most traditional folders, comes out via a nail knick and it lacks a lock, but this is a very high-tech looking blade.
How good is the Cadet? Take a gander at the EDC thread (login required) over on Usual Suspects Network, a forum that started by focusing on high-end production and custom knives, and in and amongst the kilobuck blades there are dozens and dozens of Cadets. The range of colored scales adds a bit of collectibility to an already awesome knife. The burnt orange and sapphire blue are particularly handsome.
You have so many choices when it comes an EDC blade, but it does you well to look at what your grandpa carried. You might find that you don't really need the one-hand opening or the pocket clip, and that you can get by with an incredibly handsome, jigged bone handled knife or the gear geek favorite SAK Alox Cadet. These knives are as pocket and people friendly as knives come.


SHOP NOW