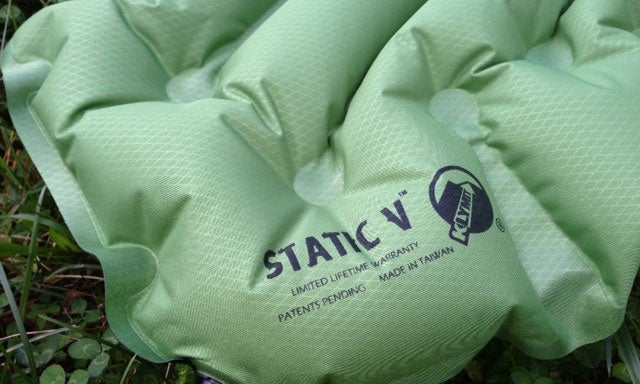 As someone who is new to backpacking and obsessive about gear, I've recently done a lot of research into what products are affordable but still lightweight, easily packed and durable. My research brought me to the Klymit Static V. Klymit is an interesting company with more than just inflatable sleeping pads. They pioneered the use of argon as insulation, and they have some really innovative designs throughout their product mix.
Klymit's Static V is their most affordable sleeping pad, retailing around $59. I say affordable because it's by no means cheap. The quality construction is evident when you open it up. The durable material will stand up to rough terrain and me flopping down on it at the end of a long day. Despite its, strength this pad highly packable and comes with a nice stuff sack and repair kit. The stuff sack is a good size so you don't have go crazy trying to get every ounce of air out of it in order to squeeze it into the sack. The pad easily deflates and rolls up to fit in the stuff sack. The total package is slightly over one pound, weighing in at 18 oz; it all packs down to the size of your average nalgene bottle. Unpacked, the pad's dimensions are 72″ x 23″ which will easily accommodate most adults.

In addition to its impressive specs and price tag, the Static V is comfortable. Once inflated, it's quite thick, and it unique V-shaped chamber design keeps you comfortable even as a side sleeper. There are plenty of inflatable pads that basically put you on the ground if you sleep on your side, but the Static V does not. After spending several consecutive nights on the Static V, I have no complaints and will keep it my kit for a long time.
Overall, the Klymit Static V is a comfortable, light and affordable sleeping pad from a really cool company. If you're looking to upgrade your sleeping pad or get your first, then you will not be disappointed with this product.

SHOP NOW