Trouble ahead: Smith & Wesson's stock tanks on blowout earnings
Jon Stokes 07.02.13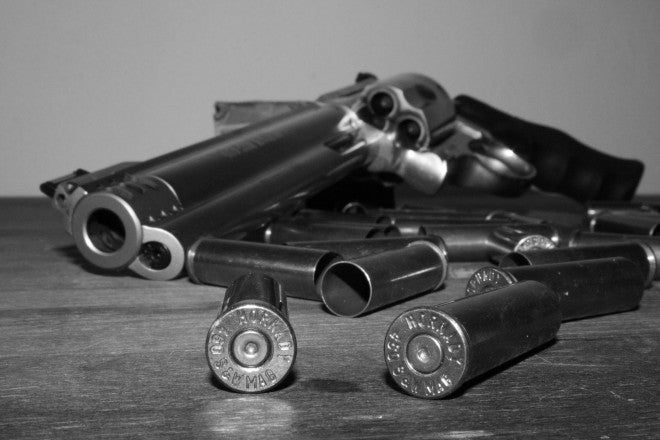 Smith & Wesson's earnings are out, and as everyone expected, they crushed it. The company's earnings this quarter are up almost 40 percent year-over-year, and profit margins and production are way up, as well. Yet, after the release of these record-breaking earnings, the company's share price has dropped almost 3 percent at pixel time. What gives?
First, here are a few numbers from the press release:
Gross profit for the fourth quarter was $68.5 million, or 38.3% of net sales, compared with gross profit of $46.9 million, or 36.1% of net sales, for the comparable quarter last year. Gross profit improved as a result of increased sales volume, leveraging of fixed costs, and a planned favorable product mix.
Net sales for the full fiscal year were a record $587.5 million compared with $412.0 million for the prior fiscal year, an increase of 42.6%. Firearm unit production for the year increased by 40.4%.
Gross profit was 37.2% compared with 31.1% for fiscal 2012.
So why the dip? Some of this action is probably a classic case of "buy on the rumor, sell on the news." In other words, the time to buy SWHC was right after Newtown — not that I'm actively endorsing attempts to profit from the tragedy, but if you wanted to add some gunmakers to your portfolio in anticipation of the massive wave of panic buying, then you obviously missed the window.
The second, more important factor in S&W's dip today is the simple fact that, barring another panic, gunmakers are going to have a tough year next year. A panic like what we had in 2008 or earlier this year doesn't necessarily create much new demand for guns — rather, it pulls demand forward from the future. In other words, most of the post-Newtown panic-buyers were going to buy a gun sometime in the next few years, but instead of buying it in 2014 or 2015, they blew their entire cash wad in early 2013.
What this means for gunmakers is that they'll see a demand drought later this year and next year, exactly as they did in 2009. All of the gunmakers that I talked to in at SHOT this past January told the same story: demand went nuts in 2008, and then totally dried up the following year, because everyone had done all of their 2009 gun buying in 2008. As a result, prices on guns plummeted, with many guns selling below list.
If you've been following gun prices on a site like Armslist.com, then you know that this is already happening, at least in the AR-15 market. For instance, regardless of what LMT is telling customers about how backed up they are, the going rate for a $3,0000 LM8MWS is $2,6000 — about $400 below list. And that price is probably going to drop even further. This is true across the board with ARs — only the ARs that are posted at below list prices are really selling well; the rest are being posted and reposted, often to multiple classifieds and auction sites, in hopes that someone will open up their wallet.
So the market isn't expecting the good times to keep rolling for gunmakers, at least not to the degree that they have been; and I think the market is probably right. Gunmakers should enjoy this peak while it lasts, because the inevitable dip is coming.