A quick look at the Voyager Lite
Phil White 07.16.13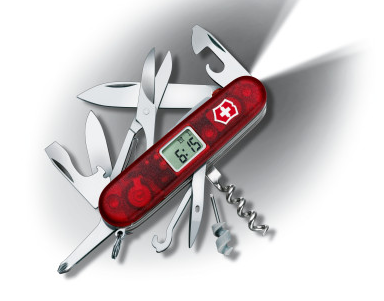 Many folks go for multi-tools nowadays, and they often forget to consider the traditional Swiss Army Knife (SAK), which, depending on your needs, can hold its own with any of the popular multitools. The two big SAK makers are Victorinox and Wenger, and today I'll take a quick look at a Victorinox knife.
Victorinox knives have been around for over one hundred years. In all of that time they have been of service to many countries military forces, hunters, campers, hikers and the list goes on and on. One of Victorinox's more popular models for everyday carry is the Voyager Lite. The Voyager Lite covers most uses that you can think of, and my own use it not only covers daily chores but makes a fine companion when camping or hiking.
The Voyager Lite sports most of the traditional SAK tools, and it also has a few more modern additions. For instance, the knife has an LED light so you can find that item you dropped inside your car or locate the lock on your home when there's no outside light. Another unique feature is a digital clock on the side of the scale next to the company emblem. You can choose between a 12 and 24 hour time display, and it also has an alarm that's plenty loud enough to wake you up. It also has a timer function.
Voyager tool list:
small blade
corkscrew
can opener with small screwdriver
cap lifter with screwdriver and wire stripper
reamer
key ring
tweezers
toothpick
scissors
multi-purpose hook with nailfile
Digital Clock with alarm and timer
large blade
pressurized ballpoint pen
pin stainless
mini-screwdriver
LED white light
screwdriver
Since I've been carrying the Voyager, I find I use it almost everyday. Rather than digging in my toolbox for a Phillips head screwdriver, I already have one in my pocket. Have a loose screw on your glasses? That's covered as well with the small screwdriver that's threaded into the corkscrew. The uses are numerous to say the least.
There is a Victorinox knife to serve any use you can name. If Carl Elsener, who founded the company in 1884, were around he would be pleased with how his company has progressed. For those who have wondered where the Victorinox name came from it's a combination of his mothers name "Victoria" and the name of the steel used in the blades "Inox" a form of stainless steel. Whether you're a hunter, fisherman or just a guy, or girl who carries a knife everyday Victorinox has a knife for you. You should give them a look before jumping on the multitool bandwagon.