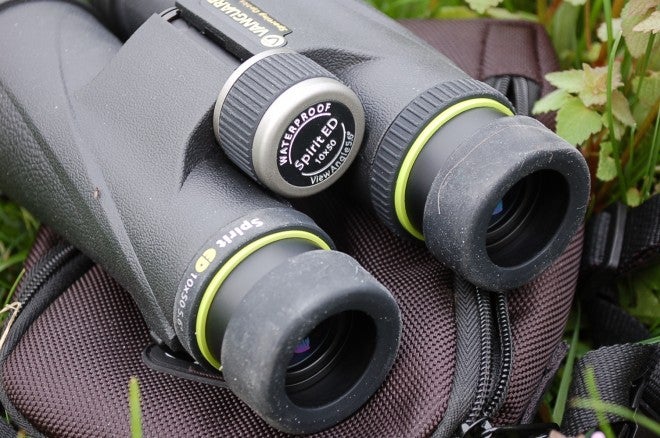 The best optic for outdoorsmen whose activities take them into deep woods or other areas where sight distance is an issue is a good set of binoculars. Scopes and other, more specialized tools are great, but for all-around outdoors use nothing beats binoculars.
When you're looking for a binocular best suited for hunting, consider low-light performance to be a key qualification. Hunters expect game to be most active at dawn and dusk, and for this reason, most hunters prefer full sized binoculars with 42-50mm objective lenses.
As for magnification, I recommend a 10X. There are more powerful binoculars out there, but a 10X set with fixed power tends to provide the user with more light gathering ability and clarity.
With these factors in mind lets have a look at the binoculars I've been using of late. The Vanguard Spirit ED 1050 is a fixed-power, 10X set of binoculars with an objective lens size of 50mm. These binoculars are feature rich, with a very reasonable price of approximately $250.00 at most retailers.
What makes these binoculars better than many is the extra-dispersion (ED)glass and BaK-4 prisms. Without getting into a lot of technical descriptions I'll just tell you what these terms mean to you. ED glass is the preferred glass since it provides up to 90% light transmission. Remember what I said about hunters being out at dawn and dusk when the game is out? ED glass also gives truer colors, so you can pick that trophy buck out of all the background colors. Bak-4 prisms are hard to make — they require great precision — and they contribute the most to the cost of a set of binoculars. The Bak-4 prism also produces a clearer image. Bak-4 prisms allow for the more compact size of the Vanguard Spirit ED. The lens are also fully multicoated, which helps with color and keeps reflected light from getting into the lens.
Stats:
Power:
10
Diameter of objectives:
50
Prism Type:
BaK4 Roof prism
Waterproof:
Yes
View Angle:
5.6°
Field of [email protected]:
98
Eye Relief:
19.0
Near focus(m):
≦3
Focus System:
Center focus
Lens coating:
Fully multi coated
Phase coating:
Yes
Dimensions (L x W):
170 x 135 mm
Weight 2.8 pounds
As you'll note from the stats, Vanguard binoculars are not just water-resistant like most, but are in fact waterproof so there's no need to put them away when a downpour hits. The Spirit has a magnesium case with an armor coating. I haven't babied these binoculars and they've held up to everything I've dished out. The ocular lens has a rotational adjustment. The covers are turned counter-clockwise until they hit the stop. The right ocular has a vision adjustment for those who need vision correction.
These binoculars also include a number of accessories. They come with lens covers of course. A standard case is included with a carry strap. A separate strap for the binoculars also adjusts to carry both the binoculars and carry case. A cleaning cloth is supplied as well. The Spirit ED has a lifetime warranty.
I've been using these binoculars for over a month now. I'm usually in the woods or on the shooting range several times week, so I've used them a good bit. The first time I used them I expected they would be ok but nothing special. I was wrong. Several months ago I tested a set of binoculars that retailed for $2500 with a lot of the same features the Vanguards have. Don't ask me the name of the expensive binoculars — I'm not talking. Honestly I can't tell the difference between the two. The clarity, color definition, focus everything was equal to the very expensive binoculars. I was both surprised and pleased.
My experience has been very positive with these binoculars, and I'm sure they will be with me through many years of hunting, wildlife watching, and vacations.
SHOP NOW