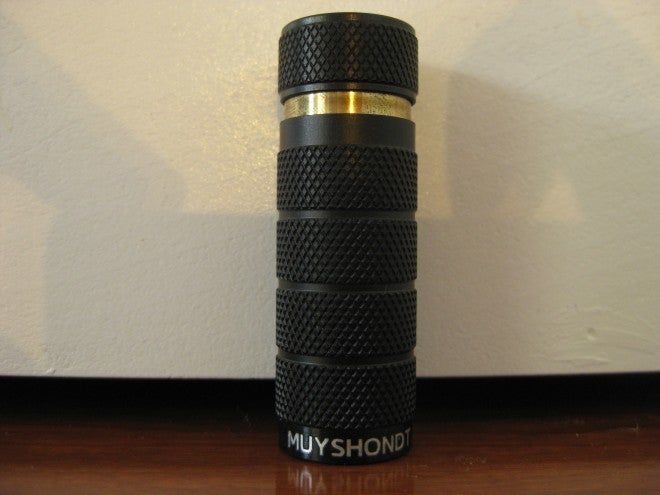 Enrique Muyshondt isn't like you and me.  He has a metal cutting lathe and he uses it to test out the finishes on the lights he designs and then assembles by hand.  He wanted to make sure, absolutely certain, that his tiny, USB drive-sized flashlight would cut through a MagLite.
You see, for Enrique, building something is about the nth degree.  You can make a light that works.  You can make a light that runs bright or for a long time.  But if you really want to do something amazing, you have to become a student of the device.  You have to study what it does and what people wish it could do.  You have to track down the the features that will take performance to the nth degree, and then you have to do a bunch of totally crazy stuff to make sure that your light can do all of that.  This is how you end up at a lathe shearing through an aluminum flashlight with your own tiny creation.
High-end lights vs. high-end knives
Custom lights are little different than custom and midtech knives.  Most custom lights are produced in batches.  Often times the machining is contracted out, while the design and assembly is done by the master builder.  There are very few custom makers that control every step in the process.  There are some that do everything, like the crafter of the uber luxe Cool Fall, and the flashlight equivalent of Saville Row, the Photon Fanatic. These folks are rare.  Most, like McGizmo and Enrique Muyshondt, have trusted partners do the lathe work and then they finish the light.
The custom light world is a bit…um…techy and geeky.  You will be more likely to find someone that has a degree in engineering than someone with a tattoo building your light, though the folks at LensLight seem to have both.  The batch or wave method of making lights means that you have some predictability and regularity in the process.  You can save up, and if you miss a wave you can wait for the next one (or buy a light on the secondary market).  Because there are more things being made a once, the waits tend to be less definable.  A problem sourcing lenses means your light, my light, and everyone else's light is on hold.  A problem with blade steel means that guy's knife is on hold.  In the end, I like the predictibility and regularity of the batch method over the ones and twos of the knife world.  It also seems like a better business model for the makers, but that is an entirely different issue.
The high-end advantage
When you're someone who's considering a light that costs north of $100, a certain amount of what drives you is just a plain old fascination with objects.  Its the same impulse that results in totally bonkers stuff like Roland Iten belt buckles ($25,000 belt buckle anyone?).  But unlike that stuff, a high-end light is less money and more useful.  What's your rose gold belt buckle going to do when the power's out, other than attract looters?  Its silly to say, however, that you need a high-end light.  You want one, and its mechanical splendor is one reason why.
That's not all though.  The premium materials are also a factor: titanium, damascus steel, mokume gane, and all sorts of anodizing and tritium inserts.  When I was first introduced to flashlights (via the awesome Flashlight Reviews website, which is under new and less competent ownership; thanks for the memories Quick Beam!), there were ZERO production lights made of titanium.  Now there are a half dozen every year.  There are very few production lights, like none, that are made of pattern-welded damascus or mokume gane (wood patterned metal). 
Tritium locators are another thing that no production light has.  These small vials of radioactive material, called beta lights in the UK, produce a low glow over their 10-15 year life span.  The radiation is in very low doses, not even enough to penetrate the sink.  Strategically placed, these vials act as small beacons, enabling you to local your light in total darkness.  Because of their radiation, tritium is highly regulated and unavailable in many places.  Additionally, the small vials cannot be installed by a machine in a manner that is cost effective, meaning that tritium locators are high-end only options.
Exotic materials and tritium locators are are nice, but those features are the gravy, the cherry on top.  The two core things that separate production lights from high-end lights are the UI and the beam pattern.
Modern flashlights are really flashlights from 30 years ago with an LED emitter plus a microchip.  With all of that gee whiz technology, production companies are swayed by the siren's song and add "feature" after "feature"–strobe, SOS, hidden modes–almost all of which are useless 99% of the time.  If they were truly just useless that would one thing, but they make the UI much, much worse.  Custom lights, generally speaking, deliberately have fewer features and they are much better tools because of it.  Muyshondt's lights are a perfect example of high-end UIs.  On the the Mk. I Nautilus, and the Mk. I Aeon he used a dead simple, failsafe UI.  Twist the light's head to turn it on, twist it more to get more light.   That's it — nothing complicated, no silly SOS or strobe — just elegant, foolproof simplicity.
Beam patterns are another place where high-end lights outpace their production brethren.  Production lights tend to be spotty, or they tend to have too much spill (the dimmer halo of light around the bright middle) or too much hotspot (the bright middle).  All three problems are the result of less than ideal reflectors.  In a high-end light, such as the McGizmo Haiku, the reflector has been shaped perfectly, resulting in a smooth beam with a good amount of hotspot and a nice useful amount of spill.  These two things are the difference makers–the real reasons to dole out the dough for a high-end light.
Some makers to consider
There are a lot of choices when it comes to high-end lights, very few of which are available through normal retail channels.  Almost all of the lights are available through forum threads on Candlepower Forum (CPF).  If you can't find what you want by Googling it, try searching for the light's name, its maker, and CPF.  That will almost always give you the right results.
Surefire lights aren't customs or "midtech" lights by any means, but they are really fine tools, certainly among the best of the production world.  You would not be disappointed with many of their torches.  Jason Hui of Prometheus Flashlights makes some gorgeous pieces.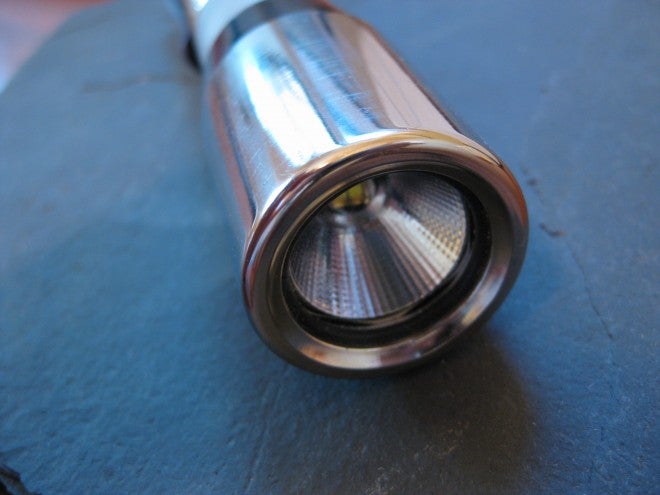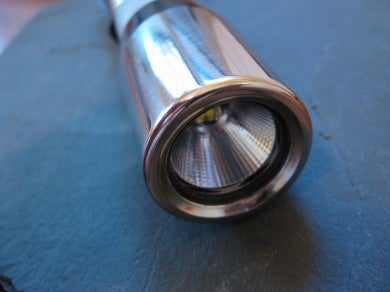 Hui's lights are a bit bigger than most and use a high capacity rechargeable battery called an 18650 (oh, you may as well get a battery charger now; almost all high-end lights use rechargeables). 
Mac's Customs produces a series of excellent lights, also with weirdo rechargeables.  He offers a very good light for very little money, relatively speaking. Tain on CPF makes good lights, and his trick is he uses regular batteries — remember AAs and AAAs?  Steve Ku is a master of the form, and even produces some semi-production lights like the Quantum DD.  For under $75 you can't do much better.  The aforementioned Cool Fall makes a $2,000+ light, the Tri-V v.2, and Photon Fanatic makes truly one-of-a-kind custom lights. 
Then there is the guy that started this whole high-end light thing–Don McLeish, McGizmo.  His lights are ravenously consumed by flashaholics, but he produces them in regular waves.  Think of his stuff as the Hinderer XM-18 of the flashlight world.  His Haiku is one of the finest lights ever made.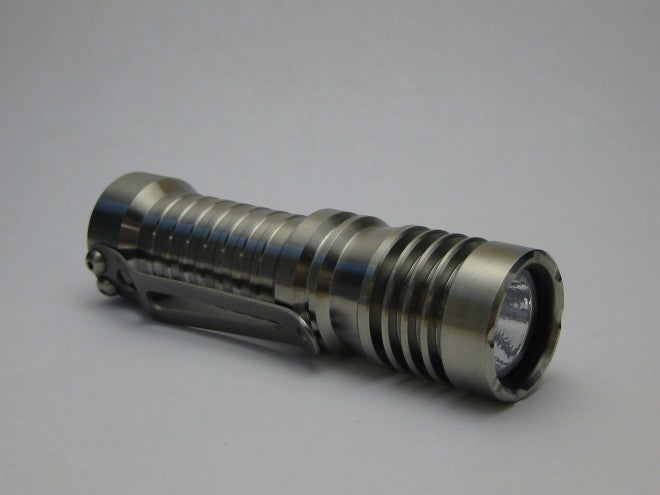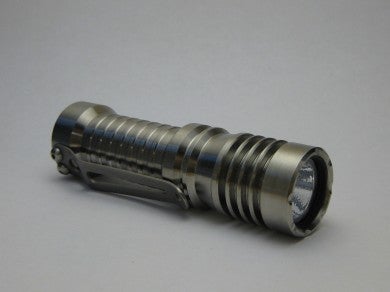 Then there is my favorite custom maker–Enrique Muyshondt.  His little Aeon, with its dead simple UI, is one of the best lights money can buy.  It produces a good amount of light from a small CR2 battery and it runs forever.  I had one for nearly three years and I used it regularly.  I changed the batteries three times.  Incredible.  The only think better, in my opinion, than the Aeon, is the Aeon Mk. II.  When I learned that the Aeon was officially out of production, I had a pie in the sky idea about what the perfect Aeon would look like.  Then some folks chimed in and a few days later Enrique dusted off the tooling for one more run–the three stage Aeon Mk. II was born.  It sold out before it was released, but its big brother, the Mk. II Nautilus is still in production.
HDS lights have a great reputation and a bombproof design, but they are so slow in coming.  Lots and lots of folks have waited for their lights for more than a year.  In that time the "amazing" 200 lumen high has been surpassed by hundreds of production lights and the rotary mechanism is proliferating rapidly.  People paid for a cutting edge light and 18 months later they receive a bombproof, middle of the road torch.  Good stuff, but I am not sure it is worth the hassle.
One person to avoid is Lummi Flashlights (I purposely did not include a link; yes, I am still bitter).  You only need to Google them once to see the multitude of scorned customers.  Usually I take these kinds of comments with a grain of salt.  And I did.  Then I bought a light and waited and waited and waited.  It never came.  I had to file a complaint with Paypal to even get an email response.  His lights rock.  His business stinks.  If you can find one on the secondary market, awesome.  If not, then avoid.
In their best form these flashlights are small, bright, run forever, and are simple to operate with beautiful, revealing beams.  They have been shorn of pointless "features" and "helpful" modes.  They have been distilled like a fine bourbon to the pure essence of the tool.  The Mk. II Aeon, like the best customs, is a plain, simple flashlight and a wondrous device.