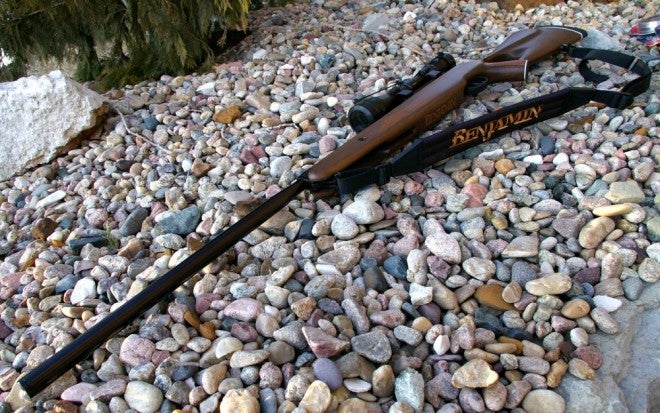 My love affair with Crosman began with a .22 caliber Pumpmaster pellet gun, which delivered near rimfire-level rifle power, but without the attached parental oversight. I wielded that power mercilessly, slaughtering junk birds for hours each night after school. My parents actually encouraged this endeavor, which was intended to assure that the house and deck were free from the mulberry throughput dropped by varous villainous birds. The power was great, but the reload was painful. Pump, pump, pump….still pumping…. argh 10+ pumps later, load the pellet and take the shoot. Though rusted and abused, that Pumpmaster still works today, but back then I would have traded my bike for a precision Benjamin Trail NP XL 1100 that loaded in just one break-action stroke.
Break action air rifles open and the barrel is used as a handle to compress the spring that powers the air piston. Once fully cocked, a pellet is loaded directly into the breach and the barrel returns to position at which point the air rifle is ready to fire. Although the XL 1100 is based on the same technology as any spring-powered air rifle, the "NP" in the name stands for Nitro Piston, which means instead of a spring, a sealed nitrogen cartridge piston is compressed. When the trigger is pressed, the nitrogen cartridge decompresses and pushes the piston forward, which compresses air and powers the pellet on down the barrel. The advantages of the Nitro Piston are that it will maintain power exponentially longer than a mechanical spring, will not develop a memory or loose compression if left charged, and is unaffected by temperature or altitude changes. In theory, the Nitro-piston will last indefinitely.
Some may say pre-charged, multi-shot pneumatics are the obvious choice, however what will you do if you cannot carry around an air tank or separate external pumping accessory. The top break, single-stroke air rifles deliver big power with just one stroke, and they do so reliably without the need for extra apparatus.
Caliber selection is another consideration for airgun hunting. The blistering velocities at the muzzle of .177 airguns theoretically come close to the foot pounds of muzzle energy of heavy .22 pellets, but the .22 pellets pack more punch. The .22 pellets are also usually sub-sonic, which means a quieter air rifle without the loud supersonic crack. Add in the nice optic and the NP XL 1100 combines all the best elements of a hunting air rifle in one beautiful platform while achieving up to a blistering 1100 fps with up to 28 ft/lbs of energy.
After the acquisition of the Benjamin line, Crosman maintained the Benjamin line as their premium line marketed to select retailers. There are air rifles, and then then there is the Trail NP XL 1100, which is Crossman's top-of-the-line air rifle. The fit and feel is excellent, from the laser logo'ed, hardwood checkered, thumbhole Monte Carlo style stock to the perfectly blued steel. The included CenterPoint 3-9x40mm scope is of high quality and is plenty enough optic to deliver precision shots.
Quality and accuracy
Everything on the Crosman Benjamin Trail NP XL 1100 (.22) seems to be a cut above other rifles in this premium break barrel class. The XL 1100 cocks smoothly, and the scope and parallax adjustment work well. The initial factory trigger setting is two-stage and is a little adjustable for an improved feel. The little details are thought through, including a rubber O-ring around the chamber to maximize compression and a real 1913 Picatinny rail for the scope mount, which will make things much easier should you want to select another optic.
The 8.8lb Trail NP XL 1100 is not particularly light, but the weight does provide good off-hand stability. The weight also helps counteract the piston recoil, and contributes to the outstanding accuracy.
The Benjamin Trail NP XL 1100 is very accurate with a broad range of ammo. I set up a set of targets at 20 yards, and found most quality flat head or doomed ammo delivered under 1" groups.
Crossman have really paid a lot of attention to providing an expansive line of premium pellet offerings, including the lead 14.3gr Benjamin Discovery Hollow points. With the artillery hold and the Discovery pellets, I managed more than a few 5/8-inch groups and at least one half-inch group. With the Premier Doomed pellets and hollow points I scored plenty of 3/4-inch groups. The net of my shooting experience is that this airgun is a tack driver.
As we live out of city limits we have loads of nuisance critters, so I was provided with ample opportunities to test the power and accuracy of the NP XL 1100. The wallop of the Trail NP XL 1100 with .22 pellets delivers some serious impact downrange and humanely removed critters from small ground squirrels to raccoon sized varmints and pests with just one pellet.
In a survival situation, an airgun is handy for a variety of reasons. The .22 caliber packs a heck of a punch. Comparatively the .22 airgun delivers around 25% of the knockdown power of the .22LR, which at 28 ft/lbs is more than substantial enough to take game up to 10lbs with accurate shot placement. From my experience, even a lower-power .22 caliber pellet rifle is a perfect squirrel and rabbit hunter, and the Benjamin Trail NP XL 1100 will fill your hunting limits quickly and easily even on larger game.
Another survival plus is that ammo/pellets are super cheap at around $10 for 500 premium pellets — this is about half the price of quality .22LR ammo. For a paltry $100 you can have have 5000 rounds of premium pellets tucked away should the need arise. For preparedness, this means you can remove pests and hunt all manner of critter quietly even at 50 yard ranges without the noise of a .22LR and without burning any higher power, primer fired ammo.
Airguns are also a whole lot of fun, are a great option to teach gun handling and safety, and hone your skills off season. On an everyday basis a fine quality pellet gun can be a handy item to remove the moronic woodpecker drilling away on your downspouts and the errant rabbit, squirrel, or raccoon which decides to overstay their welcome. The Benjamin Trail NP XL 1100 is a very fine airgun which delivers big power and can also pay for itself quickly from a practice perspective. All around this is a top-shelf airgun for any need.
Specs:
Model Number: BT1122WNP
Alloy Pellet Velocity: up to 1100 fps
Weight: 8.8 lbs
Length: 48.25 in
Mechanism: Break Barrel
Power Source: Nitro Piston
Caliber: .22
Approx Energy: 25-26 ft-lb
Capacity: Single Shot
Barrel: Rifled
Front Sight: none
Rear Sight: none
Optics Rail: Weaver-style
Optics: 3-9x40mm AO
Safety: Lever
Material: Hardwood