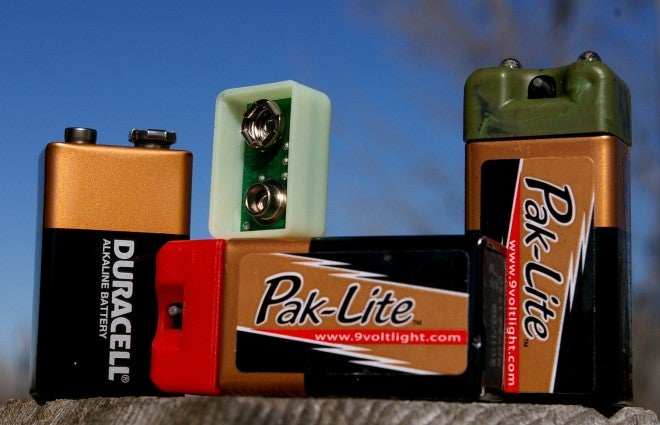 Occasionally, I run across products which are simply outstanding, and the PakLite is one product I think every prepper, outdoorsman, adventurer, and everyday Joe should have five of. Everyone needs a flashlight, but most of the time you do not need to burn the batteries of your blinding +200-lumen tactical light just to read a map. Typically, you just need enough light to see in your pack, walk safely at night, open your door, or look under your seat. A small, simple, compact, and inexpensive light using readily available and cheap batteries is all that's needed; this is where the $25.99 PakLite comes in.
What I like most is the compact nature of the light. The entire PakLite head is only the width and depth of a standard 9V battery and only about ½" tall. Even when clipped on a 9V battery, the entire PakLite/Battery combo only weight 1.5oz. Runtimes on Alkaline – Low Beam 600 hrs, High Beam 75 hrs, but Lithiums double those figures. That's a lot of long-running light in a tiny light package.
There is not much to the PakLite, but the ABS housing and switch are quality. The light features an LED and a three-way (center off position) switch which provides a low beam and high beam. Although PakLilte does not provide Lumen specs, the tiny PakLite light delivers around 70-90 Lumens on high when comparing it to other similar Lumen spec'ed lights I own. In all, a very impressive little light that provides sufficient lighting out to 25-35 yards.
The low beam is extraordinarily handy for a little light to read a map, or to conserve power given the very long running 600 hour runtime on this setting. Add some Velcro, magnetic, or double-stick tape and you have a ton of mounting options. PakLite even makes the magnets and Velcro available for purchase with the light. The PakLite is available in loads of various ABS head and LED colors, with various bulb functions that include flashing and signaling.
Have older 9V batteries that are not powerful enough to run your smoke detectors any longer? Save them for the PakLite and you will be stunned that another 30-100 hours of light can be had from these otherwise junk batteries.
The PakLite is an outstanding, versatile light and considering its price of only $24.99, it's one of the best values out there for survival lighting. Pick up only two lithium 9V batteries and you have an amazing 400-2400 hours of light all for under 3 oz. The PakLite are one of those versatile products I feel like I need a dozen of to stash here and there for all manner of uses.
Specs
Switch Modes – Low & High Beam
High Output 100,000 hr rated LED bulbs
Runtime on Alkaline – Low 600 hrs, High 75 hrs
Runtime on Lithium – Low 1200 hrs, High 200 hrs
5 Year Warranty
Housing – ABS Plastic, 12hr glow cap, or solid colors
Weight 1.5oz w/Alkaline battery (Lithium batteries weight less)
MSRP $24.99
SHOP NOW